Same-sex couple wedding showers are becoming increasingly fashionable of late. These parties used to be an exclusive affair for just one (typically just the bride), but that is now a thing of the past. Such gatherings offer a great opportunity to honor BOTH spouses together. And, of course, it won't be a fun wedding shower without including.
Let's start with a quick look at our top picks, then keep reading for all the glorious details.
pin it!
LGBTQ Couple Wedding Shower Games To Picks at a Glance
FYI, this post contains affiliate links. We earn a commission if you make a purchase at no extra cost to you.
Match the Movie Quotes
Gift/Bridal Bingo
Bridal Shower Mad Lib Game & Mad Lib
Don't have time? Here is a quick comparison of our favorites!
Top Benefit
Best game to host for laughs
READ MORE: Epic Lesbian Bridal Shower Activities
Same-Sex Couple Shower Games
While all of the games on this list can be played during both gay or lesbian wedding showers, these first three are the most gender-neutral of the bunch.
Find the Guests is a fantastic way to get the party started. It will not only serve as an icebreaker, but it will help your guests to start talking to each other.
It's the perfect game for an LGBTQ couple wedding shower. You can hand out the printed cards to each guest. Then, everyone goes around the room and finds someone who matches these traits on the card. The first person to get five in a row wins!
It's a terrific way to pay attention to details, lighten the mood while also encouraging your loved ones to learn more about one another.
#2 Match the Movie Quotes
A Movie-Quote Matching Quiz is a fun idea for a same-sex couple shower game, and here's why: All your guests have to do is match classic romance film titles to phrases from the movies!
Apart from that, it's non-gendered, and it's not all intimate and embarrassing for the pair. At the same time, it still has a romantic undertone.
The beauty of this Movie Quote Game is that you can tailor it entirely based on your guests' preferences!
Sale
This is one of the most interactive games. To start, divide the guests into two groups and toss the names of roughly 15 – 20 celebrities into a bowl.
A player from the first team has to pick a name and explain who the celebrity is without mentioning the name. If the team manages to get it, the next player has to pick a new name and do the same.
But here's the catch, each side needs to name as many celebrities as possible in under a minute. If you've ever played or watched Catchphrase, think of this as a DIY version.
Sale
Lesbian Wedding Shower Game
#1 Gift/Bridal Bingo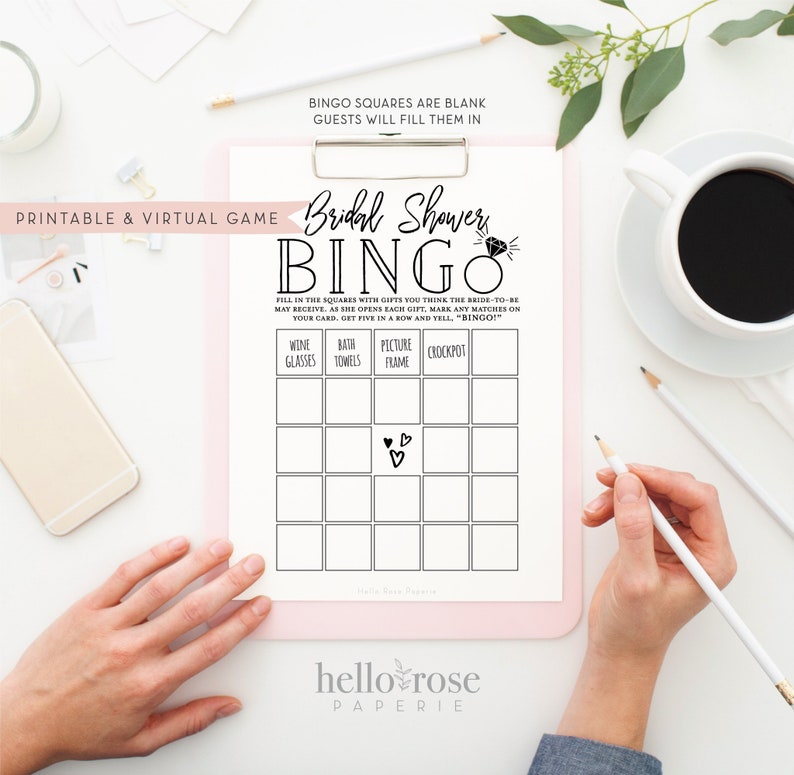 First up on our list of lesbian couple wedding shower games is Bridal Shower Bingo (or simply Gift Bingo if you want to play it during a Grooms' Shower).
It's customary for the couple to unveil the gift in front of their guests. But although that is an exciting event for the couple, it's not the same for the guests.
To liven things up, try incorporating the event into a bingo game. Before the big reveal, guests can fill the squares with gift items they think the couple might get in blank bingo cards.
#2 Wedding Emoji Pictionary
The fun of Pictionary and cryptogram-style puzzles is that the rules are easy, but putting them into practice is difficult. How many of these wedding emojis can you guess? Some of them are easy as cake (literally), others take a lot more thought.
Want to take this game to the next level? Instead of giving each guest a copy and letting them just figure out the clues, break players into teams. Then, have them act out the clues!
Everyone will crack up as they try to watch their teammates act out kissing a lot of frogs to find a prince!
#3 Bridal Shower Mad Lib Game & Mad Lib
The Bridal Shower Mad Lib Game & Mad Lib is the best game to host for laughs and giggles.
Start by printing out a vow with adjectives, verbs and nouns left blank. Each guest can fill in a blank word.
The pair can have a faux ceremony with the most humorous vows before the celebration finishes.
Sale
Related: 7 Fun Bridal Shower Drinking Games
Gay Couple Wedding Shower Game
#1 Scavenger Hunt
Arranging a photographic scavenger hunt for your guests makes for a great game idea for a gay couple's wedding shower.
Start by printing a list of wedding highlights for them to photograph with their phones. The list could include moments such as a group selfie, toasting glass, silly faces, and so on.
This will not only provide an enjoyable game for your guests, but you'll also wind up with a bunch of your guest's favorite photos at the end of the day.
You can also raise the ante by making it into a competition, in which you'll vote for the best photo for each category.
Sale
Bride Squad – Selfie Scavenger Hunt – Rose Gold Bridal Shower or Bachelorette Party Game – Set of 12
Bride Squad Selfie Scavenger Hunt bachelorette party game INCLUDES 12 game cards with selfie prompts for either team or individual play at your bachelorette party.
FUN PARTY GAME: Bride Squad Selfie Scavenger Hunt game will be enjoyed by bachelorette party guests of all ages. Each game card measures 5" wide x 7" tall and is cut in a fun ring shape. This bridal shower game is perfect for playing with friends and family and is the ideal icebreaker at either a bridal shower or bachelorette party.
HOW TO PLAY: Decide if you plan to divide into teams or play individually and then hand out the selfie scavenger hunt game cards, one per team or individual. Set a time limit and let your guests scramble to complete all the selfie tasks. Each one completed earns a point if you have the photo on your phone at the end of the game to prove it. The team or person with the most points wins! TIP: Keep track of everyone's photos by designating a hashtag for sharing on your social media accounts.
#2 The Wedding Couple Trivia
Wedding trivia is undoubtedly a fantastic way to keep the celebration going. It's also a great addition to the gay party games ideas.
The Trivia game has easy rules. First, print out a list of 20- 25 trivia questions about the happy couple. Place the list of trivia questions on the table for each of the guests.
You know the routine: The winner is the one who receives the highest number of correct answers. Prizes can range from a simple candy bar to an Amazon gift card.
#3 Couple's Crossword
Crosswords are a great addition to the wedding shower games package. The game is a unique take on the classic crossword problem.
If you want to DIY it, just make a list of 15 to 30 questions about the pair that the guests can answer with a single word. Let the guests work on it until they complete the puzzles before grading them towards the end of the party.
Grehge e Find/Search Game – Bridal Shower – Champagne Silver Wedding Dress (50-Sheets)
50 PIECE: 50 Word HIGH QUALITY – Professionally printed on high quality, Premium paper for easy writing with pens, pencils or anything you choose!Search Game Sheets – Perfect for Bridal Showers, bachelorette parties, engagement parties, rehearsal dinners, and weddings
LARGE SHEETS: Each sheet is generously sized to 8.4″ high x 5.4″ wide. Includes answer key.
HIGH QUALITY: Professionally printed on high quality, Premium paper for easy writing with pens, pencils or anything you choose!
FAQs
Are there bridal shower games available for free online?
Yes! Most of the printable versions of each of the bridal shower games are available online for free somewhere, but you can't edit or personalize them. You can also find other same-sex couple shower games or editable game cards online for a very low price.
Is it possible to host a virtual wedding shower?
Since every game has an online printable version, it's easy to organize a virtual wedding shower.
Scavenger hunts, for example, can be performed using a list, with participants hunting for objects at their houses rather than in the event space.
Conclusion
The events leading up to the big day are just as important as the wedding itself. So, be ready for a memorable time along with your guests.
It matters not if you choose an interactive game or a game where your guests need to guess. The guests and the couple are sure to relive each and every moment up until the wedding day itself.
So gather all the props, conjure up a plan, and get ready for a blast on your wedding day.
What are your favorite LGBTQ couple wedding shower games? Please share with us below!
Andreea is a very passionate content creator and her purpose is to provide you with the most interesting articles, while constantly discovering new facts. She's been freelance writing for the past five years and has created numerous articles and educational materials while managing her own blog.
Last update on 2023-12-06 / Affiliate links / Images from Amazon Product Advertising API