Looking for gorgeous floral wedding dresses that will totally wow your partner and guests during your stroll down the aisle? You're in the right place!
As a bride, you want to feel confident, beautiful, and sexy on your wedding day, and these gowns definitely make that dream a reality.
Check out our top 30 favorites on the handy comparison table below. Then, keep reading for the entire collection, along with reviews.
Floral Wedding Dress Top Picks at a Glance
This post contains affiliate links, and I will be compensated if you make a purchase after clicking on my links.
Lace Wedding Floral Wedding Dress
Elegant Princess Bridal Dress
Boho Floral Wedding Dress
Tulle Wedding Dress
Floral French Chiffon Wedding Dress
Don't have time? Here is a quick comparison of our favorites!
Floral Wedding Dresses Ideas
We tried to give you a wide range of gorgeous styles, and at the same time, not overwhelm you with so many ideas that you get confused.
Whether you're searching for an embroidered dress with simple blooms of the season or head-to-toe florals, you'll find your dream gown below.
So here are picks for the most magnificent wedding gowns with floral designs.
1. Lace Wedding Floral Wedding Dress
This is the floral gown that started it all for me. This tulle wedding dress has a V-neck that goes all the way to the waist, making it very sensational.
Before you pass it because of the long V-neck, it's important to note that it has an in-built bra, making the dress very comfortable.
This dress has a short sleeve and a floor-length, and it's decorated with beautiful flowery detail work all over its lace.
Check: Rainbow Wedding Dress
2. Elegant Princess Bridal Dress
If you're looking for a fairy tale wedding, then this is the dress for you.
This dress is made from tulle and netting. It has a Watteau train, a natural waistline, a scoop neckline, and an A-line silhouette. The dress is also sleeveless, which makes it perfect for a warm day.
Unlike the first suggestion, this dress's floral patterns are only on the body's upper part.
Check: Rectangle Body Shape Wedding Dress
3. Floral Dress with Tulle Skirt
I'm obsessed with mermaid wedding dresses because they showcase the bride's perfect curves.
And you're going to fall in love with this dress too. It's made of lace, and tulle, with beautiful beading embellishments along the top of the bust line.
Check: Cream Mermaid Wedding Dress
4. Sexy Purple Wedding Dress
If you're planning on having an unconventional wedding, then this is a fantastic choice for you.
Well, I obviously have to mention that the color purple is a royal and noble color, making it very appropriate for a wedding day.
The tulle dress is decorated with beads, floral appliqués, and sequins, which makes it very elegant.
It's floor-length and has an A-line style, and it has sleeveless arms. It's perfect for warm-weather weddings, especially those in vineyards.
If you'd rather go with the traditional white color, though, I think this would also be perfect for bridesmaids.
5. Cappucino-Colored Floral Wedding Dress
If you're looking for something a bit more unique and don't mind stepping outside of the traditional color palette, you'll love this gorgeous cappuccino wedding gown. It screams old-world romance, doesn't it?
The cappuccino dress is made of exclusive taffeta. The seller also throws in a free removable petticoat to make the dress lusher, which I think is a nice small touch.
By the way, if you love the style but don't really adore the color, or if you want it customized in any way, the seller will work with you to create your perfect gown.
6. Pink Flower Romantic Wedding Dress
I think this is pretty much THE most romantic floral wedding dress ever, don't you? The floral applique blooms remind me of something you'd find in a fairy tale.
The dress is made of tulle, lace, and polyester. The skirt is made of 6 layers of soft tulle and decorated with silver and pink flowers.
It has short sleeves, a hidden zipper on the back, and a V-neck. The dress also has a simple pink ribbon belt that matches the dress's pink and grey flowers.
Check: Eco Friendly Wedding Dress
7. Tight Nude Wedding Dress
This is for my unicorn readers, those who prefer something different. The dress is made using white floral texture lace with a nude lining.
The unique, mermaid silhouette wedding dress has a deep open V backline for a minimalist look on your big day.
The white gown is decorated using transparent glass beads in the waistline and a small bow on the back. It's simply elegant, flattering, and sexy! Plus, it's 100% handmade, so no one on Earth will have the same one.
8. Open Back Wedding Dress with Floral 3D Embroidery
This Veronica gown is absolutely gorgeous and dreamy. You can feel the dress was made with love as it reflects it on the asymmetric floral embroidery and the great beading from the top to the train.
The bridal wedding dress is decorated using silver beads, hand-crafted silk organza inflorescence for the buds, and tender ivory branchlet embroidery.
The dress comes in 2 pieces: the silver fitted underdress and the top translucent ivory tulle dress. The silver-grey satin underdress adds a beautiful contrast to the magical beading of the dress.
9. Halter Wedding Dress
This is a simple but very pretty minimony wedding dress. The rose gown is a mix of tulle and embroidery. The dress's wrap bodice is well done and has a low-dipped back and tie straps that hand on your back.
The hand-cut appliques compliment the waist so that the bodice naturally flows with the floating tulle. It's great for those who are looking for a multicolored floral-print dress.
No products found.
10. Boho Floral Wedding Dress
This is another excellent wedding dress option for people going for an unconventional look. The gown's bodysuit is made of glitter lace with long sleeves and a nude second-skin effect.
The trendy glitter appliques are sewn by hand, giving them a very beautiful result. The bodysuit also has nude bra caps, so you don't have to worry about color crushing or the extra cost.
The skirt is made of silk satin lining and two layers of chiffon.
11. Tulle Wedding Dress
If you're on a tight budget and trying to save up, this dress is a great idea. You can wear it during the ceremony and at your after-party too.
It's made of soft tulle and chantilly lace, and features a V-neck, an A-line silhouette, and has floor-length.
The back of the dress is open at the back and has beautiful florals on the in-built bra.
The champagne-colored dress has a natural waistline; it's sleeveless and has a back design zipper.
12. Long Sleeve Beach Wedding Dress
So far, we've only discussed floral wedding dresses with short sleeves or sleeveless ones. But you can still have a long sleeve wedding dress during summer.
This white line wedding dress has a v-neck, long sleeves, and a back zipper. It's made with tulle and lace and decorated with sequins and forest floral patterns that remind me of wildflowers.
The long sleeves are purely lace, so you don't have to worry about the high temperature.
13. Tara Open Back Wedding Dress
This Bohemian long sleeve wedding dress is to die for. It has long bell sleeves, beaded 3d flowers floral design, and an open back.
This laid-back and affordable boho gown is beautiful and lightweight. The dress is boneless, but it comes with an in-built bra without pads. It can also be a full-bones corset and bra.
The dress has a champagne color with rose-ivory lace and gives off a total modern romance vibe.
14. Embroidered Spring Wedding Dress
Talk about flower power! This is another great dress for a fairy tale wedding. The Amalthea is a perfect embroidered gown. It has a beautiful floral that climbs from the base of the skirt to the bodice.
The dress is available in both pastels, floral and bright floral patterns. It'll look stunning in your wedding photos!
15. Bishop Sheer Sleeves Bridal Gowns
This is another great dress for those looking for a bridal gown with long sleeves.
The A-line dress is made of tulle, satin, and lining. The dress is decorated using sequins, embroidery embellishment, crystal beads, and handmade lace appliques.
The dress has floor-length and comes in white, pink, yellow, blue, purple, black, navy, red, gold, and champagne.
Sensational is what comes to my mind when it comes to this white A-line dress. It's whimsical and extremely minimalistic.
The dress features cap sleeves, beaded lace, and a court train. The tulle ball gown skirt offers a spectacular silhouette which makes it ideal for pictures.
Rhinestone ornaments bless the bodice that stretches way beyond your waistline. To top it off, you get it in Ruby Red, other than the usual pastel shades.
17. Vintage Lace Backless Bridal Dress 
If you love dresses that show off your back, you're going to love this deep V-shaped bareback dress. Along with what seems to be an illusionary neckline, beautiful floral lace adorns the bust. 
It's made of satin, but here's the most interesting bit about this dress: it's super affordable!
And how can I forget about the detailing? It's fitted with beads, while the organza skirt features even more floral laces!
Let me unveil the best part for you; the dress showcases your waist to the max. And how, you ask? It's all thanks to the satin belt that comes built-in with the dress.
If that wasn't already good enough, the bridal dress even offers flexibility in terms of sizes. So you're sure to find a bridal dress that fits you the best!
18. Floral French Chiffon Wedding Dress
I can only think of two words to summarize this vintage bridal dress: Effortless and smack-dab Sexy. It's a timeless dress that offers feminine vibes in abundance.
The bodice features geometric motifs adorned with floral laces. Needless to say, it gives the dress its own characteristic personality and adds dimensions to it.
And can I just confess that I'm an absolute fan of the chiffon lining along with the gorgeous A-line skirt? In my opinion, it's among the most defining features of this beautiful bridal dress.
As is evident from the picture, the low back, sweetheart neckline, and spaghetti straps all feature the chic lace motifs.
19. Square Neckline Wedding Dress with French Floral Lace Details
This particular dress has everything going for it; the early aughts vibe and the 90s style. And I am all for it!
The dress quite daringly accentuates the size of your bust. So, I would say that's definitely a big plus!
And that isn't all to this dress (not by far!). Let me warn you; your décolletage is surely to turn some heads on your wedding day.
It offers you an alluring and elegant look which is further intensified by regal elements added by the French floral laces.
20. Beaded Lilac Floral Wedding Dress
In case you're tired of looking at white dresses or planning a garden-themed wedding, here's the perfect gown for you. I must say, the design certainly is quite creative and has fresh elements to it.
Drama and color are abundant in this graceful lilac tulle bridal dress. The unique look of the dress is thanks to the Gold & Bronze accents, further adorned with luxurious flower patterns.
Not to forget the neckline that features crystal beads.
21. Mini Off-The-Shoulder Floral Lace Dress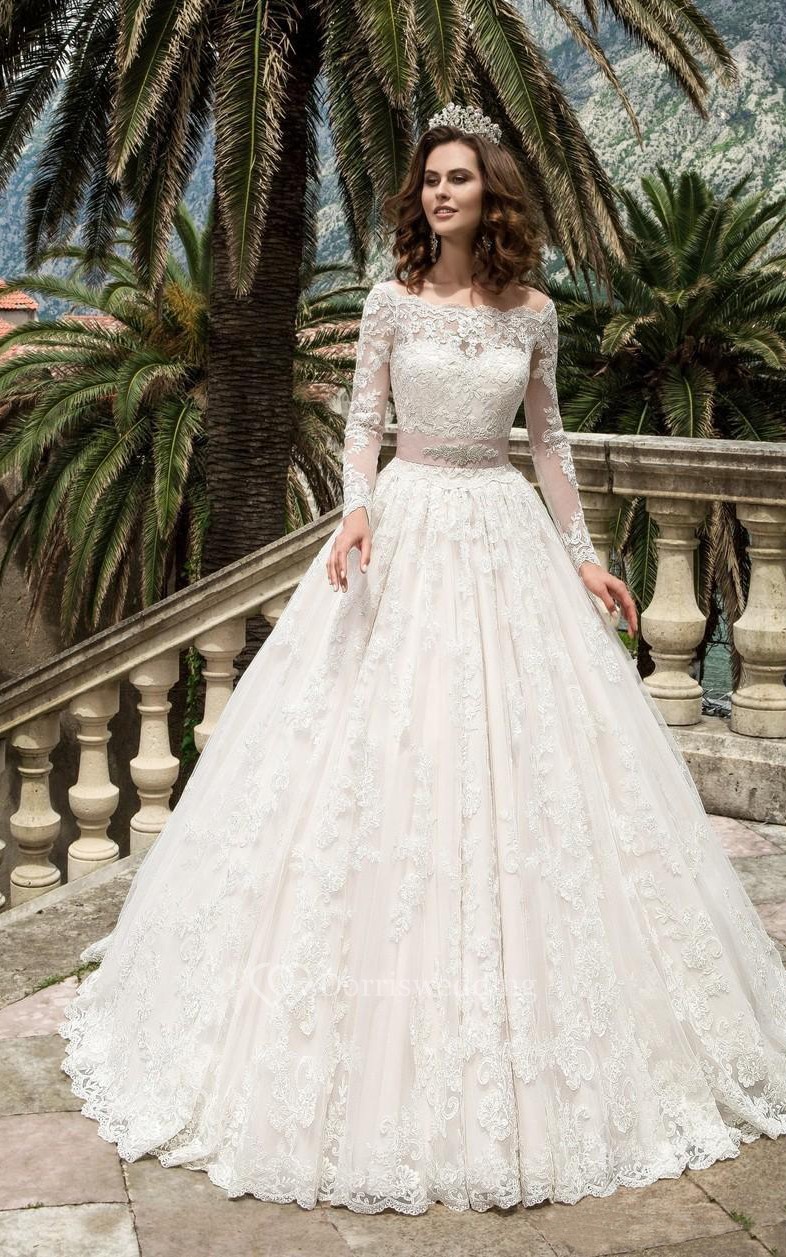 A result of careful craftsmanship, this timeless and classic dress passes on all fronts with flying colors. Besides, it's extremely difficult to miss out on the royal features that this dress has in plenty.
The bodice has floral laces, and the dress features a high faux neckline. I can totally imagine a type of cathedral wedding, quickly succeeded by a warm alfresco garden reception.
22. Contemporary Floral Lace Dress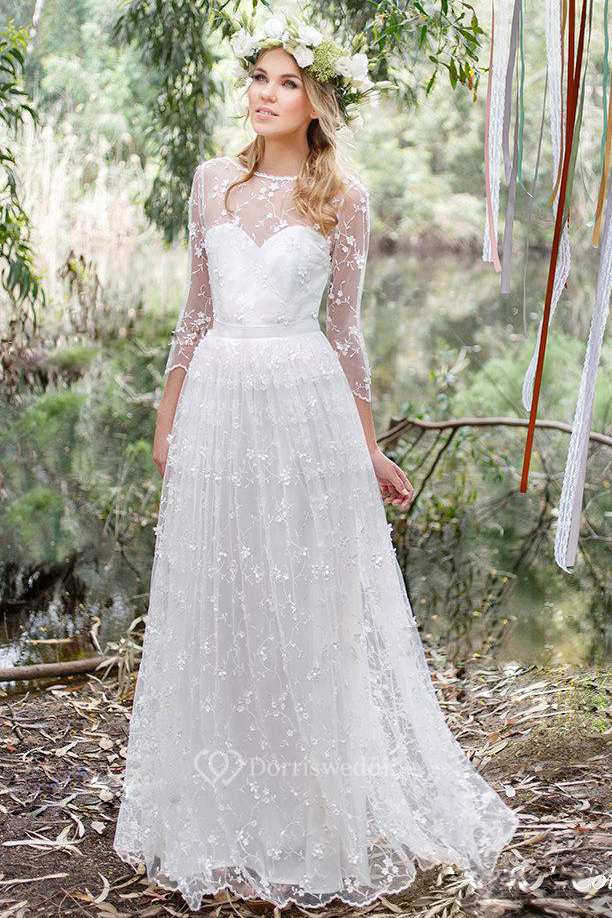 I'm sure we all agree that lace adds a certain level of sexiness and romantic essence to wedding dresses.
From the jeweled neckline, ribbon sash waistline, long laced sleeves, all the way to the delicate embroidery, this bridal dress features everything effortlessly antique.
But don't get me wrong! I'm not saying it's boring or out of style. Rather the sultry low back and complimentary A-line silhouette feature nothing short of extreme elegance and graceful vibes.
23. Side Draping Floral Wedding Dress
Before I begin, can we take a timeout and just gawk at this wedding dress? This breathtaking bridal dress features beautiful floral details and a chic semi-sweetheart neckline.
If you're into fit-and-flare strapless designs, this could just be your dream come true. The bodice features floral-inspired laces that fall ever so gracefully along the sides.
Other than that, the draping bodice accentuates your sharpest features bringing in all the praises that you deserve.
24. Lace-Up Mermaid Wedding Dress
This particular bridal dress is for those who are extremely into mermaid-inspired designs.
Be it beaded bust embellishments or the lace appliques that adorn a faux sweetheart neckline; there's just so much to love about this one!
The panel lines on the lace skirt bring your sexy curves to the front.
Remember the lace appliques? They further showcase the sweep train, laced up back corset, and the detailed panels.
25. The Andra Illusion Mermaid Wedding Gown
Speaking of mermaid bridal dresses, it would be a sin on my part to leave out this one.
The beautifully embroidered applique gracefully frames the trumpet-shaped skirt as it makes its way down your body. The bodice adorns a sheer tulle corset, adding a definitive feature to this bridal dress.
In case you're totally done with classic bridal gown styles, this mermaid dress serves as a deserving alternative.
The thin straps accentuate your basque waistline and showcase the mesmerizing back bodice.
26. Sleeveless V-Neck Boho Wedding Dress
If your dream wedding involves you looking stunning like bohemian royalty, you're going to fall in love with this bridal dress.
This beauty of a dress features pretty floral appliques and a bow tie. Owing to the sheer fabric and deep neckline, I'll say it's quite edgy.
It makes for an ideal bridal dress, especially for destination weddings and beach weddings, in particular.
The gown has an ethereal vibe that's pretty hard for anyone to miss. Aside from that, it's whimsical with maxed-out soft style.
27. Sleeveless Mermaid Gown with Side Draping
Without a doubt in my mind, this bridal dress is an absolute showstopper. This fit-and-flare bridal gown has sequin embellishments.
The sequin lace extends to the sweetheart neckline while the bodice has laces. The tulle and lace bridal gown feature flowers delicately embroidered on it.
The rose ties together harmoniously with the flowers around your waist, thus, showcasing your sleek waistline.
For the final touches, beaded jewels and lace motifs adorn the train.
28. Short-Sleeve Empire Wedding Dress
To be quite honest, I wasn't prepared when I stumbled across this bridal dress. This fit-and-flare bridal gown meets all the criteria that I would look for in a minimalist yet enchanting floral gown.
The elegant floral lace adorns the cap sleeves. Mesmerizing details such as the shoulders adorned by lace overlay and the empire waistline featuring satin rose surely puts this bridal gown among my top favorites.
Apart from that, I really loved the lace appliques and the vintage-inspired floral design around the waist and sleeves.
29. Romantic Boudoir Inspired Corset Wedding Dress
This dreamy bridal gown features a boudoir-inspired corset. And that's not even the best part!
The wedding gown has certain lingerie feel to it, which I'm a fan of.
So, if you're hoping to pull off that sophisticated and sexy bride type of vibe, it's totally possible with this bridal gown.
Avant-garde details such as the bodice, which by the way, is lingerie-inspired and strapless, features grosgrain-covered boning and sexy bustier-style cups, make this gown simply *chef's kiss* amazing!
30. Dramatic Organza Dress with Ruffles and Flower
The rightful candidate for the finale of my list is this ultra-feminine bridal gown.
This flatting wedding dress features a texture contrast between the oh-so-romantic tousled skirt and the bodice with fitted laces.
For extra drama and sass, the gown also features flowing organza and a beautiful sweetheart neckline.
Final Verdict
Floral wedding dresses are beautiful and elegant. They fill the event with pure love and peace.
The floral adds a special touch to a dress, especially when accompanied by laces and beads.
Bridal floral dresses are common in spring and summer weddings. They're also great for unconventional weddings.
Our Recommendation
New amazing bridal collection in beach boho style, most trendy and popular simple but so stylish dresses and separates. These dresses and bodysuits are simply perfections.
What are your favorite floral wedding dresses?