Looking for gorgeous floral wedding dresses that will totally wow your partner and guests during your stroll down the aisle? You're in the right place! As a bride, you want to feel confident, beautiful, and sexy on your wedding day, and these gowns definitely make that dream a reality.
Check out our top 5 favorites on the handy comparison table below. Then, keep reading for the entire collection, along with reviews.
FYI, this post contains affiliate links. We earn a commission if you make a purchase at no extra cost to you.
Table could not be displayed.
Floral Wedding Dresses Ideas
We tried to give you a wide range of gorgeous styles, and at the same time, not overwhelm you with so many ideas that you get confused. Whether you're searching for an embroidered dress with simple blooms of the season or head-to-toe florals, you'll find your dream gown below.
So here are picks for the most magnificent wedding gowns with floral designs.
This is the floral gown that started it all for me. This tulle wedding dress has a V-neck that goes all the way to the waist, making it very sensational.
Before you pass it because of the long V-neck, it's important to note that it has an in-built bra, making the dress very comfortable.
This dress has a short sleeve and a floor-length, and it's decorated with beautiful flowery detail work all over its lace.
Lace Wedding Dress
Colors may vary depending on the light, Sunset, camera filter, and photoshop-edited.
Check: Rainbow Wedding Dress
If you're looking for a fairy tale wedding, then this is the dress for you.
This dress is made from tulle and netting. It has a Watteau train, a natural waistline, a scoop neckline, and an A-line silhouette. The dress is also sleeveless, which makes it perfect for a warm day.
Unlike the first suggestion, this dress's floral patterns are only on the body's upper part.
Elegant Princess Bridal Dress
Fashion Element: Illusion
Wedding Dress Fabric: Tulle and Lace Appliques and Stain
Wedding Dress Style: Lace Wedding dress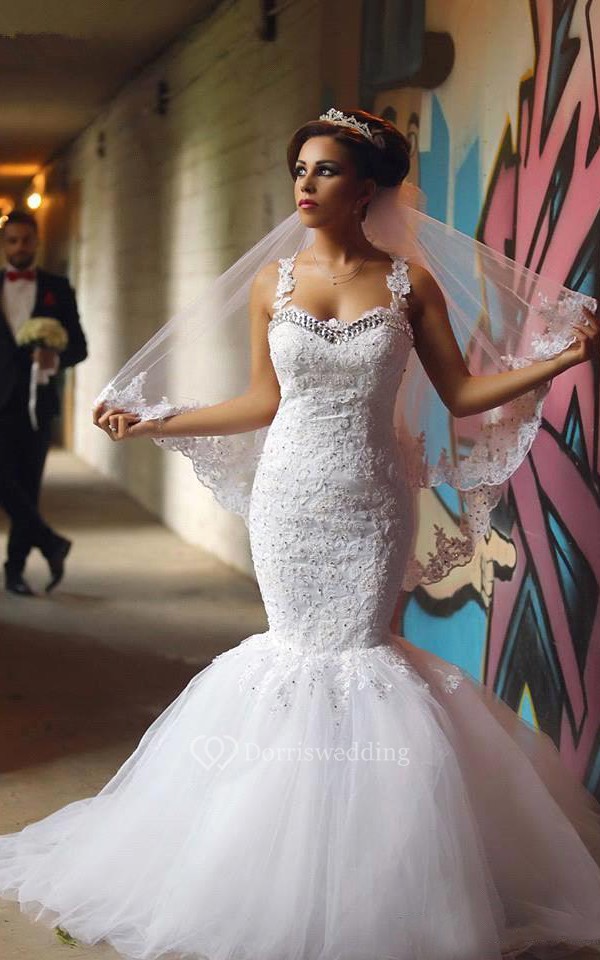 I'm obsessed with mermaid wedding dresses because they showcase the bride's perfect curves.
And you're going to fall in love with this dress too. It's made of lace, and tulle, with beautiful beading embellishments along the top of the bust line. The best part? For color-loving brides, it comes in blushing pink, along with traditional white, ivory, and cream. It's pretty much my dream dress!
See it on June Bridals



Mermaid Short Spaghetti Straps Sweetheart Sleeveless Bell Illusion Beading Appliques Illusion Illusion Straps Keyhole Tulle Lace Dress — $188.19


Check: Cream Mermaid Wedding Dress
If you're planning on having an unconventional wedding, then this is a fantastic choice for you.
Well, I obviously have to mention that the color purple is a royal and noble color, making it very appropriate for a wedding day.
The tulle dress is decorated with beads, floral appliqués, and sequins, which makes it very elegant.
It's floor-length and has an A-line style, and it has sleeveless arms. It's perfect for warm-weather weddings, especially those in vineyards.
If you'd rather go with the traditional white color, though, I think this would also be perfect for bridesmaids.
If you're looking for something a bit more unique and don't mind stepping outside of the traditional color palette, you'll love this gorgeous cappuccino wedding gown. It screams old-world romance, doesn't it?
The cappuccino dress is made of exclusive taffeta. The seller also throws in a free removable petticoat to make the dress lusher, which I think is a nice small touch.
By the way, if you love the style but don't really adore the color, or if you want it customized in any way, the seller will work with you to create your perfect gown.
Unique Floral Wedding Dress Colored | Etsy
UNIQUE DESIGN & HIGH QUALITY
- beautiful handmade wedding dress made of exclusive taffeta
- unique flower fragments
- the dress is decorated with belt
- the dress includes free removable petticoat (for making the dress more lush)
color: Cappuccino
I think this is pretty much THE most romantic floral wedding dress ever, don't you? The floral applique blooms remind me of something you'd find in a fairy tale.
The dress is made of tulle, lace, and polyester. The skirt is made of 6 layers of soft tulle and decorated with silver and pink flowers.
It has short sleeves, a hidden zipper on the back, and a V-neck. The dress also has a simple pink ribbon belt that matches the dress's pink and grey flowers.
Check: Eco Friendly Wedding Dress
This is for my unicorn readers, those who prefer something different. The dress is made using white floral texture lace with a nude lining. The unique, mermaid silhouette wedding dress has a deep open V backline for a minimalist look on your big day.
The white gown is decorated using transparent glass beads in the waistline and a small bow on the back. It's simply elegant, flattering, and sexy! Plus, it's 100% handmade, so no one on Earth will have the same one.
Sheer Long Sleeve Weding Dress Floral Lace Wedding Dress | Etsy
Pretty in lace! A unique, floral mermaid silhouette wedding dress with a straight neckline and a deep open v backline for a sexy minimalist look for your special day 🙂 The fabric is made of white floral texture lace with nude lining, transparent glass beads in the waistline, a small bow a the back, and long sheer leaves made of silk tulle. It's flattering, elegant, and sexy.
This Veronica gown is absolutely gorgeous and dreamy. You can feel the dress was made with love as it reflects it on the asymmetric floral embroidery and the great beading from the top to the train.
The bridal wedding dress is decorated using silver beads, hand-crafted silk organza inflorescence for the buds, and tender ivory branchlet embroidery.
The dress comes in 2 pieces: the silver fitted underdress and the top translucent ivory tulle dress. The silver-grey satin underdress adds a beautiful contrast to the magical beading of the dress.
Open back wedding dress
Open back wedding dress with floral 3D embroidery, tulle skirt, and long train. All our love for beauty and tenderness is reflected on luxuriant asymmetric embroidery and beading all through the top down to the dress train. It includes hand-crafted silk organza inflorescence, matched up with silver beads and tender ivory branchlet embroidery.
This is a simple but very pretty minimony wedding dress. The rose gown is a mix of tulle and embroidery. The dress's wrap bodice is well done and has a low-dipped back and tie straps that hand on your back.
The hand-cut appliques compliment the waist so that the bodice naturally flows with the floating tulle. It's great for those who are looking for a multicolored floral-print dress.
Embroidered floral wedding dress blush wedding dress prom | Etsy
The 'Rose' gown is a beautiful mix of embroidery and tulle. It's feminine and still classically beautiful for a wedding but has modern tones. The wrap bodice fits beautifully and has a low dipped back with long tie straps that hang down your back. Hand cut appliques adorn the waist so the bodice organically transitions onto floating tulle.
This is another excellent wedding dress option for people going for an unconventional look. The gown's bodysuit is made of glitter lace with long sleeves and a nude second-skin effect.
The trendy glitter appliques are sewn by hand, giving them a very beautiful result. The bodysuit also has nude bra caps, so you don't have to worry about color crushing or the extra cost.
The skirt is made of silk satin lining and two layers of chiffon.
If you're on a tight budget and trying to save up, this dress is a great idea. You can wear it during the ceremony and at your after-party too.
It's made of soft tulle and chantilly lace, and features a V-neck, an A-line silhouette, and has floor-length.
The back of the dress is open at the back and has beautiful florals on the in-built bra.
The champagne-colored dress has a natural waistline; it's sleeveless and has a back design zipper.
Tulle Wedding Dress
Colors may vary depending on the light. The dress hanging on the hanger is the actual color.
So far, we've only discussed floral wedding dresses with short sleeves or sleeveless ones. But you can still have a long sleeve wedding dress during summer.
This white line wedding dress has a v-neck, long sleeves, and a back zipper. It's made with tulle and lace and decorated with sequins and forest floral patterns that remind me of wildflowers.
The long sleeves are purely lace, so you don't have to worry about the high temperature.
Lace Applique Bridal Wedding Dress
We can customize colors, size, modify the train, sleeve etc. If you have any suggestions or ideas about our dress, please contact us, we would be happy to hear from you.
This Bohemian long sleeve wedding dress is to die for. It has long bell sleeves, beaded 3d flowers floral design, and an open back.
This laid-back and affordable boho gown is beautiful and lightweight. The dress is boneless, but it comes with an in-built bra without pads. It can also be a full-bones corset and bra.
The dress has a champagne color with rose-ivory lace, and gives off a total modern romance vibe.
Talk about flower power! This is another great dress for a fairy tale wedding. The Amalthea is a perfect embroidered gown. It has a beautiful floral that climbs from the base of the skirt to the bodice.
The dress is available in both pastels, floral and bright floral patterns. It'll look stunning in your wedding photos!
Embroidered Gown
Haven't you ever been in a fairy tale before? The Amalthea dress is a jaw dropping embroidered gown perfect for an unconventional wedding dress, prom dress or gown for any spring or summer formal event. A simple silhouette puts the focus on the embroidered floral that climbs from the base of the skirt up to the bodice.
This is another great dress for those looking for a bridal gown with long sleeves.
The A-line dress is made of tulle, satin, and lining. The dress is decorated using sequins, embroidery embellishment, crystal beads, and handmade lace appliques.
The dress has floor-length and comes in white, pink, yellow, blue, purple, black, navy, red, gold, and champagne.
Fairy Wedding Dresses
Fabric: Tulle,satin,lining
Length: Floor Length
Style: A-line
Decoration:hand made lace appliques, embroidery embellishment, sequins, crystal beads
Occasion:Wedding, evening, prom, party, ball, special occasion.
Final Verdict
Floral wedding dresses are beautiful and elegant. They fill the event with pure love and peace.
The floral adds a special touch to a dress, especially when accompanied by laces and beads.
Bridal floral dresses are common in spring and summer weddings. They're also great for unconventional weddings.
Our Recommendation
What are your thoughts on floral wedding dresses?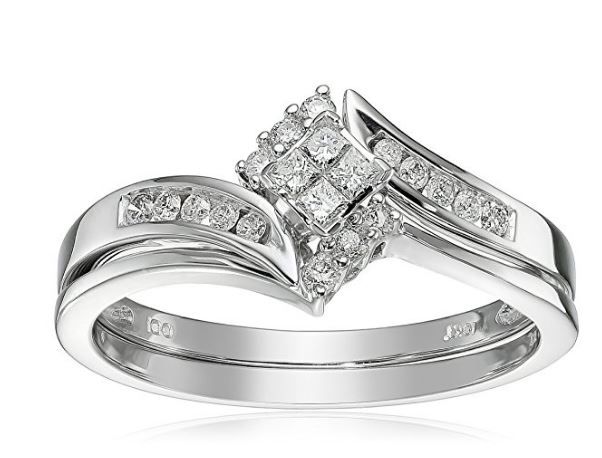 Sylvia K
Sylvia is passionate about everything wedding-related, especially gift ideas and ring suggestions.
Last update on 2021-12-05 / Affiliate links / Images from Amazon Product Advertising API