If you want to take your reception from fun to totally memorable, top it up with some amazing gay wedding games!
They bring out the best in people!
No matter the dress code or menu, the grooms will always make sure that you are having an amazing time.
In a hurry? Enter your email to receive your FREE EDITABLE PRINTABLES
Let's start with a quick look at our top picks, then keep reading for all the glorious details.
Also check: 8 Epic Lesbian Shower Activities
Gay Wedding Games Top Picks at a Glance
If you see the value in these products and choose to purchase via my referral links, I may earn a small commission at no extra cost to you.
Check the table below for a side-by-side comparison of our favorites!
9 Gay and Lesbian Wedding Games (Review)
Spice up your wedding by including one or more of the fun games below!
This type of Bingo is super simple, yet oh-so-fun! It's also a terrific ice-breaker, especially if you have a lot of guests who don't know each other well! When a player finds someone who matches the description in the box, they'll write in the name of that person. Players can't use the same guest as an answer more than once. The first to fill five blocks in a row wins!
As always, this one is always a success. It's guaranteed to put everyone in the mood for the party.
Are you the best man? Then drink! Etsy has some very nice Drink If suggestions from which you can choose. Keep it classy or get really crazy, depending on your guests.
Related: 9 Fun Same-Sex Wedding Shower Games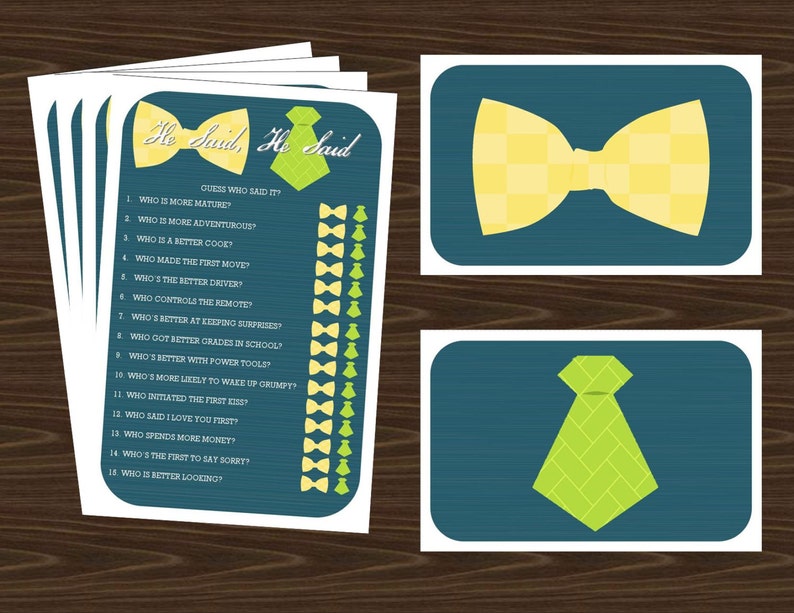 If you're looking for a very engaging trivia game, perfect for your gay wedding reception, here it is. The point of the game is to guess and discover traits about the grooms.
Which one of them do you think does more chores? You're going to have to find out! You can find similar Who Said It games on Etsy, or create your own personalized cards for a touch of fanciness.
This one requires a little more in the way of supplies and setup, but it's a fun game for everyone who's willing to test their skills.
You just need to be careful and don't get trapped under the giant pieces!
Ok, even if you do, you'll be left with a pretty cool memory, so why not?
Create your teams and start the fun! You can find Giant Jenga games on Amazon or even start building your own.
Sale
If you're a big fan of card games, then you'll absolutely love this one. It possibly one of the most offensive card games out there and we're sure it's going to bring you a whole lot of fun.
Don't forget to also try the drinking rules and see what happens.
Sale
Quick And Dirty - an Offensively Fun Game! [Funny Social Comedy Game]
FAST, FUN, COMEDY GAME – Rewards quick wits and dirty minds! Great for game nights, social events, etc
EASY TO START – Learn to play in 10 seconds, simple rules anyone can understand!
VERY PORTABLE – 70 card deck small enough for your pocket provides 1,000+ unique rounds
GREAT FOR GROUPS – Interact and learn about your friends, great icebreaker for groups!
EXPANDABLE - Combine with other editions for even more laughs!
6. The Shoe Game
As long as you're not planning on wearing matching shoes, this is a great idea for a lesbian wedding game. All you have to do is sit back to back and have one of your shoes in one hand and one of your partners in the other.
The host will ask the wedding shoe game questions and you will have to simultaneously lift one shoe or another. How fun is that?
7. Themed Photo Booth
Who doesn't like photos? Combining them with a very cool theme and props? Yes, please!
Decide upon your favorite style and request a photo booth to satisfy all your artistic needs.
This is a classic game for any moment of your life. It tests your creativity and your skills and it's always a thrill to be the first to guess.
There are many options to play this game. You can buy a game of Charades, you can install an app on your phone, or get truly creative with your friends.
After Dinner Amusements: Charades: 50 Cards with 200 Playful Prompts (Charades Game for Adults and Family, Portable Camping and Holiday Games)
POCKET-SIZE CHARADES: This cute, compact tin is filled with 200 charades prompts from books, movies, television shows, and songs.
CHOOSE YOUR DIFFICULTY LEVEL: Each card features four prompts ranging from easy to difficult. Most cards include at least one kid-friendly prompt, so this game can be used by families with younger children.
EASY TO PLAY: Fun and easy to play, charades is the perfect game for parties, groups, gatherings, and on-the-go amusement for all ages.
TAKE IT ANYWHERE: The petite, portable tins are the perfect size to throw in your purse or luggage for a vacation.
EXPLORE THE ENTIRE SERIES: This game is part of the After Dinner Amusements series, a collection of tiny tins filled with prompts for lively conversation, trivia, icebreakers, and endless laughs.
9. Karaoke
Another one of the classics and what better way to keep the fun going?
Rent a karaoke machine and load it up with your favorite LGBTQ-friendly wedding songs.
Yes, weddings are fun indeed and the grooms will go over their heads to make sure you are having the best time of your life. So go on, now.
Find your best costume and bring your most exciting attitude. You're surely going to have a blast playing these games at any LGBT wedding.
Whether it's your wedding or you're planning someone else's, these 8 gay wedding games are definitely going to spice up the atmosphere!
Final Recommendation
Do you have any other favorite gay wedding games? Share below!
Last update on 2022-08-16 / Affiliate links / Images from Amazon Product Advertising API