What are the best wedding rings for construction workers? The short answer is, of course, something durable! Need a little more than that? We hear you! Keep reading for our guide to the best bands for people who work with their hands.
Best Wedding Rings for Construction Workers in 2021
There are only a few things that are as exciting as your wedding day. To many people, marriage is the ultimate measure of their love for each other. I mean, you're committing to loving your partner for the rest of your life.
Exchanging rings as a symbol of your love and dedication to each other is one of the highlights of the day. Since that symbol needs to be as eternal as your love, though, choosing the right one comes with more than its share of headaches.
One thing you must consider when choosing a ring is your professions. You don't want something that will end up breaking! This is especially important if either one of you are in professions like construction, welding, etc.
 Here are some of the best recommendations for wedding rings for men and women in different professions.
FYI, this post contains affiliate links. If you make a purchase through these links, we earn a small commission at no extra charge to you.
Do Construction Workers Wear Wedding Rings?
Ideally, construction workers shouldn't wear their wedding bands when they're working. This is because many metals will easily scratch. Gold and silver are among the worst metals for people who work with their hands.
Also, metal rings in general can get caught in machinery, resulting in potentially life-threating ring avulsion.
However, if you or your partner work in an area of construction that wouldn't make wearing a ring dangerous, I have a few recommendations for you. Here are my top picks for a construction worker's wedding ring.
1. Triton Black Tungsten Carbide Brushed Finished Comfort Fit Band
This is an excellent option because tungsten is very strong and durable. This means fewer scratches regardless of the heavy work. They can also be easily taken off during an emergency.
Luckily, just like any other Reed recommendation, it's not only strong, but it's also stunning. The ring is very affordable, so replacing it in case of an emergency is easy.
Buy the ring on Reeds. The gender-neutral band comes in sizes from 7 to 13.
2. Triton Yellow Tungsten Carbide Step Edge Comfort Fit Band
If you're looking for something strong but with a little bit of fashion, then this wedding band is your best shot.
Its yellow color makes it very beautiful and special, giving it that wedding band feel. The ring is still durable and strong like any other tungsten ring.
Order this wedding band on Reeds. It's available in both men's and women's sizes.
3. Men's Band in 10k White Gold
I know I listed gold as some of the metals you should avoid if you're shopping for a wedding band for a construction worker, but hear me out.
If you have the budget for a golden ring, this could be a great choice. And although gold can be easily scratched, it's shine can be easily restored through care practices.
Also, in case of emergencies, it can be easily bent or cut. Unfortunately, this one only comes in men's sizes, starting at size 8.
Buy this white golden men's ring on Helzberg diamonds.
What's the Best Wedding Band for a Hardworking Man or Woman?
If you're marrying a hardworking man or woman, you want to ensure they get a ring that's both strong and one that shows you appreciate them.
Here are my top picks.
4. 14k Yellow Gold Band
A yellow gold band is timeless. It's very appealing too, and it will make your man feel special on your big day.
Yellow gold is incredibly strong and can be easily polished to regain its beauty.
It can also bend, so it's easy to remove it if there is an emergency.
Buy this yellow gold band from Helzberg diamonds. With sizes starting at 4 and going all the way up to 13, although it says "men's ring," it's very gender-neutral.
Men's Band in 14K Yellow Gold, 6MM | Helzberg Diamonds
The purity of gold is measured in karats. The higher the karat amount, the more pure the gold is. If gold is 100% pure, then it is 24 karat gold (24K). In its pure form, gold is soft and malleable, but scratches easily and is unsuited for jewelry wear. Consequently, it must be alloyed with other metals to give it strength. 14K Gold - 14 parts gold, 10 parts other metals by weight (58.3% pure).
5. Black Titanium Ring
Titanium is three times stronger than steel; it also has a silvery-white shade that makes it incredibly attractive.
Besides being strong and durable, titanium is more resistant to scratch compared to silver and gold.
And when a wedding band is 100% titanium, it can be easily cut if there is an emergency.
Buy this gender-neutral black titanium ring from Helzberg diamonds, in sizes 6-14.
What is the Best Wedding Band for a Mechanic?
Mechanics work with their hands all day, and sometimes that means lifting heavy objects. Therefore, an ideal ring for a mechanic should be something strong and durable.
It also needs to be comfortable and, more importantly, easy to clean. As a mechanic, getting dirty and all greasy is part of the job description. So, the best ring is the one that's easy to clean and maintain the shine with home remedies.
Here are some of the best rings for mechanics.
6. Triton Black Tungsten Carbide for Men & Women
Tungsten carbide is one of the best scratch-resistant metals in the world. The design is also easily replaceable and easy to bend in case of an emergency.
This tungsten carbide ring from Reeds comes with a black sapphire band, which makes it very classic.
The ring is black, so if scratches occur, they'll not be easily noticeable.
Buy the triton black tungsten carbide black sapphire comfort band from Reeds. It's available in men and women's sizes.
7. Wooden Rings
Wooden rings are comfortable, safe, and non-conducive. I know they may seem fragile, but they are very strong.
Many wood rings come with sealants that protect them from water damage.
It's possible to find wooden wedding rings that are well-designed. Check out this one on Etsy. It comes in sizes from 4 through 16.
Wood Ring Koa Wooden ring Malachite Ocean waves | Etsy
Hawaiian Koa wood and Adorned with turquoise. Malachite is inlaid around the entire ring, outlining the surface of the ocean with ocean waves and has a matte finish. This ring has the same waterproof and durability characteristics as other wood rings. Sizes for everyone from size 4-16, including ¼ sizes.
Avoid Wedding Bands that Break Under Pressure
If you're in a field like construction, welding, or any other hard work, you want to ensure that you get a wedding ring that's long-lasting.
Avoid silver and gold as they can break under pressure. Likewise, it's best to avoid soft gemstones in your band, as they can fall out or crack.
Non-conductive Men's Wedding Rings: Best Wedding Rings for Welders
For mechanics and electricians, wearing a wedding ring can be risky, especially when the metal is a good conductor.
While no metal is entirely non-conductive, some are less conductive than others. Of course, if you skip metal entirely, you won't have to worry so much. Here are two of the non-conductive wedding rings.
8. Ceramic Rings
These ceramic rings are durable, tough, and they can survive high temperatures. They're also low maintenance and practically affordable.
Ensure the ring you get isn't paired with other metals such as tungsten and titanium that are good conductors.
Ceramic rings are available on Etsy in sizes 4-13.
White Ceramic Wedding Ring Classic High | Etsy
These White Ceramic rings have a High Polish finish and will definitely draw attention. While it's comfort fit design will be a pleasure to wear. This ring is ideal for use as a wedding ring or formal occasions.
9. Silicone Rings
These are probably the best wedding rings if you're looking for something non-conductive. The rings are also hypoallergenic, so you're sure you won't be having any allergic reactions.
Silicone rings are also very affordable so replacing them is easy. Plus, they come in countless styles! You can even find silicone rings that look like real metal.
You can buy this one from Etsy.
Final Words on Best Wedding Rings for Construction Workers 
Wedding rings are among the essential things on your big day. And when for other people, any ring works just fine, for men and women who work with their hands, it's different.
You've got to put into consideration safety, comfort, durability, and strength. I hope you got something that works for you from my list.
And if you have better recommendations for best wedding rings for construction workers, please share with us in the comments section.
What are your picks for the best wedding rings for construction workers? How about welders or mechanics? Share below!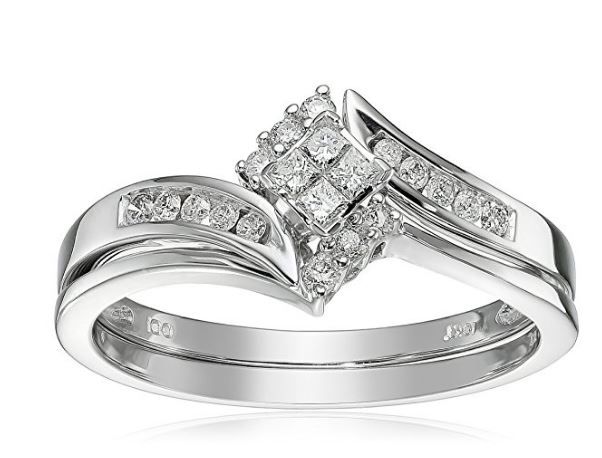 Sylvia K
Sylvia is passionate about everything wedding-related, especially gift ideas and ring suggestions.