If you're looking for the most beautiful and brilliant rainbow wedding party ideas, I've got you covered!
Today, we'll check out some fantastic ways to incorporate the rainbow symbolism into your wedding.
We'll look at small touches like favors and little decorations, as well as all-out over-the-top (or over the rainbow, as the case is) ideas.
Ready to get started?
Related: 10 Beautiful pride wedding rings you will adore
Brilliant Rainbow Wedding Party Ideas
I think the easiest way to lay this all out is to do it in chronological order, from the moment you both say "yes" to the moment you head off into the sunset for your honeymoon.
FYI: This post contains affiliate links. If you make a purchase through these links, we earn a small commission at no extra charge to you.
Rainbow Wedding Invitations
Your wedding invites should go out about 6-8 weeks before the big day, so you'll want to get those picked out asap.
Unfortunately, finding rainbow wedding invitations isn't as easy as you'd think.
Related: rainbow-free same-sex wedding ideas
1.Rainbow wedding invites on Amazon
If you want to shop on Amazon, these are really cute.
2. Support indie artists at Redbubble
Prefer to support indie artists? Head to Redbubble (yes, Redbubble) for some great ideas! I personally love this one: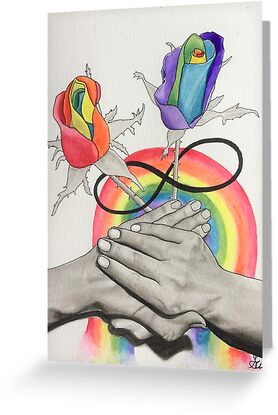 3. Have them printed locally
However, not everyone wants to fill out their wedding invitations themselves, especially if you have a huge guest list!
If that's the case, you'll want to go directly to a local LGBTQ+-friendly printer and talk to them about your options.
Zazzle also has custom-printed invites that may work well.
Rainbow Wedding Dress Ideas
Okay, now that you have your invites picked out, it's time to start thinking dresses!
Again, your best bet is to head to an actual dress shop and try things on. First, that's half the fun in finding the perfect "yes dress."
Second, you just aren't going to find a good rainbow dress on Amazon. Trust me, I looked.
So instead, check out a few of my favorite ideas from Instagram
1. Peekaboo Rainbow
I really like the idea of a white dress with rainbow tulle (or other fabric) on the bottom a la "peek-a-boo" style. So pretty!
2. Subtle pastel rainbow
How beautiful is this pastel rainbow dress? It's subtle yet still makes a totally dreamy impact.
3. Total Rainbow Dress
Maybe you want something a little more rainbow-y? I adore the dress above!
The video below has more gorgeous rainbow wedding dress ideas, so check it out!
Whichever dress you choose, complete the ensemble with a fun rainbow garter, like this one:
Rainbow Wedding Band Ideas
I hate to sound like a broken record, but once again your best bet is to go to an actual jeweler.
That said, there are some cute rainbow wedding band ideas on Amazon that prove you don't to spend a fortune on a meaningful ring.
For example, this one is quite pretty and not overly "gothic" looking:
However, if you prefer the gothic look (I admit that I love it), this one is beautiful and gender-neutral:
While the above ideas are best chosen in person, the rest on this list are easy enough to buy online.
Rainbow Wedding Decoration Ideas
There's no shortage of rainbow wedding decoration ideas so choosing the best really depends on how much rainbow you want.
We talked quite a bit about different ideas in these gorgeous lesbian wedding decoration ideas but here are a few more that I love.
1. Nothing but rainbows above!
This beautiful tablescape gets a rainbow upgrade thanks to the sparkly streamers above!
Recreate the look with these dance scarves. Add a little tinsel to the mix for a bit more sparkle.
2. Rainbow floral arch
Talk to your florist about how best to create the floral arrangement, then grab some rainbow streamers to complete the look.
3. Rainbow Bouquets
Rainbow bouquets are beautiful whether you carry them down the aisle or use them as centerpieces.
If your budget doesn't allow for real rainbow roses, these faux ones work just as well.
Rainbow Wedding Favors
I have a rule when it comes to choosing wedding favors: go with something useful or something fleeting.
Basically, if it's not something that they can use long-term, then it needs to go away with use. In other words, something they can eat, burn, or dissolve.
My brother & sister-in-law gave out great local handmade soaps at their wedding.
They were perfect because we could use them until they vanished on their own. Nothing to feel bad about throwing out!
So, with that in mind, here are a few rainbow wedding favors that fit one or both of my rules.
1. Rainbow Cocktail Tumblers
No products found.
Cocktail tumblers are all the rage right now and your guests don't even have to be drinkers to use them.
I like them for iced tea because I'm very spill-prone and they don't tip over when I'm reading.
No products found.
2. Rainbow Soaps
As I mentioned above, soaps are great because they get used and vanish. Nothing to throw out.
The handmade soaps above are absolutely beautiful, don't you think?
3. Rainbow Matchsticks
Matches are one of those things that you don't really think about until you find yourself trying to light a fire or candles.
Plus, once you use them, they're gone! So they fit both of my wedding favor rules.
4. Rainbow Kisses
Personalized Hershey Kisses stickers make for sweet favors (literally) that definitely won't end up at the back of a junk drawer.
The only downside: you need to buy the candy and stick them on yourself.
Gay or Lesbian Rainbow Wedding Stickers for the Bottom of Chocolate Kisses (Set of 108) (KW13)
The listing includes 108 round .75" self-adhesive stickers, peel and stick (36 stickers of each design shown).
Stickers fit the bottom of chocolate kisses, sealing envelopes, favor boxes and bags, peanut butter cups, and bubble bottles. Chocolate is Not included.
Stickers will be printed as shown with your Personalization. Please provide accurate information when placing your order; no refunds are given on personalized products.
5. Rainbow Wine or Champagne
You'll need a larger budget for these favors but they're totally worth it. First, grab some personalized rainbow labels (buy or make them).
Then, head to your favorite wine store and grab some small bottles of either wine of champagne.
Cover the original label with your custom label and voila, super cute wedding favor that your guests will love!
Rainbow Heart Wine, Champagne or Beer Wedding Labels (set of 24)(L262)
Labels are glossy with an adhesive back. We recommend a smooth bottle with a straight body and little curves the same size as the label ordered to minimize wrinkles.
The listing is for the labels only; bottles are not included.
The listing includes 24 self-adhesive (peel and stick) labels, sold in sets of 24. Labels are available in multiple sizes to meet your needs.
As you've seen, rainbow wedding ideas can be as subtle or grand as you want. There are no rules, just do what makes you happy!
What are your favorite rainbow wedding party ideas? Share below!
Nicole is the editor-in-chief and regular staff writer for LoveYouWedding. What does that mean? Basically, she handles all the day-to-day tasks related to managing writers and bringing you stellar content on planning the LGBTQ+ wedding of your dreams.
She loves writing about quirky and unique wedding ideas, probably because she's pretty quirky herself!