If you're looking for LGBT pride wedding rings that go beyond the basic diamond setting, we've got you covered!
Now there is not exactly a guide to what constitutes an LGBT ring, but we found a few that were extraordinary -just like your S.O. (significant other).
Also, since the rainbow is a symbol of pride, we've gathered up stunning stones in every color!
After all, there's no rule that says wedding rings need a diamond, right
Related: Gay Wedding Rings
Let's take a look and find you that perfect symbol of your unending love, shall we?
Beautiful Pride Wedding Rings
As mentioned above, there aren't exactly any rules that say you have to wear a certain color or stone to represent your LGBTQ+ pride.
If you're proud to be marrying the person of your dreams, then every ring is technically a pride ring, right?
So, rather than pigeonholing you into rainbow rings, we've found rings in every color of the rainbow instead!
FYI, this post contains affiliate links. If you make a purchase through these links, we earn a small commission at no extra charge to you. 
1. True by Hallmark Bridal Sky Blue Topaz Diamond Quatrefoil Engagement Ring
Available at Reeds for $749.99
The defining symbol of pride is a rainbow, so naturally, for a pride ring, a colorful gemstone should be your focus!
This gorgeous sky blue topaz is paired with diamonds – because we wanted to add a little bit of tradition to the mix.
The quatrefoil design makes it look like you're wearing a flower on your finger.
Set in 10K white gold, the striking gemstone with its adorning diamonds will shine ever brighter.
The topaz is a symbol of love and affection, making it a beautiful & meaningful stone for pride wedding bands.
2. Oval Lab-Created Ruby Engagement Ring with Diamond Accents in 10K White Gold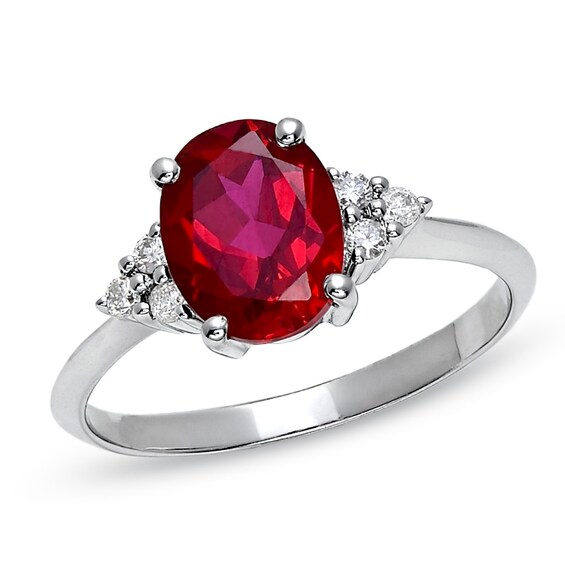 Available at Zales for $296.10
Next up we have a beautiful deep scarlet ruby for those who like bolder pieces.
Where the topaz is a symbol of sweet love and affection, the stunning ruby is all about fiery passion and powerful love.
The contrast between the surrounding diamond detail and the ruby itself is stunning.
The stone is an impressive 9mmx7mm, roughly the same size as a 2 to 2.5-carat diamond.
If you like the idea of sporting a ruby, there are also other shapes available such as the heart-shape or square shapes.
READ MORE: Gay Couple Engagement Rings
3. 1 Carat Emerald Cut Emerald and Halo Diamond Vintage Ring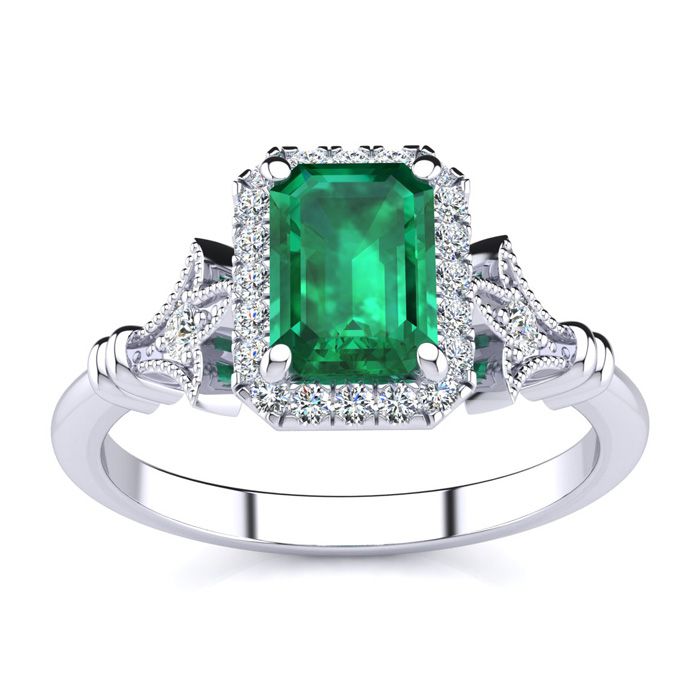 Available at Superjeweler for $699.99
Next up is the green emerald. What goes better with an emerald cut stone than an emerald itself?
I love how the shade of green is still light enough for you to see all the carefully cut facets of the emerald shape.
The emerald cut is the least brilliant of all the diamond cuts, but it possesses timeless beauty that never goes out of style.
The halo around the emerald further brings out the rich color and the detailing on the side add a touch of elegance.
This looks like something the Queen of England has sitting in her jewelry box!
In fact, it was a favorite of another famous queen: Cleopatra! She gave them out as gifts to visiting friends and dignitaries.
Also Check: The Gorgeous Vintage Engagement Rings
4. Custom Birthstone Single Row Engravable Family Ring 
Available at Reeds from $82.90 – $633.26
If you love the idea of matching rainbow pride wedding rings but don't really adore any of the actual rainbow stones out there, this is the perfect solution.
The price varies due to how many and which gemstones you choose.
Choose all the gemstone colors you want to symbolize your love.
A couple of ideas:
Go with just two stones and make them your birthstones.
Go with 3-5 stones, make all but one matching, then for the last one, choose each other's birthstone.
Customizable designs are a favorite of ours and this ring is even engravable!
Put your love into words as best as you can and forever etch it onto the circle of promise.
While we aren't superstitious, but this ring feels like it will bring nothing but luck to your marriage!
5. Cushion-cut Amethyst and Diamond Accent Engagement Ring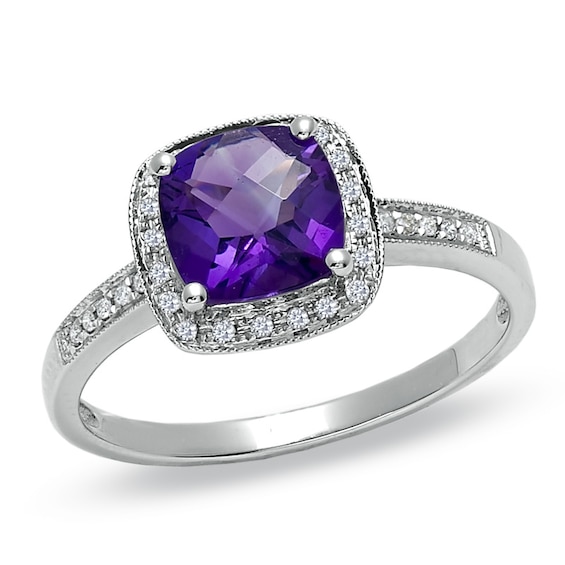 Available at Zales for $449.10
For those who follow astrology and horoscopes, you know that each month also has a unique birthstone.
The amethyst is the birthstone of the month of February. It is either a light or deep purple, (we sort of like the color in between) and is said to bring you healing and clarity.
The cushion-cut diamond like this one and the emerald cuts just look so regal!
Especially embellished with diamonds in a halo design and paved on the band, this ring will make your other half look like the royalty that they are.
6. 1 Carat Oval Shape Morganite and Two Diamond Ring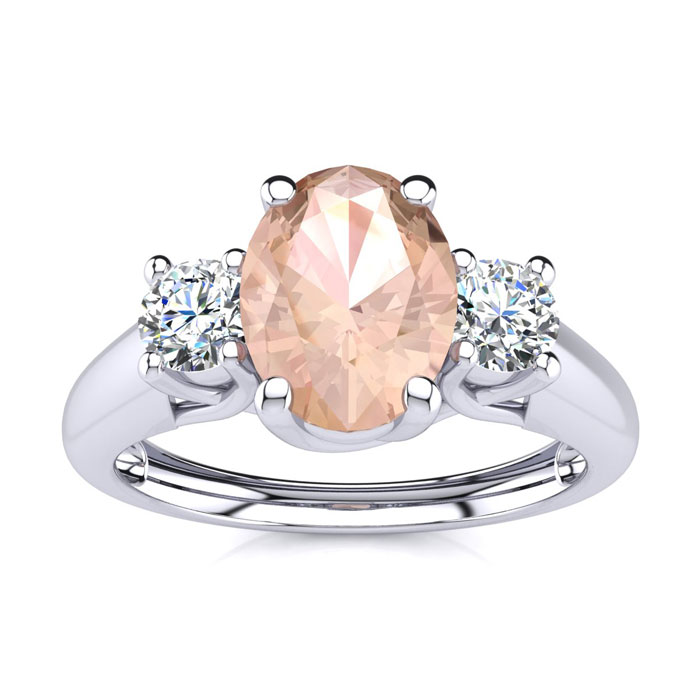 Available at Superjeweler for $399.99
I'll admit, I never new this lovely nude peach color existed in a gemstone.
This stone is called a morganite and the 1-carat gemstone comes with two supporting round-cut brilliant diamonds.
The four-pronged three-stone design sits on a slightly thicker band, giving it more structure and fits more snugly around your finger.
If you like to be different, we can almost guarantee this stone is unique and not often worn as everyday jewelry.
Also Check: The Equality Ring
7. Genuine Round Opal and Diamond Halo Ring
Available at Reeds for $129.99
Not really looking for a clear stone? Perhaps the opaque AB opal is more to your liking.
It might look like a pearl, but it has fire in the stone.
You can see flecks of orange, yellow and gold within the heart of the stone.
The perfectly round shape is encased by a ring of diamonds and the band is also decked out with clear stones.
The beautiful color will go very well with a white wedding dress.
Bonus? It's totally budget-friendly. There's absolutely no reason to go bankrupt when buying a wedding ring.
8. 6.5mm Citrine Flower Vintage-Style Ring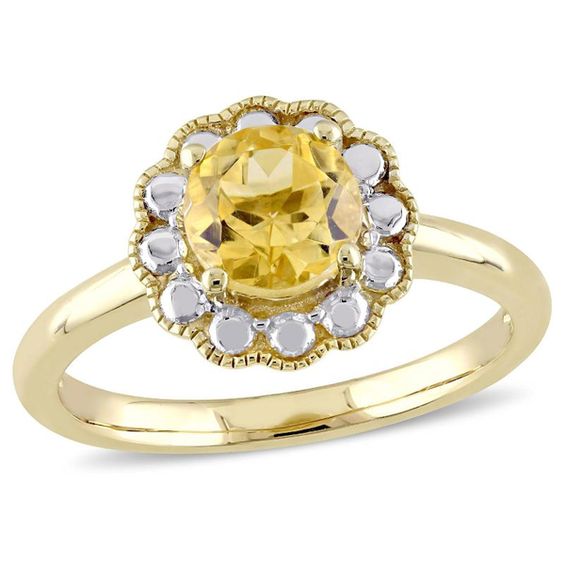 Available at Zales for $476.10
A vintage-style ring it is indeed. The 10K gold setting matches perfectly with this yellow-gold gemstone.
The polished halo surrounding the gemstone gives the entire ring a sunflower-like look.
Yellow is a naturally happy and care-free color, and this exquisite ring will emphasize these traits in your partner.
The canary-colored gem will capture the sunlight in such a way produce such shine everyone will notice the elegant ring on your beloved's finger.
9. 4Ct Pink Topaz and Diamond Ring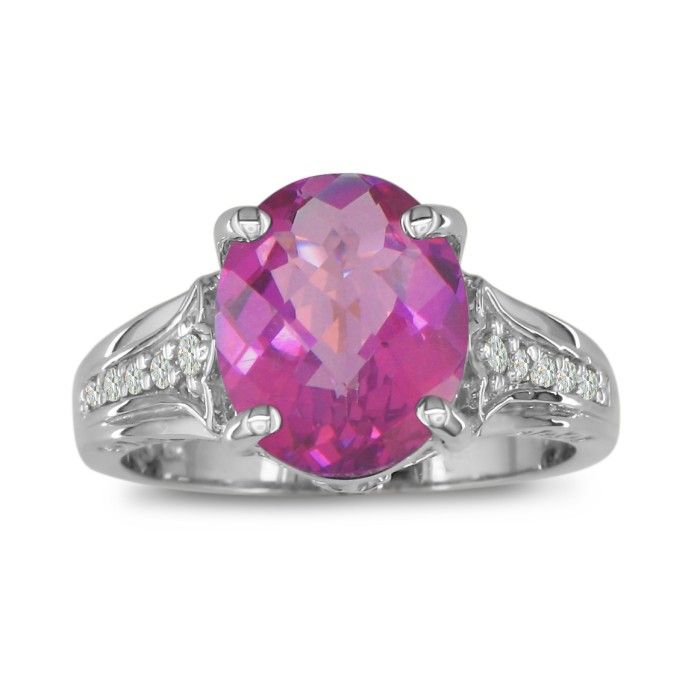 Available at Super Jeweler for $499.97
Did you know that gemstones can come in a beautiful magenta pink?
The topaz such as this option and the sapphire can come in such a pretty color.
For the men and women out there who are a bit extra, here is a 4 carat pink stone just for you.
The diamonds make up only 0.13 carats of the 4, to not take focus away from the main stone.
The large oval cut pink topaz is a unique shade of pink set in white gold to bring out the girly girl in us.
10. Round Black Diamond and Diamond Ring
Available at Reeds for $1299.99
Who can name a movie in which a black diamond was an integral part of the story?
Probably only Sex and the City comes to mind. I'm sure a lot of you are fans of Carrie and her extravagant lifestyle.
This stone resembles the more common onyx, another stone for jewelry, which gives it a mystery factor.
The black diamond ring is paired with the more common white diamonds on a halo pave setting.
And that sums up our list of unique pride wedding ringsRelated: Wedding Rings For Construction WorkersWhich one was your favorite? Do you own a gemstone ring?
Tell us all about your favorite pride wedding rings below!