Looking for the most beautiful & unique lesbian wedding decoration ideas?
Wait until you see the ones I picked out for you!
With everything from small touches to stunning centerpieces, you'll find just what you need to make your dream wedding a reality!
Let's get this wedding planned, shall we?
Related: 10 gay wedding decor ideas
Lesbian Wedding Decoration Ideas
I'll make it easy to find just the right Mrs & Mrs wedding ideas by breaking this into two sections: ceremony decor & reception ideas.
FYI: This post contains affiliate links. If you make a purchase through these links, we earn a small commission at no extra charge to you. 
Okay, now that we have all of that out of the way, let's check out my favorite outstanding wedding decorations!
Lesbian Wedding Ceremony Decorations
Let's start with the main event, your actual wedding ceremony!
Decoration ideas for the ceremony range from over-the-top arches & floral displays to tiny touches that make the day extra special.
Lesbian Wedding Decoration Ideas for the Ceremony
The first five ideas are beautiful ways to incorporate the rainbow symbol into your wedding.
If rainbows aren't your thing, though, I've included some other ideas that symbolize love.
Rainbow Ideas for Your Ceremony
Try just one for a subtle effect or go all-out with a full rainbow wedding and do them all!
1. Rainbow Seats for Your Guests
I absolutely love the idea of turning your seating into a sea of color!
It makes a huge impact as your guests arrive yet takes on a subtler approach once they're all seated.
You can either rent chairs or DIY it with dining chair seat covers or even just by wrapping the seats in fabric.
2. Rainbow Wedding Party
Your wedding party becomes part of the decor with this idea!
Assign each member a different color of the rainbow for their dress or suit.
At the ceremony, line them up "ROY G BIV" style, with red on the outside and violet ending up right next to each of you (or vice-versa).
Don't have that many people in your wedding party? That's fine! Split the rainbow up, with you and your Mrs. in the center.
DorisWedding has some beautiful dresses in all colors that are totally affordable. The one below comes in every color imaginable!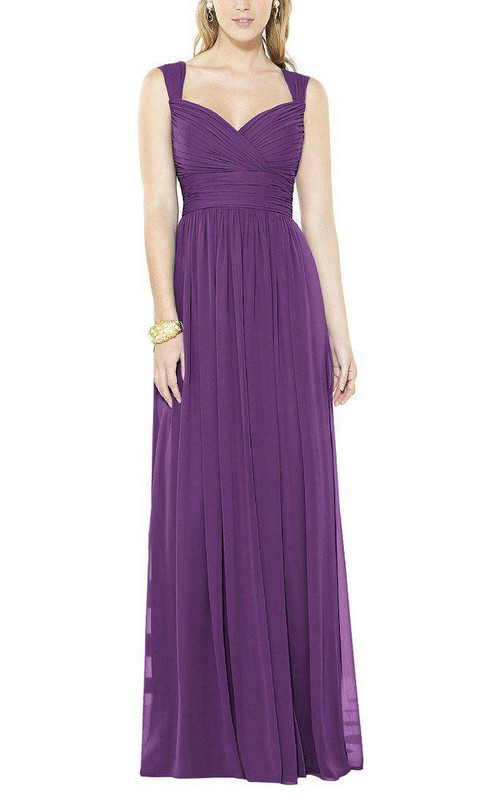 3. Rainbow Candles for the Aisle
If you're looking for something a little subtler, try lining the aisles with flameless rainbow candles.
You could go with real candles, too (I've seen it done), but I'd be afraid of setting the wedding party on fire!
Sale
Multi Color Changing Votive Flameless Candles with Remote and Timer - Battery Operated Led Tea Light Candles,Set of 10 Colored Flickering Candles for Birthday, Wedding, Anniversary Easter Party Décor.
【RGB COLOR CHANGING】These color led tea lights change through 12 colors automatically in "Multi color" mode, You also can choose your favorite color by Remote Control.
【SAFE TO USE】No flames, No smoke, No melted wax,These color led tea lights are Safe for kids, pets and seniors.
【MULTI-PURPOSE DECORATION】1.5" D x 2" Prefect Size for All Candle holders; The colored Pillar candles are ideal for accent decorations for holiday celebrations, wedding, party.
【LONG BATTERY LIFE】 Come with CR2450 replaceable button cell, Each colored votive candle can continuous shine 100+ Hours;and battery can be replaced easily via the tab at the bottom. LONGER battery life LESS spends on batteries.
【REMOTE +TIMER】The multi color tea lights build in 4- or 8-hour automatic timer. Set your colored flameless candles once and have color led tea lights turn on and off automatically every day at the same time.
4. Rainbow Bouquet for the Brides
How gorgeous is that rainbow bouquet? This is another great idea that you can either buy from a local florist or just DIY.
If it's a little too bright for you, achieve the same effect with subtler pastel colors.
5. Rainbow Lanterns
Rainbow paper lanterns make super inexpensive lesbian wedding decoration ideas.
Add LED tealights inside for a nighttime wedding, or just hang them from the trees for a daytime ceremony.
LURICO 16 Pcs Colorful Paper Lanterns (Multicolor,Size of 4", 6", 8", 10") - Chinese/Japanese Paper Hanging Decorations Ball Lanterns Lamps for Home Decor, Parties, and Weddings
❤️ SETS CONTENT - Paper lanterns sets come with 16pcs colorful paper lanterns to hang up in your party, you can also insert a mini led light inside the lanterns and it will work perfect (mini led light not included)
❤️ VARIOUS SIZES & COLOR – LURICO 16 pcs colorful paper lanterns come with 8 bright colors , they size include 4", 6", 8" and 10", each size include 2 colors, these color paper lanterns can give you a wide variety to make excellent backdrop or even just hung around the room
❤️ REUSABLE AND EASY TO ASSEMBLE – Made of sturdy quality tissue paper and metal supports, paper lanterns could easily be stored and used multiple times. Easy assembly required with instruction paper
❤️ PERFECT FOR – Multicolor paper lanterns are ideal for events such as weddings, baby shower, birthday, bbq,celebrations, room décor, bridal shower, easter, christmas, chinese new years, and general ambiance, decoration, celebration and other theme parties
❤️ AFTER-SALES SERVICE: Click "Add to Cart" with confidence and enjoy your life.
Non-Rainbow Lesbian Wedding Decoration Ideas
If rainbows just aren't your thing, try these ideas!
6. Tulip Bouquet
Tulips symbolize "perfect love," which makes them fantastic hers and hers wedding ideas!
Go small with a tulip bouquet or all out with a tulip arch (just a head's up, that'll get pretty expensive!).
7. Orchid Wedding Arch
Orchids are another great flower choice for your wedding! They symbolize beauty, love and strength.
While a tulip arch can be a little overpowering and expensive, orchids are just right for it.
8. Choose a seat not a side…
A popular decor idea for the ceremony, this sign reads "Choose a seat not a side, we're all family once the knot is tied."
If you don't love the one above, check out dozens more options here.
9. Dove Trees
You kind of have to bear with me on this one because I can't find a picture that adequately shows what I'm thinking, but the one above is close.
If you're having an outdoor wedding, try decorating trees with white dove garland.
While most people think of them in terms of religious symbols, they're actually a sacred animal of the love goddess Aphrodite.
You could also release doves at the end of the ceremony, but I'm not a big fan of that because it just seems kind of mean to the bird.
10. Seashell wedding decor
Another symbol of Venus/Aphrodite, seashells symbolize "protective love," and make beautiful wedding decorations.
Use them in your bouquets, wedding arches and more.
If you're landlocked and can't get the real thing from a beach near you, this is a fantastic assortment.
Sale
Sea Shells Mixed Beach Seashells - Various Sizes up to 2" Shells -Bag of Approx. 50 Seashells
A beautiful assortment of various sized shells ranging from conchas to teeny tiny micro shells that compliment any design scheme with its warm neutral orange, pinks, brown and grey color tones. Fill your favorite beach buckets, beach toys. Spread a few tiny starfish and seashells with grains of beach sand in a fishtank. Make a soothing under the sea theme by using them for fish tank decorations and designing a miniature reproduction garden beach scene.
String them to make jewelry or affix these mini conchs to surfaces for crafty borders! Nice for making shell mirrors, seashell ornaments, shell wreaths and add a colorful accent to a basket of beach shells. Make cute adornments on a sand castle with various types of faux pearls and sail boat decor.
Hawaiian accessories pair well with these nautical theme birthday party. Use as a table scatter for a beach party, as party favors. Make beautiful vibrant decorations for the home living room, dining table, bedrooms, art gallery, luau party, restaurant decor and more.
Package of approximately 50 mini seashells for every order. Natural sea shells weigh approximately 10 ounces. They will bring together that ocean breeze tropical decor feel. Perfectly fit for all yur DIY needs.
These beach shells range in sizes of up to 2-1/2". Shell types include donax shell, clam shells, moon shells, nassa shells, and tiny volutes varieties.
Reception Decorations for your Hers & Hers Wedding
Let's head to the reception, my favorite part!
Don't get me wrong, the ceremony is beautiful and all, but you can really go all out with reception decorations!
We'll break this up into two sections: general decor and then some great centerpieces.
11.Rainbow Macaroons
You could go all out with a rainbow wedding cake, but if you prefer a subtler idea I love these macaroons!
Side note, I just learned the difference between macarons and macaroons. The above are actually the latter.
12. Wedding Wish Jar
I love this alternative to a guest book! Ask your guests to write down their wish for you.
Then, after the honeymoon, you and your Mrs. can sit down together and read them all!
Sale
Top Shelf Wedding Wish Jar Kit with 100 Tickets and Decorative Lid
THOUGHTFUL & PERSONALIZED TOUCH Give the personal gift of well wishes & thoughtful words of wisdom to newlyweds with a Top Shelf Wedding Wish Jar
A KEEPSAKE FOR YEARS TO COME Each ticket is filled with thoughtful words from friends and family for the newlyweds to enjoy for many years to come
PERFECT AS A GIFT Our Wedding Wish Jar is the perfect gift for bridal showers or as a gift to the newlyweds on their special day
USE AS A GUESTBOOK ALTERNATIVE Guests can fill out tickets with their well wishes & words of wisdom as they enter instead of signing a guestbook
COMES WITH TICKETS & DECORATIVE LID Wedding Wish Jar kit comes with 100 tickets, decorative lid, and twine hung plaque
13. Rainbow Cake Jars
These make fabulous DIY wedding favors as well as great table decor! Check out this tutorial to make your own.
14. Rainbow Tablescapes
Another idea that can be as subtle or fancy as you want, rainbow tablescapes look beautiful at your reception.
Use inexpensive bud vases and fill them with water, then drop in some food coloring for a DIY decor idea that won't bust your budget.
15. Rainbow Smoke Grenades
At the end of the reception, let your guests give you a beautiful sendoff with these fun rainbow smoke grenades!
I have an irrational fear of sparklers, so I really love these as alternatives to the "burning sticks of fiery doom." Told you it was irrational.
Lesbian Wedding Decorations: Centerpieces
As the name implies, centerpieces take center stage on your tables so they really need to shine!
Don't worry, though! That doesn't mean they have to be expensive or over-the-top! Check out a mix of ideas below.
16. Rainbow Roses
For major wow factor, try rainbow roses as your centerpiece. A single one in a bud vase is just as gorgeous as a bouquet of them at each table.
If you can't find a florist in your area that has them and don't feel like you can DIY them, you can buy artificial versions on Amazon.
DALAMODA Wholesale 15pcs Artificial Silk Rose Flower Rainbow Roses Flowers-DIY Bridal Bouquet Flower or DIY Any Home Garden Decoration Pack of 15pcs(Rainbow Rose)
90% Eco-friendly Satin Silk ,10% Plastic
Flower Total approximately length: 20inch flower head diameter:approximately 3-3.5inch
Pack of 15 pcs,(Note: roses come individually not as a bunch. These roses are hand made please understand that the size may vary slightly)
Handmade Material: SATIN,Silk flowers and leaves, plastic branch;Photographs taken by each computer display pixels may have color difference
Great for wedding, garden, home, shop decoration, can be used for the production of flowers, wedding decoration Can be used to decorate wedding with home, plug vase, placed on.
17. Maple Leaf Centerpiece
If you're planning a fall wedding and aren't really into the rainbow theme, maple leafs make beautiful centerpieces.
Did you know that they're a symbol of love? True story!
18. Cakes as a Centerpiece
When I was looking at hers and hers wedding ideas, I came across so many cute wedding cakes that I thought it was sad you had to pick just one.
But wait, do you? Why not have multiple smaller cakes and use them as centerpieces?
Either choose different flavors for the "guts" of the cake and decorate them all the same on the outside, or go eclectic with totally different cakes at each table.
You can pull the eclectic look together by using the same cake topper for each one. I like this one:
Mrs & Mrs Couple Lesbian Cake Topper Under The Tree Wood Cake Topper After Forever Love Cake Photo Prop Decoration.
🎉 TRANSFORM A CAKE INTO A CLASSY ONE - Add a touch of something specical Cake Topper as the finishing touch to your beautiful cake. It's the perfect way to help celebrate the atmosphere into the wedding/birthday party.
🎉 GET COMPLIMENTS ON YOUR CAKE - No cake is complete without a topper to mark the occasion. Whether you have a lavishly decorated cake or a simple one, this topper will be guaranteed to get everybody jealous!
🎉 GREAT PROP FOR 'CAKE SMASH' PHOTO SHOOT - Many of us wish we had cake smash parties in our day! Well now, just experience it with your friends get some amazing photos to prove how much fun it is!
🎉 GET THE GLITZ WITHOUT THE MESS - You'll love how the topper glistens in the light or sunshine, which is perfect when you want those sparkles to stand out at the Wedding Party. And we've carefully made every topper so that the glitter stays on the topper and won't fall off onto the cake.
🎉 DELICATE AND LIGHTWEIGHT FOR ALL CAKES - Beautifully made, the topper is one sided, yet lightweight and elegantly designed so it stands up and won't topple over on your birthday cake. WARRANTY- 100 percent satisfaction: All cake topper was carefully checked before going up to sell, If they do not meet your need, our customer service are hassle free for you to resolve your issue. If you are not satisfied with our cake topper received, you can apply for unconditional return and reimbur
19. Fiber Optic Lights
Fiber optic color-changing lights are gorgeous centerpieces for a nighttime wedding outside.
Set them to change to all of the colors of the rainbow or just to your wedding colors.
Light Up Fiber Optic Party Centerpieces with Color Changing LED Lights (Set of 12)
INCLUDES: Twelve Centerpieces with Sleek Silver Bases, Fiber Optic Sprays & Multicolor LED Lights
EASY TO USE: Press a Button to Switch Between 7 Steady Light Functions or Slow Color Change
VERSATILE PARTY DECORATIONS: Perfect for Weddings, Birthdays, Dinner Parties, Banquets & More
SHINE ON & ON: Batteries are Replaceable so Lighted Centerpieces Can Be Used for Multiple Events
SIMPLE ASSEMBLY: Insert Fiber Optics into the center of base. Apply pressure with fingers to fan out the fibers as desired.
20. Rainbow Mason Jars
You can take a couple of different approaches with rainbow mason jars.
For example:
Get plain jars and use rainbow tealights inside
Line them with tissue paper and use regular lights
Fill smaller ones with different colored water and tier them on a table
Basically, anything goes with this super inexpensive centerpiece idea!
I hope you found just what you were looking for with these lesbian wedding decoration ideas
Related: Wedding Decor
Related: Wedding Decor
Related: Exotic Wedding Decorations
Related: Exotic Wedding Decorations
Related: Vintage Lesbian Wedding
Related: Vintage Lesbian Wedding!
I also recommend checking out these hers and hers wedding ideas & tips for more suggestions to help with your planning!
What are your favorite lesbian wedding decoration ideas? Tell me below.