A lemon-themed bridal shower is perfect for a cheerful bride. After all, both the color and flavor of the fruit symbolize happiness and excitement, and isn't that what a wedding is all about?
If you need help planning (and I'm guessing you do since you're here), I've got you covered! From the menu to favors to games, you'll find everything you need to host the ultimate lemon shower below!
Check: Questions for Bridal Shower Game
Top 5 Lemon-Theme Bridal Shower Ideas
Let's start with some of my favorite ideas from each category. If you're in a hurry, just these 6 things alone are enough to make your lemon-themed bridal shower perfect!
FYI, this post contains affiliate links. We earn a commission if you make a purchase at no extra cost to you.
1. Serve Lemon Meringue Pie Cupcakes
This is a delicious dessert that you can offer your guests at the beginning of the party.
Bake some cupcakes and cover them with a cream or frosting prepared from lemon zest, sugar, and egg whites to get the yellow color.
Check out the video below for an easy recipe:
Use lemons to make each guest feel like part of the family by having them leave their fingerprint on a piece of paper or printable fingerprint cards.
You can put the fingerprints in a frame and use them as decoration around your house. You can also grab this printable and let your guests turn their fingerprints into beautiful leaves on a lemon tree.
Check: Bridal Shower Candy Game
3. Give Dried Lemon Slices in a Jar for Favors
Give each bridesmaid a jar filled with candies and tied with tulle or satin ribbon, and add some fresh or dried lemon slices to create a unique gift that will remind them of your wedding shower every time they open.
Check out the video below to learn how to dry out lemons the right way.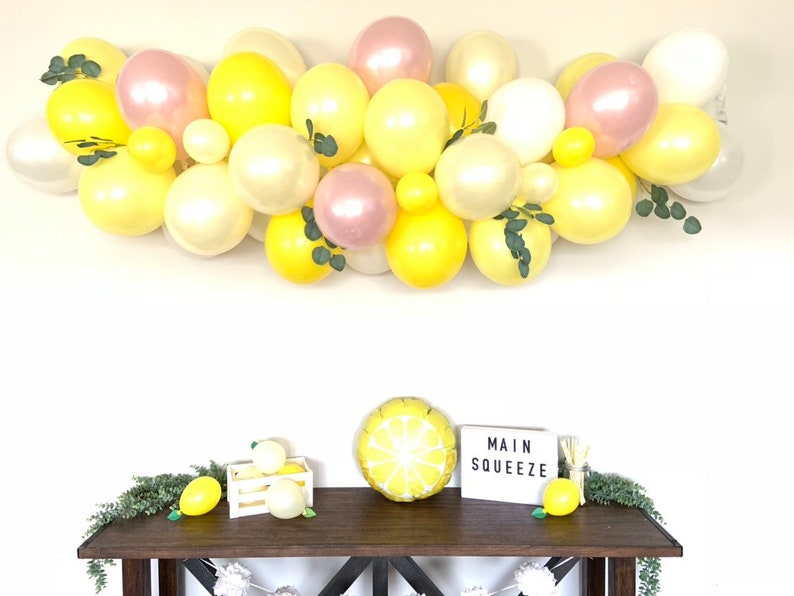 While you could totally DIY your lemon decor with little more than a few yellow balloons and garland, this kit from Etsy will save you SO much time.
Pink Lemon Balloon Garland She Found Her Main Squeeze Bridal | Etsy
Love sure is sweet so why don't you celebrate it with this beautiful pink lemonade inspired balloon garland kit! This DIY Balloon Garland Kit is fully customizable! So fun and easy to do (no experience necessary), but yet makes a big statement! Perfect for a bridal shower, baby shower, wedding, birthday party or bachelorette party décor! Can be hung as backdrop, garland, centerpiece, table runner...the possibilities are endless!
Check Price & Reviews
5. Lemonade Stand with a Twist
You can't have a lemon-themed bridal shower without serving lemonade, right? If you're looking for a unique idea, why not make your own lemonade stand?
Not only is it just plain fun, but it doubles as decor and really pulls the whole theme together. You can even hire a mixologist to upgrade it to a more "grownup" drink stand. 😉
Check out the video for a simple idea:
What Are Some Best Invitations Ideas For Lemon Bridal Shower Party?
You can't host a party without letting people know when and where it is, right? So let's look at a few of my favorite lemony invites!
These Main Squeeze invites are super cute and affordable. They come in a 25-pack with envelopes. You just need to fill in all of the details and mail them out!
Set of 25 Lemon Theme Bridal Shower Invitations with Envelopes — Main Squeeze Bridal Shower Invitations with Envelopes
SHE FOUND HER MAIN SQUEEZE!: This set of 25 invitations AND envelopes are perfect for a lemon theme bridal shower.
THE PERFECT SIZE: Flat, fill in style invitations measure 5" x 7" and come with a premium white A7 size envelope that measures 5.25" x 7.25"
EXCEPTIONAL QUALITY: The invitations are printed on thick 100lb uncoated card stock for quality you can see and feel.
MADE IN AMERICA: Support small business by purchasing our products that are designed and printed in the USA!
MATCHING ITEMS: Give your event a cohesive look with our other items in this collection. (Matching items sold separately.)
Planning an Italian lemon-themed bridal shower? This Mediterranean invite is perfect! You can edit all of the details right on the template, then print them out and send or even just email them.
3. Lemonade Bridal Shower Invitation (Customized)
These cute lemonade invites combine the best of both worlds by letting you customize before buying, then shipping out actual printed invites. You get 12 in a batch and they'll email you a proof before shipping so you can make sure it's just right.
What Games You Should Play at a Lemon Bridal Shower
Here are some fun games with a lemon theme for your bridal shower.
1. Custom Lemonade Flavor Challenge
If you're already using my lemonade stand idea from above, this game is super easy to set up. Challenge each guest to come up with the most unique lemonade flavor!
Before the party, along with the main ingredients (lemons, sugar, water), set up a station with other add-ins. Mint or other herbs and different fruits are the obvious choices but throw in some unexpected options, too. Rainbow Delicious has some unique ideas to inspire you and help you shop for ingredients.
In case you missed it, we just dropped a whole new line of really fun lemon themed bridal shower games that are perfect for everything from office showers to virtual parties to regular old in-person bridal showers. Grab one or grab them all!
My favorite is "Who Am I" because you can save the printables and put them into a shower scrapbook later.
3. Lemon Balancing Game
A super simple game that's perfect for all ages (like if you have kids attending the party), this one is harder than it sounds. See how to play it here:
Lemon-Themed Bridal Shower Party Favor Ideas
Favors are the best way to thank your guest for arriving at your pre-wedding celebration and make the event memorable. The best lemon themed bridal shower favors are ;
Grab these cute bags, then fill them up with sweet lemony treats and other little favors. If you're using the Italian lemon invitations from above, these match perfectly (they're from the same seller, actually).
These lemony lip balms are super cute and affordable! I love that you can personalize them. They're sold in different sized sets, starting with an even dozen and all the way up to a set of 300!
3. Lemon Hand Sanitizer
I love these lemon hand sanitizer paks from Bath and Body Works. I probably have a dozen of them between my car, my purse, and throughout my house. They're super portable and super cute!
4. Tiptree Lemon Curd Minis
While these are a smidge pricier than the other favors, they're totally worth it for what you get. Each set comes with 72 one-ounce authentic British lemon curds from Tiptree. Don't worry, while they're made in England, they're Prime-eligible so you'll get them in plenty of time for your shower!
Tiptree Lemon Curd Minis, 1 Ounce (Pack of 72)
Tiptree has been growing fruit & making preserves since 1885 in Essex County, England. We grow a wide range of traditional fruits on the farm right next to our factory, producing some of the highest quality preserves & marmalades the world has tasted.
We use traditional techniques including cooking the fruit in small batches using copper pans to make the highest consistent quality – each batch produces only 150 jars of product.
Pairs well with mozzarella, Gruyere, cream cheese
Gluten Free and made in a nut free factory
Visit our store to see all 49 Tiptree varieties
5. Lemon Puff Balls
These little lemon puff candies are perfect for filling favor bags or small mason jars. Use them alone or throw in some other tasty lemon treats!
Stewart Candy Old Fashioned Pure Cane Sugar Candy Puff Balls -Made in the USA (Lemon Flavor - 27oz Tub)
PURE CANE SUGAR provides a SOFT BITE at room temp or HARDER BITE when cool - Texture May Vary
CERTIFIED Fat Free, Gluten Free, and Cholesterol Free - An Awesome Snack Any Day
INDIVIDUALLY WRAPPED in a RESEALABLE TUB to keep your candy FRESH and EASY TO STORE
PERFECT OFFICE CANDY for EMPLOYEES, CUSTOMERS, and GUESTS! Break Rooms, Copy Rooms, Checkout, Entry Ways
Stewarts Old Fashioned Candy Puffs are PROUDLY MADE IN THE USA since 1922 with USA Pure Sugar
Lemon-themed Bridal Party Decorations
A lemon-themed bridal shower party is a lot of fun to decorate, especially outside. This doesn't mean you can't use this theme indoors. However, for outdoor events, we have more ideas and space. Here are some superb ideas discussed below.
This is such a lovely idea. Imagine how amazing and wonderful it looks. You can buy napkins with lemon images or other yellow-colored fruits. They don't cost much and make your table look great.
Fancy Lemon Party Napkins/ Lemon Bridal Shower Napkins / Lemon | Etsy
Our triple-ply napkins are both striking in design and durable in function. Thoughtfully designed to elevate any occasion, they feature artwork and designs from museums and artist around the world. Each is made of triple-ply tissue and printed in Germany with non-toxic, water-soluble dyes and food-safe ink. They are FSC-certified and made using environmentally-conscious raw materials, which ensures they are both biodegradable and compo-stable. Our napkins bring eco-friendly style and convenience to your tabletop.
Check Price & Reviews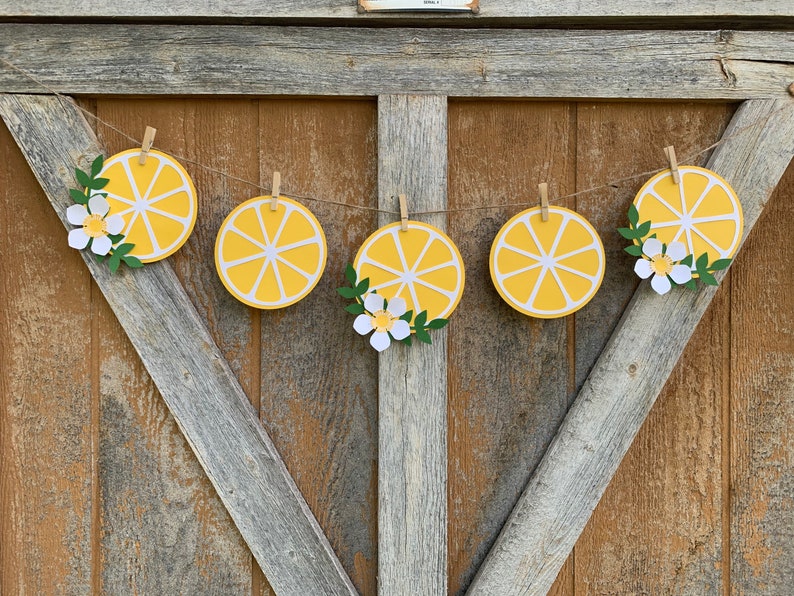 You can use Yellow color Balloons and banners all over your party. This makes your event sweet and colorful.
3. Faux Lemons
Let's be honest, lemons aren't as cheap as they used to be. Since you'll have to buy the real deal for so many other aspects of your party, go ahead and use faux fruits for decorations. The price of this 30-pack makes each lemon roughly $0.46. Considering I just paid $.89 for just one the other day at the store, it's a good buy!
If you're looking for the perfect food to serve your guests at your lemon-themed bridal shower, consider some of these menu ideas. Most are perfect for a brunch or "dessert-only" party, but I threw in some ideas in case you're having a sit-down dinner during your shower. I included YouTube video tutorials for each to make it even easier for you.
Lemon Cupcakes with Lemon Buttercream Frosting
Lemon Layer Cake
Spinach & Strawberry Salad with Lemon Poppy Seed Dressing
Lemon Cookies
Creamy Lemon Chicken
Lemon Curd
Lemon Meringue Pie
Strawberry Lemonade Punch- Non Alcoholic Punch
Conclusion
A Lemon-themed bridal shower is the best option to make the day of your friend's more memorable. There's something just so fun and cheery about the fruit that really captures the spirit of a shower!
Do you have more ideas for a lemon-themed bridal shower? Let us know in the comments below!
Last update on 2022-08-10 / Affiliate links / Images from Amazon Product Advertising API