Looking for some amazing wild and carefree hippie wedding ideas for lesbian couples? We've got you covered below! From invitations to venues and more, you'll find everything you need to throw the perfect free-spirited outdoor wedding ceremony and reception below. Let's get started!
Wild and Carefree Hippie Wedding Ideas for Lesbian Couples
According to Dictionary.com, a hippie is defined as:
"a person, especially of the late 1960s, who rejected established institutions and values and sought spontaneity, direct personal relations expressing love, and expanded consciousness, often expressed externally in the wearing of casual, folksy clothing and of beads, headbands, used garments, etc."
Their culture and fashion were characterized by bell-bottoms, flowers, long hair (both women and men), love beads, peace symbols and tie-dye clothing.
Before we dive into these carefree hippie wedding ideas, I want to share 3 amazing hippie quotes that I came across while doing research. I think they beautifully capture the true meaning of the movement. They also make beautiful quotes to add to your invitation, speeches, and even your wedding vows to each other.
"When the power of love overcomes the love of power, the world will know peace,"

by Jimi Hendrix, a popular musician (guitar), singer and songwriter.
"If someone thinks that love and peace is a cliché that must have been left behind in the '60s, that's his problem. Love and peace are eternal,"

by John Lennon, who is best known for being the founder, vocalist and rhythm guitarist of the Beatles.
"Hippie (noun): One who embraces life to the fullest and promotes peace, love and happiness,"

by Joseph Campbell, who was a professor of literature at Sarah Lawrence College in Yonkers, New York.
Now, let's get to planning that perfect carefree wedding! Below, we'll talk invitations, venues, attire, bouquets and favors.
FYI, this post contains affiliate links. If you make a purchase through these links, we earn a small commission at no extra charge to you.
Hippie Lesbian Wedding Invitations
Floral patterns, dream catchers, tie-dye, sunflowers and wildflowers are all great themes for your wedding invitations. Here is some inspiration to get you started.
Sunflower Wedding Invitations
These invitations from Amazon feature a rustic/boho barrel of sunflowers that's just perfect for a backyard wedding. They come with 50 invitations, envelopes, and RSVP cards.
Wildflower Invitations
Personalize these simple yet beautiful wildflower invitations from Amazon that are perfect for a wedding in a field or garden!
Rainbow Wedding Invitations for Lesbian Couples
These beautiful rainbow invitations from Etsy might just be my favorite. They're affordable, totally personalizable (obviously), and created specifically for lesbian couples. Best of all, they're great for last-minute weddings, since you receive them right away. Then, either print them yourself at home or take the design to a professional printer.
Hippie Wedding Venues
Hippie wedding venues are inspired by the great outdoors…think apple orchards, beaches, farms, forests and gardens. We've included a few of our favorite venues for each option below, with our top pick highlighted in the video.
APPLE ORCHARDS
Alyson's Orchard (in the video above)- The 450-acre Alyson's Orchard is located in the picturesque town of Walpole, New Hampshire.
County Line Orchard– County Line Orchard is located in the small, quaint town of Hobart, Indiana.
Dixon's Apple Orchard– The 100-acre Dixon's Apple Orchard is located in the village of Cadott, Wisconsin.
BEACHES
Lovers Point Beach– Lovers Point Beach is part of Lovers Point park, a 4.4-acre landscaped community park in the coastal city of Pacific Grove, California. The beach is known for its sandy beaches, rocky outcrops and concrete pier structure.
Makena Cove Beach– Makena Cove Beach, known locally as Secret Beach or Secret Cove, is located on the southern shore of Maui Island in Hawaii. The beach is popular due to its black lava rock, palm trees and white sand.
Ocracoke Island– The 16-mile Ocracoke Island is located on the southern tip of the Outer Banks, a string of barrier islands on the coast of North Carolina. The beach is managed by the National Park Service, as part of the Cape Hatteras National Seashore.
FARMS
Crooked Willow Farms– The 90-acre Crooked Willow Farms is located on the northern slope of Pike National Forest, in the small town of Larkspur, Colorado, which has a current population of just 211 residents.
Gedney Farm– Gedney Farm, which features 37 acres of high open meadows and pastures, is located in the city of Marlborough in eastern Massachusetts.
Heritage Prairie Farm– Heritage Prairie Farm is located in the village of Elburn, Illinois, approximately 40 miles west of Chicago.
FOREST-INSPIRED
Hemlock Springs– Hemlock Springs, a wedding venue nestled in the heart of Kentucky's Appalachian Mountains and situated in Kentucky's famous Red River Gorge. The venue sits in the unincorporated community of Rogers, Kentucky, about 51 miles southwest of Lexington.
Mitchells Mountain Meadows– Mitchells Mountain Meadows is a wedding venue located in the Tahoe National Forest, within the Sierra Nevada Mountains. The wedding venue is situated in the census-designated place (CDP) of Sierraville, California, with a 2020 population of just 103 residents.
Treehouse Point– Treehouse Point is a bed & breakfast, event & meeting center, treehouse tour destination and wedding venue. The property is owned by Pete Nelson, a master treehouse designer and builder, best known as the host of Animal Planet's reality television series- Treehouse Masters. Treehouse Point is located in the city of Issaquah, Washington, at the southern end of Lake Sammamish.
GARDENS
Chicago Botanic Garden– Chicago Botanic Garden is a 385-acre property featuring 27 landscaped gardens. It is located in the village of Glencoe, Illinois, situated on Chicago's North Shore.
Morris Arboretum– The 92-acre Morris Arboretum is the official arboretum of Pennsylvania. The arboretum is mainly designed in the English landscape garden style but with Japanese influences. Morris Arboretum is located in Chestnut Hill, a neighborhood in northwest Philadelphia.
Tower Hill Botanic Garden– Tower Hill Botanic Garden is a 171-acre botanic garden and arboretum in the small, rural community of Boylston, in central Massachusetts.
Bridal Attire
Let's discuss the top 3 wedding attire options for you, along with an example of each to give you some inspiration.
Wedding dresses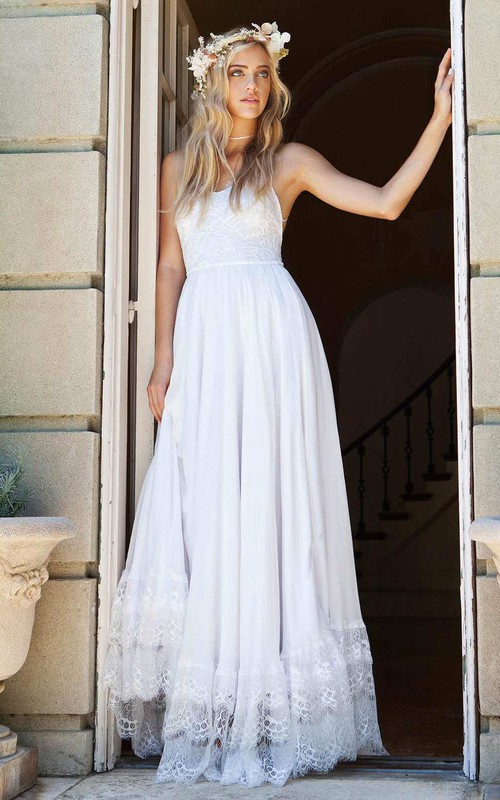 The majority of hippie-style wedding dresses feature chiffon, lace and tulle. I love this one from Dorris Wedding! It is available in 5 colors- Blushing Pink, Champagne, Cream, Ivory and White.
Tie-Dye Dresses
Tie-dye fashion became popular among hippies, in the late 1960's, especially since popular rock stars like Janis Joplin and John Sebastian rocked tie-dye garments. I love this one from Amazon because it's subtle, but you can also go bold if you prefer!
Palazzo Pants
If dresses aren't your thing, then palazzo pants are the ideal alternative. They were popular among hippies and are basically women's pants that are cut with a very wide and loose leg, which flares out from the waist.
Womens Chiffon Straigh Elastic Waist Fold-Over Flare Wide Leg Slinky Boho Palazzo Pants White Split 10
High Waist vintage slit flare pants for going out, Inseam: 27"
Elastic Waistband and layered chiffon.side hidden zip
Cool, breathable, lightweight, and drapes nicely material for summer and hot temperatures.
Straigh leg, double layer without transparent and Wrinkle free.
Great For office, Dress up Daily Wear, Outdoor, Date, Party, Cocktail, Prom,Club, Evening, Vacation and Casual.
Bouquets
Flowers are important in a hippie wedding because the term "flower child" started out as a synonym for hippies, particularly among those advocating universal peace and love as antidotes to political or social problems. For wedding bouquets, sunflowers and wildflowers are popular.
Sunflower Wedding Bouquet Decoration Artificial Sunflower Handmade Bridal Bride Holding Flower Bouquets for Wedding Party Home Decor
UNIQUE SUNFLOWER BOUQUET: A great choice for wedding decoration, the flowers include artificial sun flower, small sun flower, artificial rose, artificial fruit and artificial rice cake. Interspersed with artificial leaves. The connection between the flower and the handle is a spliced green leaf with twine, linen and ribbon bows wrapped around the handle.
HIGH QUALITY, HIGH QUALITY: The sunflower wedding bouquet is made of silk fabric. Silk bouquets do not fade in high temperatures or freeze in the cold, making them the best choice in all weather conditions. Rich colored flowers make your wedding look more delicate and beautiful, diameter: about 26cm, height: about 28cm, weight: 0.25kg.
APPLICABLE OBJECTS: wedding celebrations, parties, dances, outdoor activities, photography and wedding photos. It can also be used as a romantic gift for Valentine's Day. It means "loyalty" and "love", and courageously pursue the happiness you want.
BEAUTIFUL PACKAGING: Our elaborate artificial sunflower wedding decorations are carefully packaged to ensure that wedding bouquets are the ideal way to reach you.
100% Risk-Free: Purchase 24-hour risk-free artificial flower response. We are committed to providing a superior customer experience. If the product has any extrusion or other problems during transportation, please contact us in time and we will contact you as soon as possible.
Favors
While you will likely be happy if your close family and friends attend your wedding to share in your special day, you'll also want them to remember your wedding day for many years to come. One way to do this is to send them home with cool wedding favors.
Incense Sticks
These Assorted, Highly Scented Incense Sticks from Amazon includes a set of 480 incense sticks in 12 scents, including Fresh Bamboo, Rustic Sandalwood and Tropical Mist.
Hosley Aromatherapy 480 Pack Incense Lavender Eucalyptus Mint Sandalwood Sweet Pea Jasmine Tropical Mist Apple Cinnamon Fresh Bamboo Dragon's Blood Myrrh Lavender Lilac Frank Incense O3
PRODUCT: Hosley 480 Pack Assorted Highly Scented Incense Sticks. Handmade by Artisans.
USE: These are perfect for adding a decorative touch to any room's decor. When burning, they will diffuse a pleasant fragrance into the air. Perfect for everyday use, wedding, events, aromatherapy,Spa, Reiki, Meditation, Bathroom setting. Fragrances include: Lavender Fields, Eucalyptus Mint, Rustic Sandalwood, Sweet Pea Jasmine, Tropical Mist, Apple Cinnamon, Fresh Bamboo, Wind, Dragon's Blood, Myrrh, Lavender Lilac Hills, and Frankincense.
BENEFITS: Hosley incense are hand fragranced, infused with essentials oils to create a highly fragrance Aroma use with incense holders and towers. Freshen Every room in your home with Beautify lasting Fragrances.
MEASUREMENTS/MATERIAL: Made from hand fragranced incense sticks and is a 480 count pack for your enjoyment.
HOSLEY BRAND PRODUCTS: Hosley brand products are made from quality raw materials with minimal wastage at every step of production. With the goal of achieving a neutral carbon footprint, please recycle and help leave Mother Earth better off for future generations.
Homemade Crystals & Herbs Tealight Candles
These Homemade Crystals & Herbs Tealight Candles from Etsy, sold by New Moon Beginnings from Pittsburgh, Pennsylvania are available in sets of either 4 or 6, with 22 scents to choose from, including Eucalyptus Mint, Honeysuckle Jasmine and Lavender Chamomile.
Seed Packets
Seed packets make beautiful hippie wedding favors, and you can personalize these from Amazon. Each packet comes with 100 wildflower seeds. Choose from 5 different quotes/verses to add to the package.
Related: Everything You Need to Know About Virtual Wedding Officiants & Online Marriage Licenses
I hope you've enjoyed these wild and carefree hippie wedding ideas for lesbian couples. Keep in mind, though, that the best part of a "carefree" wedding is that you don't have to stick to the rules. If you want to get married in bellbottom jeans and a t-shirt, go for it! It's your day!
What are your favorite hippie wedding ideas for lesbian couples? Share below!
Deanna T
Deanna has a knack for finding unique vacation destinations. She regularly puts her research skills into action to find the most amazing LGBTQ-friendly honeymoon ideas.
When she's not writing, Deanna loves listening to country music, or watching Dancing With The Stars.
Last update on 2021-01-20 / Affiliate links / Images from Amazon Product Advertising API