If you're hunting for the perfect wedding gift ideas for gay couples who have everything, you'll find it here!
It can be so hard to find a perfect gift for a couple who has everything they need and more.
It's even more of a challenge if they're a wealthy couple who can just go out and buy whatever they need without a second thought!
We've rounded up 10 fantastic ideas that they'll absolutely adore (and won't already have)!
Take a look!
Wedding Gift Ideas for Gay Couples Who Have Everything
Whether the wedding gift is for older gay couples or newlyweds, there is a certain gay wedding gift etiquette to follow.
Buying something from the heart or something useful is always a safe bet.
We have scoured the Internet to find the perfect gift that is not only thoughtful but also unique for gay couples who seem to have all they need already!
FYI, this post contains affiliate links. If you make a purchase through these links, we earn a small commission at no extra charge to you.
1. His and His Gay Gifts | Set of 2 His and His Robes
Everyone can use new bathrobes! Especially a set that is monogrammed "his & his" for a little bit of personalization.
It may even be used on the day of the wedding as the couple is getting ready.
There are also "hers & hers" sets if you are attending a lesbian wedding.
The terry cloth robes are super soft and comfy. After the wedding they make good house robes to cuddle up in by the fire or as bathrobes.
You also have the option of purchasing patching monogrammed bath towels or hand towels to match the robes too!
His and His Gay Gifts | Set of 2 His and His Robes | Perfect for Gay Wedding Engagement Product Name
SET OF TWO high-quality terry cotton bath spa robes with stitched HIS and HIS monograms
DESIGNED to fit most: 45" shoulder-to-hem length, long 21"sleeves
100% COTTON highly-absorbent terry material, 650 GSM for extra fluffiness
PERFECT GIFT FOR COUPLES - if you are looking for wedding gifts for gay couple, anniversary gifts for gay couple or wedding gifts for gay couple, look no further!
BATHROBE SET makes for best Valentine's Day gift for gay couples
2. Gay Pride Photo Custom Rainbow Wedding Wine Labe
Chances are there will be alcohol at this fabulous wedding. You can surprise the happy couple with these customized labels.
See the surprised look on their faces when the wine or champagne is served with a happy engagement photo.
The wedding guests and the couple can even keep these bottles as wedding souvenirs afterwards.
They make great vases for the home to commemorate this special day. I'll bet that's something this gay couple doesn't have
Related: Wedding Registry Ideas
Related: Wedding Registry Ideas!
3. Kiss on the Carousel Throw Pillow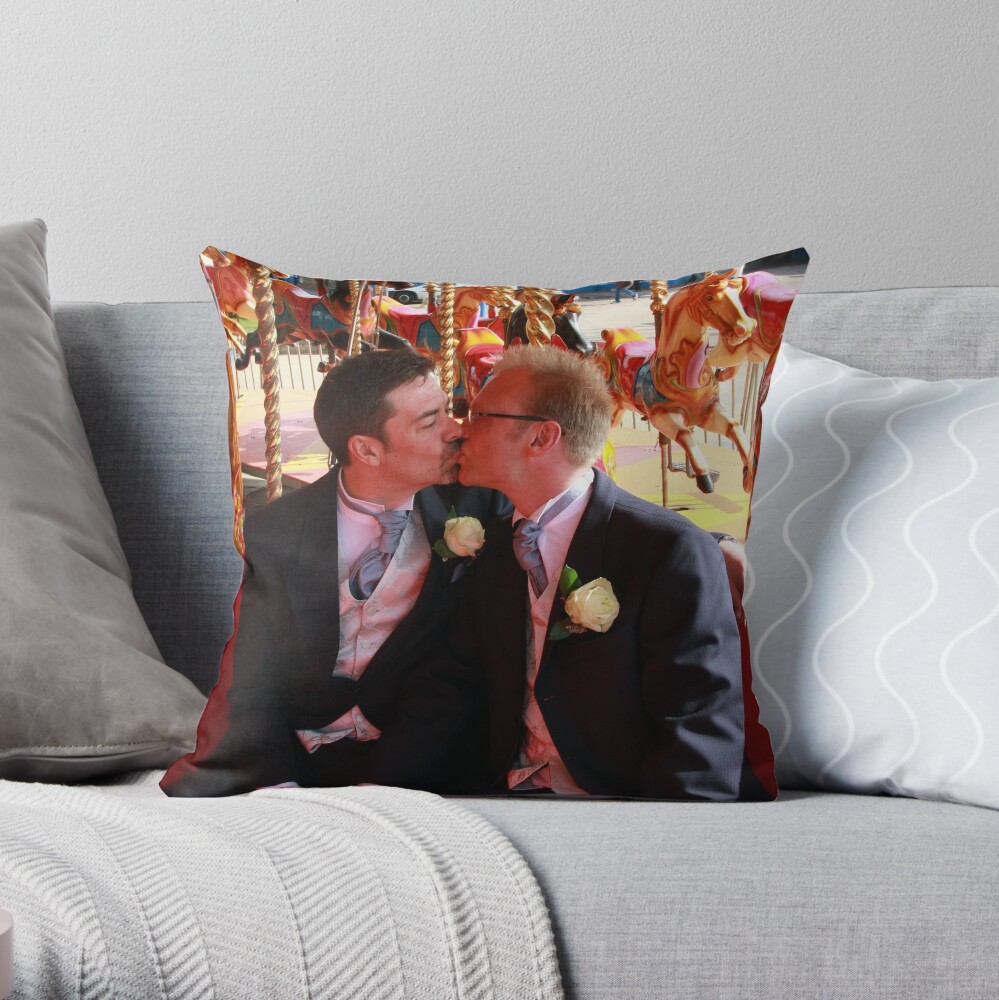 A trick we have learned over the years is that customized gifts are the best for people who have everything.
This personalized throw pillow can have any photo of the couple printed on. It also makes a great housewarming gift for gay couples.
You can choose from different sizes with or without the pillow insert and watch their love come to life on a household decoration they can keep forever.
If a black and white option is classier in your opinion, they have those options too!
4. Peronalized Cutting Board from Personalization Lab
No matter who does the cooking after marriage, this personalized cutting board will remind the special people of the day they said: "I do."
The names of the happy couple, as well as the marriage date, is engraved into a wood of your choice.
Only top quality materials are used to construct this cutting board with a 100% satisfaction guarantee.
With different designs to choose from, who wants the traditional and boring cutting board when they can have this one?
It can double as a charcuterie board as well for the housewarming or subsequent parties.
Personalized Cutting Board, Housewarming Gift | 12 x 8 | 12 Designs & 3 Sizes - Wedding Gifts for Couple, Anniversary Gift, Kitchen Sign - Butcher Block Inlay Board #G
PERFECT CHOICE - Need a custom cutting board? Choose your design and fill in the lines with names and date you want to add on the board. FREE Laser Engraving. We specialized in cutting boards for wedding gifts for couples, housewarming gifts, corporate gifts, boss gifts, Christmas gift, with laser engraving options and messages.
AVAILABLE in 12 DESIGNS | 2 SIZES ( 12x8x3/4", 15x10x3/4", 18x12x3/4" )| - How to Customize: Click on the " Customize Now " button on the right and follow directions on the customization page. Cherish your kitchen or that of your beloved ones with our customized cutting boards! The engraving color on the wood cutting board may vary because each board is unique.
HOUSEWARMING GIFT - Our custom cutting boards are the perfect gift for both family and friends. Also excellent gifts for weddings, anniversaries, and housewarmings. Whether you're displaying this one-of-a-kind piece as art in your kitchen or prepping the family dinner, this wood cutting board provides a unique and personal touch.
HIGH QUALITY & USEFULL - The cutting boards can be turned into a plate to express your food presentation skills for arranging plates for the dishes you prepare, cheese, fruits or your favorite snacks. We engrave them for you free of charge with precision on a premium, top quality wood of your preference. We have a 100% satisfaction guarantee. Meaning if for any reason you are not satisfied with your order, we would be happy to assist you on replacing your item or fixing it for you.
5. Legendary Love Storybook Romance Gay Wedding Album Binder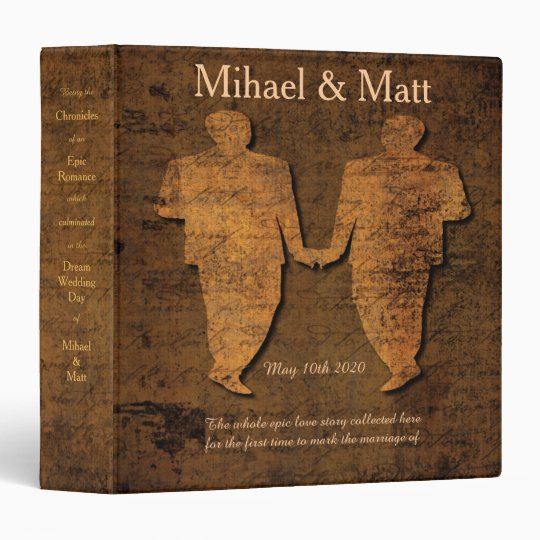 Special moments can be fleeting, and most of us want to hold on to them as long as we can.
How better to do that than to collect all the special moments shared at the wedding or throughout the couple's dating life than with a customized wedding album?
The seller offers more than one design, so feel free to browse. You are able to personalize the template with words of well wishes, dates and names.
Allow the happy couple to chronicle their love with this thoughtful wedding gift.
6. LGBT Gay Wedding Shirt and Gifts – Two Grooms are Better than One Clock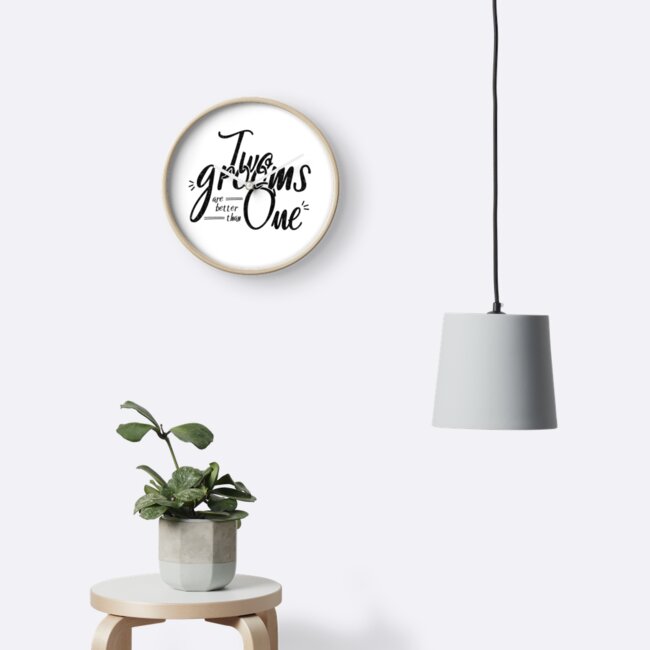 Wedding gifts don't need to be pricey to show your sentiment.
This amazing clock can be yours for under $50! The best wedding or anniversary gifts are those than can be used even after the special day.
A clock can forever be hung in their new home, which also makes this a great gift for gay couples young and old and for housewarming.
Whenever they look at the clock they will be reminded of your love and their spectacular wedding day.
There are also other designs if this one doesn't appeal to you.
7. Leather Coasters Personalized with Initials Carved in Heart and Wedding Date
Small little knick-knacks around the house are also thoughtful gifts. They last a lifetime and can be a part of everyday living.
These coasters can be personalized with the initials and date of the union.
Very well-made, the coasters are engraved, not printed so it will never fade or rub off.
The leather surface and metal border are quality material you can feel. The coasters won't stick to glasses or damage tabletops.
Another sentimental gift for the happy couple.
Leather Coasters Personalized with Initials Carved in Heart and Wedding Date
Great Gift You Customize with Names, Initials in the Heart, and Wedding Anniversary Date
These Coasters are Laser Engraved and you can feel it to the touch, there is no paint or sticker, will not wear off or fade
Leatherette and Metal Ring, These are a heavy coaster so it won't stick to your glass when picked up
Neoprene backing on the bottom is very soft so they won't scratch your furniture
Leather Coasters Personalized with Initials Carved in Heart and Wedding Date, Click the Customize Now Button To See
8. Giftgarden Heart Shaped LED Light
Available on Amazon starting from $12.99. It may be more expensive for customization
We love anything customizable and this gorgeous LED light figure is yet another loving gift that can be.
Choose from 6 different rose colors (R2 being our favorite), and personalize the text that is laser-etched on the acrylic heart.
It lights up with LED lights at night, making it a perfect little night light in a new house as well.
We are sure the happy gay couple won't have anything like this!
Giftgarden Heart Shaped LED Light
Etched heart lights up to reads, the letter word laser etched into an acrylic mirror heart on LED color with red rose base decoration. The dimension size of the figurine is about 5.9Hx2.2Wx4.7L -inch(12x5.5x15cm) and the item weight is about 200g. Batteries which have about 72 hours of light-time.
The laser-etched LED light shine word is - In each other's hands we have found trust and comfort. In each other's arms, we have found HAPPINESS and JOY. In each other's hearts, we have found a love that will last forever.
It is an Excellent Gift / Keepsake for the Special Day, and a charming gift for someone you love and especially an idea and personally gift for wedding or engagement stuff. A great gift to give to express your love for a special person for any occasion.
Design with the heart-shaped and LED light. The figurine/statue would be a good item for cake top decoration and also a beautiful item for daily home tabletop decoration.
Exquisitely crafted polyresin rose base decoration. The hand-painted polyresin craft decor rose will need a series of manufacturing processes to make sure the delicate red rose flower and green leaf in high quality.
9. Personalized Folded Books
Every romantic relationship is a story, what better way to illustrate this point than with a book?
The words between the pages make up the happy couple's love story.
Their initials can be customized in uppercase and held together by a heart or an infinity symbol in the center.
The books are all recycled books with words that tell the story of their never-ending love.
10. Love on Beach Heart in Heart
What a gorgeous canvas picture, isn't it?
Again, there are other photo options and the heart initials are digitally drawn for a realistic look, but the beach is by far our favorite.
It has a calming and tranquil effect that should be the feeling the happy couple should provide for each other.
It looks great on any color wall regardless of your interior decor style.
For people who have everything, customized gifts are the best, don't you think?
Which one was your favorite? We sure like the beach photo, cutting board and wedding album. Share your ideas with us in the comments below!
Last update on 2021-01-16 / Affiliate links / Images from Amazon Product Advertising API