Whether you're looking for the best lesbian wedding anniversary gifts to give each other or just want to get your favorite couple a little something, we've got you covered!
Getting your other half flowers or chocolates seems so played out, but maybe you don't have the budget for a big gesture such as a lavish trip to Croatia or a cruise in the Caribbean.
In our opinion, small and thoughtful gifts are what counts.
It's the little things, right?
Customized presents that show you put time and effort into it are the best.
Let us help you make this day even more special.
Related: 9 first anniversary gifts for gay couples
Lesbian Wedding Anniversary Gifts
1. Mrs. & Mrs. Gay Wedding Gift Coffee Mug Set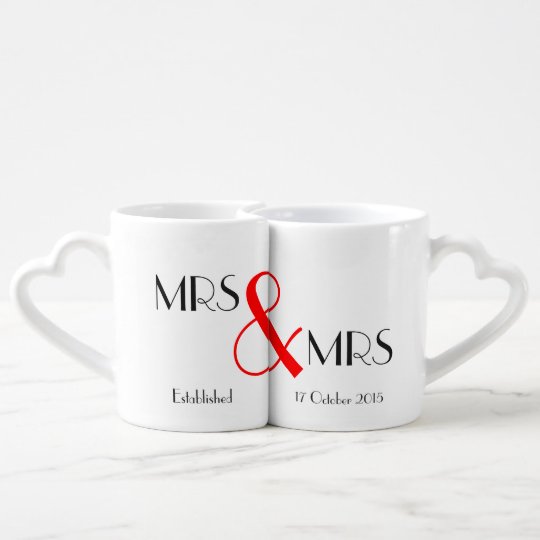 This is just one example of a cute but affordable gift to commemorate your special day.
Not only are there Mr. and Mr. options, but you can find Mr. and Mr. and the traditional Mr. and Mrs. all with cute designs that fit together.
It symbolizes not being able to be complete or whole without the other half, which we are sure is how you feel about your special person.
The ceramic mugs come with heart-shaped handles for extra grip and serve as an everyday reminder of your love!
2. Gay Wedding Gift Mrs. Right Mrs. Always Right Gay Couple Pillow Cases
You know you married your right person, but these pillow cases just highlight that fact.
Lay your head down at night with your beloved knowing they will always be the right choice.
I guess the only thing now is to decide who is right and who is always right! Selecting different fabrics and sizes will impact the price.
The seller offers plenty of other options as well so feel free to give the shop a browse.
Mrs and Mrs Pillow Cases
Lesbian Wedding Gift Mrs Right Mrs Always Right lesbian couples pillow cases Mrs and Mrs lesbian marriage anniversary gift LGBT same sex Mrs
Mrs Right Mrs Always Right!
3. Personalized Love Wins Gold Bottle Stopper
These are more like wedding favors, but why not give everyone a souvenir that celebrates your love?
Throw a surprise dinner party as a gift for your partner and gift these beautiful personalized bottle stoppers to all guests but keep a few for yourself.
Every celebration you have after that day will have a reminder of your forever love with these bottle stoppers.
Use them for soda bottles, champagne and wine bottles.
4. Fasciino LGBT Matching Gay Pride Hers & Hers Lesbian Couple Hooded Sweatshirt Set
To celebrate the day you were married, why not get a wifey and wifey matching sweatshirt set?
They are so soft and come in 12 differenet colors.
The price gets you a set of two, and we suggest going for the lighter colors so the lip print and the word "wifey" is displayed clearly to the whole world!
5. LifeSong Milestones Personalized 1st Anniversary Chest
Okay, so this one is on the pricier side, but it's too beautiful not to include.
The handmade jewelry organizer/storage chest is small, but the details are gorgeous.
It's definitely something that you'll treasure for years to come. Personalize it with your names and wedding date
LifeSong Milestones Personalized 1st Anniversary Jewelry Organizer Storage Chest, First, Wedding Keepsake Box, Gift for Her
Engraved one year of marriage days, weeks, months, years
Personalized 1st wedding anniversary wooden jewelry box includes a flip-top lid and inset mirror. There are 4 small divided sections and removable drawer.
Keepsake box has felt feet to keep surfaces scratch free. Made with solid wood and felt lining.
Measures 11.5" l x 8.25" w x 5.25" h. Beveled glass mirror measures 8"w x 4"h.Trey has 2.5" x 2.5" compartments along with a 8.25" x 2.5" one. Without trey, box opening is 9.25" x 6"
Made in USA by LifeSong Milestones
6. White Waffle Weave Spa Robe
Available at Etsy.com
Chances are you and your partner both work very hard to maintain your quality of life and your relationship.
A bathrobe can be a reminder to relax, slow down and enjoy each other's company once in a while.
This waffle weave bathrobe is one-size fits all and is made from a cotton and polyester blend.
Monogram her initials in pink thread on the robe for a touch of personality.
7. Personalized Rainbow Love Heart
Sometimes you feel your heart just bursting with love and no words to describe how you feel.
Sometimes you might forget to let your spouse know just how much they mean to you.
With this heart-shaped word cloud, he or she will be reminded every day. Use all the words you want to say or just their standard template.
They don't have a word limit so the sky is literally the limit for this gift.
Personalized Rainbow Love Heart
A Gifted Turtles print truly is a great gift for loved ones. We have thousands of satisfied customers, with many returning to us time and time again
8. Red Laquered Platinum Dipped Long Stem Genuine Rose in Gift Box
Available on Amazon for $79.99
Maybe you want to opt for a more traditional gift like flowers, but flowers don't last as long as your love.
Now there is an option that will!
This beautiful red rose is coated in platinum and laquer and will last forever.
Each rose is unique and there are a wide variety of colors to choose from! This has to be our favorite gift yet.
9. Personalized Buffalo Check Throw
One of my favorite things to do is Netfix and chill with my other half.
On cold winter nights by the fireplace with the lights dimmed and a mug (maybe the one we suggested above) of hot cocoa is picture perfect bliss.
How about adding a large and comfortable throw blanket to snuggle under with your S.O.?
The comfortable and cozy throw can be personalized with her or both your names or initials, it just needs to be under 12 characters.
Personalized Buffalo Check Throw
The Personalized Buffalo Checkered Throw Blanket is cozy and offers a classy western motif. Made with 100% polyester acrylic, this beautiful throw also features a buffalo check pattern and comes in either blue or grey. This luxurious blanket is perfect for any occasion or can be a memorable gift for your family or friends, especially when it is personalized.
10. 25th Silver Wedding Anniversary Keepsake Large Clock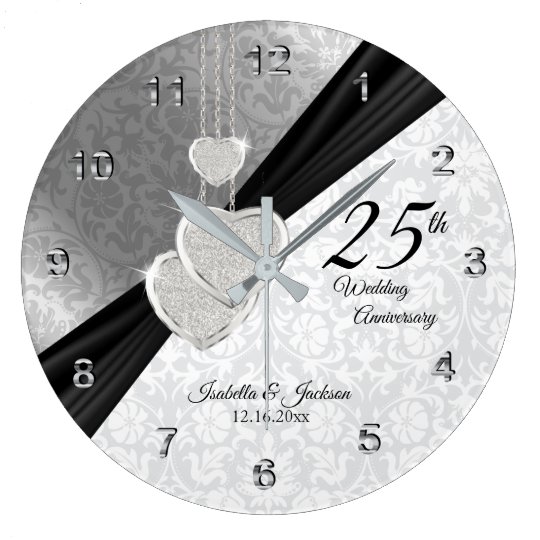 Beautiful isn't it?
For a big wedding anniversary like your 25th or whichever one since it's customizable, a clock serves as a reminder of how much time you've spend together.
While we're sure no amount of time is ever enough with your loved one, the clock will keep ticking and your love will keep prospering.
You can personalize the names, date, and all the other words on this clock face.
I have to say, even writing this list made me want to purchase some of these gifts for no reason!
My favorites are the rose and the clock. While they are pricier, they also last much longer and carry a lot of meaning.
Which of our top picks for the best lesbian wedding anniversary gifts is your favorite? Let us know in the comments!
Last update on 2021-03-01 / Affiliate links / Images from Amazon Product Advertising API