If you're looking for some of the most beautiful and inspirational lesbian wedding gifts to give the happy couple, I've got you covered with ideas for the perfect wedding gift for lesbian couples.
We've talked about a myriad of gift ideas in the past, from Hers and Hers gift ideas to the best baskets to send from overseas.
Today, though, we're going to really dig deep to the heart of gift giving on a wedding day and find the perfect meaningful & inspiring ideas.
Let's check them out, shall we?
What Makes a Gift Inspirational?
Before we dive into my favorite inspirational wedding gift ideas, I think it would help if I define what the word means to me.
After all, everyone has a different definition of "inspirational," right? What makes something the perfect wedding gift? How can you find the most thoughtful wedding gift for such a special occasion?
To me, an inspirational wedding gift is meaningful one that makes the couple do that "awww" chest-clutch thing (not to be confused with the heartburn chest clutch).
Do you know what I mean? Like, when you get a really beautiful gift and you put your hands to your heart and sort of gasp? That, to me, is inspiration.
So, with that in mind, I present my top 10 favorite "oh, wow, that's so beautiful" hand-to-heart gift ideas!
Heads up: This post contains affiliate links. If you make a purchase through these links, we earn a small commission at no extra charge to you. 
Inspirational Lesbian Wedding Gifts
The first five gifts come from Amazon, since I know we all love the convenience of shopping there.
The last five, are from some of my other favorite stores with inspirational gift ideas. Some of them may surprise you!
Inspirational Lesbian Wedding Gifts on Amazon
Use the table for a quick peek at our gift guide, then read on for more details. These are the best inspirational wedding gifts for lesbian couples.
1. Willow Tree Chrysalis
I'll be honest, I usually find faceless figurines utterly creepy. Willow Tree sculptures are the exception, though. I can't tell you why, I just like them!
This beautiful piece celebrates the deep bond between two brides. The enclosed card reads: "Protect and cherish; give wings to fly."
I can't think of anything more inspirational than that sentiment, can you?
Willow Tree Chrysalis, Sculpted Hand-Painted Figure
Sentiment: "Protect and cherish; give wings to fly" written on Enclosure Card
9"h hand-painted resin standing figure of two women in cream dresses; one woman standing behind and embracing other woman.
A gift to celebrate supportive friendships among women—best friends, sisters, co-workers, neighbors, mothers and daughters. Packaged in fitted box ready for gift-giving.
Artist Susan Lordi hand carves the original of each Willow Tree piece from her studio in Kansas City, MO. This piece is cast from Susan's original carving and painted by hand.
Ready to display on a shelf, table or mantel. To clean, dust with soft brush or cloth.
2. A Marriage Promise
I like this beautiful sign for two reasons: first, it uses no pronouns, so it's inclusive of all couples, including same-sex couples.
Second, it works well both for religious and not-so-religious couples (don't let the word "Christian" in the title scare you, it's totally non-denominational).
Marriage Promise Wood Plaque Inspiring Quote 5.5x12 - Classy Vertical Frame Wall Hanging Decoration | A marriage is a promise that two hearts gladly make | Christian Family Religious Home Decor Saying
👭 MADE IN THE USA OF THE FINEST MATERIALS – This Marriage Promise is 100% made in the USA, we believe in quality and only sell products that last for a long time. Our Wood Plaque is made of fine wood that looks elegant and will never fade or break easily. Dexsa has been manufacturing unique products for the gift market for over twenty-five years. Each piece is handcrafted to ensure you are receiving the quality you deserve at an affordable price.
👭 ELEGANT VERSATILE DECORATION – Looking for a nice wall decoration with a beautiful meaningful quote? Includes a keyhole on the back for hanging. This is the perfect gift for your parents, wife or that favorite couple. It will inspire every time they read it. Measures 5 1/2 inches x 12 inches.
👭 RUSTIC STYLE - With reclaimed wood background brings a fresh and rustic style that highlights its rugged and natural beauty. It embraces nature-inspired textures, simple and earthy colors that brings organic warmth at home or working place.
👭 WONDERFUL GIFT – "A marriage is a promise that two hearts gladly make; a promise to be tender, to help, to give and take. A marriage is a promise to be kind and understanding, to be thoughtful and considerate, fair and undemanding. A marriage is a promise to share one life together... a love filled promise meant to be kept lovingly forever." An inspiring, lovely gift to the family or friends closes to your heart or to anyone you like to give a gift for birthdays, wedding, housewarming, holida
👭 OUR PROMISE - You will be 100% satisfied with our product! Dexsa is so confident you will love their products, if you are not completely satisfied, you will get a prompt refund or replacement, no questions asked.
3. This is Us Key Holder
You don't have to be a fan of the show to fall in love with this beautiful key holder.
The sentiment is beautiful in its simplicity! Plus, it's totally functional! After all, we all have keys of some sort, right? Even a newlywed couple!
4. Rainbow Melted Crayon Art
A little funkier & fun than the slightly more traditional gifts above, yet still one of my favorite inspirational lesbian wedding gifts of all time.
If you're not mad about this one, the artist has a ton of other beautiful assorted items on the listing, including personalized styles. Look around and you're sure to find a wonderful idea.
5. Anniversary Wine Box
I love this gift because it says, "I know you'll be together for a very, very long time."
You can't get much more inspirational than showing that you believe in their strong love for each other, can you? It truly makes for an awesome wedding gift and a beautiful keepsake.
Make this gift even more special by choosing a good wine from the year they met or the year of their wedding. Don't forget to include some wine glasses for the happy couple!
Other Beautiful & Inspiring Wedding Gift Ideas
Amazon is a great place to shop, but let's be honest: it's a bit lacking in inspirational lesbian wedding gift ideas. Honestly, it's lacking in gifts for gay couples in general. So, I turned to a few of my other favorite places to shop for these next gifts!
Related: Vintage Lesbian Couples & Weddings
Related: Vintage Lesbian Couples & Weddings
Related: Lesbian and Gay Wedding Gift Ideas
Related: Lesbian and Gay Wedding Gift Ideas
Related: Prank Gifts
Related: Prank Gifts.
Honestly, it's lacking in LGBTQ+ gifts in general. So, I turned to a few of my other favorite places to shop for these next gifts!
6. Rainbow Hearts Throw Blanket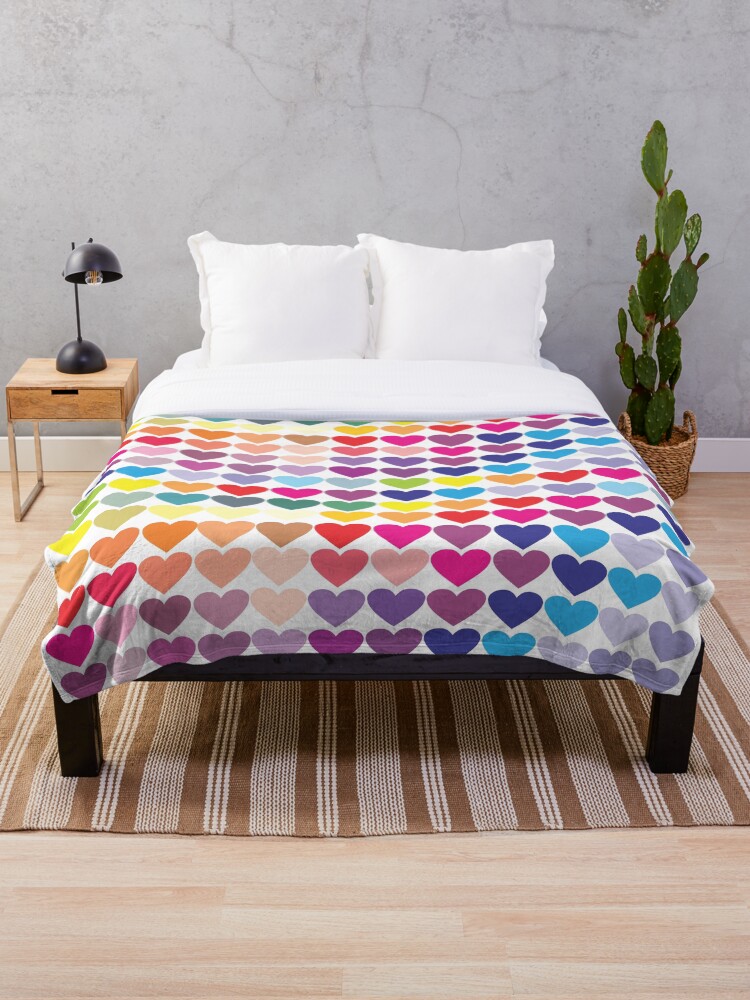 Just because it's practical doesn't mean it can't be meaningful!
This gorgeous Rainbow Hearts throw from Redbubble will keep your two favorite brides warm and cozy on a cold winter's night.
It comes in three sizes so you can choose just the right one for quality snuggles.
7. Mrs & Mrs Photo Frame Silver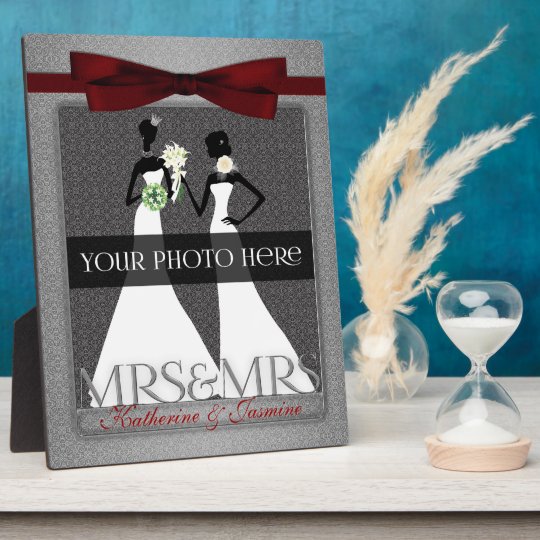 Head over to Zazzle for some unique inspirational gift ideas, like this stunning photo frame that is perfect for gay couples.
To make it a personalized gift, decorate the 8×10 easel frame with the couple's name, add a photo, and even change the color scheme.
While it's a great wedding photo frame, you can use any picture you want. The engagement announcement photo makes a great idea for the special couple!
8. Love is Love Photo Cube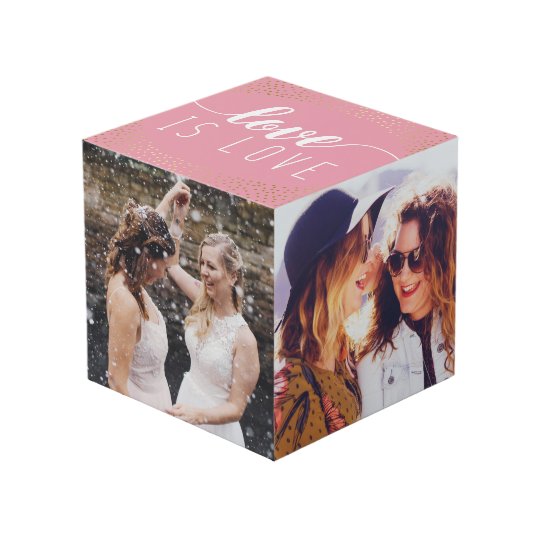 Another beautiful & inspirational gift from Zazzle, everything about this photo cube can be changed and personalized to make the perfect gift.
Upload four of your favorite photos of the special couple, then change the colors to match their wedding palette.
Pro tip: if you don't have pics to use, snag them from their Facebook page. I do it all the time when I want to make a surprise photo gift!
9. Love Wins Framed Print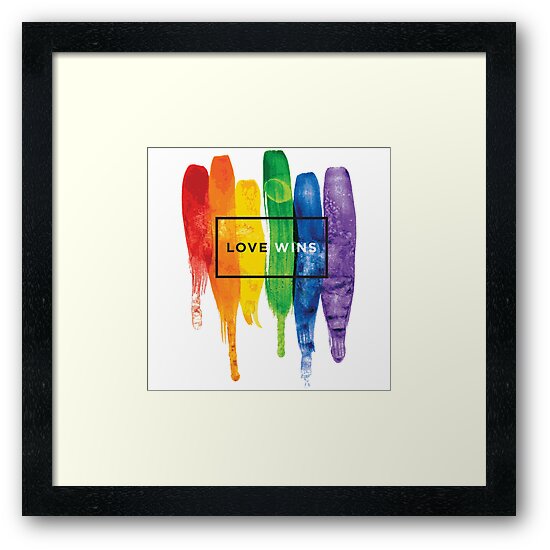 Beautiful, simple, cute & meaningful: this "Love Wins" print has it all! It comes in three sizes, so you can choose the one that fits your budget.
Plus, if you're not feeling the framed print but love the design, it comes on a myriad of other mediums as well!
For example, you could get the soon-to-be-married couple a set of mugs, a throw pillow, or a clock if you prefer.
10. Forever Always Throw Pillow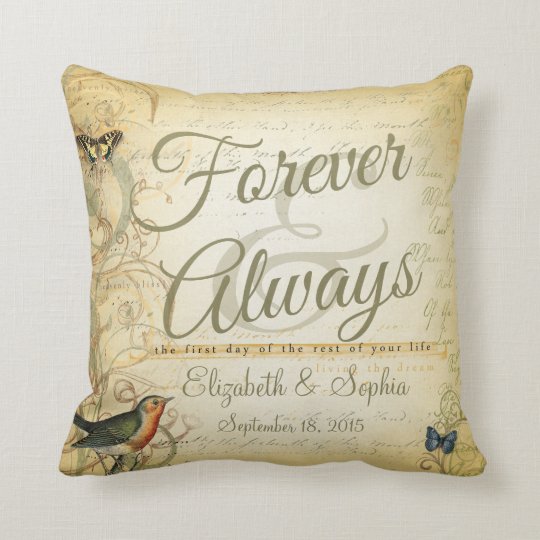 How perfect and inspirational is this darling throw pillow? It says "Forever Always" and allows you to customize the names and wedding date.
Go the extra mile: you can even change the fabric from polyester to cotton or even outdoor pillow material.
Whether you choose one of the inspirational lesbian wedding gifts I picked out for you or decide to go with something else, just remember to buy from your heart.
That, more than anything, will get you that "gasp, I love it" response more than anything!
What are some of your favorite inspirational lesbian wedding gifts? Share below!