Wedding arches are a perfect way to add a personal touch to your special day.
They not only look gorgeous in photographs, but they really help create the perfect focal point in an outdoor wedding.
Sometimes, a gorgeous wedding arch is all you need!
Think beach wedding, with the ocean as your backdrop and an elegant arch to stand beneath as you exchange your vows.
Of course, you can also find some fantastic indoor wedding arches for sale, too!
From elegant to rustic, from indoors to the great outdoors, we've got you covered with these ideas!
Related: How to make a floral arch swag
Related: 12 Wedding arch Ideas That Instantly Class up your ceremony
Gorgeous Wedding Arches
This post contains affiliate links. If you make a purchase through these links, we earn a small commission at no extra charge to you.
1. Simple and elegant white wedding arch
I love the simple and elegant look of using a single flower color across this arch. It's perfect for indoors or outdoor weddings.
While I think the white flowers are gorgeous, you can really go with any color here. A red rose arch would also look gorgeous, albeit a bit more expensive!
Get the look by starting with this basic indoor wedding arch from Amazon (below), then hire a florist to create it for you or buy a wire arch, enlist some friends who are savvy at arranging flowers and DIY it!
Related: Gay and Lesbian Wedding Flowers TO GET your creativity flowing
Check out this video for tips on how to put together your own wedding arch:
2. Breezy White Gauze Canopy
This simple white gauzy canopy arch proves that you don't have to spend a fortune or go overboard with flowers to get a gorgeous, elegant look!
If you really want a lace wedding arch, you can easily swap out the fabric!
Grab a celebration canopy
from Amazon and DIY it if you really want to save money! Finish off the look and add a pop of color by make a floral wreath to tie back the white fabric.
This video shows a few great ways to pull off this look:
Of course, if you want to take it from "that's pretty!" to "wow, that's amazing!" you can also start with a light-up arch as your base, like this one from Party City.
On a side note, are you shocked that you can find a wedding arch for sale at Party City? I know I was!
Related: How to Find and Decorate the Birch Wedding Arch of Your Dreams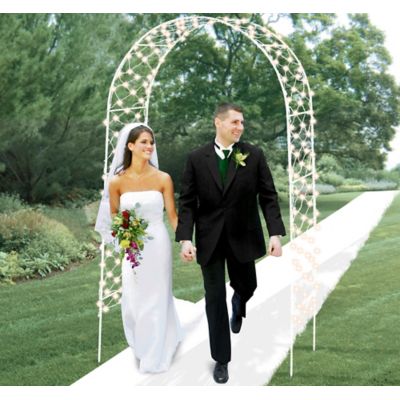 3. Rustic Arch for a Fall Wedding
Looking for rustic wedding arch ideas outdoor weddings or country style wedding arches?
I just love the look of this one! Isn't it just perfect for an outdoor wedding in the fall? By keeping the flowers to a minimum you let the arch itself do all the talking.
Need help finding a rustic wedding arch for sale? Amazon has a great kit that will get you started.
Of course, if you're good with tools, you could even make the wooden arch yourself! Check out this video how-to:
4. Traditional White Arch
Sometimes, simple is better. This plain white arch is elegant and affordable. It's also one of my favorite indoor wedding arch ideas!
It's perfect for brides who want something incredibly simple and traditional. You could leave it as is or add some flowers. The great thing about this arch, you can take it to your new home and use it in your garden!
If you need help finding the perfect wooden wedding arch for sale, check out the New England Arbors Athens Arbor
 from Amazon.
Sale
5. Winter wedding arch
Looking for winter wedding arches? How beautiful is this one a winter wedding, especially if you're planning one right around the holidays! It's definitely one of my favorite outdoor wedding arches ideas.  I know that June weddings are the most popular, but there is something so incredibly beautiful about getting married surrounded by snow.
Cold, but beautiful! This is another one you could easily DIY with a simple wooden arch
base!
Sale
Giantex 85inch Wooden Garden Arch Wedding Arch for Ceremony, Garden Arbor Trellis for Climbing Plants Vines, Easy Assembly, Outdoor Flower Arches Wedding Arbor for Bridal Party
【Build Fantasy Garden】Designed with appropriate spacing, this arbor is perfect for climbing plants and vines to grow which makes a timeless addition to your garden or courtyard. Meanwhile, the large dimension allows several people to walk together for great convenience.
【Wide Application】With its elegant appearance and practical design, this wedding arch is suitable for garden, backyard, lawn, beach, hotel and other places. And it will witness every moment of your happiness, such as anniversary, wedding, birthday party and other ceremonies.
【Environmental Material】The garden arch is made by fir wood. It is a natural wood without harm. It is weatherproof and stable for long time use. Our material is environmental and would be nice to your plants.
【Solid Construction】The garden arch is made by solid wood. Structured with heavy-duty material for extended durability, and the structure follows the scientific principle and is strong enough to hold various things. It's sturdy and solid for long time and durable usage.
【Easy to Assemble】This garden arch trellis has straight forward illustrations and descriptions. Every screw and pin has its own code and it's easy to understand the assemble progress. It won't take you much time to assemble the arch.
6. Big, beautiful flowers
This one is perfect if you want to go big with the flowers. Heads up, though, it's definitely not as budget-friendly as some of the other wedding arches on this list…unless you happen to know a gardener!
Still, it's one of my favorite outdoor arches (it's a little too overpowering for an indoor wedding arch).
You definitely want to start with a super sturdy arch, though! Something like this one below is designed for gardens, so it's meant to hold a heavy flower load.
Gardman R361 Kensington Arch, 48" Wide x 74" High, Verdigris
Provides an attractive archway for climbing plants and adds a stunning feature to any garden
Ground hole-maker provided for easy fitting
Easy to assembly with instructions provided
Green, painted finish
Dimension: 20.5" Long x 45" Wide x 82" High (with ground stakes) & 20.5" Long x 48" Wide x 74" High (without ground stakes)
7. Natural Arch
Here's one of my favorite DIY outdoor wedding arch ideas! I love that this entire arch is made from nature! It's the perfect pick for an eco-friendly wedding.
You could go with just about any flower at the base of the arch, making it a fairly budget-friendly choice!
These are just a few examples of the many, many directions you can go with wedding arches. From DIY ideas to simple simple wedding arches to rustic arches for weddings, arches let you really bring out your personality on your big day.
Heads up, if you're looking for indoor wedding arches for sale that fit into your budget, call around to local florists! Many of them can help you customize a DIY arch and make it something really special.
Have you seen any gorgeous wedding arches that inspired you? Share below!