Planning a wedding is no easy feat, and there are tons of details that need to be addressed, but in the midst of it all, one of the most fun elements to consider when planning your wedding is what type of photo-worthy decorations will make your big day look extra special.
If you're looking for some unique and show-stopping ideas that can truly bring your venue alive with charm and elegance, then look no further, as wedding arches are always a great place to start!
Wedding arches are a perfect way to add a personal touch to your special day. These decorative pieces not only look stunning in photographs, but they also help unite all other decorations, standing as a perfect focal point in your wedding.
The best part about them is that they're perfect for both outdoor or indoor weddings, plus they come in so many different styles. For example, imagine a beach wedding with the ocean as your backdrop and an elegant wedding arch to stand underneath as you exchange your vows. The feeling is simply magical!
You can also get wedding arches with either whimsical and romantic or modern minimalistic designs (the best fit would be one that fits the theme of the wedding). This allows you plenty of options when setting up your beautiful ceremony backdrop.
Of course, you can also find some fantastic indoor wedding arches for sale, too!
From elegant to rustic, from indoors to the great outdoors, we've got you covered with these ideas! Read on as we share 7 gorgeous wedding arches guaranteed to elevate your décor for the most breathtaking entrance imaginable. But before that, let's look at some ingenious tips to choose the perfect wedding arch.
Tips For choosing wedding arches
The wedding theme: The wedding theme basically delineates the route the decoration goes. By tying together the wedding arch to the theme, you create a seamless look that will have people in awe.
The wedding venue: The choice of wedding venue will greatly influence what wedding arch would be perfect. You need to consider the size of the venue, whether indoor or outdoor, as that would determine what size wedding arch to acquire.
Budget: Working with a budget is the best thing any "to-be" couple can do. That is because stops them from going overboard with wedding expenses. Instead, they can divert the extra cash into running their household.
Related: How to make a floral arch swag
Related: 12 Wedding arch Ideas That Instantly Class up your ceremony
Gorgeous Wedding Arches
This post contains affiliate links. If you make a purchase through these links, we earn a small commission at no extra charge to you.
1. Simple and elegant white wedding arch
I love the simple and elegant look of using a single flower color across this arch. It's perfect for indoors or outdoor weddings.
While I think the white flowers are gorgeous, you can really go with any color here. A red rose arch would also look gorgeous, albeit a bit more expensive!
Get the look by starting with this basic indoor wedding arch from Amazon (below), then hire a florist to create it for you or buy a wire arch, enlist some friends who are savvy at arranging flowers and DIY it!
Sale
Adorox 7.8ft Backdrop Stand - Balloon Arch Kit, Stable Balloon Arch Frame, Metal Wedding Arch for Wedding Birthday Party Baby Shower Decoration(White)
【Balloon Arch Stand】-Multipurpose: The delicate decoration on the balloon arch will make the wedding ceremony more romantic. The balloon garland kit is a must for birthday parties, bridal parties, graduation season parties, anniversary celebrations and Christmas decorations.
【Easy to Assemble】The diameter of the garden arch is 4.3 ft/52 inch, height is 7.8 ft/94 inch buckle snap connection design makes it easy to assemble and disassemble, one person can easily operate it! You can follow the instructions to connect the pipes and enjoy the fun of DIY.
【Wedding Arches for Ceremony】Strong and Stable: The arch backdrop stand is powder-coated and made of high quality steel alloy, which is durable and corrosion-resistant and durable. Balloon Stand with base for stable standing.
Related: Gay and Lesbian Wedding Flowers TO GET your creativity flowing
Check out this video for tips on how to put together your own wedding arch:
2. Breezy White Gauze Canopy
This simple white gauzy canopy arch proves that you don't have to spend a fortune or go overboard with flowers to get a gorgeous, elegant look!
If you really want a lace wedding arch, you can easily swap out the fabric!
Grab a celebration canopy
from Amazon and DIY it if you really want to save money! Finish off the look and add a pop of color by make a floral wreath to tie back the white fabric.
This video shows a few great ways to pull off this look:
Of course, if you want to take it from "that's pretty!" to "wow, that's amazing!" you can also start with a light-up arch as your base, like this one from Party City.
On a side note, are you shocked that you can find a wedding arch for sale at Party City? I know I was!
Related: How to Find and Decorate the Birch Wedding Arch of Your Dreams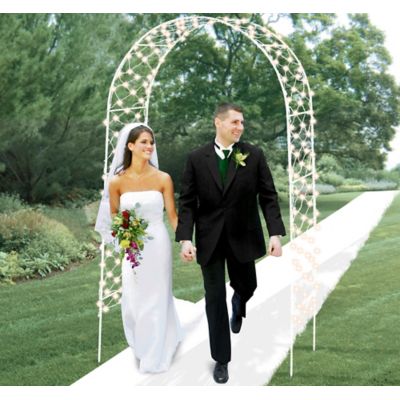 3. Rustic Arch for a Fall Wedding
Looking for rustic wedding arch ideas outdoor weddings or country style wedding arches?
I just love the look of this one! Isn't it just perfect for an outdoor wedding in the fall? By keeping the flowers to a minimum you let the arch itself do all the talking.
Need help finding a rustic wedding arch for sale? Amazon has a great kit that will get you started.
Ling's moment Wedding Arch Flowers Fall Terracotta Decor with Hanging Vines Set of 2 for Ceremony Reception Wall Decorations (Not Include Arch)
Size and Package: One set includes two pre-made flower arrangements. Each measure approx. 67″ * 23″, coming with cable ties and transparent pasted hooks for simple attachment (The fabric AND arch is not included, we serve professional Arch Drape in our store if you need it)
Unique Twin Arch Decor:The reference arch size is 5ft width by 6.5ft tall, best for small wedding ceremonies. You can make a complete arch decor easily, perfect for outdoor weddings, and blends well with nature hanging it separately without any other decorations, also fabrics can be attached to add more visual layers
Multiple Uses: Suitable for ceremony backdrop/ reception entrance/ arch, whether an outdoor wedding or an indoor one. After the wedding, it can be used for the house/room door/room wall or at any surprising moment, and you'll have mementos that you can treasure forever
Of course, if you're good with tools, you could even make the wooden arch yourself! Check out this video how-to:
4. Traditional White Arch
Sometimes, simple is better. This plain white arch is elegant and affordable. It's also one of my favorite indoor wedding arch ideas!
It's perfect for brides who want something incredibly simple and traditional. You could leave it as is or add some flowers. The great thing about this arch, you can take it to your new home and use it in your garden!
If you need help finding the perfect wooden wedding arch for sale, check out the New England Arbors Athens Arbor
from Amazon.
5. Winter wedding arch
Looking for winter wedding arches? How beautiful is this one a winter wedding, especially if you're planning one right around the holidays! It's definitely one of my favorite outdoor wedding arches ideas. I know that June weddings are the most popular, but there is something so incredibly beautiful about getting married surrounded by snow.
Cold, but beautiful! This is another one you could easily DIY with a simple wooden arch
base!
Giantex 85inch Wooden Garden Arch Wedding Arch for Ceremony, Garden Arbor Trellis for Climbing Plants Vines, Easy Assembly, Outdoor Flower Arches Wedding Arbor for Bridal Party
【Build Fantasy Garden】Looking for a stunning addition to your garden or courtyard? Our beautifully designed arbor is perfect for climbing plants and vines to grow on, while its spacious dimensions make walking through it a breeze! Overall dimensions: 63'' x 24'' x 85'' (L x W x H).
【Wide Application】Make every special occasion unforgettable with our stylish wedding arch - perfect for outdoor venues like gardens, lawns, beaches, or hotels. It's the perfect place to celebrate your love, whether it's your anniversary, wedding, birthday party or other special ceremony.
【Environmental Material】Our garden arch is made with natural fir wood, making it weatherproof and stable for long-term use. It's an environmentally friendly choice that works in harmony with your plants to create a thriving, beautiful outdoor space.
6. Big, beautiful flowers
This one is perfect if you want to go big with the flowers. Heads up, though, it's definitely not as budget-friendly as some of the other wedding arches on this list…unless you happen to know a gardener!
Still, it's one of my favorite outdoor arches (it's a little too overpowering for an indoor wedding arch).
You definitely want to start with a super sturdy arch, though! Something like this one below is designed for gardens, so it's meant to hold a heavy flower load.
No products found.
7. Natural Arch
Here's one of my favorite DIY outdoor wedding arch ideas! I love that this entire arch is made from nature! It's the perfect pick for an eco-friendly wedding.
You could go with just about any flower at the base of the arch, making it a fairly budget-friendly choice!
These are just a few examples of the many, many directions you can go with wedding arches. From DIY ideas to simple wedding arches to rustic arches for weddings, arches let you really bring out your personality on your big day.
Heads up, if you're looking for indoor wedding arches for sale that fit into your budget, call around to local florists! Many of them can help you customize a DIY arch and make it something really special.
Efavormart 7.5ft Natural Birch Wood Square Wedding Arch, Rustic Arbor Photography Backdrop Stand
Frame Material: Birch Wood Base Material: Plywood Color: Natural Total Height: 7.4ft Total Width: 7.4ft Base Size: 15.75″ x 15.75″ Pole Diameter: 2″-2.5″ Weight Capacity: 30lbs. Assembly Required: Yes, Easy to Assemble Instructions Included: Yes
PREMIUM QUALITY: These stands are made from high-quality premium material. To make things swankier, we have designed it on the master of luster. Strong and sturdy, this elegantly shimmering piece comprises shiny material crafted with the utmost perfection.
CAPTURES ATTENTION: These stands will add imperial shimmer and surreal sophistication to your backyard. Inspire your guests and invitees with these beautiful stands. The glimmering design will make them appear more tempting and delightful.
FAQs
Are wedding arches compulsory wedding decorations?
Of course not! Wedding arches are more of a luxury decor as opposed to a wedding requirement. It all boils down to the couple's personal style and preferences. 
Many couples prefer to add an arch to create a focal point around which the ceremony can be tailored, 
On the other hand, some couples may prefer a more minimalist approach to their ceremony by omitting the arch altogether. Some may even see wedding arches as an outdated tradition in need of being retired. 
Must the wedding arch match the wedding theme?
Yes, it is absolutely imperative that the chosen wedding arch, as well as other wedding decorations, fit seamlessly with the theme of the wedding. Imagine having a beach wedding with a modern-looking wedding arch. To keep it simple, the arch stands out like a sore thumb, and that's not something you would want on your big day.
Conclusion
No matter what kind of wedding you're planning, an arch is a beautiful way to show off the bride and groom and make a statement. These seven wedding arches are sure to give you inspiration for your own big day.
From simple and classic wedding arches to dramatic and over-the-top ones, there's an arch style out there for every couple. So, take a look and get ready to say "I do" under the prettiest floral arrangement of your life!
Have you seen any gorgeous wedding arches that inspired you? Share below!
I'm a freelance journalist/writer/content marketer with BA Hons in Journalism.