Let's talk tips on how to coordinate lesbian wedding dresses.
We all know that weddings are about the brides, and you both deserve to look equally as beautiful on your big day!
So today, we'll talk basic outfit coordination advice, then I'll give you some ideas of combos that I love!
Let's get to it!
Related:10 Tips for Great Lesbian Wedding Photos
How to Coordinate Lesbian Wedding Dresses
Coordinating lesbian wedding dresses (or any wedding attire for that matter) consists of three basic stages: planning, shopping, and adding the small touches.
Let's start at the beginning, shall we?
Related: Non Binary Wedding Attire
Planning Your Wedding Attire
Before you even think about what you'll both wear, you need to decide on an overall "theme" for your wedding attire.
Dresses run the gamut from simple yet classy sheaths to over-the-top fancy dresses decked out with luxury and lace.
FYI: This post contains affiliate links. If you make a purchase through these links, we earn a small commission at no extra charge to you.
What type of wedding do you want?
Ask yourselves what kind of wedding you want, because that more than anything determines the attire.
If you're planning a simple beach wedding, for example, you probably don't want to go with an over-the-top dress. I mean, you could, but beaches are hot! Do you really want 50 yards of fabric covering your body?
Instead, you might want to go with something like this one:
Likewise, if you're getting married outdoors in a field, you don't want a long train that drags on the ground.
On the other hand, if you're planning a fancier affair, you may want to go with the lace and long train, like this beautiful dress from Dorris Wedding.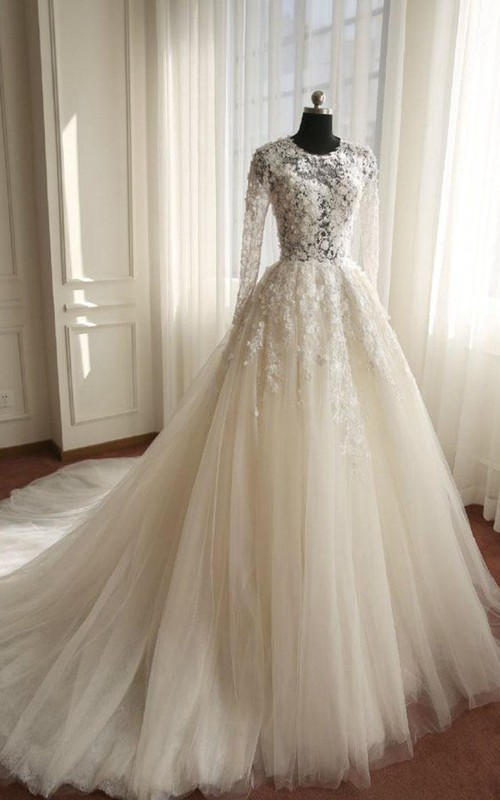 What do each of you want to wear?
Once you've narrowed down your basic theme, it's time to decide what each of you wants to wear. For example:
Do you both want to wear wedding dresses?
Does one of you want to wear a suit instead?
Do both of you prefer to wear suits?
If one of you is wearing a suit, will you go with soft butch wedding attire, a full tux, or lesbian wedding suits (basically, a white suit but with frilly lace and baubles).
There are no real rules when planning your wedding attire, as long as you both agree with the overall theme.  Go with what makes both of you happy, plain and simple.
BUT, do iron out the general details before you start shopping. It'll make the whole process a lot easier!
Check: Lesbian Wedding Outfits Casual
Shopping for Lesbian Wedding Dresses & Suits
Once you have a general idea of what you both want to wear, I recommend either shopping together OR shopping with a common friend.
If you're not superstitious about the brides seeing each other's dresses before the big day, shop together. That way, you can see how your dresses look next to each other.
On the other hand, if you prefer to surprise each other, grab a common friend who can go along with both of you and say, "You know what, this will totally clash with what she's wearing."
FYI, this advice works whether you're both wearing dresses, wedding suits for brides, or full tuxes!
Adding the small touches to pull it all together
Whether you'll be wearing matching dresses, semi-matching outfits, or totally different attire, the small touches can pull together even the most eclectic pairings.
For example, matching hair accessories can pull together two completely different dresses. Something like this works well if you both have long hair:
This one is a great if you want to add a little splash of coordinated color, plus it covers your "something blue":
Other ideas include:
Matching (or coordinated) bouquets
Matching your hair accessories to her boutonniere
Wearing matching shoes (either the same shoes or just coordinating the color)
As a side note on that last suggestion, when I was a bridesmaid at my brother's wedding, my sister-in-law had us all pick out our own dresses. There were only two rules: they had to be grey and we had to wear the pink shoes that she picked out.
Even with drastically different dresses, the shoes really pulled the whole look together.
Now that you have a general idea of how to coordinate your dresses, let's take a look at five bride combos that I love. I think it'll help you get a better idea of what I've been talking about.
5 beautifully coordinated lesbian wedding outfits
Still need some inspiration or ideas? Take a look at these gorgeous wedding attire combos!
1. Coordinated trains
https://www.instagram.com/p/BzMj2nHpBd_/
Both of these brides chose dresses that perfectly complements their figures and went with totally different "little touches," but loads of lace and long trains really pull the look together.
If you look closely, you can also see their matching bouquets.
2. Beautiful in blue
https://www.instagram.com/p/BzBMA-RD3ip/
These two lovebirds prove that you don't have to wear white at a wedding to make a huge statement. I love how the suit and dress are a perfect match!
CHECK MORE: LGBTQ Wedding Suits
3. Matching accessories
https://www.instagram.com/p/BzJNKdGBZzS/
Here is a great example of how small touches really help the brides coordinate their look with matching accessories (the boutonniere and the hair flowers match).
4. A pop of yellow
https://www.instagram.com/p/BttU5M1HSOc/
These brides are gorgeously coordinated, thanks to that pop of yellow! The vest in the wedding suit also plays very nicely with the dress!
I just want to know how she kept that dress train so clean on the beach! Seriously, I can't even keep a white t-shirt clean in my own home. That's some major talent!
Check: Elegant Transgender Wedding Dress
5. Gorgeously bohemian
https://www.instagram.com/p/BzDohy7Bqt7/
I love everything about this couple's wedding attire, from the stunningly unique wedding dress to the colorful suit.
If you think they're not coordinated very well, take a look at the blue flower in her hair. It's a perfect example of using very small touches to pull together two drastically different outfits.
Before I send you off to follow these tips on how to coordinate lesbian wedding dresses, I just want to repeat something one last time: it's YOUR wedding, do what YOU want. 
It's really as simple as that! If you want to wear perfectly matching dresses, go for it. If you prefer to wear totally clashing colors, go for that, too. You and your future Mrs. are the only people who matter on your big day!
Do you have any other tips for how to coordinate lesbian wedding dresses? Share below!
Last update on 2023-01-17 / Affiliate links / Images from Amazon Product Advertising API