If you're looking for some amazing queer wedding attire ideas that actually look like they were made for you , we've got you covered (literally!). You shouldn't have to compromise on the biggest day of your life. Nor should you have to choose between wedding outfits that fit your personality or your body. We rounded up a few great outfits from retailers that understand this. Check them out below!
Related: Lesbian Bridesmaid Outfits
5 Amazing Queer Wedding Attire Ideas That Defy Gender Stereotypes
Sometimes choosing the best queer wedding attire can be a very tough job. With most major retailers focusing on gender-specific stereotypes, if you want something different, you're often stuck either compromising or paying an absolute fortune for a custom piece.
Take, for example, a "masculine" man searching for a feminine suit. He can either head to the plus-size women's section or pay hundreds of dollars for a custom piece. Kind of unfair, right? It's your big day, you shouldn't have to compromise with anyone except your partner.
So, with that in mind, we've come up with some beautiful queer wedding attire that doesn't require a major compromise! While most ARE actually custom-made, they won't bust your budget.
FYI, this post uses affiliate links, so if you make a purchase through them, we earn a small commission at no extra charge to you.
[embedpost postid="1293″] 
1. Haute Butch Wedding Attire
Haute Butch have made quite a reputation for themselves as an amazing bespoke queer wedding attire retailer. Each one of their pieces is made by the client's measurements and made out of the best materials possible.
They offer everything from stunning tuxedo jackets to entire suits. Their jackets can be personalized with custom linings and monograms to complete the wedding look! The prices are reasonable and the shop offers the possibility of paying in four installments.
[lasso ref="https-hautebutch-com-wedding-attire-ref-loveyouwedding-v-7516fd43adaa" id="8513″ link_id="174870″]
Check: Tomboy Wedding Guest Outfit
2. Fleshy Pink Sunset Jacket
Another place where you can get a wonderful queer wedding attire is Sharpe Suiting. They make incredible pieces to go with every wedding and just like the ones above, they are completely customizable.
It's made entirely out of wool, comes in six sizes and you can buy the whole costume, or just the jacket to wear it your way. If you are going to choose something like this, make sure to closely check out the details, as they are truly impressive! This tuxedo stands at $565 and you can buy the pants too for an extra $280.
3. Rainbow Tulle Skirt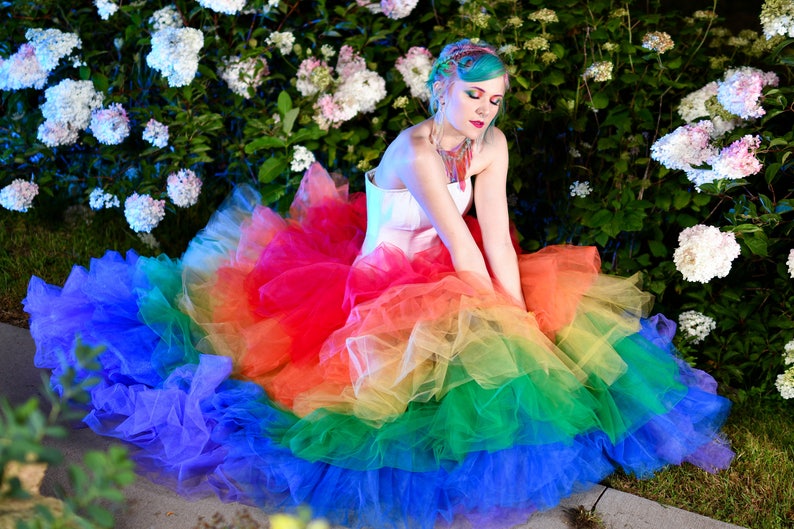 If you love the idea of a rainbow-themed wedding, this skirt is just gorgeous! Wear it as is (it comes with the top part) or mix it up with one of those stunning shirts from Haute Butch for a totally unique spin.
You can find it on Etsy and they will customize it with your desired measurements, so you will be assured that it fits the way you want it to. This dress starts at $500 and the price may change depending on your customization.
[lasso ref="https-tidd-ly-2e8vhtr" id="8515″ link_id="58432″]
Check: 6 Elegant Trans Wedding Dress
4. Alternative Wedding Dress
Alternative lesbian wedding dresses can be a great option in every situation. They are beautiful, simple and can be customized according to your needs.
This one will be an amazing fit in a greenery-themed wedding and it's definitely going to be a day to remember. You can find in on Etsy and prepare for the best day of your life! The price for this dress stands at $610 and it will definitely make a difference at your wedding!
[lasso ref="etsy-wedding-dress" id="8517″ link_id="58433″]
5. Pink Floral Tuxedo
Sometimes finding exactly what you want for your wedding can be hard, but with this pink floral tuxedo from Etsy, you can't really fail.
It comes in three colors and over 20 styles you can choose from and of course, it can be fully personalized according to your preferences. It's price starts at $170 and it will depends on your requests.
[lasso ref="https-tidd-ly-2dxucfb" id="8523″ link_id="58434″]
No matter what you do, make sure that the wedding attire you choose really means something to you. As it's your big day, everything should be just the way you want it to be.
Happily, now you have some very beautiful options of queer wedding attire to choose from and start creating your own wedding style.
What are some of your favorite queer wedding attire ideas? Share below!