The venue, décor, food, and cake are essential in every wedding, but the most critical thing in a wedding is the bride. Every transgender bride knows this too, and it can result in a lot of pressure. So, it's crucial as a trans-bride that you feel pretty and confident in your wedding dress.
Unfortunately, the big pool of wedding dresses can be too overwhelming when you're trying to choose the right dress. Let's start with a quick look at our top picks, then keep reading for all the glorious details.
CHECK: Wedding Dresses for Lesbians
Transgender Wedding Dress Top Picks at a Glance
If you see the value in these products and choose to purchase via my referral links, I may earn a small commission at no extra cost to you.
Check the table below for a side-by-side comparison of our favorites!
Table could not be displayed.
Best Transgender Wedding Dress Review
All brides have different body types, and there is a great dress for every one of them! You just don't know it yet.
Like this Reddit user's fiancée, many transgender women struggle to get a wedding dress that doesn't showcase broader shoulders. And some want to show them in a sexy type of way. Whichever kind of bride you are, I got you.
Let's go dress shopping!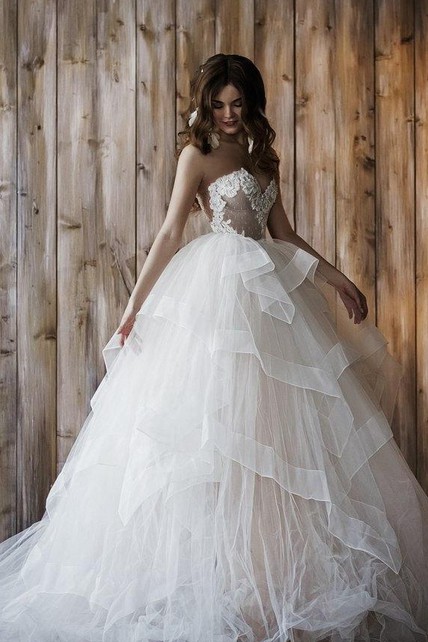 This dress has to be my first choice. One, it can save you some bucks because it's a 2-in 1 dress. You get to wear a flashy dress during the day, and turn into a sexy human in a short, pretty dress in the evening.
But that's not the only reason I chose it.
This heart-shaped neckline works for almost every body type. It ensures people focus on your waist area and beautiful lines in your chest, taking off the focus from the shoulders.
The skirt is also very heavy, which creates a fantastic feminine and princess look.
I also love the transparent lace in the upper part and the tiny florals on the top of the dress.
| Benefits | Drawbacks |
| --- | --- |
| The dress design is breathtaking | Not ideal for conservative brides, since it's fairly see-through. |
| It goes well with all body types | |
| It's a 2 In 1 Ball Gown Short Wedding Dress | |
Check Latest Price



Wedding 2 In 1 Ball Gown Short Wedding Dress


Check: Black Lesbian Wedding Outfits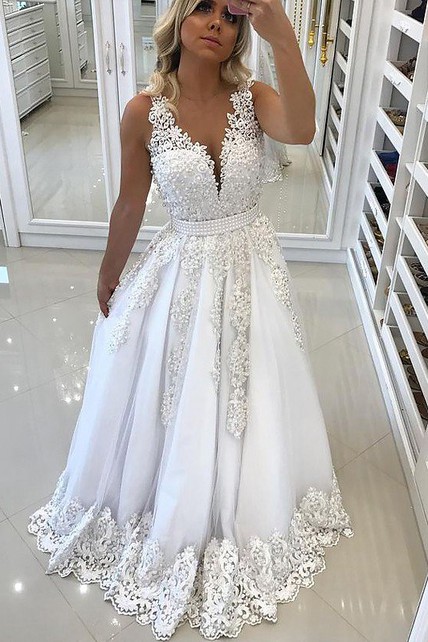 This is the kind of dress that you just want to keep staring at after the first glance.  It has a deep V-neck, which is ideal for women with a small bust as it takes attention to your cute waistline. The dress also has an open back – I mean, a bride's got to show off some skin. Right ??
Additionally, the dress is decorated with a beautiful bead belt to define your waistline and cute floral designs.
| Benefits | Drawbacks |
| --- | --- |
| You can customize the dress by choosing a different color | Changing the color of the dress may take away its glam |
| The floral designs make the dress very pretty | |
Check Latest Price



A-Line Lace Tulle V-neck Sleeveless Open Back Deep-V Back Dress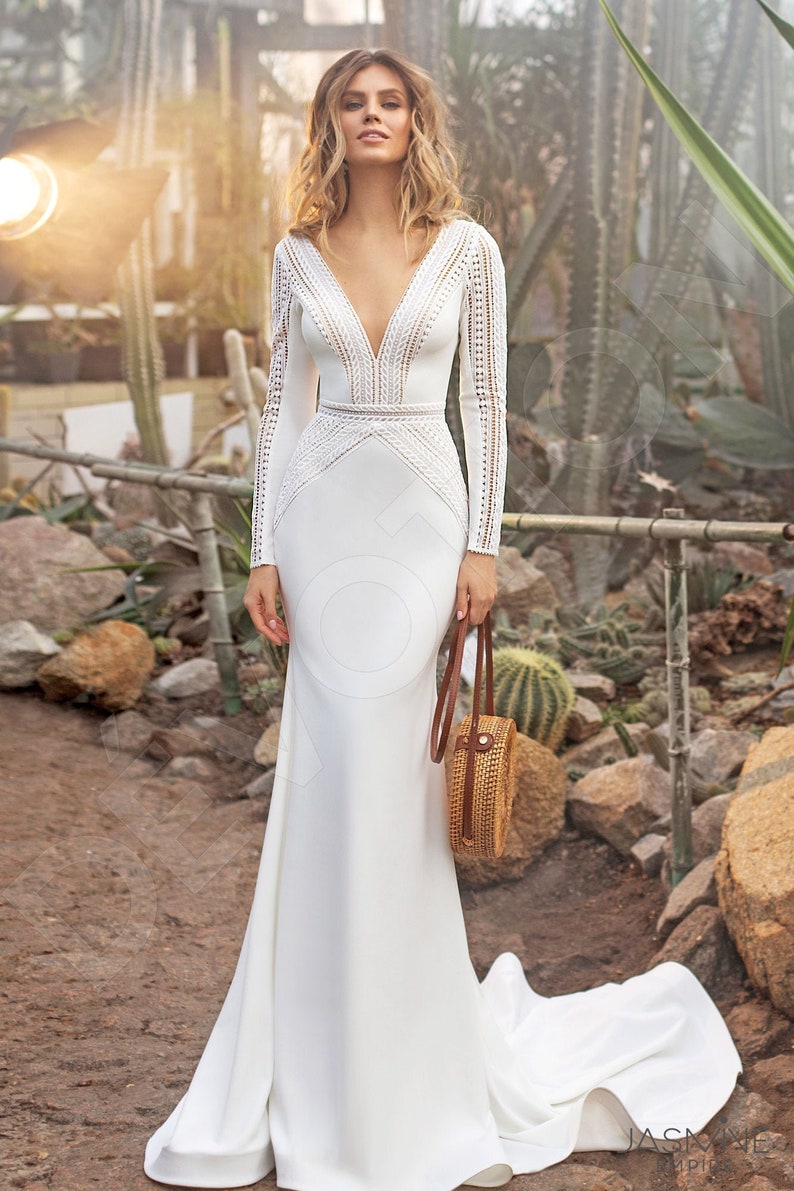 This dress makes me want to get married because it's the kind that says, 'The boss of the day is here! And they love every inch of their body!'
At the risk of sounding too sale-y, this dress will give your guests goosebumps the first time they lay their eyes on you.
The fabric is fantastic, and the design is breathtaking. It has long sleeves which makes it very sensual, a deep V-neck, an open back, and a very defined waistline.
It's also floor-length, and the lace decoration on the upper part of the dress makes it very elegant.
When you're wearing a long-sleeve wedding dress, one thing to remember is to ensure you highlight your waist to achieve an hourglass shape.
| Benefits | Drawbacks |
| --- | --- |
| The design is simply elegant | It only comes in white |
| It's made with quality design | |
[lasso ref="tidd-576″ id="26588″ link_id="99172″]
Check: Lesbian Pant Suits Wedding
I love halter design dresses in general because they show just the right amount of skin. This wedding dress is floor length, and the whole of it is decorated with floral designs, which makes it very feminine.
The back of the dress has a corset design, giving you an allowance of a few inches. Additionally, the corset ensures you achieve the princess look because the skirt is heavy.
Halter dresses are fabulous for tall women with broader shoulders. Also, showing off the shoulders and upper arms can elongate petite brides.
This dress will work well whether you're going for a vintage or modern wedding theme.
| Benefits | Drawbacks |
| --- | --- |
| The dress works well for both tall and petite brides | It only comes in one color |
| The floral design makes it very classic | |
| It can fit in any wedding theme | |
[lasso ref="tidd-577″ id="26592″ link_id="99173″]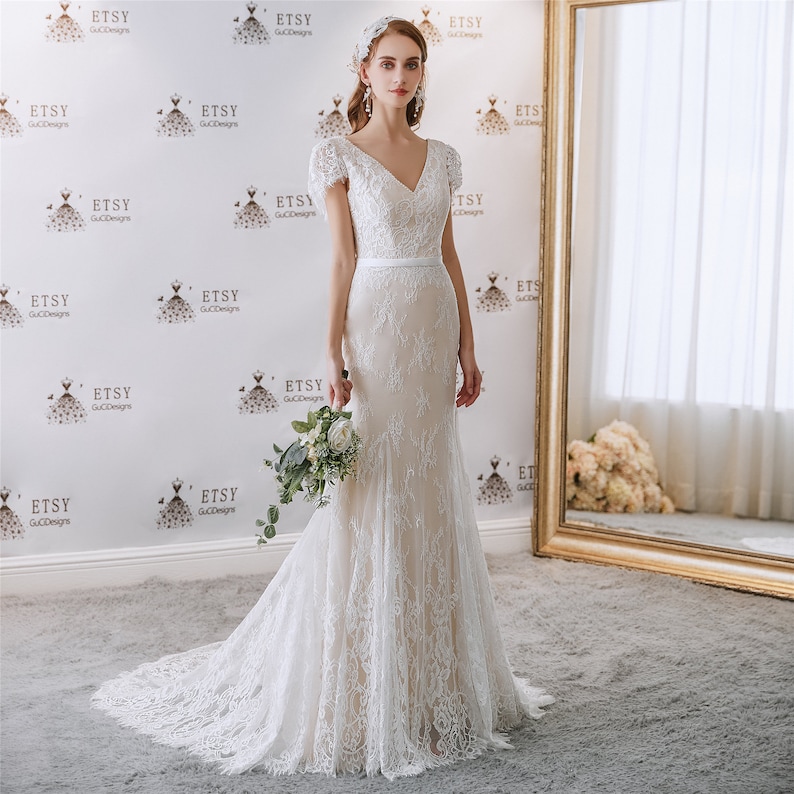 Do you consider yourself a small bride, and you'd like to appear a little taller on your wedding day?
Well, besides wearing a 5-inch heel, there is something else you can do. And that's wearing a V-neck wedding dress.
It also helps in decreasing broad shoulders and makes a small bust look even smaller, making you look like those vogue magazine models ?.
This V-neck wedding dress has a long tail, and it's decorated with just enough florals. It has an A-line which helps in emphasizing a tiny waist and wider hips. 
| Benefits | Drawbacks |
| --- | --- |
| The design is elegant, and the floral decorations are amazing | The dress will only work for brides who are looking for a minimalist look |
| It makes small brides appear taller | |
[lasso ref="tidd-578″ id="26595″ link_id="99174″]
I love this one because it incorporates two very important aspects for shopping for a dress as a transgender woman.
One, it has off shoulders which is a great romantic style since the straps aren't on the shoulders. Instead, they're perfectly draping femininely off your shoulders, making you look very dreamy.
On the other hand, since this is a short dress, it takes attention from the shoulders to your beautiful long legs.
Don't shy off from complimenting the look with a great pair of heels.
The dress is well decorated with florals and beautiful lace at the top.
| Benefits | Drawbacks |
| --- | --- |
| It has a fantastic design – the asymmetrical look isn't common in weddings | Not everyone prefers a short-length wedding dress |
| It gives the bride a very dreamy look | |
[lasso ref="tidd-579″ id="26601″ link_id="99175″]
Final Thoughts
Getting the perfect wedding dress is a daunting task for every transgender bride. That's why it takes hours and days to browse through and know what they really want.
As a trans woman, you want a dress that makes you feel beautiful and confident on your wedding day. And that perfect dress exists for all brides regardless of their body types.
I hope my blog post on the best transgender wedding dresses gave some insights on what may work for you.
As a transfeminine bride, what's the most challenging part of shopping for a wedding dress? I would love to hear from you.
Our Final Recommendation
Check Latest Price



Wedding 2 In 1 Ball Gown Short Wedding Dress


Which is your favorite transgender wedding dress? Please share with us below!
Last update on 2023-01-17 / Affiliate links / Images from Amazon Product Advertising API