If you're looking for the most beautiful diamond LGBT engagement rings to symbolize your eternal love for each other, we've got you covered!
Today, we'll look at 10 stunning rings for every budget (including one well under $1,000).
From classic round to princess cuts and beyond, we've got your perfect ring no matter what your preference.
Let's check them out, shall we?
Related: 10 Stunning Masculine Wedding RINGS
You may also love: Top 7 Lesbian Engagement Outfit Suggestions
Beautiful Diamond LGBT Engagement Rings
While you don't need diamonds to prove your love, they definitely do a great job of symbolizing your eternal devotion for each other!
A ring, a full circle, symbolizes eternity, and diamonds are among the strongest material found in nature.
And that is what love is: strong and eternal!
Traditionally, the bride-to-be gets the diamond. However, since your nuptials include two brides, why not get two diamond rings?
As someone who has just gotten her own rock, I'm sure there is something here to help you choose the perfect same sex engagement rings for you and your partner.
Below are some options of beautiful diamond rings with prices. Just keep in mind that those prices are subject to change.
Related: Best lesbian engagement and wedding rings
FYI, this post contains affiliate links. If you make a purchase through these links, we earn a small commission at no extra charge to you.
1. Classic Round Diamond Solitaire Engagement Ring
Available at Reeds Jewelers for $11,499.99
The round cut diamond is the most sought after and classic cut.
This ring features a 2 carat (pretty big) white center diamond on a simple yet elegant 14k white gold band.
The solitaire design is timeless and also puts the focus on the stone.
If you decide 2 carats is too big a stone for you, Reeds also offers smaller center stone options with the same gorgeous 4 pronged setting.
As an extra tip, if you like the simple setting but decide to choose a fancy-cut stone, such as a pear shape, princess or marquise, you will be able to find it on their website.
2. Vera Wang Love Princess Diamond Engagement Ring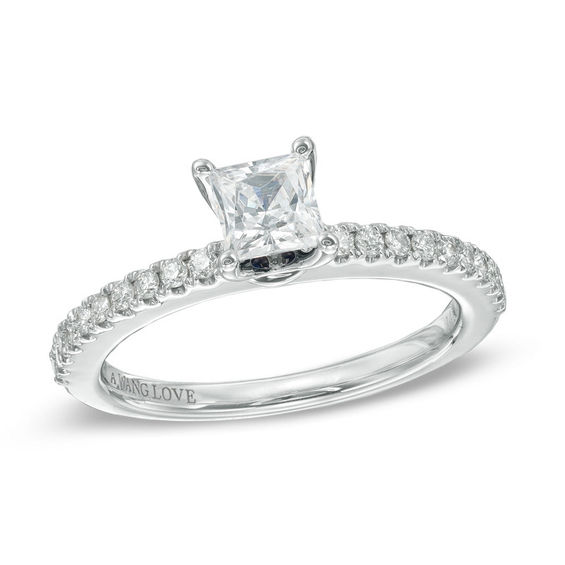 Available at Zales starting at $2999.99
The Princess cut lives up to its name as it will sit daintily on any lady's finger.
You will feel like a princess with this square-shaped cut that offers lots of sparkle!
The best part? This ring is customizable, with your choice of center diamond and metal.
How many of us ladies can say our ring is Vera Wang?
For this option, your center stone doesn't need to be too large as the pave diamonds on the band will add extra sparkle.
Also Check: The Vintage Engagement Ring
3. 2 Carat Round Shape Halo Diamond Engagement Ring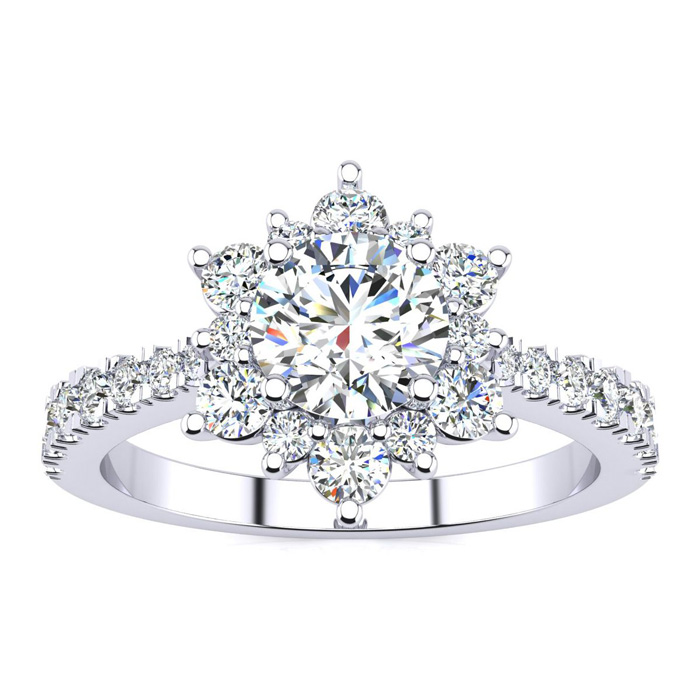 Available at SuperJeweler starting at around $5,784
We must caution that the price varies a great deal even for the same carat weight due to the quality of the diamond.
This option has a lower clarity and color grade than the 2-carat option above, resulting in a significantly lower price.
Look how gorgeous this round-shape diamond looks! I bet if we didn't tell you it was a round center stone, you would think it was a flower!
Any sort of shape that has diamonds in whatever pattern around the circumference is called a "halo" design.
For those of you looking for extra sparkle, this is a great choice!
4. Ellaura Harmony Multi-Diamond Heart Frame Engagement Ring
Available at Reeds for $699.99
If you are under budget constraints, which in this society, a lot of us are, another great option is to choose multi-diamonds for the center.
This means you don't have one single large center stone, but rather many littles ones pieced together.
Diamonds are much harder to find and much harder to cut in larger sizes, so this option will save you quite a bit of cash.
These rings can look just as gorgeous and have many more shapes and customizable options, such as this pretty heart-shaped frame.
It's also really cute to have the same ring when you walk out with your partner hand in hand.
5. 1 Ct T.W. Diamond Split Shank Engagement Ring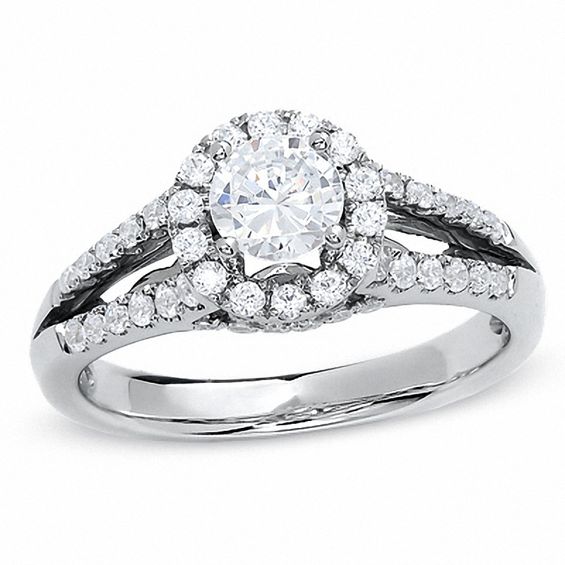 Available at Zales for $2899.00
This is what is known as a split shank setting. As you can see, there are two split bands holding the center stone and the halo ring.
This creates a thicker more stable band, and more shine as well!
This option is listed in 14k white gold, but a lot of sites and companies that allow for customization have other options such as rose gold, gold, and platinum.
If you like the halo option and want more of a bling ring, this is a great choice!
6. 2 1/4 Carat Bezel Set Three Stone Diamond Ring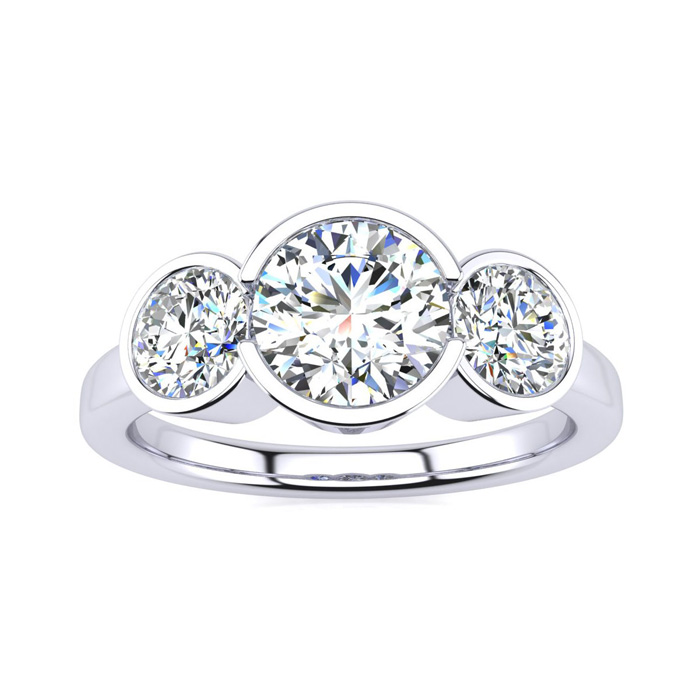 Available at Superjeweler for $10,183.54
We are sort of capturing two birds with one stone with this diamond engagement ring.
Here we introduce to you the three-stone setting. If one large diamond just isn't enough for those ladies who are a little bit extra, you can pair your center stone with two slightly smaller ones.
This creates the three-stone effect. One other thing to notice is the slightly enclosed setting. This is called a "bezel setting."
It cups your diamond and encases it right in the metal. Not that it would, but this setting also keeps your diamond more secure, at no risk of falling out.
READ MORE: The Best Gay Pride Wedding Rings
7. Gabriel & Co. Lucca Diamond Round Semi-Mount Bypass Engagement Ring
Available from Reeds at $1,700
This gorgeous ring is another 14k white gold option that features 18 small diamonds on the band with a 3/4 carat center stone. If you aren't a very flashy person, the semi-mount bypass style of this setting will balance the focus of the diamond.
8. 1-1/2 Ct. Diamond Solitaire Engagement Ring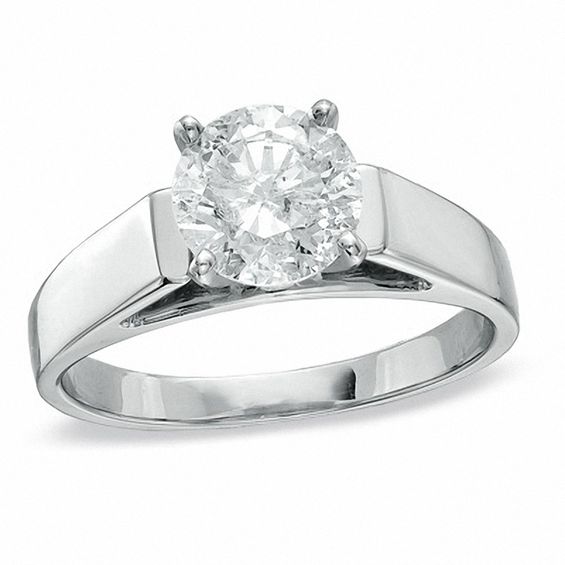 Available from Zales at $5559.00
For those of you who aren't really looking for a dainty ring and something sturdier that can withstand daily wear and roughhousing, then a thicker band like this one is perfect for you. If you want to be subtle about the size of your center stone, the thicker band will offset the size, making the diamond seem smaller. As an extra tip, going for platinum or white gold options will make your diamond seem whiter.
9. 1 Carat Floating Pave Halo Diamond Bridal Set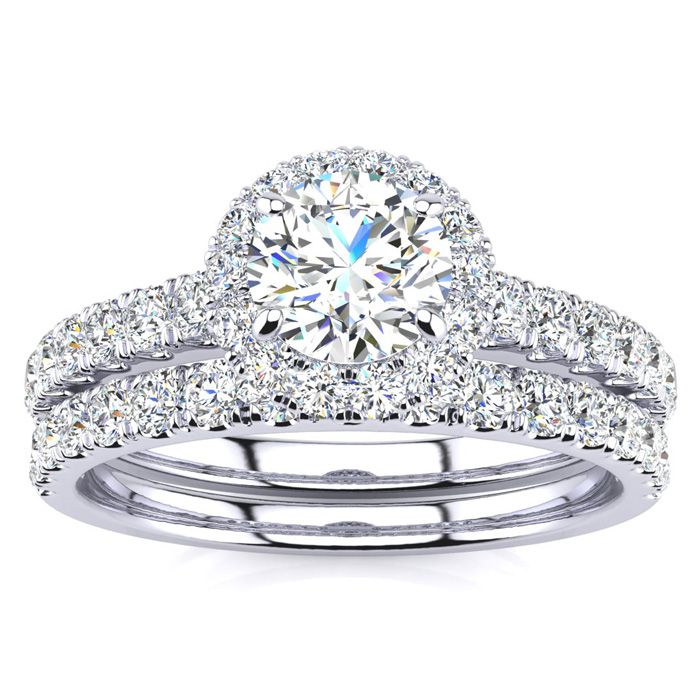 Available at Superjeweler for $2182.18
To save you extra cash, it would be cute if your partner and you shared this wedding set. One of you can sport the gorgeous diamond while the other chooses the wedding band. The 3/8 carat center diamond is supported by 55 smaller diamonds totaling in a 1-carat total weight.
10. Forevermark Ideal Cushion Diamond Halo Engagement Ring
Available at Reeds for $9,999.00
Less than 1% of diamonds can make it as a Forevermark diamond, meaning this ring is of great quality.
Each diamond of theirs is ethically sourced.
If you like the halo but with a simpler band, this one with a higher quality center stone will definitely give your fiance the shine and attention he/she deserves!
How to Choose the Perfect Wedding Ring?
The truth is that choosing the perfect wedding rings can be hard. What you can do, though, is start by figuring out what design you love the most. Do you want something fancy with a lot of diamonds, or something simple?
After you decide on a general design, it's time to focus on the specifics.
The next thing you want to think about is the material. The most popular options are silver and regular, rose and white gold. Of course, you can expand your choices to titanium, and palladium too.
When you have both the design and material, set a budget. It's incredibly easy to go overboard and you will without a budget.
Now that you have everything, it's time to go ahead and choose an amazing ring!
What is the best material for a ring?
This is a very popular question, but it really depends on your personal choice. The most popular options are regular, white and rose gold and silver.
A lot of people, including myself, believe that silver is the best material for a wedding ring. Besides being one of the most expensive materials in the past, it's incredibly beautiful and resistant.
However, nowadays gold is a lot more expensive, and it can be seen as a symbol of prosperity.
Since you have all the options at your disposal, it's best if you choose something you love, rather than something other people love.
Do the couples' rings have to be matching?
Not necessarily. There are many traditions saying that couples need to have matching rings, but that's completely up to you.
If you have a favorite design and your partner loves something else, then it's perfectly ok for each of you to wear what you like.
Which Finger Do Same Sex Couples Wear Their Wedding Rings?
In the past years, a lot of same-sex couples started wearing their rings on the right hand, both as a statement and to keep their relationships private. It's not a rule, however, so you can wear your wedding ring on any finger.
What do you think of our picks for the most beautiful LGBT diamond engagement rings? Share your thoughts below!
I'm a freelance journalist/writer/content marketer with BA Hons in Journalism.