Looking for tips on how to find the most beautiful vintage engagement rings for lesbian couples?
Since this happens to be one of my favorite wedding planning topics, you're in luck!
Below, we'll go over some tips and things to consider before you start ring shopping.
Then, we'll take a look at a few rings that have a vintage feel to them that you can actually buy online.
Guide to Vintage Engagement Rings for Lesbian Couples
Finding gorgeous vintage engagement rings isn't hard if you know where (and how) to look.
You'll have to make a few decisions before you begin your search, though, so let's start there.
What to Consider Before You Start Vintage Ring Shopping
Before you and your future Mrs. even begin the hunt for the perfect vintage engagement rings, you'll want to ask yourself a few questions.
I can't give you the answers, but I can tell you that they'll determine where you begin (and end) your search.
Also Check: The Hers & Hers Wedding Rings Ideas
1. Actually vintage or just vintage-like?
Do you want a ring that's actually vintage? If so, you'll want to head to places like antique dealers, estate sales, and such.
Or, are you fine with something made today but that looks like it's from a bygone era?
If that's the case, your options are a bit less limited. Plenty of high-end jewelers offer beautiful vintage-inspired rings.
As we'll see below, you can even find some on Amazon!
2. Vintage or antique?
Antiques are vintage, but not all vintage items are antique. Confused? Let me explain.
Vintage is a very loose term that, for the most part, refers to things from a previous generation.
Since there's no exact definition, let's go with Pediaa's definition of "at least 20 years old."
Let me tell you, realizing that everything I owned in high school is now considered vintage makes me feel ancient!
Antiques, on the other hand, actually have an "official" definition. Items must be at least 100 years old to fit the criteria.
They're also a bit harder to find, especially if you want something with provenance ( a verifiable history).
3. Somewhat matching or totally unique rings?
Here's where things can get a bit tricky when shopping for vintage engagement rings for lesbian couples.
If you both want a very similar ring and have your heart set on true vintage (or antique), you'll have to look a little harder.
Most vintage and antique dealers specialize in "one of a kind" merchandise.
Granted, nothing except a handmade item is 100% unique, but they rarely have two of the same item.
On the other hand, if you both want something that speaks to your individual personalities, your search will be a whole lot easier.
Also, Check The Glennon Doyle Rainbow Ring
4. How much can you afford to spend?
As with any aspect of your wedding (or life, for that matter), it's absolutely vital to set a budget before you shop.
The good news? Vintage rings can actually be pretty budget-friendly as long as you go into them with an open mind.
The bad? They can also cost a pretty penny if you have your heart set on, say, an antique ring from the 17th century!
Of course, you'll want to think about the style of ring that you're looking for, but you don't necessarily have to do that before you start shopping.
I'm personally more of a "what speaks to me?" shopper for super personal items (which vintage engagement rings definitely are), so I like to go out with an open mind.
If you're looking for era-specific tips (like how to find beautiful Victorian rings, for example) I recommend checking out this guide for more details.
For now, let's move on to some beautiful vintage engagement rings that you can actually buy online!
10 Beautiful Vintage Engagement Rings for Lesbian Couples
It's possible to find beautiful vintage-inspired ideas in online jewelry shops & even on Amazon. Here's a sample of some of my favorites!
FYI, the rest of this post contains affiliate links. If you make a purchase through these links, we earn a small commission at no extra charge to you.
Use the table below for a quick peek at the Amazon options. For the other choices, head on down above #6 for the other table.
What we love...
100% natural conflict free diamonds
Check Latest Price on Amazon
1. Princess Cut Three Stone Vintage Ring
Let's start with something a little traditional- a vintage-inspired diamond engagement ring from Houston Diamond District.
It's a pricey one, yes, but they only sell 100% natural conflict free diamonds.
I don't think anyone wants to start their love story with a ring covered in "blood diamonds," right?
While it's not exactly the most unique ring, it's beautiful for those who love the "bling."
2. Aquamarine White Sapphire Ring
Available on Helzberg Diamonds for $299
This one is a little more my style (although the center stone is still a bit too big for my simple tastes).
If you love the Art Deco movement of the 1920s and 30s, this is a beautiful choice.
While the aquamarine is real, the sapphire is lab-created rather than mined.
Helzberg is also conflict-free jeweler, so you don't have to worry about buying an unethical ring.
3. Forever One™ Moissanite Ring
Available on Helzberg Diamonds for $1399
Now this one is gorgeous! It's simple yet incredibly original.
Moissanite has a fascinating history. It's literally the stuff stars are made of. Okay, meteorites, but still, super cool.
Unfortunately, it's also crazy rare, so like most Moissanite stones, this one is lab-created.
It's also only available in limited quantities, so while it's not totally unique, there's a good chance you and your bride won't be seeing it on everyone else's fingers!
READ MORE: Engagement Ring For Masculine Woman
4.  Red Gold Flower Vintage Sapphire Ring
Another lab-created Moissanite stone, this one has a distinct vintage feel to it, doesn't it?
Even the name, Vivian, reminds me of a glamorous 1920s movie star.
The band itself is 14K solid gold, with butterfly-like flower petals filled with smaller stones surrounding the center stone.
It's actually created just for you when you order, so it can take up to a month before it arrives.
Plenty of time to plan the perfect romantic proposal!
5. Blue Topaz and White & Blue Diamonds
Available on Helzberg Diamonds for $699
It's hard to find a more vintage-inspired ring than this one.
It's modeled after a style that was popular among Russian Czars during the 1800s.
Along with a 7×5 millimeter oval blue topaz at the center, the ring features 22 natural diamonds and smaller topaz stones.
As promised, use the table below for a quick peek at the rest of the rings not found on Amazon. Prices are rounded and accurate as of today.
| | | | | | | |
| --- | --- | --- | --- | --- | --- | --- |
| Preview | | | | | | |
| Main Stone | Aquamarine | Moissanite | Topaz | Amethyst | Moissanite | Opal |
| Top feature | Affordable | Limited Edition | Russian style | Affordable | Victorian style | Simple yet elegant |
| Shipping | Free | Free | Free | Free | Free | Free |
| Price | $300 | $1,189 | $700 | $450 | $442 | $440 |
| Buy Now | BUY | BUY | BUY | BUY | BUY | BUY |
6. Edwardian-Inspired Lotus Engagement ring
If you dream of proposing with an Edwardian-era ring in hand but don't quite have the budget for a true circa 1900 band, you'll love this one.
It features two layers of precious metal sculpted into a lotus flower. The petals surround a real emerald and hold tiny rubies.
Personally, I think it's just about the neatest vintage engagement ring on this list!
7. Rose de France Amethyst & White Sapphire Ring
Available on Helzberg Diamonds for $449.
Amethyst happens to be my favorite stone, mostly because of its meaning.
It's supposed to enhance intuition and creativity, which makes it a great choice if your bride-to-be is an artist.
The design of this ring is reminiscent of Greco-Roman days, with it's diadem style, but Amethyst was also a popular choice among royals during the middle ages.
Purple is, after all, the color of royalty!
8. Moissanite Vintage Engagement Ring In Rose Gold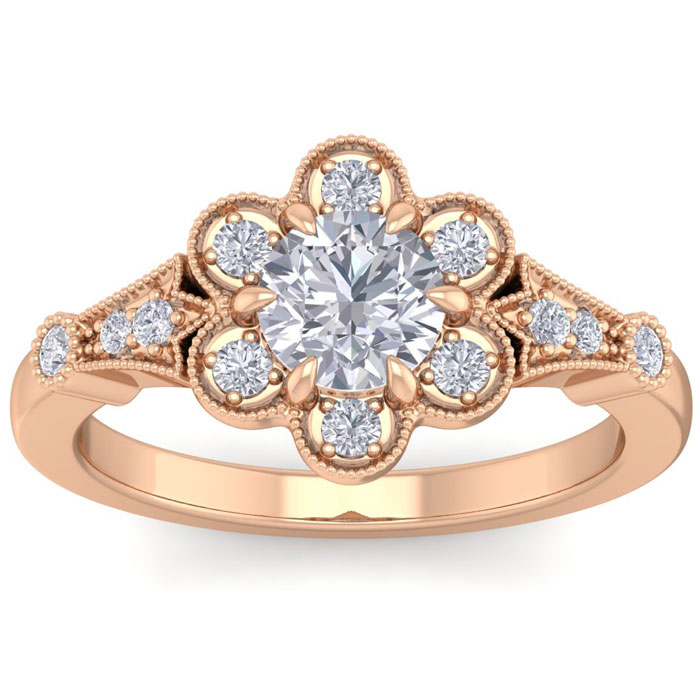 Available on SuperJeweler for $299.
SuperJeweler also has some incredibly affordable vintage-inspired engagement rings, like this Moissanite and rose gold band.
It features 12 darling little stones surrounding one large 3/4 carat round center stone, all on a rose gold and sterling silver band.
The overall style has a very Jane Austen/ Victorian-era feel to it.
9. Vintage Opal Engagement Ring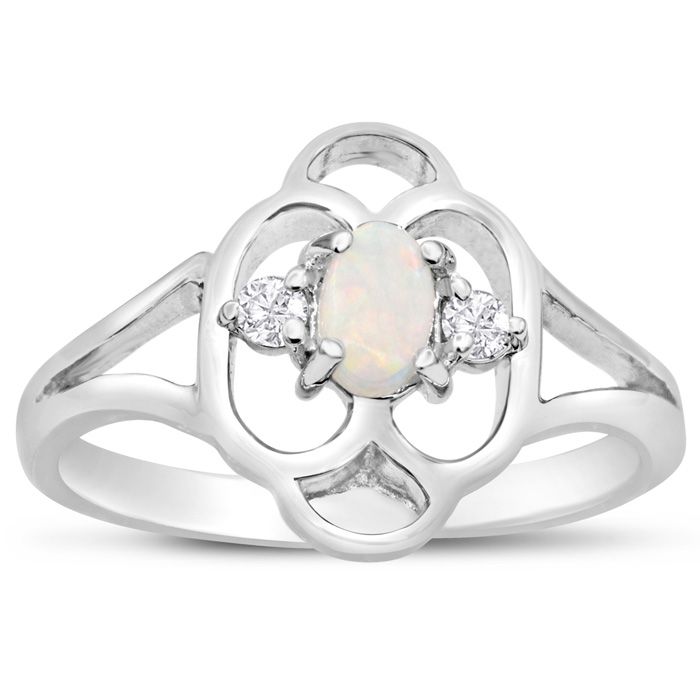 Available on SuperJeweler for $439.
If you want a ring that signifies love and passion, you can never go wrong with opal!
It's also a great diamond alternative for those who aren't really into bright-colored gems.
While it does feature diamonds, they play a small supporting role to the elegant .20 carat opal in the center.
The band itself is white gold, giving the whole ring a very ethereal feel.
10. Art Deco Moissanite Engagement Ring
This last one is another Art Deco inspired ring. It showcases a large square moissanite in the center in the era's traditional square style.
Smaller natural diamonds wind their way up the band's white-gold vine leading up to the lab-created stone
The stones are beautiful for sure, but I was drawn to the sculpted details on the rose gold band. Absolutely stunning!
If you don't love the two-tone style, they also offer bands in all white, yellow, or rose gold.
Final Recommendations
Remember, if you're shopping on Amazon or at a major jeweler's website, you're likely buying a vintage-inspired ring, not an actual antique.
Etsy sells one-of-a-kind true vintage rings, but it's hard for me to give you examples because they could be gone before you have a chance to look.
I don't want to show you a ring that you fall in love with only to break your heart when you go to buy it and find that it's been sold!
If you're planning to invest in an antique ring, I highly (highly highly) recommend going to an expert.
Like I said, finding beautiful vintage engagement rings for lesbian couples doesn't have to be hardRelated: Engagement Rings for Gay Guys!
Go into it with an open mind and let your heart tell you when you've found the right ring!
Do you have any favorite vintage engagement rings? Share below!
Nicole is the editor-in-chief and regular staff writer for LoveYouWedding. What does that mean? Basically, she handles all the day-to-day tasks related to managing writers and bringing you stellar content on planning the LGBTQ+ wedding of your dreams.
She loves writing about quirky and unique wedding ideas, probably because she's pretty quirky herself!
Last update on 2023-05-30 / Affiliate links / Images from Amazon Product Advertising API