If you're looking for some gorgeous, meaningful, or just plain fun hers and hers wedding rings, let me help you out. While search results on jewelry websites for "rings for two brides" are pretty underwhelming, the options are actually quite limitless.
The only real "rule" is to choose something that you'll happily wear for the rest of your lives. That's it. Everything else is up to you. That said, I have come up with some ideas that I think are really beautiful. Read on to check them out!
Stunning and Creative Hers and Hers Wedding Rings Ideas
Searching for "hers and hers wedding bands" on jewelry store websites is definitely an exercise in futility. Every result either assumes I meant "his and hers" or flat-out says, "none found." The same goes for "lesbian wedding bands," "hers and hers promise rings" and literally every other phrase or combination of phrases you can think of.
While this frustrates me beyond belief (seriously, jewelers, get with the program, not every couple is a "his and hers"), it doesn't mean you're out of luck. It doesn't even mean you have to shop at a specialty LGBTQ store (although that's a wonderful option). It just means you have to think a bit more about what you want so you can narrow down your search a bit more. With that in mind, here are some ideas that I really love!
READ MORE: Gay Male Engagement Rings
FYI, this post contains affiliate links. If you make a purchase through these links, we earn a small commission at no extra charge to you. 
[embedpost postid="6116″] 
1. Matching identical wedding bands
The obvious option is to just choose two identical rings and call it a day. I'll be honest, this isn't my favorite choice because it can cause a lot of unnecessary conflict. Unless both of you have the exact same taste, one of you will likely end up feeling like you compromised.
Sure, marriage is all about compromise, but this is just one you don't have to make. Still, if you just love the idea of wearing identical rings, I have a couple recommendation that I just love.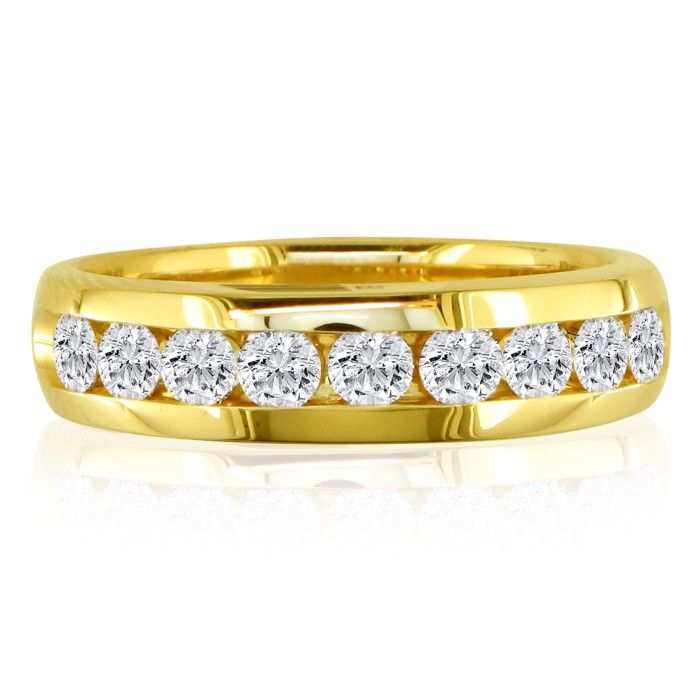 I'm not usually a gold fan, but I do like the contrast of the sparkling white diamonds against the brilliant yellow gold in this one from Super Jeweler. If it's not your thing, maybe you'll like this next one better.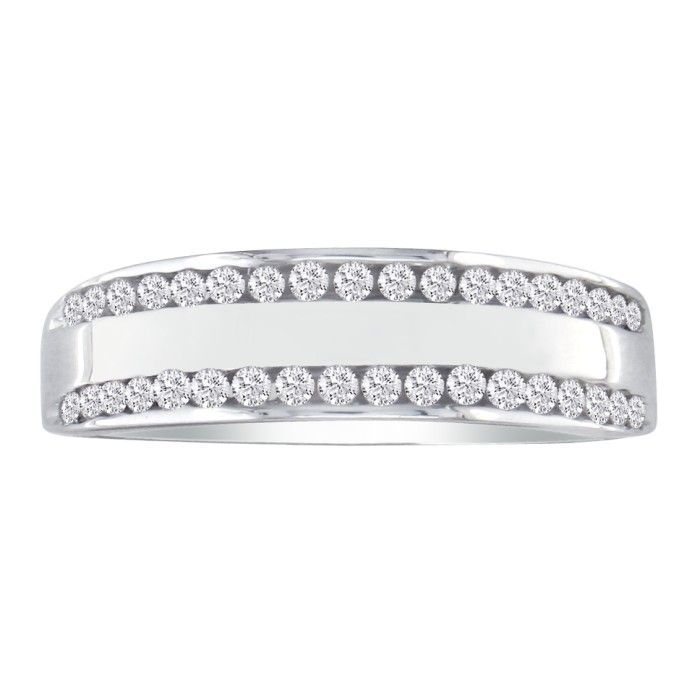 While it may look a bit plain, I picked that one in particular because you could very easily engrave that railroad track style center strip. I think that's a wonderful way to wear matching hers and hers wedding rings yet still add a unique touch to each one
2. Gemstones that represent each other
Wearing gemstone rings representing each other is by far my favorite idea, because you can get really creative here. Wear each other's birth stone, favorite gem, etc. I also love the idea of choosing stones with deep meanings that are relevant to your lives. Here are a couple that I think are gorgeous!
Emeralds are always a gorgeous choice, as the stone symbolizes compassion and universal love. If you choose an emerald, you almost have to go with a gold band. The stone just stands out better against the buttery shade. I really adore this one above from Helzberg!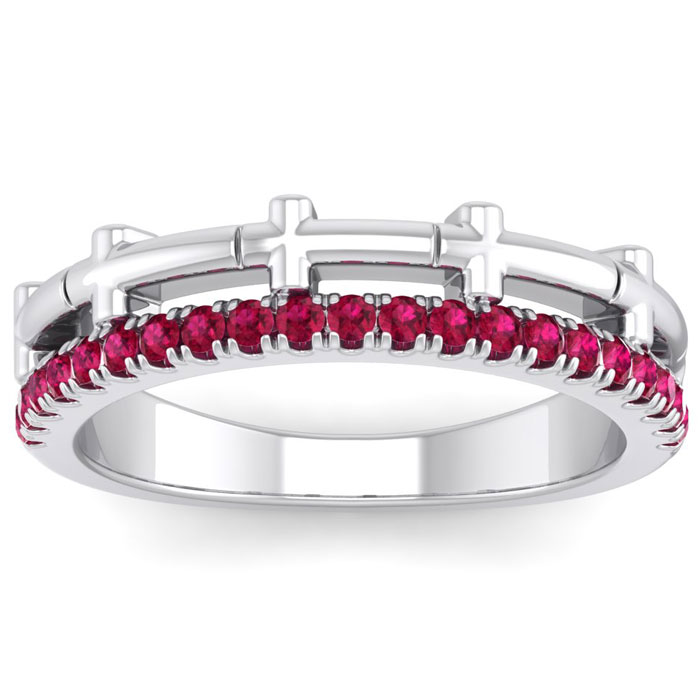 As much as I love emeralds, rubies are my all-time favorite stone, and not just because I was born in July. The gem symbolizes passion and strength. I love the unique style of the band above from Super Jeweler. It almost looks like the base of the symbol for "female," while the band itself makes up the loop.
Also Check: The Amazing Gay Wedding Rings
3. Totally different rings that fit your own unique styles
Perhaps the easiest option of all, don't even look for rings that match. Just choose something that fits your style, even if it looks completely different from your future wife's band. Maybe you'll choose something like this gorgeous eternity wedding ring from Helzberg.
Perhaps your bride-to-be will go with a stunning rose gold band like this one from Reeds.
If you want to make it really romantic, pick out rings for each other. Of course, you have to be really confident that you truly know each other's style. :)
4. Custom Designed Wedding Rings
If you can't find the perfect "ready to buy" rings anywhere, make your own! Several big-name jewelers have "create your own" or "custom designed" wedding ring sections, so you can create pretty much anything your hearts desire. For example, you could create something like this one below on Helzberg.
Or, perhaps this beautiful couples gemstone ring from Reeds is more your style! You choose everything from the stones to the metal to the style of the ring.
5. Hers and Hers Engagement Rings as Wedding Bands
If you want something with a bit more "pop," than a fairly flat and basic wedding ring, head over to the engagement section of your favorite jeweler. While this option works best if you don't already have engagement rings, you could always choose something that coordinates well with the one you do have.
Once again, the options are endless, but here are two that I just adore (totally based on my own tastes, so I won't be sad if you don't love them, too).
The one above comes from Helzberg's Kalahari Dream collection, featuring ethical diamonds mined from sustainable and responsible sources that give back to "those who help make it beautiful."
If you have simpler tastes, I think this one above from Reeds is really pretty. The center stone is still sparkly and gorgeous, but the overall effect is not quite so "look at me, look at me!" Not that there's anything wrong with being flashy. I just have simpler tastes.
Guides like this are meant to inspire you, not act as a rule book. If you love one of the rings I shared, wonderful! I'm so happy that I could help! If not, just use the general idea surrounding them to lead you in the right direction.
Honestly, when it comes to finding hers and hers wedding rings, the only thing that matters is that you both love the one you choose. Remember, this is the one piece of jewelry that you'll almost never take off.
What are some of your favorite ideas for hers and hers wedding rings? Share below!