Finding gorgeous and classy masculine rings for women can be a bit tricky. While you may think you can just pop over to the men's collection of jewelry stores, it's actually a smidge more complicated than that, especially if you have really small fingers. Rings made for larger fingers can only get sized down so much without sacrificing the overall style. 
So, to help you in your search, I scoured all of my favorite jewelers to find unisex bands, rings for men that come in smaller sizes, and more masculine rings designed for women.
We'll check out everything from diamond engagement rings to silicone wedding bands so you'll find just the right idea in your budget. We'll even look at some just plain handsome rings that can double as an engagement or wedding band, for those
who aren't really into all the glitz and glam of gemstones
Related: Engagement Rings for Gay Guys
Let's get started, shall we?
Our Top Pick
FYI, this post contains affiliate links. If you make a purchase through these links, we earn a small commission at no extra charge to you. 
3.  Two-Tone IP Stainless Steel Wedding Band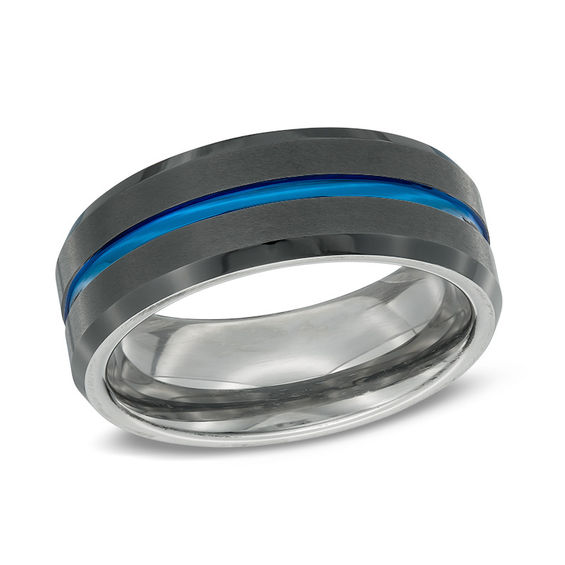 I love, love, love this one! The dark band combined with the celestial-sky stripe is just everything I adore in a ring.  For the more detail oriented, it's an "8.0mm-wide satin-finished black ion-plated design features beveled edges and a blue ion-plated Center stripe."
The catch? Sizing starts at 7, which is about average for women, but not great if you have small fingers. However, it's easy enough to size down without ruining the overall aesthetics.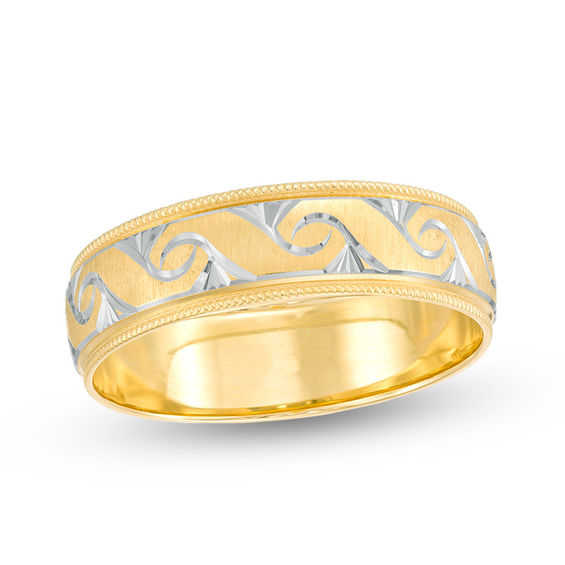 While I've never been much of a gold girl, I do love the swirly style of this masculine wedding band. It's amde with 10K gold and a "white-rhodium diamond-cut Center stripe" that's polished to a bright and vibrant luster. 
The comfort-fit band starts at size 5, making it ideal for women with average to larger hands. The only down side? It's not really one that you can size up or down without messing up the design. I mean, an accomplished jeweler could do it, but I imagine it'll cost more than a simple resizing. 
A love written in the stars deserves a ring that came straight from the heavens, and that's what you'll find here. It's actually made from meteorite metals. How cool is that?
Ignore the name of the store. While it's called The Men's Jewelry Store, they actually pride themselves on selling unisex rings. In fact, they take the guess work out of choosing the right size by listing mens and women's side-by-side. 
Blue and Black Cobaltium Mokume, Gibeon Meteorite 8mm Comfort-Fit Tungsten Ring Size 7.5
STUNNING Widmanstätten Inlaid Gibeon Meteorite Framed by Dimensional Cobaltium Composite Mokume and Titanium Pinstripes on a Hypoallergenic, Tungsten Comfort Fit Band
MEASUREMENTS: COMFORT-FIT Dome Band is 8.00 Millimeters Wide; Left to Right Measurements are: .50 Millimeters Tungsten, 2.00 Millimeters Cobaltium Composite Mokume, .50 Millimeters Titanium, 2.00 Gibeon Millimeters Meteorite
RING SIZER: Due to the exotic materials and the hardness of tungsten ring cannot be resized; upon ordering you will be shipped a plastic sizing ring to verify the size is purr-fect, sizing ring will ship in 3 to 10 days
| | | | | | |
| --- | --- | --- | --- | --- | --- |
| Preview | | | | | |
| Feature | Wood | Crushed steel | Heartbeat band | Damascus steel | Silicone |
| Rating | 5 Stars | 5 Stars | 5 Stars | 5 Stars | 5 Stars |
| Price | $99 | $47 | $30 | $214 | $24 |
| Shipping | FREE | FREE | FREE | FREE | $5 |
| Buy Now | BUY | BUY | BUY | BUY | BUY |
For truly unique masculine rings for women, we have to head over to Etsy! Let's start with this one, as it's definitely one of the neatest rings I've ever seen. It's made from Tungsten Carbon, Hawaiian Koa Wood, and Turquoise. 
Sizes start at 4, and they offer free engraving. 
Another unique Etsy find, this one is made from hammered sterling silver for a sort of vintage rustic look. Choose from the black finish shown above, or a shinier finish that glistens in the sun. 
Sizing starts at size 5, but since it's custom made-to-order,  you may be able to talk to the seller about making a smaller version if necessary. 
One of my favorite masculine rings for women, this heartbeat ring is perhaps the sweetest way to keep your sweetie close at all times. I love the idea of exchanging matching rings with each other's heartbeat. 
Sizes start at 5.5, but again, it's custom-made, so discuss your options with the seller. 
Made with brass and Damascus steel, this affordable ring comes in sizes ranging from 5-15.  You can also choose from three different widths, making it the perfect unisex idea. Each one is custom-made to order, so no two are like. If you need something smaller than a 5, talk to the seller. They offer custom sizes. 
Last, but far from least, we have another stunning silicone ring that looks quite a bit like real metal. Knot Theory is pretty much THE name in silicone bands, and they pulled out all the stops to create a little piece of the aurora borealis to sit on your true love's finger. 
Sizing starts at 4 and goes all the way up to 13. 
Final Recommendation
It's hard to choose a favorite because they're all so different. Along with our "Top Pick" above, though, I really love the Northern Lights band if you want something silicone, and the Heartbeat ring for a totally personal idea. 
Which of these masculine rings for women would you choose? Share below!
Nicole is the editor-in-chief and regular staff writer for LoveYouWedding. What does that mean? Basically, she handles all the day-to-day tasks related to managing writers and bringing you stellar content on planning the LGBTQ+ wedding of your dreams.
She loves writing about quirky and unique wedding ideas, probably because she's pretty quirky herself!
Last update on 2023-03-15 / Affiliate links / Images from Amazon Product Advertising API