Are you looking for perfect personalized wedding gift wall art ideas for an art lover? I know it can be a daunting task, especially if you're not really into art yourself. No worries, though, I'll help you out! Just keep reading to see some of my favorite ideas! Start with my "top picks," then work your way down until something catches your eye.
Our Top Picks
Check out the handy comparison table below for a quick peek at my favorites, then read on for the full list and more details!
FYI, this post contains affiliate links. If you make a purchase through these links, we earn a small commission at no extra charge to you.
Top Benefit
Fits any home or office décor or style
Handcrafted using Eastern White Pine
Multiple sizes and options
9 Personalized Wedding Gifts Wall Art Ideas
Below, I'll give you the best-personalized wedding gifts wall art ideas, and direct you to the best place to buy one. And you don't have to worry about the cost; I have art for all price ranges, so there is something for all budgets.
There is always a song that has a sentimental meaning to a couple. It may be the song they heard where they met. Or, the first one that one of them dedicated to the other, or the one they shared their first dance to…the possibilities are endless.
If you happen to know this song, this will be a priceless gift for the newlyweds. You can have the lyrics printed in any way you'd like and in gold, silver, or rose gold. The song lyrics are then put on a wooden frame, and voila! you have your wall art. You can order the soil lyrics foil print on Etsy.
The wedding day is a very special day in our lives; it's the day that we finally vow to love and commit to our partners.
We want to remember that special day for the rest of our lives as a sign of what the day meant to us.
You can make this happen by creating a wedding date art for the parties. Instead of simply putting the wedding date, you can include the day they met too.
The tree on the art makes it very beautiful for home décor.
Check it out on Etsy.
This is a great wedding and housewarming gift. And the meaning behind it is what makes it beautiful.
If you've watched Revenge, you remember Emily Thorn's tattoo of infinity times infinity. And the weight is carried in the show.
It's just a beautiful way of reminding the couple they belong together. And even when they have heated arguments, it's just a phase.
Buy the infinity art on Etsy.
Personalized Metal Infinity Sign Anniversary Gift Newly | Etsy
Beautiful Personalized Metal Infinity Sign!
This is a perfect gift for a couple to give them a custom metal wall art piece for their home!
Each Metal sign is laser cut from the top of the line laser technology to ensure precise detail of design!
Each sign is powder coated to give a smooth finish and long term durability!
This is another amazing idea of personalized wedding gifts wall art. It has the photo of the couple, their names and their wedding date.
All you need to do is to send details, and the seller will handle the rest.
This may not sound very great in theory, so before you rule it out, check out an example of the art on Etsy.
Personalized Wedding Wall Art Custom Watercolor Portrait | Etsy
Some moments in life must be remembered and revisited daily. A wedding anniversary, your partner's or friend's birthday, and many more. All these can be beautifully immortalized through a digital art illustration. Surprise your significant other with a digital watercolor portrait of a memory you want to share forever.
You can find a way to be sneaky and get the wedding vows of both parties even before the wedding. Many couples are willing to share their vows with friends and relatives as long as they don't share them with their partner.
The vows are then printed and framed. This wall art can fit perfectly in the bedroom or the sitting room.
It's these simple reminders and memories that keep couples going during tough times.
Order the wedding vows wall art at Etsy.
If you're looking for something modern, then this wall art will do. Unlike others, it's not just print.
It's a final product of several experiments on aging metals using different tricks. The copper wall art is made of quality material, so it will never deteriorate or break.
And every piece of art has the artist's signature as a sign of authenticity.
The art is customized using the couple's names and wedding date.
Buy this wedding art from Amazon.
The photo on this art doesn't have to be wedding related. It can be a picture of the couple having fun.
You know, like those unaware captured moments when people are themselves without a care in the world.
It doesn't have to be a great photo. What matters is the authenticity of the moment.
Frame this moment with the golden state art, and let them always remember how fun they can be.
The art fits both the office and home décor, so they'll have pretty options.
Buy the golden state art on Amazon.
Sale
Golden State Art, 11x14 Tall Picture Frame Split Color Molding Build in Sawtooth Hangers for Wall Display Perfect for Displaying Weddings Photos, Anniversary Photos, Memories (Black/Grey, 1-Pack)
DISPLAY: Brand New 11x14 Black/Grey Split Color Molding Frame
STYLE: Split Color Molding Solid Color/Smooth Wood Grain Finish Wall Display
FITS: 11x14 Photos, Prints, Artworks, Pictures
FEATURES: Deep Molding, Split Color Design, Strengthened Glass Cover, Sawtooth Hangers for Wall Display, Portrait or Landscape Orientation
BEAUTIFUL: Fits any home or office décor or style. Display all of your photos in this lovely frame. It will surely be a great addition to any of your rooms.
This art is very well crafted, and it's absolutely beautiful. It's handcrafted using eastern white pine, and the image is directly printed on the natural wood.
The art comes with the message, 'Welcome to Our New Beginning' and the couple's year of marriage.
The art is available on Amazon.
9. Lovers Crossroads Personalized Canvas
This budget-friendly wall art beautifully demonstrates how two roads become one when we meet the love of our lives. It's a meaningful way to capture the "crossroads" where our lives intersect.
It comes in multiple sizes and you can choose to have it framed and/or matted. Then add their names (obviously) and either their wedding date or, if known, the date that they met.
Personalized Wedding Gifts Wall Art (Final Words)
It's amazing how we all have different passions. Heck, sometimes we can't stand what our loved ones like. But when it's time to show up for them, we must go the extra mile to make it happen.
If you're attending a wedding of art lovers and you have no knowledge or love for art, grab one of my suggested wall art.
You'll thank me later.
Do you have any other great customized wedding art ideas? Share in the comment section.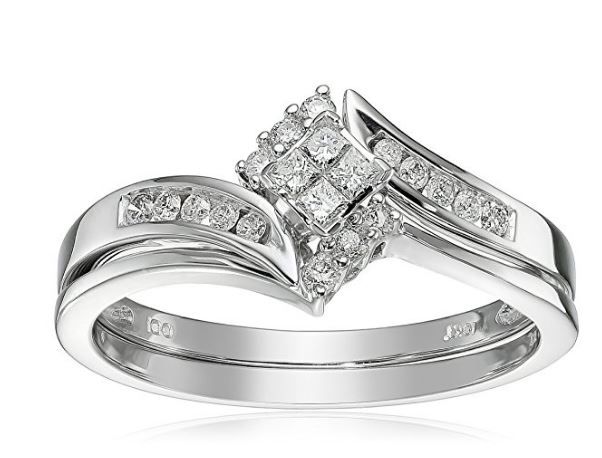 Sylvia K
Sylvia is passionate about everything wedding-related, especially gift ideas and ring suggestions.
Last update on 2021-06-24 / Affiliate links / Images from Amazon Product Advertising API