Looking for some amazing virtual wedding registry ideas? Perhaps you're a guest attending a Zoom ceremony and wondering whether you should even send a gift?  Either way, we've got you covered! We'll start with 8 of the best places to register for the gifts you really want. Then, we'll go over some basic etiquette for guests (brides and grooms, take note, too).
Best Wedding Registry Ideas at a Glance
Don't have time? Here is a quick comparison of our favorites!
8 Amazing Virtual Wedding Registry Ideas
A reader asked:
My fiancé and I are eloping, and we are doing a virtual ceremony for the safety of others. People want to "gift" and send funds, and I don't wanna feel tacky putting down my PayPal/Venmo/Cashapp/etc. Can someone lead me to a nice page for gifting? Preferably something that has to do with the wedding setting? Virtual funding page as well if possible. Thank you!*
In response, we've prepared 8 amazing virtual wedding registry ideas that will allow you to receive gifts without seeming tacky. Let's dive right in.
FYI, this post contains affiliate links. If you make a purchase through these links, we earn a small commission at no extra charge to you. 
Why register at just one store when you can easily register at ALL of them? 
MyRegistry.com makes it easy for you to get exactly what you want from wherever you want, thanks to their "Universal" feature. 
The best part? You're not limited to just stuff. You can add anything from traditional gifts to experiences. They even have an option to set up a Cash Gift Fund, so you can ask guests to contribute to a larger purchase – like your honeymoon. 
Adding gifts and experiences is as easy as 1-2-3. No, really, they have three different options to make it that simple:
A browser extension that lets you add gifts from any website. 
An app with a barcode scanner, so you can scan items at your favorite stores to add them to your wish list. 
Store syncing that makes it easy to combine multiple store registries into one MyRegistry.com account. 
Mix-and-match the methods or just use your favorite. Regardless of which you use, everything appears on ONE list. Then, all that's left to do is send your unique URL to your guests. From there, they'll be able to see what's been purchased and what's left to buy. Plus, when it comes time to write your thank-you cards, the Thank You Note Tracker makes it quick and easy to see who gave you what. They're by far the best wedding registry on our list!
I'm betting you've probably used Amazon a few times already, right? Your loved ones may also be comfortable using the site because they've used it before. 
They're multiple advantages of using the Amazon registry. First, it offers extensive gift options with everything from kitchen gadgets (like the Instant Pot above) to home decor to handmade items.
Buying online always has a hitch because, in most cases, the items can be different from the displayed pictures in terms of fabric or style. But since Amazon is a big site, chances are the items you'll want to buy have several reviews, so you'll know what you're getting yourself into.
Unfortunately, the Amazon registry will direct your buyers outside the site if you're buying from another buyer. But you can always solve this with gift cards. The only major hiccup I've seen with the Amazon registry is that you can't receive money or honeymoon funds.
Otherwise, in terms of variety and reliability, I strongly recommend it.
This may come as a surprise because many people know Esty but don't know it has a wedding registry. I loved their sign-up process because it was simple and straightforward. Of course, Etsy will only work for you if you're a fan of handmade or vintage items.
When I checked at the gifts available in Etsy's wedding registry there were about 2000+ options. I found the items balanced because they went as high as classic wedding gowns and jewelry to simple items like wedding masks.
The only issue I saw was that some items might be unavailable sometimes by the time your guest's order and finding a substitute may be hard. However, this can be solved by having substitutes for some items on your list.
It may not really seem like a place to register for gifts, but don't discount My Wedding Favors! I love it because they have unlimited options on their wedding registry list. They have a huge selection of beautiful gifts for brides, for the home, and so much more. 
Sometimes all you need is money. Gifts are good, but if you're just renewing your vows or this is your third wedding. Or even the sixth wedding in Lily's case from Gossip Girl, you probably have most house items. And you have the wedding items under control.
Given2 allows you to receive money for your wedding from your guests. It's simply like a digital form of the traditional envelope system. Even better, you can add a honeymoon registry because sometimes all you want is a good time with your lover in the Maldives.
If you want to include your guests, Given2 allows you to give detailed information on the activities you plan to do and their costs. But if you're a private person, you can skip all that and just enter the whole amount.
I love the paisley box, too, mainly because it focuses on wedding items. This means you can include any wedding items on your registry.
There are so many options in their catalog that will wow you. When I visited the site, I realized so many items that I never knew I wanted.
Paisley box also allows you to add engagement and honeymoon items to your registry. If you have all items but don't have the right bikinis for your honeymoon, by all means, add that instead of more wedding jewelry.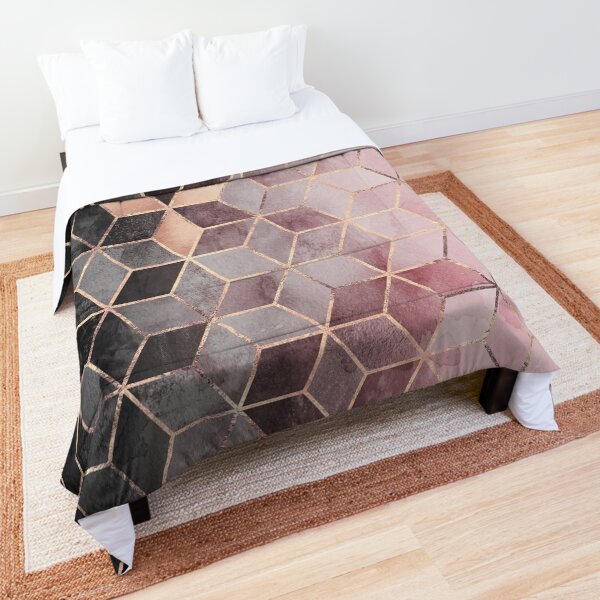 Redbubble is another unexpected place to register, but it has some truly amazing and unique finds! Where it was once primarily a t-shirt store, today they have a huge lineup of options ranging from blankets and pillows to kitchenware and beyond. 
Not only do they offer a full range of ideas inspired by pop culture, but they also have quite a few gorgeous artistic designs that have nothing to do with fandom, like the stunning duvet above.
While Bed, Bath & Beyond isn't solely an online store, it's famous for a good reason. It's an excellent option for a wedding registry if you want to include home goods in your wedding registry.
Also, with the 1500 locations, your guests who are less techy and still want to gift you the traditional way can visit the store and make their purchases. 
Most of them will have coupons anyway, which will allow them to save. Gifts ship immediately after shopping, but they have a one-year return policy. So if you change your mind, there is plenty of time to return the item.
Do You Need to Send a Gift to a Virtual Wedding?
Brides and grooms, go ahead and skip to the next section if you'd like. This one is for your guests! 
Virtual weddings are new territory for most of us. Sure, they existed in pre-pandemic days, but now they're a top wedding trend (and will likely remain so through much of 2021). Couples are opting to follow social distancing guidelines and keep their guests safe, even if it means forgoing their dream wedding. 
Pre-COVID, if a couple canceled their wedding for any reason etiquette dictated that they send back the gifts they received. While the rules get a little murkier when couples opt to elope instead, overall everyone had a fairly clear rule to follow. Among them- if you weren't invited to a wedding, you didn't need to send a gift. 
Then, the pandemic swept in and changed everything. Brides and grooms all over the world were left with three options: cancel, postpone, or significantly alter their wedding plans. Many chose option three, switching either to a minimony or a fully virtual wedding. When wedding trends changed, so did gifting rules. 
I came across a Reddit post that beautifully sums up virtual wedding gift etiquette. Take a look at the original question first, then we'll look at some of the best answers. 
My husband and I are attending a wedding on Saturday. Due to Covid, the bride and groom (B&G) are making their wedding virtual. The B&G do not have a registry, but we want to give them a gift. Usually I would give between $100-$200 from myself and another $100-$200 from my husband depending on how close we are to the B&G, however in a virtual wedding you aren't eating dinner there or partaking in the wedding activities (I.e dancing). How much money should we be giving?
My favorite answer:
Please give what you would normally give for a wedding. It's incredibly thoughtful of the bride and groom to protect their guests by doing it virtually. They are going through a rough time already, and while they may not be able to provide their guests with a normal wedding experience, it doesn't mean that they haven't lost money already from deposits on food and beverages. It would likely mean a lot to them if you were kind enough to think of them by giving a generous gift in light of everything going on.

Plus, they may decide to throw a reception or party in the future, where you can celebrate them in person with food/drinks/dancing.
Another user made excellent points:
Agree with the others; your gift is a gift, not a payment for services rendered. You could go to a wedding and be treated to a 4 course gourmet meal and open bar, or you could get cake and punch, and that hopefully would not impact what you planned to give as a gift in either case. I would give whatever you normally would.
Even Wedding Wire agrees. They write:
Gifts are given as a symbol of your love and friendship, and to help the couple start their new life together. And that applies whether the couple is hosting an in-person wedding or a Zoom ceremony.
So, bottom line, if you were planning to give a gift prior to the change in plans or would give one if attending an in-person ceremony, then yes, you should still give one for a virtual wedding. That gift shouldn't be dependent on how much the couple spends on their wedding (or more specifically, per guest). So, the rules are the same regardless of whether they send you an epic gift basket of "reception goodies," or just have a low-key ceremony without any sort of virtual reception. Send what you can afford. Period. 
Best Online/ Virtual Wedding Registry (Final Thoughts)
I hope our virtual wedding registry ideas gave you a few options to explore! A virtual wedding definitely comes with new challenges, but every couple deserves to be celebrated. So, go ahead and set up that registry! Guests, remember, your gift is not payment for services rendered, so give from the heart!
Have you done a virtual wedding registry or are you planning one? What would you say are the biggest challenges? Share below!