When it comes to nighttime nuptials, wedding arches with lights really crank up the "wow factor" of your overall decor. Ambient lighting is one of the most incredible ways to add an atmosphere to your big day.
Regardless of the theme, budget, or venue – the right lighting can be the perfect addition that your wedding arch really needs. Read on for some tips on creating a stunning arch with magical wedding lights that fit just about any decor scheme.
Don't miss: The Definitive Guide Of Wedding Arches (with Free PDF Printable)
These Ideas for Wedding Arches with Lights Really Dial Up the Wow Factor
Lighting is always used in wedding ceremonies and receptions. Whether that's to make everything feel more inviting, more romantic, or even more electric. That's why you see them at the altar, on the dance floor and even on the guest's tables.
While candles are perfect for weddings, everyone's big day could add a little more pzazz. One way to do this is with a lighted wedding archway. . Let's discuss how!
How to add lights to your wedding arch
Most wedding arches have a lot of fabric and flowers placed on them. Adding lighting has to be completed in a responsible and safe way, while still adding that desired effect. Don't worry, it's still possible.
I recommend that you stay clear from real candles, and opt for string lights and bulbs. These are much safer and add a magical effect. P.S you can easily find fake candles, that still look fabulous.
There are many ways to add lighting to your arches. For instance, adding them to the perimeter, wrapping them around, or even hanging them from the top beam. Below, are some of my favorite examples – and how you can get that same effect.
FYI, we do earn a small commission when you use one of the links to buy an item, at no extra cost to you.
[embedpost postid="7292″]
The boho look
https://www.instagram.com/p/CDOIh-SgiJQ/
How incredible does this arch look? This can be used in any way that you want – for the guests, your altar, or even just the after-party. It looks absolutely incredible, especially paired with the feathers and boho fabrics.
Fairy lights
It's very easy to get this desired look, but just make sure you purchase weatherproof fairy lights. That's especially important for outdoor looks – but even in case any spills or accidents happen. Durable lighting is definitely the best option.
These fairy lights have that magical look but are totally submersible and waterproof. They also come in various colors, but warm white is possibly the best kind of boho look.
[lasso ref="etsy-fairly-lights" id="8099″ link_id="10941″]
The moon arch
If you've opted for a moon-shaped arch, it should glow in the same way. This arch uses antique-looking bulbs, paired with pink and white blooms. The effect is obviously stunning. Take note of the bulbs glowing warmly, rather than white or blue. This creates a soothing, more relaxing ambience. At night, this would look even more gorgeous.
The specific style of these lights is a pendulum. Depending on what you pair them with, they can create quite an industrial feel to them.
Pendulum bulb lights
Despite rocking quite a modern look above, the style of these bulbs is very vintage. You can get a similar effect by using these 60s and 70s ceiling light pendant lights. Just safely hang them, and they'll glow a lovely warm color, too.
Natural look
If you want a more natural look, clear bulbs are a great option for you. As you can see, these paired with the green foliage looks absolutely incredible.
These bulbs have quite a bubble effect to them, with clear glass. This makes them look wonderful in the day-time and nighttime.

These kinds of bulbs are fairly easy to find – they're a common style. However, the ones above are super easy to connect to anything you want. This is such a helpful addition when it comes to DIY decorating.
[lasso ref="https-tidd-ly-3a9ibyq" id="8101″ link_id="10942″]
Forest wedding
A few lights here and there makes such a big difference. Especially when paired with foliage and fabric.
This is such a lovely outdoor wedding setup, and the lighting adds so much.
Solar lights
As you're outside, you can totally get away with opting for solar lights.
[lasso ref="https-tidd-ly-3ipog1v" id="8107″ link_id="61504″]
The industrial look
Lighting doesn't just revolve around the arches. Every part of your wedding should have ambient lighting, to create that romantic, peaceful vibe. If you're going for an industrial look, hanging pendant bulbs are definitely a strong contender for you to choose from.
Industrial pendant lamps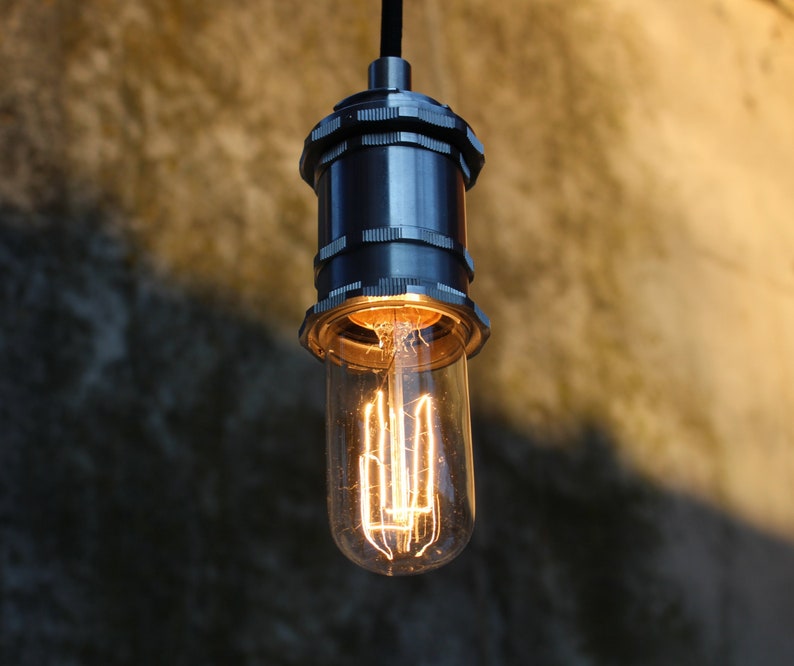 These amazing little lamps are made from camera rings. You can't get much more "industrial" than that.
[lasso ref="https-tidd-ly-3a2vfwn" id="7826″ link_id="61505″]
The rustic feel
The rustic look is relatively easy to achieve. Pair your hanging bulbs with lots of greenery, wood, and blooms. The patterns and prints, here, make such a big difference too.
The lighting here is obviously the perfect picture backdrop – which is definitely something to consider. You can decorate with lights, to create an almost photo backdrop.
Curtain lights
Luckily, there are read-made curtain lights on the market. How incredible do these look? Now, imagine them behind you as you say "I do". Perfect, right?
[lasso ref="https-tidd-ly-3imca9q" id="8110″ link_id="61506″]
Whether you go for a vintage look or something more modern, cascading curtains or a simpler look, any of these wedding arches with lights would make a beautiful addition to your big day!
What are some of your favorite ideas for wedding arches with lights? Share below!
Last update on 2023-01-17 / Affiliate links / Images from Amazon Product Advertising API