When it comes to nighttime nuptials, wedding arches with lights really crank up the "wow factor" of your overall decor. Ambient lighting is one of the most incredible ways to add an atmosphere to your big day.
Regardless of the theme, budget, or venue – the right lighting can be the perfect addition that your wedding arch really needs. Read on for some tips on creating a stunning arch with magical wedding lights that fit just about any decor scheme.
Don't miss: The Definitive Guide Of Wedding Arches (with Free PDF Printable)
These Ideas for Wedding Arches with Lights Really Dial Up the Wow Factor
Lighting is always used in wedding ceremonies and receptions. Whether that's to make everything feel more inviting, more romantic, or even more electric. That's why you see them at the altar, on the dance floor and even on the guest's tables.
While candles are perfect for weddings, everyone's big day could add a little more pzazz. One way to do this is with a lighted wedding archway. But first, let's discuss how wedding arches came to be and what it really symbolizes.
History of wedding arches
The tradition of wedding arches dates back to many centuries ago. Weddings in ancient Rome and Greece were carried out near the entrance to altars. Years later with the advent of Christianity, weddings in some churches like those in Spain were carried out with a custom in which the couple went through an arch called the 'Arch of Sabres' after leaving the church to symbolize that they'll be together for the rest of their lives.
It is also an age-long custom in Judaea for couples to marry under a fence roof called Hupa to symbolize the new home that will be built by the couple.
In the United States, some weddings were carried out outside the church as this was allowed by the protestant churches. This made couples decorate the entrance to the church as elegantly as possible. As time went by, couples that wanted traveling weddings or non-religious weddings started using wedding arches as a tradition and as a symbol to represent the church entrance.
These days, there's no standing rule on how a wedding arch should look. It may be a real arch with lighting, a rectangular shape, a fence, or even an open curtain. The wedding arch can be decorated at the entrance of the church or it could be in an open field where the couple will stand to take their vows.
Various things could play the role of an arch. You just need to make sure it is in line with your tastes as a couple and that of your partner as well as the preference of your guests. Your wedding arch can also be decorated and lighted in line with the culture you come from. The wedding arch should also be in line with the wedding themes and colors.
It is also very important to ensure that the wedding arch is stable to avoid an embarrassing situation where the arch gets knocked down by wind at the wrong moment.
Your wedding arch could be decorated with flowers, whether real or artificial, leaves, branches, stars, etc. one thing that could make your wedding arch perfect is light. A lighted arch could give your arch a unique ambiance especially if the wedding is going to be at night.
What wedding arches symbolize
A curved arch symbolizes the couple's new home and the beginning of a lifetime journey together.
A rectangular or square arch symbolizes stability which is one of the most important factors needed for the permanence that comes with marriage.
One of the best parts of a wedding arch is that it gives you a platform to get creative in your wedding decoration. It can be draped with veils, light bulbs, flowers, and all sorts of decorations and themes you will want to be represented at your ceremony.
You could make your wedding arch the focal point of your wedding. It could be that one thing in your wedding that will have everyone talking long after the day has passed. There's not much that will make your wedding more traditional and unforgettable than a well-lighted and decorated arch. Let's now discuss how to make that happen!
How to add lights to your wedding arch
Most wedding arches have a lot of fabric and flowers placed on them. Adding lighting has to be completed in a responsible and safe way, while still adding that desired effect. Don't worry, it's still possible.
I recommend that you stay clear from real candles, and opt for string lights and bulbs. These are much safer and add a magical effect. P.S you can easily find fake candles, that still look fabulous.
There are many ways to add lighting to your arches. For instance, adding them to the perimeter, wrapping them around, or even hanging them from the top beam. Below, are some of my favorite examples – and how you can get that same effect.
FYI, we do earn a small commission when you use one of the links to buy an item, at no extra cost to you.
The boho look
How incredible does this arch look? This can be used in any way that you want – for the guests, your altar, or even just the after-party. It looks absolutely incredible, especially paired with the feathers and boho fabrics.
Fairy lights
It's very easy to get this desired look, but just make sure you purchase weatherproof fairy lights. That's especially important for outdoor looks – but even in case any spills or accidents happen. Durable lighting is definitely the best option.
These fairy lights have that magical look but are totally submersible and waterproof. They also come in various colors, but warm white is possibly the best kind of boho look.
Sale
The moon arch
If you've opted for a moon-shaped arch, it should glow in the same way. This arch uses antique-looking bulbs, paired with pink and white blooms. The effect is obviously stunning. Take note of the bulbs glowing warmly, rather than white or blue. This creates a soothing, more relaxing ambience. At night, this would look even more gorgeous.
The specific style of these lights is a pendulum. Depending on what you pair them with, they can create quite an industrial feel to them.
Pendulum bulb lights
Despite rocking quite a modern look above, the style of these bulbs is very vintage. You can get a similar effect by using these 60s and 70s ceiling light pendant lights. Just safely hang them, and they'll glow a lovely warm color, too.
Vintage Pendant Light Kit Cord with Dimming Switch and Triple E26/E27 Industrial Light Socket Lamp Holder 25FT Twisted Black Cloth Bulb Cord Plug in Hanging Light Fixture
【Awesome Dimming Function】Controlled by a dimmer switch, this pendant lighting fixture allows you to customize the amount of light depending on the time and the mood. Not only decorative, but also practical. Note: to avoid flickering and incompatibility issue, please match the cord with dimmable bulbs.
【Plug in Pendant Light Cord】Build a lighting over your island without having to make a hole in the ceiling. With its 25FT(7.62M in total) braided cloth lamp cord, you could easily create your own unique light fixture by hanging triple light sockets with cord. It is perfect for your DIY pendant lamp idea.
【Independant on/off Switch】Each edison lamp holders is designed with individual on/off switch above socket. A two pin plug with US standard is hard wired. Includes all mounting hardware for quick and easy installation. Just hang the pendant cord from the ceiling and add a bulb, easy to install within minutes.
Natural look
If you want a more natural look, clear bulbs are a great option for you. As you can see, these paired with the green foliage looks absolutely incredible.
These bulbs have quite a bubble effect to them, with clear glass. This makes them look wonderful in the day-time and nighttime.
Hanging globe bulbs

These kinds of bulbs are fairly easy to find – they're a common style. However, the ones above are super easy to connect to anything you want. This is such a helpful addition when it comes to DIY decorating.
GOOTHY Outdoor String Lights, 100Ft G40 Globe Patio Lights Waterproof with 100 Edison Clear Bulbs(10 Spare), Connectable Hanging Decorative Lights for Outside Backyard Balcony Party, E12 Base -Black
G40 globe string lights: 100 feet outdoor string light black wire with 90 hanging sockets, 90 G40 clear glass bulbs and 10 spare bulbs, C7/E12 candelabra base, 5W per bulb, 120 Volt, porch lights outdoor string for indoors, ceilings, grasses, christmas decor
Connectable outdoor string lights 100 ft: Outdoor balcony lights is end to end connectable, plug leading length 10 feet, G40 globe light bulbs space 1 feet, female connector leading length 1 feet. Total length 100ft vintage edison string lights can connet up 2 strands (rated maximum 960 watts)
Patio lights outdoor waterproof: UL certified backyard lights is built with weatherproof technology, suitable for outdoor & indoor use, which can withstand extreme temperatures, rain, wind, and damp climates. outdoor globe decorations string light perfect for balcony terrace, garden, bistro, pergola, gazebo, tent, barbecue, city roof decor and lighting
Forest wedding
A few lights here and there makes such a big difference. Especially when paired with foliage and fabric.
This is such a lovely outdoor wedding setup, and the lighting adds so much.
Solar lights
As you're outside, you can totally get away with opting for solar lights.
Sale
URAGO Super Bright Solar Lights Outdoor Waterproof 10 Pack, Dusk to Dawn Up to 12 Hrs Solar Powered Outdoor Pathway Garden Lights Auto On/Off, LED Landscape Lighting Decorative for Walkway Patio Yard
HIGH BRIGHTNESS & ATTRACTIVE PATTERN – Urago's solar outdoor walkway lights solar powered adopts high power LED lamp beads and high transmittance lampshade to make our solar lights brighter than ordinary solar path lights. Plus, it is more perfect to project attractive Mandala pattern, adding a finishing touch to your daily and holiday decorations like Halloween and Christmas. Use garden lights to extend your evenings. Be ready to get compliments from neighbors! NOTE: SPIKES ARE INSIDE THE TUBES
DUSK TO DAWN LIGHT UP ALL NIGHT – Urago's solar lights outdoor waterproof use thickened, corrosion-resistant materials that are more durable and rust free than cheap solar garden lights. Premium solar panel and higher capacity rechargeable battery means our solar outdoor lights can effectively absorb more sunlight and converts it into electricity. Charging for 6-8 hours in the sun can continuously glow for 8-12 hours, which greatly meets your needs for brightness effect and lighting duration.
CREATIVE DESIGN & WIDE APPLICATION – Urago's 10 pack outdoor solar pathway lights are well designed and height adjustable. The exquisite black appearance and crystal clear cover make solar yard lights look more advanced and textured. Upgraded ABS plastic ground pegs provide better stability and sturdiness. With IP44 waterproof grade, you can use solar landscape lights anywhere outdoors, such as garden, lawn, flower bed, patio, pathway or deck, etc. No worries about rain, snow or bad weather.
The industrial look
Lighting doesn't just revolve around the arches. Every part of your wedding should have ambient lighting, to create that romantic, peaceful vibe. If you're going for an industrial look, hanging pendant bulbs are definitely a strong contender for you to choose from.
Industrial pendant lamps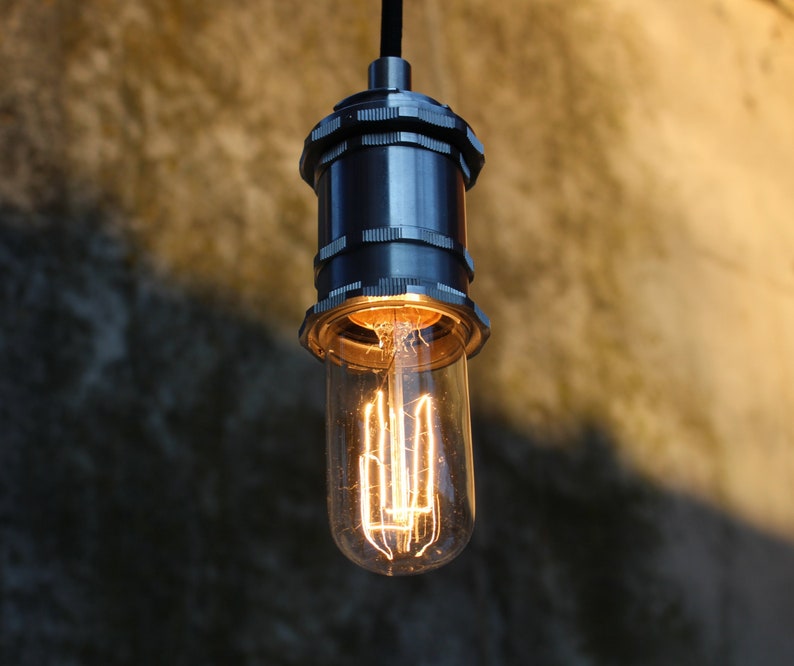 These amazing little lamps are made from camera rings. You can't get much more "industrial" than that.
The rustic feel
The rustic look is relatively easy to achieve. Pair your hanging bulbs with lots of greenery, wood, and blooms. The patterns and prints, here, make such a big difference too.
The lighting here is obviously the perfect picture backdrop – which is definitely something to consider. You can decorate with lights, to create an almost photo backdrop.
Curtain lights
Luckily, there are read-made curtain lights on the market. How incredible do these look? Now, imagine them behind you as you say "I do". Perfect, right?
HXWEIYE 300LED Fairy Curtain Lights, USB Plug in 8 Modes Christmas Fairy String Hanging Lights with Remote Controller for Bedroom, Indoor, Outdoor, Weddings, Party, Decorations(9.8×9.8Ft, Warm White)
【USB Powered】: Plug in with USB charger,Suitable for more places to get powered even in camping or barbecue .Or Powered by power bank, laptop, cellphone adapter and more.Start and enjoy the curtain lights anywhere you love.
【360° Rotatable hooks】: Upgrade 360° Rotation Clips on each drop string is mainly used for hooking on curtains. It can be hung at any angle, such as on wall, window or other surface. Also includes 16 sets of Damage-free adhesive hooks. No nails needed and holds strongly & removes cleanly. Both of these two clips make the curtain light easily to be hung for some special places, not only limited to windows, but also can be hung on flat walls, glass, porches, eaves, etc
【16.5ft Lead wire】: 300 individual LEDs, 9.8ft.x9.8ft curtains lights come with extra 16.5ft long power cord. 9.8ft main strand and 10 drop strings included hooks. Copper wire drop strings is tough & flexible, hanging & adjustable desired height naturally easily. No limits to your imagination, Do the shape you like. Enjoy a fairytale world ( Curtain is NOT included)
Whether you go for a vintage look or something more modern, cascading curtains or a simpler look, any of these wedding arches with lights would make a beautiful addition to your big day!
What are some of your favorite ideas for wedding arches with lights? Share below!
I'm a freelance journalist/writer/content marketer with BA Hons in Journalism.
Last update on 2023-05-30 / Affiliate links / Images from Amazon Product Advertising API