If you need some thoughtful vow renewal gift ideas, stick with us. Renewal parties may not be as big as weddings, but they're very significant.
Weathering all the hard times that relationships bring and still being together and loving each other? It's something worth celebrating.
But what are the best vow renewal gift ideas? Here are some ideas below!
CHECK: Gay Wedding Vows Examples
Vow Renewal Gifts Top Picks at a Glance
FYI, this post contains affiliate links. We earn a commission if you make a purchase at no extra cost to you.
Check this comparison table for a quick peek at our favorites, then read on for all of the details.
It's a great decor addition to any house
It has a very beautiful design
Vow Renewal Gift Ideas (Review)
Everyone thinks to give couples vow books on their actual wedding day, but they're just as amazing for a renewal party. After all, those vows are just as meaningful and deserve to be preserved.
Allow the couple to do this by buying them this beautiful wedding journal. Most of them won't have thought of this, so it's a great surprise.
Benefits
The wedding vow journals are made from pure leather
They're enough pages to write the vows, and you can ask the seller to add more pages
Cons
This gift can't work for vegan couples.
Check: Non Traditional Wedding Vows
It's human to forget all the good things that have happened to us in life. Most people feel like time just passed by, and they have nothing to show for it.
This personalized art is your chance to remind your friends of the amazing things that have happened for the years they've been married.
The art is customized with the time the couple has been together for decades, years, weeks, days, hours, minutes, and seconds. It also has other information like the number of kids, grandkids, etc.
Benefits
It's very customized, which makes it very sentimental
It's a sweet reminder of what a couple has accomplished together
Cons
It works best for a couple with kids or an old couple with grandkids.
I love gift ideas that can be carried around, and this is one of those ideas. This gift is appropriate for a gay couple who hate carrying wallets.
It's made of stainless steel, so it's durable; it doesn't tarnish or scratch easily.
The money clip is customized with the years the couple has been together, their names, and the date of the vow renewal ceremony.
Benefits
The money clip is made from steel, so it will last for years
It's something that the recipient can use in their daily activities
Cons
It's only for masculine recipients.
This is another thoughtful vow renewal gift that every couple will love. The portrait is customized with the couple's wedding photo and a special message. The message can either be the lyrics of the "couple's song," their wedding vows, a poem, etc.
My favorite option is writing a heartfelt message to the couple (this is great when you're close friends with the couple).
Benefits
You can choose a product or digital version
It's very sentimental
The print is premium
Cons
It's handmade, meaning it may be a little different from the picture.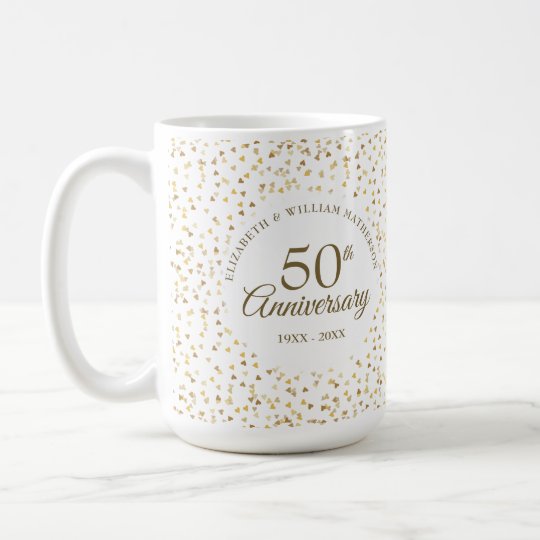 from:
Zazzle Inc.
I always go for a cute customized mug when I don't know the person I'm gifting very well. Or if they're the picky type ( we all have people whose gift we can't get right).
Luckily, everyone loves a pretty mug, and you can't have too many mugs. This mug is personalized with the number of years people are celebrating.
You can add a special message like, You Belong Together, To many more, or an inside joke you have with the couple.
Benefits
You can't go wrong with a personalized mug
This mug is of great quality
Cons
Mug gifts are very common, so you need to come up with a great message to make it special.
Check Latest Price



50th Wedding Anniversary Golden Hearts Coffee Mug | Zazzle.com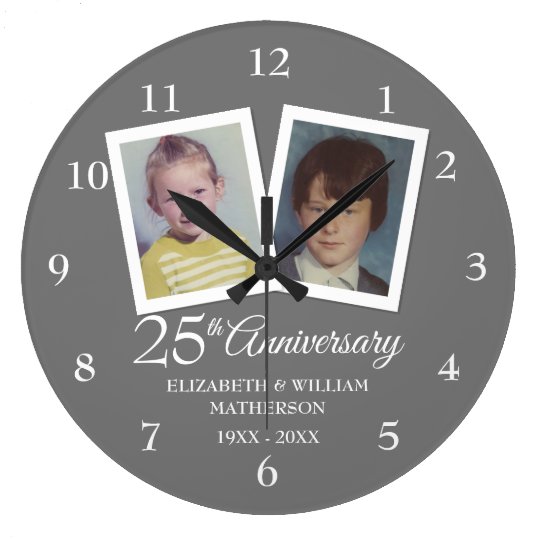 from:
Zazzle Inc.
This is an amazing and funny gift. Well, you'll have to dig deep to get photos of the couple when they were around the same age.
I love this gift because it's just a reminder of how far they've come and the good people they've met. It's also a gentle reminder to enjoy every minute of our lives and experience each other because time flies!
The clock also has space to indicate the dates (wedding – present date).
Benefits
The couple can actually use the clock long after the ceremony
The clock is beautiful, and it's a great decor addition to any house
Cons
Getting childhood photos of both photos can be challenging.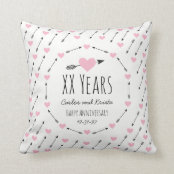 from:
Zazzle Inc.
This is another gift that the couple will appreciate. The silver pillowcase has some beautiful love drawings. It also has space to include the name of the couple and the number of years they're celebrating together.
Benefits
This throw pillow will fit in any decor
It has a very beautiful design
Cons
It's not a very creative gift idea compared to others on the list
Check Latest Price



25th Anniversary Wedding Photo Chic Silver Hearts Throw Pillow | Zazzle.com


Check: 10 Fun Second Wedding Gift Ideas for LGBT Couples
I saved the best for last because I wanted to end my vow renewal gift ideas list at a high note. And you got to admit; this is pretty creative.
The paint has two spoons (a big one and a small one), and the year the couple started spooning.
Benefits
It's very creative
It has high quality, and it will work well with any decor
Cons
It's not very customized since this available version has space for the date only.
READ MORE: Traditional Celtic Marriage Vows
FAQs for Vow Renewal Gifts
Here are some of the common questions people ask about renewal gifts.
Do you bring a gift to a vow renewal event?
A vow renewal isn't exactly a gifting ceremony since the couple has already established their life together. Many couples will include a 'no gifts tag' on the invitation. However, you can carry something small to the ceremony depending on your relationship with the couple.
What are appropriate vow renewal gifts?
Anything sentimental. When it comes to vow renewal gifts – it's the thought that really counts ( literally). The more customized and creative the gift is, the better the gift is. It's not the monetary value that counts.
Final Verdict
If you've never attended a vow renewal ceremony, it's normal to wonder whether you should bring a gift or not.
I'm a giver, so I gift my loved ones on almost all occasions. And one thing I can promise you is that most of the gifts that have led to tears of joy and gratitude weren't the thousand-dollar gifts. It was the most thoughtful gift.
So, don't overthink or worry about your budget; just make the gift personal.
I hope one of the vow renewal gift ideas on the list worked for you.
Our Top Pick
What other vow renewal gift idea did I leave out? Which one is your favorite?