Looking for some of the most unique, beautiful & creative gay and lesbian wedding guest book ideas?
I'm so ready to help you out with that!
From traditional (yet beautiful) guest logs to unique & creative alternatives, I've got you covered.
Ready to take a look?
You may also love: Top 10 Best Lesbian Wedding Planners & Books
What is the purpose of a wedding guest book?
The purpose of a wedding guest book is, of course, to remember everyone who came to celebrate your big day!
More than that, though, it should be a chance for those guest to share their happy wishes for your future together.
While traditional log-style books are lovely keepsakes, I know many of you prefer something that shows off your unique personalities a bit more.
So, I've included a good mix of both traditional bound cardstock-style pages as well as "outside the box" ideas that I personally adore.
I'm breaking this into three categories. The first section (the largest) has gender-neutral ideas that will work for any couple.
Then, we'll look at some ideas specifically for a gay wedding, followed by a lesbian wedding.
As you browse, you may be shocked by some of the prices. Yes, a few are quite expensive, but they're well worth it!
Here's a tip. If you just want a simple keepsake that you'll tuck away in a drawer or chest, it's fine to go with a cheap wedding guest books.
If you plan to proudly display it in your new home together, it's worth it to spend a little extra for something beautiful and durable.
Last note: this post does use affiliate links, so if you make a purchase through them, we'll earn a tiny commission at no extra charge to you.
Gender-neutral wedding guest books
Each of these options are pretty neutral as far as colors and style go, making them perfect for all couples.
1. Gold Foil Traditional Wedding Guest Book
We're going to be checking out some really fun & funky guest book alternatives, but I wanted to include something for guest book traditionalists first.
This gold guest book is simple & budget-friendly, yet still quite elegant. If you don't love the white, you can choose from other colors.
Personalize it with your names and wedding date. You'll get a digital proof before finalizing the sale.
2. Wedding Welcome Sign Guest Book Alternative
If you're looking for a rustic guest book alternative that you can display on your wall, this is a beautiful option!
It's made entirely of wood and leaves plenty of space for your guests to sign their names and add simple well-wishes.
Along with the personalization options, you can choose from one of three sizes and either black or white for the lettering.
3. Puzzle Piece Wedding Guest Book Alternative
Another beautiful and unique wedding guest book alternative, this birchwood plywood puzzle comes in multiple sizes from 20 to 236 pieces.
Your last name and wedding date features prominently in the center on an extra large piece.
Put it all together and mount it on your wall for a stunning display piece, or pull it out on your anniversary and assemble it together.
Check: 8 Memorable Wedding Puzzle Guest Book Signs
4. Drop-in Hearts Wedding Guest Book Alternative
No products found.
Yes, this wedding guest book alternative is pricey, but it's worth it if you want something unique that will last a lifetime.
Choose from a myriad of options, including size of the circle and number of wooden hearts.
Personalization options include the monogram as well as the text beneath it. Choose your names, date, or anything else (as long as it fits, of course).
No products found.
5. Instant Photo Album Wedding Guest Book
If you're looking for an extra special wedding guest book with photos, this is a beautiful and versatile option.
Choose from over two dozen options for the size of the book as well as different photo sizes (such as Instax, Photo Booth, or custom).
Set up a little station with your book and one or two instant cameras (I like this one by Fujifilm) so your guests can snap selfies.
6. Fairy Tale Wedding Guestbook
This is definitely my favorite wedding guest book on Amazon, and proof that fairy tales do come true
Related: Virtual Wedding Guest Books
Related: Virtual Wedding Guest Books.
Since it's made to order, every single one is totally unique. If you're not loving the fairy tale theme as much as I do, Craft Point also has a bunch of other options.
They'll even custom make a whole book just for you if you prefer.
7. Great Gatsby Style Wedding Guest Book
Let's jump ahead from "once upon a time" to the roaring 20s! Show off your love of the classics with this awesome Great Gatsby style guest book box.
The roomy box comes with 100 little wooden hearts for your guests, so you'll just need to provide the pens.
It even comes with a little ring box for safely holding your wedding bands on those rare occasions that you need to remove them.
8. Polaroid Wedding Guest Book
Another wonderful customized wedding guest book with space for photos, this one is a bit simpler than the option above.
I love how you can see the wear marks on the vintage genuine leather cover, it gives it sort of a "something old" look.
Customize the size, number of pages, paper color, names and more.
9. One Night Sky Wedding Guest Book Alternative
A truly unique guest book alternative, this star chart is among the most popular items on Etsy.
Along with your names and wedding date, it features a custom star map of the night sky on the eve of your big day.
Best of all, you can save a bundle of money by just buying the digital version and printing it yourself OR pay extra to have it printed in a myriad of size options.
10. Wishing Stones Wedding Guest Book Alternative
Let's close out our gender-neutral LGBTQ wedding guest book ideas with the most unique alternative of all- wishing stones.
Sure, you could always collect your own rocks and DIY this one, but you have enough to think about before your big day.
Along with 100 stones just perfect for writing on, you'll also get 3 paint pens and a muslin bag to keep them in.
Gay wedding guest book ideas
Now let's check out some ideas specifically for two grooms. Again, I've chosen a variety of both traditional and alternative guest book ideas.
11. Guest Book Alternative with Couple Portrait
How spectacular is this gay wedding guest book alternative?
Rather than tucking happy wishes away in a drawer for all time, proudly display them along with a custom portrait of the two of you.
Choose from 5 different sizes, and opt for a digital file, matte paper print, or museum-quality canvas.
12. Mr. & Mr. Laser Cut Wood Wedding Guestbook
No products found.
Here's an option that puts a rustic spin on a traditional guest book in an eco-friendly way.
While the inside is standard archival linen paper, the outside is made from certified sustainable American alder wood.
For an extra fee, they'll add names, dates, initials, or a short phrase to the lower corner.
No products found.
13. Gay Wedding Fingerprint Guest Book
Another totally unique and one-of-a-kind idea, this fun print uses your fingerprints to form the heart.
Choose from a ton of different colors and options, including poster board or canvas.
Either let your guests sign it as usual or set out ink pads in different colors and let them add their own prints.
If you go with option B, just make sure you set up a little hand-washing station so your guests aren't walking around with inky fingers all night.
14. Mr & Mr Bow Tie Wedding Guest Book
Here's a cheap wedding guest book that doesn't look it!
With 119 pages and plenty of space for your guests to leave thoughtful comments, it gives you everything the more expensive options do without busting your budget.
You can even leave out an instant camera along with some photo corner sticky tabs and turn it into a photo guest book.
15. Simple & Classy Gay Wedding Guest Book
Simple & elegant is the name of the game with this handmade guest book for two grooms.
I love how the date is written out instead of just numbers. Such a small thing that gives it a really classy touch.
Choose from different sizes as well as types of wood for the cover, then add your names and wedding date to finish it off.
Lesbian wedding guest book ideas
Last, but far from least, we have a few special lesbian wedding guest book ideas for two brides.
16. Lesbian Wedding Silhouette Guest Book Alternative
Two beautiful brides dance beneath a tree filled with leaves just waiting for your guests' names in this stunning alternative to a traditional book.
Choose from multiple sizes and paper options as well as different amounts of leaves.
Finish it off by adding your names and dates as well as your wedding venue information.
17. Mrs. & Mrs. Laser Cut Wood Wedding Guestbook
No products found.
This one is exactly the same as the Mr. & Mr. book above, except made for two brides instead of grooms.
Again, you can pay a bit more to have it engraved with your names, date, or a special short phrase.
No products found.
18.Vintage Paper Texture Lesbian Guestbook Notebook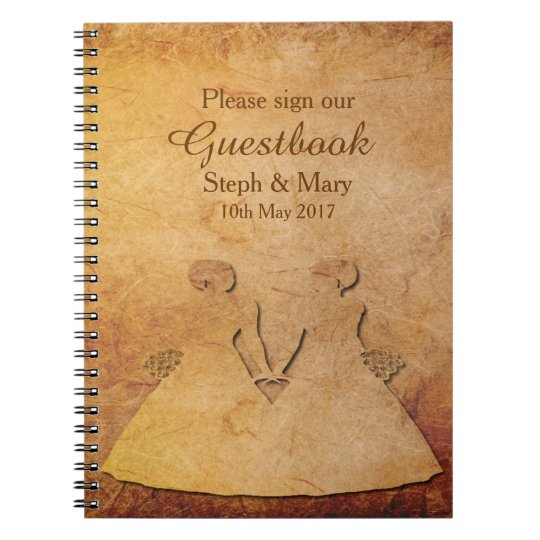 For those who love the vintage styles of Jane Austen's era, this book looks like it was lifted straight from Sense & Sensibility.
Since it comes from Zazzle, you can customize just about everything about it.
The only downside? It comes with just 80 pages (and that's one of the few things you can't change), so it's really just ideal for smaller weddings.
19. Beautiful Mrs & Mrs Lesbian Wedding Guest Book
A traditional lesbian wedding guest book that's anything but simple, this 8×8″ elegant option is small enough to tuck away in a treasure chest.
While you can't change the size on this listing, you can change the type of paper that goes inside and the colors of your names on the outside.
Choose from 25 different standard colors or go with one of the metallic or mirror options.
20. Lesbian Wedding Fingerprint Tree Guest Book Alternative
This last one is a bit different from the fingerprint guest book for two grooms.
Rather than sending in your fingerprints, you'll receive a print with the silhouettes and your names, along with blank strings.
Your guests finish it by adding their own prints as balloons, so you'll want to leave out ink pads in all different colors.
I'm having a hard time choosing a favorite, but I really like the alternativs vs the standard books.
Not that there's anything wrong with choosing a traditional guest book, I just really love to be different. 🙂
How about you? Which of these LGBTQ wedding guest books are your favorites?
Nicole is the editor-in-chief and regular staff writer for LoveYouWedding. What does that mean? Basically, she handles all the day-to-day tasks related to managing writers and bringing you stellar content on planning the LGBTQ+ wedding of your dreams.
She loves writing about quirky and unique wedding ideas, probably because she's pretty quirky herself!