If you're looking for the best Christmas gifts for engaged LGBT couples, you are so in luck, my friend.
I happen to LOVE shopping for holiday gifts!
Alas, I never have quite the budget for everything I want to buy, but you can benefit from my passion today.
Below, you'll find 15 ideas that are just perfect for gay and lesbian couples.
Related: 10 Phenomenal Lesbian Christmas Wedding Gifts to Give the Happy Couple or Each Other
Best Christmas Gifts for an Engaged LGBT Couple
The best Christmas gifts for engaged LGBT couples (or any couple, for that matter) are things that they can both enjoy yet probably won't include on their wedding registry.
They can be unique and meaningful, like personalized ornaments; or practical yet unexpected (like fun & funky kitchen utensils).
Need some inspiration? That's what I'm here for! Check out some of my favorite picks.
Many of them are great gifts for any engaged duo, but I did choose a few that are specifically for engaged LGBTQ+ couples.
FYI, this post contains affiliate links. If you make a purchase through these links, we earn a small commission at no extra charge to you. 
1. 'The Story of Us' Collage Photo Frame
A frame collage is a simple, inexpensive, yet meaningful gift for any engaged couple.
This beautiful option lets them fill it up with their own memories from their engagement through their honeymoon.
Kate & Milo 'The Story of Us' Wedding Collage Picture Frame, Our Love Story Keepsake, Engagement, Bridal Shower or Wedding Gift for Couple, Wall Mount Photo Frame, 4" x 4" Photo Inserts, White
Celebrate your relationship with this keepsake frame that displays four photos; each slot is captioned in order with "Date Night," "The Proposal," "Mr and Mrs" and finally, "Honeymoon"
Includes one plastic Kate & Milo frame with an acrylic glass front, four photo slots and two attached mounts
This collage photo frame is perfect as an engagement gift, wedding gift, or even as an anniversary gift
2. Beautiful Gay Couple Figurines
If you're looking for meaningful christmas gifts for an engaged gay couple, start with these beautiful figurines.
The stylized bronze figures are 3.5″ tall and will look lovely sitting on a mantle.
For an additional fee, you can have them mounted on a stone base.
3. Rainbow & Photo LGBT Love is Love Watercolor Ceramic Ornament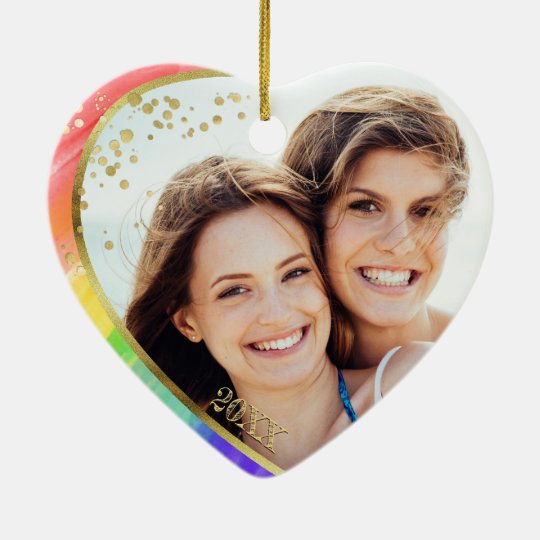 Personalized ornaments like this rainbow & photo one from Zazzle make inexpensive yet thoughtful Christmas gifts for engaged couples.
Upload their photo, choose the shape, and add on the velvet gift pouch for a ready-to-give present.
4. Lenox We're Engaged 2019 Gemstone Ornament
While this one isn't personalized, every new couple should have at least one Lenox ornament on their tree.
Bonus, if it ever breaks, Lenox will replace it!
5. WACACO Nanopresso Portable Espresso Maker
If your favorite couple loves coffee as much as they love traveling, they'll adore this portable espresso maker.
I really want one for myself! It uses pistons instead of cartridges, so there's nothing to replace.
Wacaco Nanopresso Portable Espresso Maker, Upgrade Version of Minipresso, 18 Bar Pressure, Extra Small Travel Coffee Maker, Manually Operated. Perfect for Kitchen and Office (Black)
No battery/electricity need/Manual operation only! Nanopresso is one of the best and most versatile espresso machines. Built around a newly patented pumping system, the Nanopresso is capable of reaching, with the help of your hands, a maximum of 18 bars (261 PSI) of pressure for unparalleled coffee extractions qualities.
Achieving the perfect espresso shot is far from easy. The Nanopresso works best with finely ground coffee that is tamped hard. Thanks to its innovative construction and easy operation, Nanopresso will help you brew perfect cups with a nice and dense crema layer every time.
It is delightfully easy to operate and simple to use. The Nanopresso requires 15% less force to pump compared to previous models (1st generation Minipresso). When necessary, every components of the portafilter are easily separated for deep cleaning.
6. Hand Painted Custom Portrait
Isn't this painted portrait just one of the most beautiful lesbian Christmas gifts for engaged and newlywed couples you've ever seen?
It comes in pretty much every size and dimension imaginable and you can even choose custom colors.
7. Personalized Serving Tray
Function and unique is the name of the game with this pretty wooden personalized serving tray.
While it's a great gift on its own, you could go the extra mile and include some delicious cheeses, jams, and other tasty treats to serve on it.
8. Flute and Heart décor Engaged Frame
If your favorite couple loves a little bling, here's a fun and inexpensive gift! The mirror frame holds a 4×6″ photo (portrait, not landscape).
Consider choosing your favorite photo of them to include, or just give it to them blank and let them pick one.
9. Blanket with Personalized Letter
If you're looking for a truly unique and absolutely meaningful Christmas gifts for an engaged lesbian couple, this is it.
It's so much more than just a customized blanket. You can put just about any text on it and choose the handwriting style (from select options).
Write a personal note to the couple with your wishes for a happy & healthy life together.
Custom Blanket, Personalized Letter Blanket With Customized Text For Christmas Valentines Day Mothers Day, Customized Gift Blanket With Letter, Personalized Blanket With Letter Gift For Christmas
♥ Machine Wash ♥
♥ Personalized Gift ♥ For friend, mother, grandma, sister, wife, husband.
♥ Environmental ♥ We custom print our blankets in house with baby-friendly, non-toxic, water-based inks
10. Kate Spade New York Vienna Lane Ring Holder
A surprisingly inexpensive find for a Kate Spade gift, this ring holder makes a beautiful christmas gift for an engaged lesbian couple.
It's made with silver-plated metal and enamel, so it'll last as long as the happy couple's relationship.
Kate Spade New York Vienna Lane Ring Holder, Turquoise
A signature kate spade new york turquoise bow graces a polished silver-plated metal ring holder
Perfect for keeping engagement rings, wedding rings and other jewelry
Give for an engagement party, bridal shower, wedding, anniversary and other special occasions
11. Beautiful Marble Coasters
These beautiful marble coasters make fantastic Christmas gifts for engaged LGBT couples that are just moving in together.
They say "love makes this house a home," and that couldn't be more true.
12. Groom & Groom Shadowbox 
One of my favorite gay christmas gifts for an engaged and newlywed couple, this shadowbox features two handmade paper grooms (or their suits, anyway).
Personalize it with their names and date (wedding, engagement, or any other meaningful date) for a beautiful gift that's ready to give.
13. enGAYged Coffee Mug-
For those on a smaller budget, these bright and vibrant enGAYged coffee mugs make lovely Christmas gifts for an LGBT couple that won't break your bank.
They'd also go great with that portable espresso maker we saw above!
14. Gay & Lesbian Wedding Planner
Gift them a gift that helps them plan the biggest day of their life with this personalized LGBT wedding planner.
Choose the month on which it starts (or go with blank months), the size, and even the cover.
15. Fotofami Memories Smart Photo Drive
Here's one that I bet they wouldn't even think to include on their wedding registry!
This handy little drive connects right to their smartphones and safely transfers (& stores) all their photos. It'll even analyze pictures and create collections for them.
These are just a few of my favorite Christmas gifts for an engaged LGBT couple. Just remember to buy from the heart and they'll love anything you choose!
Do you have any other great ideas for Christmas gifts for engaged gay and lesbian couples? Share below!
Nicole is the editor-in-chief and regular staff writer for LoveYouWedding. What does that mean? Basically, she handles all the day-to-day tasks related to managing writers and bringing you stellar content on planning the LGBTQ+ wedding of your dreams.
She loves writing about quirky and unique wedding ideas, probably because she's pretty quirky herself!
Last update on 2023-03-31 / Affiliate links / Images from Amazon Product Advertising API