If you're looking for beautiful LGBT diamond wedding rings, let me start off by giving you a big congratulations!
You wouldn't be reading here unless you took a big step in your life.
I'm sure you want to embark on your forever path with your loved one with a spectacular ring.
Read on for ten stunners that fit every budget and personality!
Wedding Rings for Same Sex Couples
In my mind, wedding bands are the perfect symbol of love.
The shape represents a never-ending circle – an eternal bond. It's also always nice to have matching bands, too!
I find it to be really cute when same sex wedding rings are the same (or maybe one is just slightly different, like a thinner band).
Related: LGBTQ+ Commitment Rings
Let's take a look at a few beautiful options.
1. Ellaura Harmony Matching Diamond Wedding Ring
Available at Reeds for $349.99
So this one made it to the top of my list because it looks exactly like the one I have!
Not only that, it looks extremely elegant yet dainty on a lady's finger.
The pave diamonds on the band only cover the top half, which is ideal because it scratches you and other things if it spans the whole length.
The fourteen round diamonds are set in 14k white gold, which makes them sparkle even more.
This is a very common design, but its style and elegance will withstand the test of time.
It's also incredibly easy to find matching rings with your significant other! And like I mentioned before, they come in varying thickness too.
Related: Super Chick vintage engagement rings
2. 1 CT. T.W. Princess-cut Diamond Wedding Band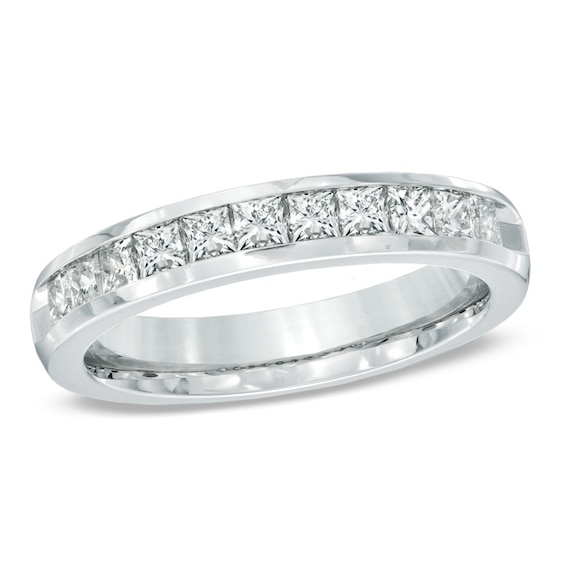 Available at Zales for $2,379.00
I really just can't get enough of the white gold setting. It adds to the whiteness of a quality diamond.
This next one we chose resembles the first option, but the diamonds are princess cut (square-shaped).
This goes to show that you can choose a wide variety of diamond shapes for your wedding band too!
The diamonds sit snuggly inside the band, embedded deeper than the first option, similar to the bezel setting. This is called a channel setting.
3. 1/20 CT. T.W. Enhanced Black Diamond Band in 10K White Gold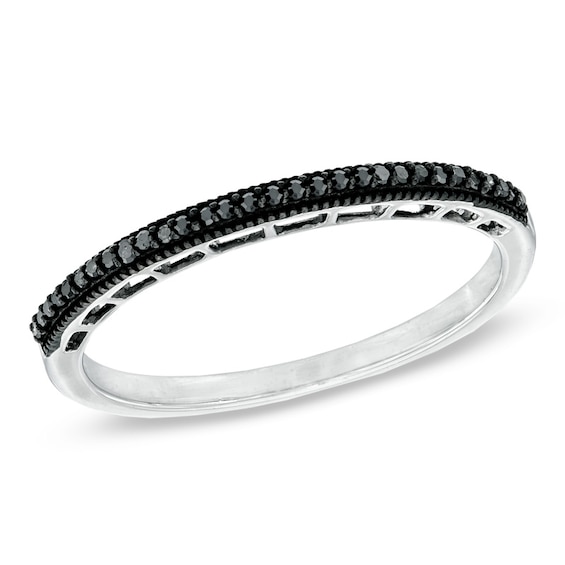 Available at Zales for $199
If you or your S.O. is a fan of Sex and the City, you'll know Carrie got a black diamond from Mr. Big at the end of the SATC 2 movie.
He said, and I quote, "Because you're not like anyone else."
I'm sure you feel that way about the love of your life, so it's only fitting that we include an option on here that is like no other.
Not a lot of women stray from the classic white diamond.
So why not break the mold with your loved one with this gorgeous black diamond ring and make a statement?
With a total carat weight of 1/20, it's small but elegant.
The diamonds set in a white gold band band, take forever and eternity to a whole new level.
4. Ellaura Embrace Diamond Anniversary Ring
ON SALE at Reeds for $2936.50
Take advantage of the sale Reeds is having on this amazing and bold ring with three rows of diamonds.
The two outer rings are embellished with round diamonds with the center row exhibiting princess cuts (square-shaped).
For those who like both the princess and round cut or want a combination of our first two options, this is a great choice.
Not only will it be incredibly beautiful, it styles up any outfit you have!
Also Check: The Best Pride Engagement Rings
5. Ladies' Diamond Accent Slant Wedding Band in 10K White Gold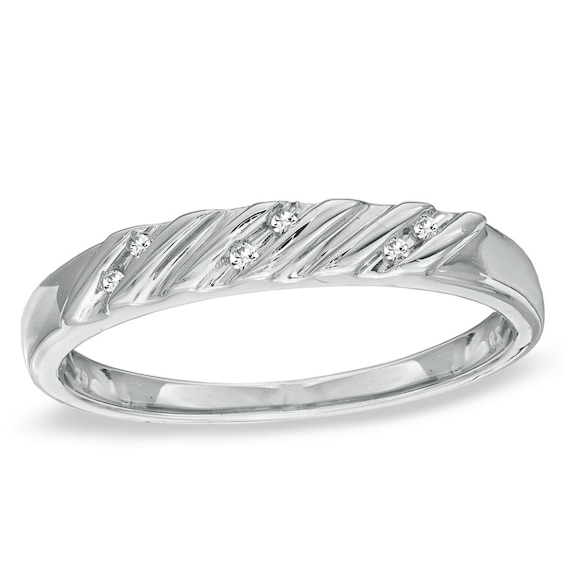 Available from Zales at $149.00
No, your eyes do not deceive you, I did not mistype the price. For those with severe budget constraints, this is an option just for you.
Traditionally, if you have an engagement ring, the diamond should be the focus, and there is no reason for the wedding band to take away from that.
Many women and men choose to only sport their engagement ring after a while and oftentimes it's just a single silver band.
This is a simple option with a slanted design and a few diamonds for accent.
6. 1ct Platinum Diamond Wedding Band, Channel set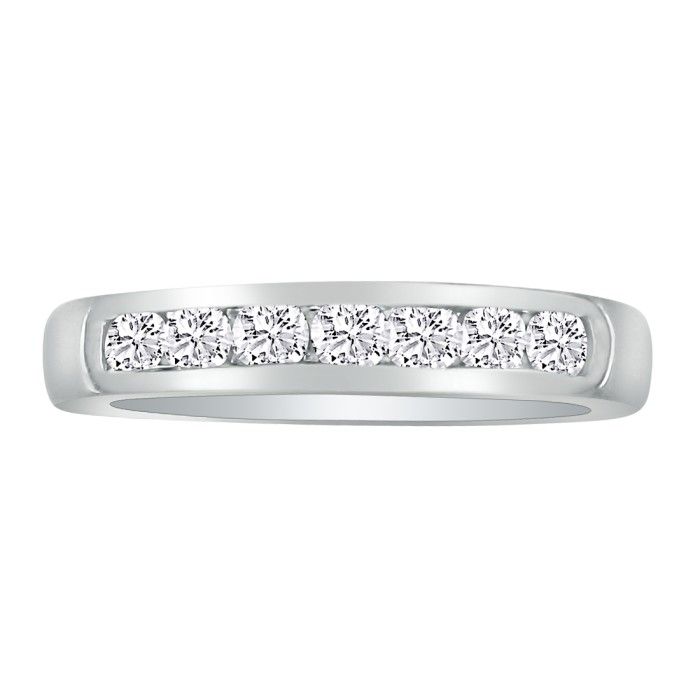 Available at SuperJeweler at $5619.25
It might seem like a very simple design, but this band is more expensive than the rest due to the metal.
It's platinum – a metal that is harder, and more resistant to scratches and scrapes than 14k.
If you plan to wear your ring for the long run (and we're sure you will), then a platinum ring could be a smart investment.
The 7 diamonds on the ring add up to one carat and are subtle enough that this style suits both men and women.
Simple designs such as this one and a couple of the options above make it easier to find matching sets.
7. Ellaura Embrace Round and Baguette Diamond Crown Curved Band
Available at Reeds for $649.99
All we see nowadays are the straight and simple bands. Now they have come up with a more alluring design – the crown.
As you can see, the crown-shaped bands have a peak, which you may wear facing up or down.
The detailing for this particular wedding band is very intricate.
The peak is elongated by emerald-cut diamonds (rectangular-shaped) while surrounded by the classic round diamond that makes up the rest of the band.
Related: The Gay Men Engagement Ring
8. 1/4 CT. T.W. Diamond Solitaire Enhancer in 14K White Gold with Channel Set Diamonds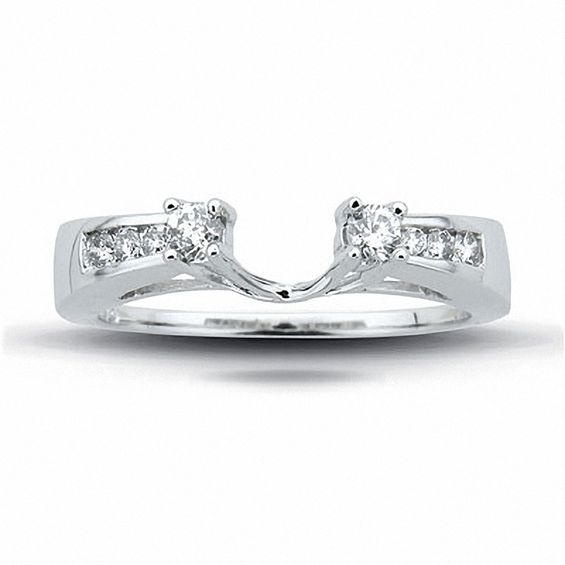 Available at Zales for $889.00
This unique style as an indent for the diamond on your engagement ring. If worn with your diamond, it will fit snugly around it.
This is also known as a ring enhancer but can look just as amazing and regal as a wedding band itself.
It's a quarter of a carat and set in 14K white gold.
9. 1/4ct Sapphire and Diamond Channel Set Band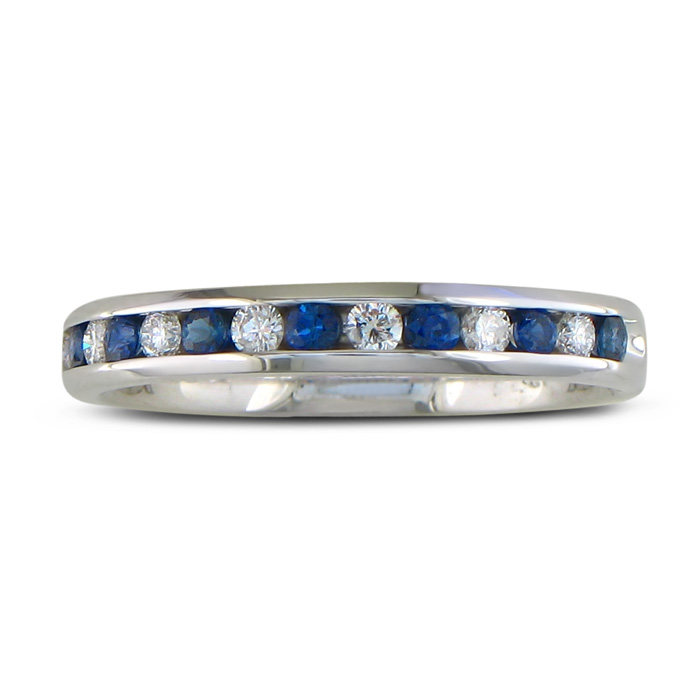 Available from SuperJeweler for $867.73
Are you a fan of the yellow diamond we have introduced before?
Then pairing the diamonds on your wedding band with other colorful gemstones is another great option.
This particular ring has diamonds mixed with gorgeous blue sapphires set in 14K white gold or your choice of yellow gold.
Any sort of colored gemstone or diamond adds a splash of personality to your ring.
10. Ellaura Timeless White Gold Two Diamond Ring 1ctw
Available from Reeds at $2625.00
From far away it may look like a princess cut diamond propped on its corner.
Upon closer inspection, though, you can see it's actually two larger diamonds held together by a curved band decorated with smaller round diamonds.
The style and shape of this diamond wedding ring add a lot of depth and dimension to your hand
Related: Gay Wedding Rings
Related: Gay Wedding Rings
Related: Wedding Rings For Construction Workers
Related: Wedding Rings For Construction Workers.
It may be hard to wear with your engagement diamond with this ring, but perhaps you and your partner can save a lot by forgoing the engagement ring and just going for this one option!
What do you think about these gorgeous options? Did you find your dream diamond on our list?
Which one of these beautiful LGBT diamond wedding rings would you choose? Let us know in the comments below!