If you're looking for some amazing office bridal shower games, I've got you covered! I've come up with some activities that are big on fun but low on the mess and noise factor. Let's jump right in and check them out!
Check: Bridal Shower Couple Questions
10 Amazing Office Bridal Shower Games
Office bridal showers are a lot different than your average weekend shower at someone's home. You can't really make a huge mess for one thing. Plus, you need to be considerate of other employees who aren't attending. Last, but far from least, you have to squeeze the whole shebang into one short lunch hour.
So as far as games go, simple is better! That's where these ideas come in super handy!
FYI, this post contains affiliate links. We earn a commission if you make a purchase at no extra cost to you.
Check: Left Right Shower Game
#1 What's in the Bag?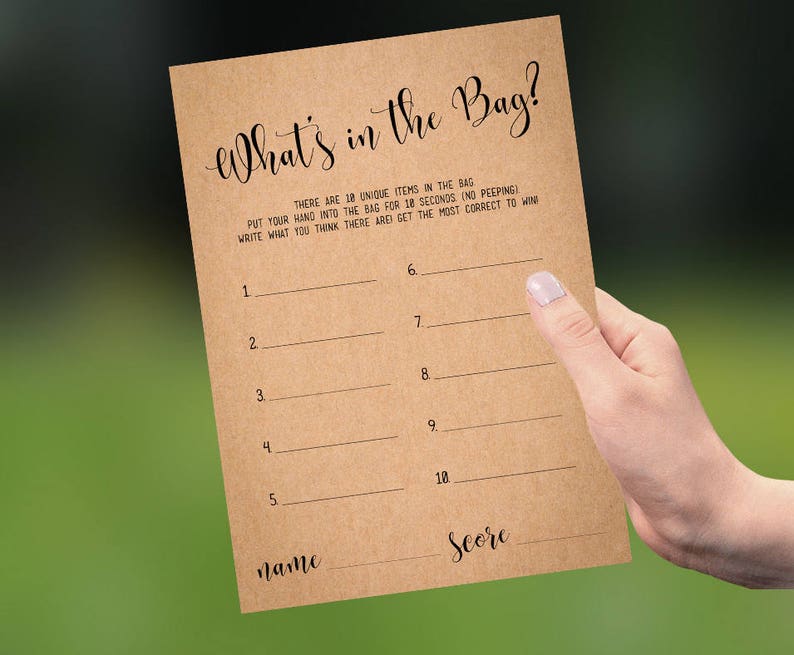 For this low-mess game, all you need is a bag and some random little objects, such as a toothbrush, lipstick, or paperclips. Throw everything inside.
Then, pass the bag around, giving each player one minute to feel around and try to figure out what's inside. Grab this cute rustic printable for them to keep track of what they find, or even just use a piece of copy paper.
Sale
#2 Who Am I?
Who Am I is one of my favorite office bridal shower games because it has the potential to be either super funny or absolutely heartwarming. Playing is simple. Each guest writes down a cherished memory with the bride-to-be. Then, you collect them and read them out loud and the bride has to guess who said it.
Again, you can use regular old paper for this, but I like to choose a pretty printable (like this lemon-themed one). After the party, I like to add the memories to a scrapbook for my bride pal.
Sale
Floral Bridal Shower Who Am I Guessing Game, Rustic Bachelorette Party (50 Pack, 5 x 7 Inches)
GREAT FOR WEDDING OR BRIDAL SHOWER: 50 pieces of WHO AM I game cards for Bachelorette Party; Engagement Party; Rehearsal Dinner; or Anniversary Party.
HIGH QUALITY & ELEGANT DESIGN: Beautiful floral design with clear black font for easy reading; Premium quality paper for easy writing.
50 CARDS FOR 50 PEOPLE: 50 sheets in total of the game are meant for all your friends and family to participate altogether.
#3 Charades: Wedding Movie Edition
This game is the test of memory and acting skills. Two teams are formed by writing the titles of wedding films on cards and distributing them to guests.
Players specify titles to their teammates, who have three minutes or less to guess the exact name. This game is perfect for an office bridal shower because you literally need nothing other than your own bodies and a few scraps of paper to write the clues on.
Check: Bridal Shower Bubble Gum Game
#4
Wedding Trivia
Learn how to play the toilet paper bridal shower game!
#5 Word Scramble
You can never go wrong with a good old-fashioned word scramble! Basically, it's just a worksheet-style game, so it's easily played right at your desks.
I prefer to buy printables with the words already jumbled, but as with all of these games, you could just as easily make your own. "Bouquet," "Bride," "Cake, Bridesmaids, Husband, and Honeymoon" are just a few of the wedding-related words that can be jumbled.
INKDOTPOT Greenery Party Wedding Supplies 50-Pack Wedding Word Scramble Bridal Shower Game Cards
✅ Includes 50 Printed Bridal Shower Game Cards. These Are Fun And Interactive Games For You And Your Loved Ones, Are Sure To Have An Unforgettable Time.
✅ Variety Of Games Option To Choose From, These Will Surely Fill Your Shower With Lots Of Laughs For All Your Guest, Young And Old.
✅ Printed On High-Quality 150 Gsm Card Stock. We Use Uncoated Paper, Which Is The Best For Smudge-Less Writing.
#6 Pictionary: Wedding Edition
Let's check the drawing skills of guests. It will be great fun. Divide the visitors into pairs for organizing a lively game of Pictionary.
Each team writes words on paper slips, and the opposing team draws the word and asks their teammates to guess it. All terms must be related to the wedding.
#7
Bridal Bingo Printable
Everyone loves bingo, and it's one of the easiest games to play in the office break room. Just grab our cute bingo printable with 20 unique cards and some markers to use as daubers.
For a quick game, play it the traditional way: the first person to get five in a row wins. If you're planning a longer shower or just want one game, you can get fancier with it. Maybe make it so that the first person to cover the entire card wins, or even come up with clever patterns.
#8 Pen a Poem
This is a cute and melodious game. On a blank sheet of paper, each guest writes one romantic line for the newlyweds. Fold over a sheet of paper and pass it on, asking another guest to do the same.
Make your way through all attendees before reading the (disjointed) poems that participants have penned in tribute to the brides' incredible love. Then the bride reads or sings the poem in front of everyone.
#9 Wedding Dress Drawing Competition
One of my favorite games to play at a bridal shower is the toilet paper bridal shower game, but it's a bit too messy for an office. So a wedding dress drawing competition is the next best thing!
Print out paper dolls (Education.com has a ton of them) and hand out pens, pencils, crayons or markers in different colors. Set a time limit, then let your guests get creative! Their only goal: draw the most unique wedding dress.
#10 Name that Wedding Tune
For this one, just load up a playlist with a bunch of really great romantic wedding songs. Play songs one at a time, stopping when someone guesses the tune. Keep track of correct guesses, the one with the most wins!
Check out the video below for a ready-to-play version:
What To Keep In Mind When Planning an Office Bridal Shower
Having a work bestfriend is great! They can certainly help keeps things exciting when your workplace becomes toxic and hectic. And if someone becomes engaged, you'd want to have an office bridal shower for her before she rushes off to her big day.
If you're planning an office bridal shower, here are some important things to remember:
The guest list
You basically have two options when throwing an office bridal shower: invite all the women in your workplace or turn it into a coed party and invite everyone. In some cases, you can also opt to invite just the people who are closest to the bride.
Have a planning committee
When planning the office bridal shower, try to include other co-workers to help in planning things out. You can keep things simple and just have a few games, snacks and drinks after work. Or you can put up some decorations and dress up.
Things to Consider When Planning Office Bridal Shower
I mentioned some things to consider earlier, but let's go over a few more tips for following good office party etiquette [1].
Make it open to everyone. Don't alienate coworkers by excluding them. At the same time, though, don't pressure anyone into coming.
Ask your boss ahead of time if it's okay to throw an office bridal shower.
Be considerate of those who don't attend. Remember, this is a place of business first and foremost, so don't be so loud that coworkers can't focus on their job.
Consider going in on one big gift from everyone in the office. That way, no one feels bad because they couldn't afford something as nice as another coworker.
If you're serving food, ask about allergies first. Some people are so allergic to certain things – like nuts– that even being in the same room as them can be dangerous [2].
Don't assume that your office will pay for the whole thing. Ask first!
FAQs
Is the office bridal shower held in the office?
Yes, typically it's held at the office during work hours. This is a chance for co-workers who may not be invited to the wedding itself to celebrate with the bride.
Who arranges bridal showers at an office?
Bridesmaids are often expected to organize a bridal shower for the bride, but with an office shower, the duty typically falls either on the bride's closest work friend or even human resources.
Who's paying for an office bridal shower?
The general rule of thumb is: whoever is hosting the party is paying. In some cases, you can ask other party goers to split the bill with you. If your office has this in the budget, you can also ask your supervisor if it can be part of the expenses.
Should you have another bridal shower?
There's no stopping you from having another bridal shower if your office has hosted one for you. You can have another bridal shower that your bridesmaids organized. 
Conclusion
An office wedding shower is a lovely occasion for co-workers to share in the excitement, even if they weren't invited to the actual wedding. Just use common sense and plan activities that won't leave behind a big mess, and you'll have a wonderful time!
References
1. Office Party Etiquette [Internet]. Managementstudyguide.com. 2015 [cited 2021 Dec 6]. Available from: https://www.managementstudyguide.com/party-etiquettes.htm
2. the Healthline Editorial Team. What Are the Symptoms of a Nut Allergy? [Internet]. Healthline. Healthline Media; 2013 [cited 2021 Dec 6]. Available from: https://www.healthline.com/health/allergies/nut-allergy-symptoms
What are your favorite office bridal shower games? Let us know in the comments below!
I'm a freelance journalist/writer/content marketer with BA Hons in Journalism.
Last update on 2023-05-30 / Affiliate links / Images from Amazon Product Advertising API