Looking for some great luxury mother of the bride gifts to show your mom how much you appreciate all that she has done for you? We've rounded up some of our favorite ideas that will touch her heart! Keep reading to check them out!
Luxury Mother of the Bride Gifts That Will Touch Her Heart
Don't let the title scare you, luxury doesn't always have to mean "expensive." Many -most, actually- of the gift ideas below are totally affordable! Just about all of them also make thoughtful mother of the bride gifts from groom!
Before we dive in, full disclosure: we have included affiliate links in this article. If you use one of our links to buy a product, we will earn a small commission, at no extra cost to you.
1. Hand-painted Wine glass
After the stress of wedding planning, a large cup of wine may be needed. So, why not take the ultimate stress relief in a personalized wine glass? She can rock this on the big day, and then place it as a piece of decor – a lovely reminder of your new life with your love.
You can also opt for this wonderful glass set, for the mother and father of the bride. It's another little option which may kill two birds with one stone.
2. Mother of the Bride Shirt
Why not give her something that she can wear? This can be something for the party, or even just every day wear.
The mother of the bride can wear this with pride. It's a lovely little gift, that will definitely be appreciated and treasured.
3. Handmade Photo Lined Bag
Chances are, your mother will need a nice bag on the big day. This photo-lined bag will give her a friendly reminder whenever she opens it up.
You can place any photo you want inside this bag. Perhaps you add one from your childhood – a reminder of how much you have grown. The choice is all yours.
4. Mother of the Bride Coffee cup
Does your mother or mother in law love a cup of coffee or tea? Every time she reaches for the kettle, she'll be reminded of how she was a big part of your day…and, ultimately, life.
Who doesn't love a fun coffee mug, at the end of the day?
5. Under the Stars Glass Coasters 
If you want something a little more mysterious, these glass coasters are just perfect. Every time your mother goes to place her cup on her coaster, she will remember what happened under the stars on your special day. They also make a really cute piece of home decor. Plus, they're incredibly affordable!
6. Trinket Box for Mom
Your mother may want to save the jewelry she wore on your big day, as a little keepsake. Better yet, you may want to buy her jewelry, which she can place in this box.
This adorable keepsake box has "Mom" printed on the outside, and "thank you for your unending love, laughter and support on this day and all the days of my life" on the inside.
7. Personalized Print
Perhaps you know your mother would love something that they can hang up, and take pride of place.
This stunning print can be customized in terms of dress, hair color, skin color etc. This makes it a super personal gift which might make the mother of the bride shed a few tears.
8. Mother of the Bride Bracelet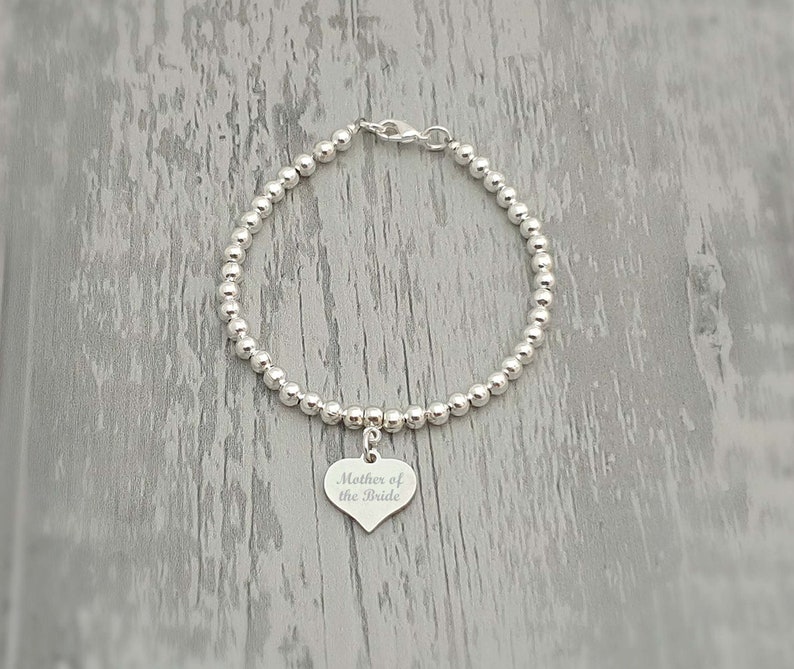 This beautiful bracelet could go hand in hand with your trinket box. This is a subtle little reminder, which can be worn every single day. It's a sweet, thoughtful mother of the bride jewelry gift.
9. Custom gift box 
Etsy is so good for gifts – especially when you're a little bit stuck on what you can get somebody. With custom gift boxes, like this, you can gift a bespoke box, without actually having to put it together yourself. Isn't that the dream?
This mother of the bride box includes all the best bits – posters, candles, bags, and soap. The usual. You can also just buy the box and create your own DIY mother of the bride gift basket.
10. Mother of the Bride Tote Bag
Lastly, you may need something to put your gifts in. A tote bag is a sustainable, cute option for you. This one is specifically made for mothers of the brides, too. How incredible?
We hope this little gift guide gave you some great ideas for luxury Mother of the Bride gifts!. It's just a thoughtful little "thank you" to your mother/mother in law, who has likely done so much for you. 
What are some of your favorite luxury Mother of the Bride gifts? Share below!