Let's talk bouquets for brides! While floral arrangements play a huge role in your overall wedding décor, the bouquet you carry down the aisle is pretty much the star of the flower show. If you haven't settled on one yet and need some inspo, just keep reading!
14 Unique & Beautiful Bouquets for Brides
Flower bouquets are used all over the place throughout your wedding. There those put on tables, others hanging on the walls and dangling from roofs, still others held by bridesmaids. But none can hold a candle to the one you'll carry down the aisle.
For a bride bouquet to come out as spectacular as you deserve it to be, some floral experience is necessary. So, I highly recommend seeking expert assistance from a professional wedding florist. They know exactly which blooms work best together, and which small touches bring everything together.
Still, it helps to go in with at least some idea of what you're looking for. So, with that in mind, we're sharing 14 bouquets for brides that we simply adore! They're mixed with flowers of different types, shapes, and colors that you may like.
FYI, this post contains affiliate links. If you make a purchase through these links, we earn a small commission at no extra charge to you.
1: Imperial Protea – 2 large pink flowers with closed flowers; Freesia – white flowers;

2: Freesia – white flowers;
3: Peony – large orange – red flowers Ranunculus – white closed flowers;

4: Daisy – white flowers with yellow center; Foxglove – purple flowers; Scabiosa – blue flowers; Goldenrod – yellow flowers;
5: Wood Flower and Faux Greenery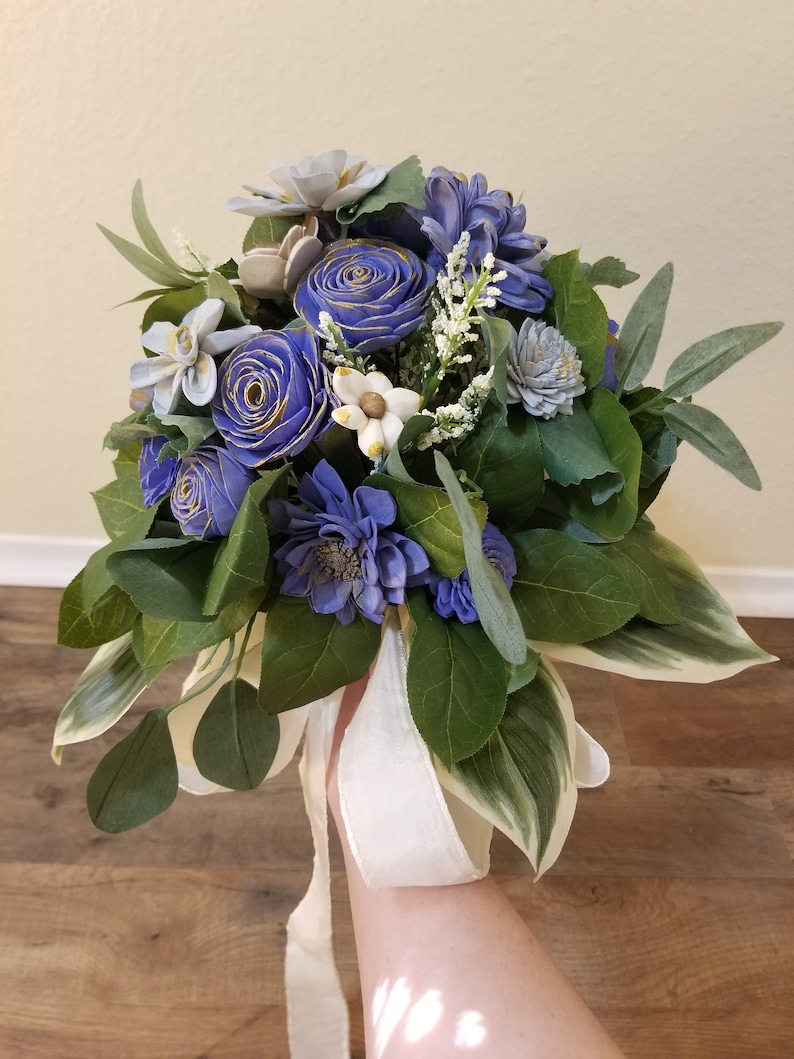 Bridal Bouquet and Matching Boutonniere in Blues and Gold | Etsy
This bouquet will last a life time as it's made from wood flower and faux greenery. Each flower was hand dyed and lovingly tipped in gold to make a truly unique bouquet that no one else will have! The shape is round, though it definitely has a front and a back as the flowers are more concentrated on one side and sparser towards the bride. The main body of the flowers is 10 inches in diameter and the handle is 10 inches long and is designed to be held with both hands.
Check Price & Reviews
6: Peony – pink, cherry blossoms;
7: Chysanthemum – white large flowers; Creeper – clover-like leaves;

8: Creamy White Austin Rose & Ranunculus Bouquet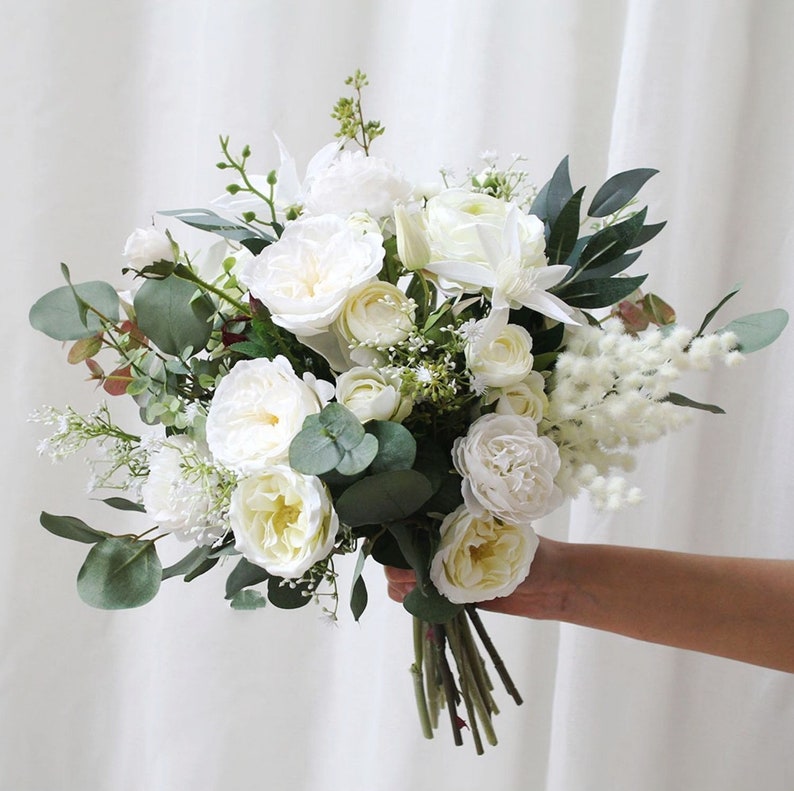 Creamy White Austin Rose & Ranunculus Bouquet for | Etsy
Beautiful silk wedding bouquet with a mix of white and ivory flowers and eucalyptus greenery. Flowers included are artificial Austin roses, ranunculus, clematis, baby's breath and mixed greenery including eucalyptus. Definitely a good choice for your wedding or any other occasion that requires some bouquets, it can also bring some fresh color to your home when using it as a centerpiece. 
Check Price & Reviews
9: Carnation – small white flowers on the left; Decorative thistle – pricking balls in the bouquet; Lisianthus – white flowers;

10: Thuja – bouquet in the bouquet, Eucalyptus – silvery leaves in the bouquet, rose – white flowers;
11: Sunflowers – large yellow flowers; Dahlias – red

12: Sunflowers – large yellow flowers; Daisy – white flowers with yellow center; Gerbera – large bright pink flowers with black center;
13: Roses – bright flowers; Lily – pink flowers;

14: Roses – white, cream and orange flowers Lisianthus – bright pink flowers Peony – large cherry flowers Snow Berries – white pink balls Craspedia – yellow balls Hyacinth
Which of these beautiful bouquets for brides do you love? Share below!