Everyone wants to impress their guests at a wedding. So, when you're reciting your vows at the end of the aisle, how fabulous would a wedding arch be? Wedding arches aren't a new concept, by any stretch of the imagination. But what is new and unique – using wedding arch kits to create your own unique design. With that in mind, I've found some amazing kits to help you out – I promise, they're so much fun.
Don't miss  The Definitive Guide Of Wedding Arches (with Free PDF Printable)
Clever DIY Wedding Arch Kits Your Florist Wishes You Didn't Know About
Traditionally, your florist does the heavy lifting when it comes to making your arch or arbor. I don't have to tell you how expensive that can get! These wedding arch kits can save you oodles of cash! Let's check them out!
First, though, just a quick heads up- the links below are affiliate links. We earn a tiny commission at no extra charge to you if you purchase through them.
1. Balloon arch kit
If you're allergic to flowers (or just plain don't like them) consider this balloon kit.
Everyone loves balloons, and look how incredible they look made into an arch.
Of course, I went for the rainbow look – but there are tons on the market that will match your aesthetic. Whether that's gold, white, or pink.
For an arch suitable to stand under, the 8-meter option would be your best option. However, the smaller arches could be used elsewhere, to really tie everything together.
Prices range from $23 for a smaller kit to around $68 for larger options.
[embedpost postid="5664″]
2. Hexagon Bracket kit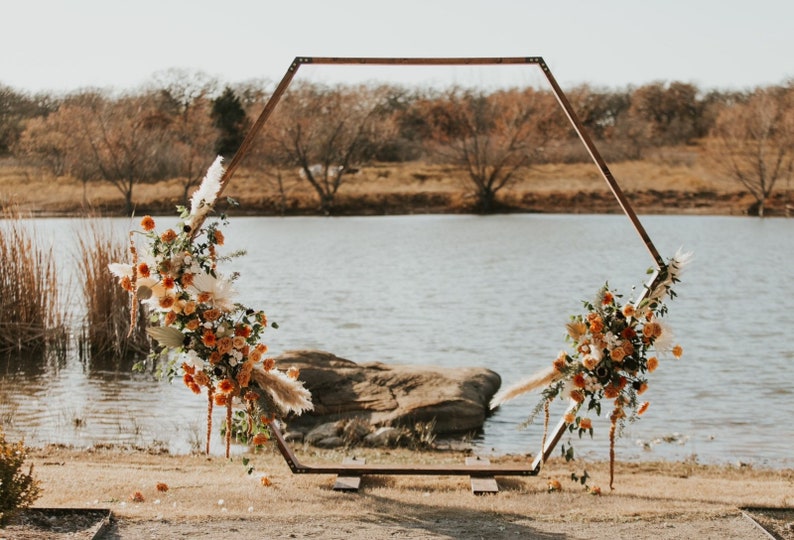 No doubt, if you've been scrolling through endless wedding posts on Instagram, you've come across a hexagon wedding arch.
It's easy to fall in love with these – they're simple, unique, and stunning. Actually, they're perfect for any type of wedding – rustic, modern, traditional.
Alone, they still do the job perfectly. Likewise, adding some bouquets on a couple of the corners can truly enhance the overall look.  How you envisioned your wedding will easily become a reality with this untraditional arch.
At $60, again this is a super affordable option. Sure, you have to put it together yourself, but this kit makes that super straightforward and easy.
3. Macrame Pattern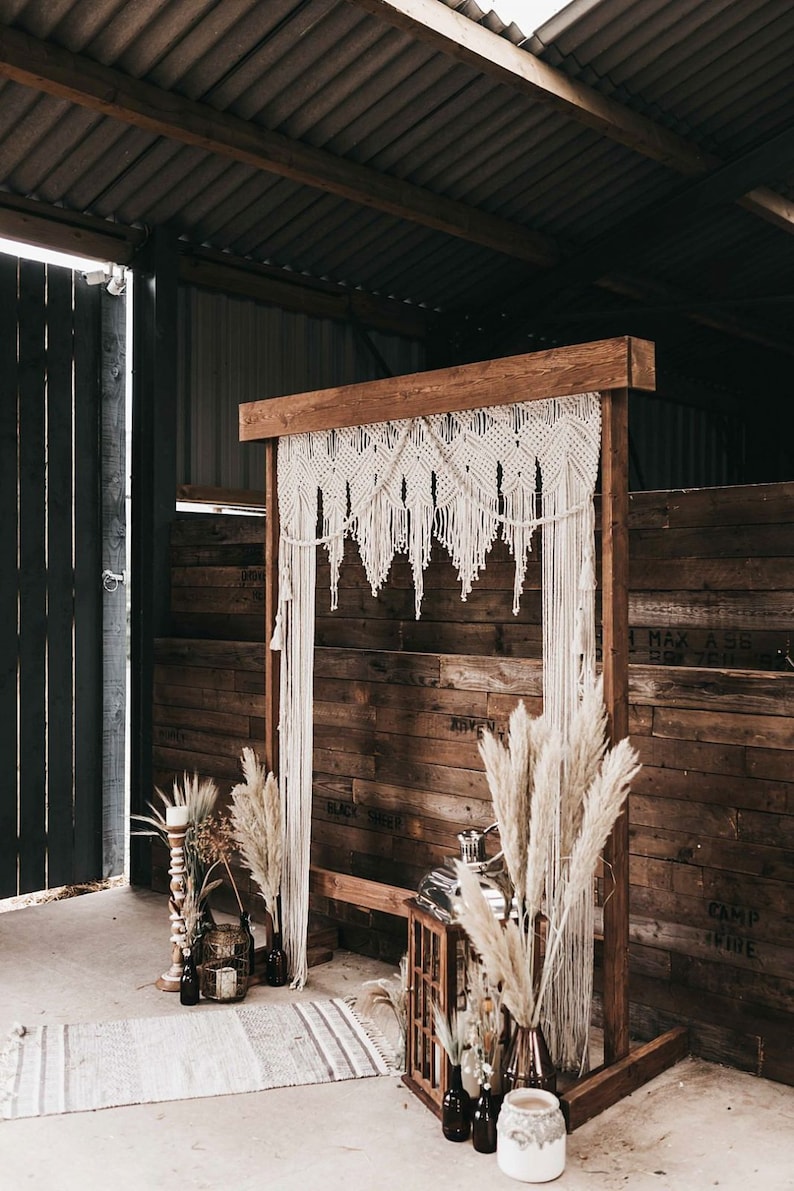 Not your typical "kit" as such, but this pattern will give you all the information you need to make the most gorgeous boho-inspired arch.
If you're into macrame, know somebody who is, or are willing to learn for the sake of your wedding – this could be worth the purchase.
Believe it or not, this pattern is considered "beginner-friendly". It looks magical and can be used in whichever way you want.
Boho, forest, traditional, or beach – I think this would look perfect. At $15, it's a bargain!
4. Metal Garden Arch
Perhaps you're looking for your traditional type of arch – something that you can decorate in your own way.
This metal arch is a great choice – it seems fairly easy to assemble (and that's coming from somebody who isn't exactly a DIY expert).
Sidenote: the picture above is the arch in its full glory. You will have to decorate with the flowers and anything else, all on your own. Take this is a blessing – you can make it your own, in every sense of the word.
5. DIY Bouquet Kit for Perfect Arch Flowers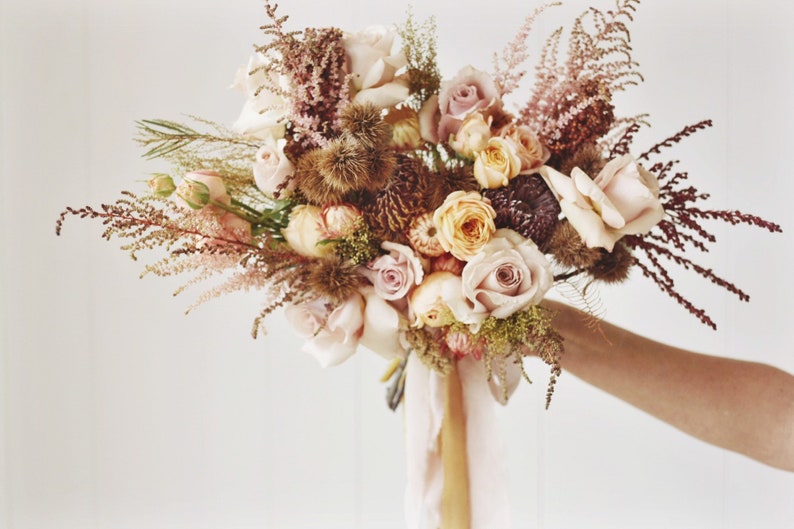 I know what you're thinking; "that's not a wedding arch kit". Just hear me out.
Go back up to those arch frames above, which you can put together yourself. Now, if you so desire, you can leave them as is. However, adding flowers would make them look much for suitable for a wedding.
You can make bouquets yourself – especially with the help from a kit, that lays out everything you need. I picked this desert blush silk kit, just because I really loved it.
Realistically, you could find any design, colors, and flowers you're searching for.
6. Ring Balloon Wedding kit
The majority of kits you'll find online will be balloon kits, in these kits, you'll be treated with tape, balloons, and maybe a flower/feature or two.
Finding the best balloon kit for you, if that's the look you're going for, is important. Equally as important is adhering to a budget – if you have one.
AliExpress offers a wedding balloon arch kit for just about $22. Obviously, an absolute bargain. Of course, with this, I would express to be very mindful of both the quality and how long it will take to arrive. This should be ordered way before your big day.
This kit looks extremely promising – with a choice of colors, glitter balloons, gold leaves, and tape. The blue looks gorgeous, in my opinion.
7. Paper flower kit
An alternative to real or silk flowers? Yes, paper. This might seem a little too DIY for your liking, but look how stunning they look.
These can be incorporated into your overall arch design, adding a lovely dash of color and sparkle. This paper flower DIY kit gives you the templates, so you can create an endless amount.
Coming in at $16.95, they can be a cheaper alternative to traditional flower arches.
I hope these fun wedding arch kits give you some inspiration to create the arch of your dreams! Now all you have to do is decide where you'll spend all that money you saved!
Did you make your own  arch? Share your favorite DIY wedding arch kits below!