Preparing for a fabulous Disney-themed party?We put together a list of the best Disney bridal shower games just for you! The bride will feel like she's transported to a magical world for the day, and you'll score so many points with your innovative printables.
Check out our top picks below, and don't hesitate to use more than one Disney game to make things more interesting.
CHECK: 100+ Bridal Shower Questions for Bride
In a hurry? Enter your email to receive your FREE EDITABLE PRINTABLES
Disney Bridal Shower Games Top Picks at a Glance
If you see the value in these products and choose to purchase via my referral links, I may earn a small commission at no extra cost to you.
Check the table below for a side-by-side comparison of our favorites!
Top Benefit
High-resolution printable
5 Fun Disney Bridal Shower Games to Buy
With global revenue of $65.39 billion, Disney is one of the largest companies in the world by market capitalization. Most of us grew up watching those fascinating stories about their princesses, wishing to be one for at least a night.
So if you're hosting a shower for a bride obsessed with Disney, you have to find fun bridal shower games that will fit the theme.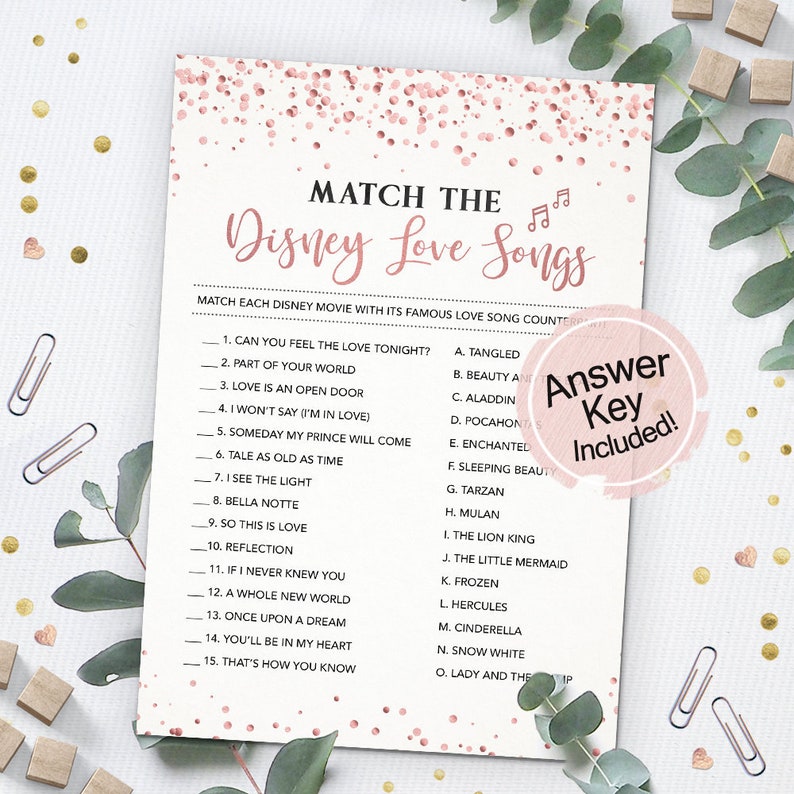 One of the coolest Disney-themed bridal shower games is Match the Disney Love Songs. This printable game includes a list of love songs on one side of the paper and movie titles on the other side. The guests should match the right song and movie, and the one who has the highest number of correct answers wins the Disney game.
If you're planning a Disney-themed bridal shower with a Disney bridal shower cake, bridal shower banner, shower gifts, and bridal shower decorations, the only thing you're missing is a fun game.
This printable one includes pictures of the most popular princesses such as Snow White, Cinderella, Pocahontas, Ariel, and more. Your guests will need to guess the name and write it down under the picture. Easy-peasy and a perfect addition to your bridal shower games list!
CHECK: Bridal Shower Games for Large Group
The next thing you can name as a part of your Disney bridal shower is Disney couples. It's another one of the fun, printable bridal shower games that your guests will be fascinated with. On one side of the paper, they'll see a list of the princesses and a list of their princes on the other side. The lady with the most correct answers wins!
If you want to laugh for hours, you have to print this Disney game. It has a list of questions, and the guests have to answer who said it first, the bride or the groom. Some will apply to both, and that will definitely make things even more enjoyable.
The bride section is marked with cute drawings of Minnie Mouse, while the groom section features cute drawings of Mickey Mouse.
We left the best one for last! If you know that your guests are competitive and enjoy bridal shower games, you have to test them with this Great Big Disney Quiz. It includes six rounds with many Disney-related questions that everyone has to answer.
You can eliminate the guests with the least correct answers after each round and announce the winner in the end. The six sets are Disney Couples, Pot Luck, Villains Picture Round, Famous Lines, Character Names, Disney Songs. In the package, you'll receive a key with the correct answers.
Check: 10 Amazing Mexican Bridal Shower Games
FAQs
Where can I find Disney princess bridal shower games?
If you know that the bride is obsessed with Disney princesses, your best bet is the Name That Disney Princess game we listed above. It's easy to download, print and the guests will have so much fun naming the princesses.
What can I use for Disney bridal shower décor?
There are many ways to pull off a Disney bridal shower, and some of the décor pieces can include a Disney-inspired cake, cake topper, plates, glasses, candy, banners, invitations, etc. You can even get creative with the food.
What are some fun Disney princess shower favors?
Some of the most interesting Disney bridal shower favors include customized coasters, notebooks, wine charms, journals, shot glasses, key chains, makeup bags, and more.
Final Thoughts
The truth is that we're all a bit obsessed with Disney. But, if you're hosting a shower for a bride that is the ultimate Disney fan, the selection of Disney games we listed will upgrade the event to a whole new level.
There are several ways you can plan the game part of the event. You can either opt for a single game, but it will be even more fun if you get two or three different games to play. Another great idea is to try The Great Big Disney Quiz that is made of six rounds. It will keep your guests entertained for a while, and it's our absolute favorite purchase.
What are your favorite Disney bridal shower games? Please share your pick below!
Last update on 2022-08-16 / Affiliate links / Images from Amazon Product Advertising API