Looking for some great bridal shower prizes to give out to game winners? We've got you covered! Below, we're sharing all of the prizes that we'd LOVE to receive!
Let's start with a quick look at our top picks, then keep reading for all the glorious details.
FYI, this post contains affiliate links. We earn a commission if you make a purchase at no extra cost to you.
READ MORE: Funny Bridal Shower Gifts
Bridal Shower Game Prizes Top Picks at a Glance
Check the table below for a side-by-side comparison of our favorites!
Table could not be displayed.
25 Bridal Shower Prize Gifts Everyone Will Love
Is there anyone who doesn't love receiving gift cards? A pretty package with what's basically free money! You can give away these prizes to anyone at your bridal shower since they are universal prizes. Plus, you can easily buy and package them.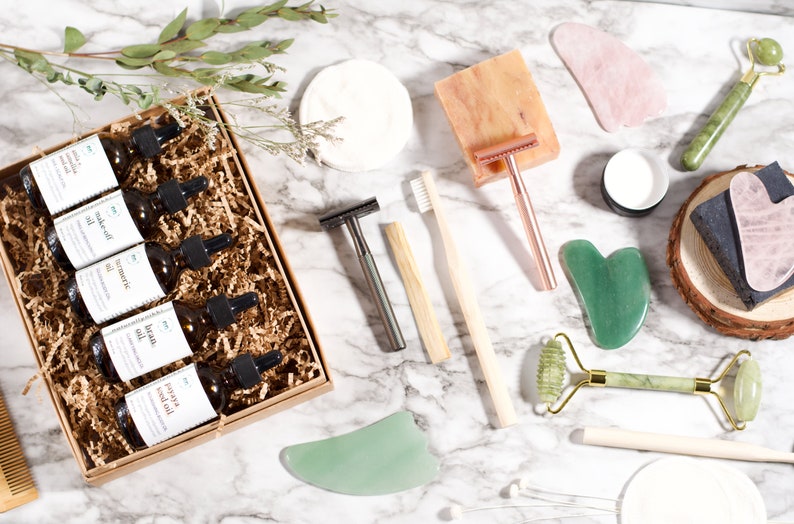 An attractive array of high-quality skincare products will relax your guests and leave them feeling revitalized. All items in the set have been tested for allergy-free fragrances and are suitable for various skin types. Basically, the skincare gift package is ideal for almost everyone.
[lasso ref="tidd-608″ id="27992″ link_id="116837″]
Everyone loves cake, right? The flavor and color of the cake are entirely up to you. Each box can be adorned with a cupcake as an added gift. Depending on your bridal shower theme color, you could even choose the cake color matching your theme.
[lasso ref="tidd-609″ id="27998″ link_id="116838″]
A cliché? In our opinion, no. A candle serves multi-purposes. They are inexpensive and easy to find. Your guests can use them during yoga as the candle's fragrance will enhance their focus.
READ MORE: DIY Bridal Shower Gift
A new mug would make a great bridal shower prize since almost everyone drinks plenty of coffee every day. You can also choose a customized mug with a funny, cute, or witty quote. Consider one that can be taken with you wherever you go.
Is there anything more fitting than these glasses to say, "I thank you for being my friend"? Get them personalized with your wedding colors, names and dates. Or choose something cute to remind them of all the fun they had at your shower!
If you're looking for a unique and classy "grand prize," this could be the one! The tea set has its own steeper and mug for a luxurious experience that soothes the senses.
Fair warning, it's a bit on the pricey side. Like I said, though, it's great for the big winner of the party.
It's up to you how long the party lasts, prolong it! You can give away wine as a prize for the bridal shower game. The best shower game prize is wine since everyone loves it. Be cautious not to go over your budget.
Books are a great choice for bridal showers. Choosing a theme that fits the shower theme is a great option. Other options include giving brides' favorite novels, inspirational books, poetry collections, and cookbooks. There is no end to the choices.
Picture frames make great prizes for bridal shower games. Make sure to give your guests a frame that is unique and beautiful. So, they can hang their favorite pictures either in their bedroom or sitting room.
If you are hosting a garden or flower theme bridal shower, then vases are a great choice. Make sure to buy simple yet unique vases to compliment your guests for their participation, as this gesture will help your guests keep visiting you, even when there is no function.
Having a Bluetooth speaker as a prize at bridal shower games is always a good idea. As a bonus, it allows your guests to listen to their favorite songs in the gym or while sitting idle doing nothing.
[lasso ref="tidd-610″ id="28036″ link_id="116853″]
There is no better way to express your gratitude than by making homemade treats for your guests. Make sure to pack these homemade items in a gift bag with love and care.
Offering an excellent coffee press as the bridal shower prize gift will add even more excitement to your event. With this amazing collapsible device, they can make coffee anywhere, anytime. Your guests will definitely like this product as it will become easy for them to make their coffee. 
We thought to throw in just the slightest bit of naughtiness to balance out the nice stuff. With this "adult party game," your bridal shower might become a bachelorette party, but it would still be appropriate for a bridal shower gift. 
Giving a towel as a gift is a practical bridal shower gift idea. One can buy towels in packs to save a lot of money. A handkerchief can also be given as a gift along with a towel, as when your guests are training hard, they can wipe out all the sweat on their faces irritating them.
Giving manicure sets as bridal shower gifts for guests will allow them to have perfectly manicured nails. It allows your guests to maintain their hygiene and help them to enhance their elegance.
By a manicure sets with a diverse range of equipment to get your hands and feet in shape.
Think about giving flowers or plants as bridal shower game prizes, especially if you are planning a garden theme or flower theme bridal shower. Various plants should be displayed on a table so that the winner can choose his or her own plant.
Shower prizes such as chocolate bars always go over well. Give different varieties of chocolate to the winners and let them choose their favorite. Chocolate lovers will never choose too many flavors as they want to stick to their favorite ones.
[lasso ref="tidd-611″ id="28055″ link_id="117282″]
Think about giving your guests storage baskets if you're looking for a unique way to give them wedding shower game prizes. Who knows, they might need it more than anything else!
Everyone would like to win this sheet mask set, as applying a mask every day can help you regain the freshness lost throughout the day. You might consider buying one for yourself as well.
[lasso ref="tidd-612″ id="28065″ link_id="117285″]
Unique design and the highest quality material help these gifts to stand out amongst others. So, stop overspending on items not worth your money, try to buy unique items like this chic coaster. It may look expensive, but it is quite reasonable.
Convenient, aesthetically pleasing, and environmentally friendly. The prize meets every expectation. Also, since it stands out from the rest of the gym water bottles, you won't lose it. 
You can buy novelty socks for your guests as a bridal shower prize gift. Buy the socks with a funny quote written on them so your guests can enjoy wearing them.
Personalized gifts are always a treat to win. Your guests will absolutely love these. It could be a wine bottle with your bridal shower's date mentioned on it, which can be used later for other purposes.
You can check this "bridal shower no gifts" guide if you opt for something different.
Conclusion
With so many options across every price range, you should have no trouble finding great bridal shower prize gifts to fit your budget!
Remember, you don't have to spend a fortune to choose something cute, but you may want to pick something fancier for the grand prize winner.
Final Recommendation
All the above-mentioned bridal shower game gifts are undeniably best, but we would suggest you go with gift cards if you are still looking for recommendations. The reason for suggesting gift cards is that they look sophisticated and are cost-effective as well.
These gift cards are the best value to money product; no matter who receives this card, they will joyfully accept it. The most amazing part is if you're running short on time, these cards are readily available in the market.
Resources
https://www.theknot.com/content/bridal-shower-game-prizes
https://www.greeninmay.com/bridal-shower-game-prizes-2/
What are your favorite bridal shower prize gifts? Please share your picks below!
Last update on 2023-01-17 / Affiliate links / Images from Amazon Product Advertising API