If you're looking for the best gay and lesbian wedding favors, we've got you covered!
From amazingly clever ideas to super budget-friendly guest gifts, we've rounded up plenty of fantastic options.
Ready to check them out?
Good, let's get started!
FYI, this post contains affiliate links. If you make a purchase through these links, we earn a small commission at no extra charge to you. 
Check this comparison table for a quick guide. Read the review for further details.
Top Benefit
Can be kept as wedding memorabilia
Top Benefit
Can be kept as wedding memorabilia
Gay and Lesbian Wedding Favors
Aside from accepting all the lavish gifts and well wishes, you need to give your guests a token of appreciation.
This is to show your gratitude for their attendance and congratulations.
But you are already spending the big bucks on dinner for 100+ people and all the decorations, not to mention your dresses and the wedding band!
It can feel overwhelming to pile on gay wedding party favors for all your guests, but there are a lot of cheap options.
We'll start with our favorite favors that are fairly cheap in terms of great value for the money.
Then, we'll look at "our budget is so tight even those are out of our range" options.
Gay & Lesbian Cheap Wedding Favors
We all know lots of tissues and handkerchiefs need to be available at weddings.
If it isn't the best friend of the bride or groom, we sure know the parents are going to be turning on the waterworks.
It's a good idea to have these at each seat, and they can be kept as wedding memorabilia as well!
Related: Eco Friendly Wedding Gifts for Guests
Unique wedding favors can be hard to find, so looking for something that really represents you as a couple helps. Such as these magnets.
If you and your partner happen to be blonde and brunette or black-haired, it's quite a cute gesture of appreciation to hand out these magnets for your guests' fridges at home!
Immortalize your wedding day with these customized playing cards your guests can actually use!
Finding wedding favors like this for sale is like finding gold.
Each time your guests reach for these cards after your big day, it is like they are celebrating your wedding all over again.
Related: How to write Lesbian and Gay Wedding Toasts
Love potion wedding favors are the next big thing. This bottle is actually a wine glass disguised as a love potion.
If you really think about it, there is no disguise at all!
After your big day with your lovely partner and family and friends, your guests can fill the wine glass up with their own love potion and hopefully find their true love.
Sale
These cute little candles are outdoorsy wedding favors that look great lit up on guest tables under the moonlight or as wedding favors for each guest.
You customize a label for the candle that includes your two names and the date of your big day!
Check: Elephant Wedding Favors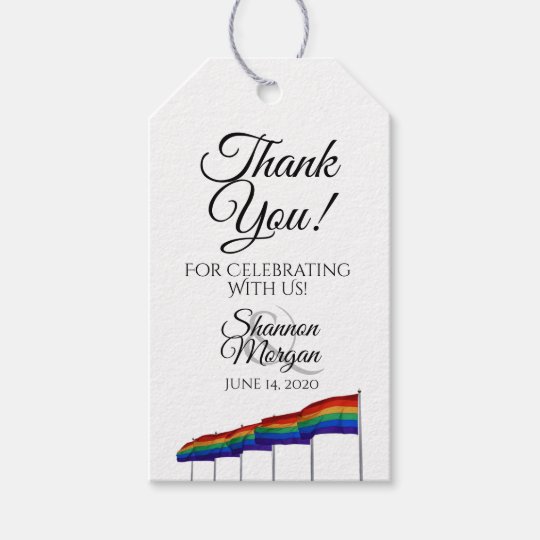 Sometimes the perfect wedding favor is something as simple as a thank-you note attached to the gift bag.
It's nothing big or fancy but it lets the guests know how much you appreciate their attendance, and it serves as a commemorative piece for your big day.
Another outdoorsy wedding favor for rustic weddings, these round little wooden coasters can last long after your wedding day.
They are made from durable bamboo, which makes them good keepsakes to have.
The best part is they can be personalized for not only a gay or lesbian wedding, but also for showers and engagement favors!
CHECK MORE: Wedding Care Package for Guests
8.

While these aren't as inexpensive as some of the other cheap lesbian wedding favors, they're still a great value for the money.

Shots and alcohol are usually associated with celebrations. Of course, it could go the other way but not on your wedding day!

Have all your guests make toasts and cheers using these little shot glasses customized with your wedding date and names in celebration of your love.

Each time these shot glasses are used after your wedding, it's like another toast is given to you!

Perhaps our favorite, nothing says compatibility and love like two peas in a pod!

This adorable salt and pepper shaker set is a practical and unique wedding favor.

It doesn't matter if your guest is single or coupled up, it might even encourage the singletons to find their forever person!

Gay Cheap Wedding Favors for Extremely Tight Budgets

While all of the options above are fairly budget-friendly, we also have some extra-affordable options for those on super tight budgets.

If you liked the candle option above, this is a much more affordable option, and you still get the customization! Of course, it follows the old saying "you get what you pay for", and the candle is poured in nothing but a small tin, it's still adorable and a worthwhile party favor to have.

Simple gold celebratory stickers could be a token that symbolizes your love.

You can customize the initials of you and your loved one regardless of gender.

You can even think about sticking these stickers on champagne bottles or on the wedding favor bags.

Now, this is something we're sure a lot of people can get on board with.

Even if you can afford pricier wedding favors, this is still a very unique one. Handmade, vegan and all-natural, it's environmentally friendly and smells great as well!

The label can be customized to commemorate your big day!

Throw in one or two or a handful of these customized Hershey's kisses in each goody bag.

While we know the wrapper will rarely be kept, the sweet little snack symbolizes your love.

Chocolate makes you happy, by stimulating the production of serotonin (allegedly) and therefore will make your guests happy too!

If these are still too far out of your price range, you can also buy this sticker-only set, then find Hershey Kisses on sale and apply them yourself.

You know which one is our favorite, now tell us your favorite wedding favors below!