If you've been engulfed in wedding magazines, Instagrams, and blogs – you would have seen them-the increasingly popular, incredibly unique triangle wedding arches. They add a fun twist to your wedding, without making it totally overpowering. It's a little nod to being nontraditional, while still looking SO elegant and classy. That's a vibe missing in so many weddings, in my opinion.
The usual case is, when things are a little more unique and special, they tend to be a lot more expensive. That's why I'm a firm believer in DIY. Not only will your wedding have your own unique twist on it, but it will also cut so many expensive costs which are just unattainable for many. That's where our guide comes in! Keep reading to learn everything you need to know about making your own, renting one, or even buying one if you prefer.
Complete Guide to Buying, Renting or DIYing Stunning Triangle Wedding Arches
Below, I've listed ways that you can DIY your own triangle wedding arch, from start to finish. P.S I have used affiliate links in this post – this means that if you use a link to buy something we will earn a small commission, at no extra cost to you.
Without further ado, let's dive in.
How to build a triangle wedding arch
Making your own triangle wedding arch is easier than you probably think. It's just getting the right materials and tools. Luckily, with the internet on our fingertips, you can find the perfect wood (with the right measurements) and any equipment easily.
Importantly, how tall you need your wedding arch depends heavily on you. Just make sure that your wood is tall enough for anyone and everyone that walks underneath it. I found the video below incredible, especially for beginners (like myself). Truly, anyone can do this, even if you've never picked up a screwdriver.
This gives you all the information you need for a DIY triangle wedding arbor.
However, if you need a more visual guide, that's a little more in-depth and easier to have on hand, this building plan may be the solution for you. We all have different learning styles, and this is a great alternative to YouTube videos.
Where to get the materials
So, hopefully, you have a clear idea of how to put together your wedding arch – but where can you get the necessary materials for such a project. Etsy is my favorite place to shop for unique wedding items, which will add a touch of pizazz to your wedding.
Wooden poles
First, you'll need to get your wooden poles. Now, honestly, a local home improvement store is your best bet here. They have a massive variety at relatively affordable prices.
There is also an array of options on Etsy and Amazon alike if you prefer to shop online. Just watch the shipping fees, some cost more than the wood itself. Amazon is a good choice because you can find Prime-eligible options.
Sale
Coeur d Alene Accent Wall in a Box - Gray Rustic Boards - 25 Sq Ft
SAFE FOR YOUR FAMILY - Decorate your house in comfort knowing you're not introducing unwanted or unexpected chemicals and toxins into your home. We use a VOC Free Process and there are no paints, no stains - these panels are safe to use anywhere in your home
LARGE PLANKS - Our large boards allow you more options - use them as-is or cut some or all of them to a smaller size. 1/2" x 6" x 48" planks nominal size. Actual 3/8" x 5 7/16" x 48" - 14 Boards Included (25 sq. ft)
UNLIMITED DESIGN OPTIONS -Design your rustic home decor project the way you want it - use for siding, trim, accents, ceilings, doors, murals, kitchen or whatever else you can dream up. DOUBLE SIDED TEXTURE for increased flexibility - band saw cuts on one side, circular saw cuts on the other side
EASY TO INSTALL - This is REAL Wood, not peel & stick or wallpaper. These are real, quality wood planks. Simply design your favorite look, then nail them in and you're done. Get the shiplap look and effect without having to match grooves or sticker backing that can peel off your wall
MADE IN USA w/ Hand Crafted Quality. 100% 30-Day Money Back Guarantee
Flowers
Unless you're leaving your arch bare, you will have to decorate, too. This can be a trial and error process, which is why false flowers are the best option. They're much easier to work with and give you more time to practice.
These mini artificial flowers are a subtle but gorgeous way to add a pop of color to your arch.
Silk Flowers in Bulk Wholesale Mini Silk Gradient Orchid Artificial Flower Head for Wedding Decoration DIY Wreath Accessories Craft Fake Flowers 30pcs 1.18inch (Multicolor)
Name:Flower Head
materials:silk color:as photo show
Size: 1.18inch Quantity:30pcs
Wide Application:Artificial flower fake flowers,well made and vibrantly colored,looks real-like,Perfect for your wedding day/The wreaths/home decoration/craft projects/DIY making/paty&bithday decorations. home & party premium ornaments,They are perfect for making bouquets,cake flowers or any other flower decorations/arrangements that you want at your wedding,party,baby shower or home.There is no limit to what these artificial flowers can do for you!
【100% CUSTOMER SATISFIED】 - We provide a 30-day refund GUARANTEE for manufacturing defects and if you are not satisfied with the. No questions asked! Customer satisfaction is our top priority.
The video below provides aspiring crafters with a little tutorial – using faux flowers. This can easily be adapted to arch decorations.
You'll also notice that a lot of wedding arches have fabric on them. This makes the aesthetic completely switch – and is a wonderful idea for you to try.
Chiffon, like the fabric above, is the best option for your wedding arch. It creates that stylish but chic effect that you see in the magazines.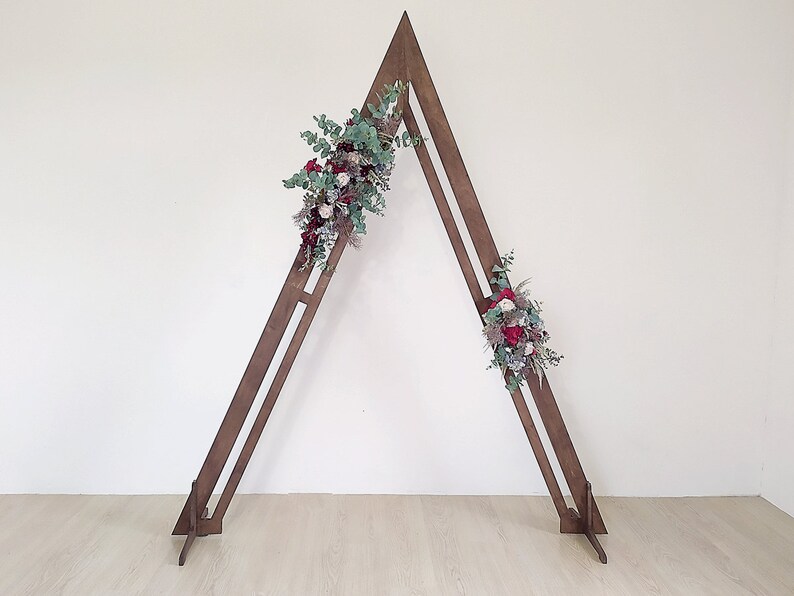 You can, of course, buy a wedding arch outright. This is a great option if you don't have the time or resources to make your own. Buying outright allows you to purchase a beautifully crafted and professionally decorated arch.
The one above takes at least 4 weeks to make, so bear that in mind. Buying from a small, independent seller on Etsy can work out significantly cheaper – so have a search around.
Renting a triangle arch
Another option is to rent an arch. This prevents you from buying an arch outright – that you'll likely never use again, absolves you from DIY projects, gives you a professional finish, and you can just hand it back at the end of the day. Again, Etsy allows you to rent locally – this is a wonderful option, which many aren't aware Etsy offers. Your best bet is to search for  "triangle wedding arch rental," then narrow it down to your location. Otherwise, you'll end up finding a beautiful option only to realize they don't ship to you.
Little Wedding shop also offers arbors for rent. They have a wide range of options, which you can fall in love with easily. Whether you're opting for rustic or elegant – there will be a style for you. Last, you can also call around local florists to see if they have rental recommendations.
I hope this guide gave you all the information you needed for a DIY triangle arch for your wedding!
Did you use a triangle wedding arch in your ceremony? Did you buy or DIY? Tell us all about it!