Have you ever wondered, what is a statement necklace? Well, to describe it as simply as possible, it is a bold necklace that is totally unique to your style.
It makes a statement when you put it on! The best part about statement necklaces is that they never go out of style. It can be a detailed necklace, one with a pop of color or clean lines, a floral necklace, a pearl necklace, or even a crystal necklace. The main idea is that it is a type of necklace that will really stand out whether you prefer to wear simple outfits, everyday outfits, dressy outfits or chic outfits.
Keep reading to learn more about these stunning pieces of jewelry, then incorporate them into everything from your most basic outfit to your engagement party outfit or your wedding attire!
What is a Statement Necklace?
As you already know, a statement necklace makes a unique fashion statement when put on. You can pair it with any outfit and it is sure to turn heads! Yes, it is not like regular minimalist jewelry which is hardly noticeable; rather, it has a very bold look. Think dramatic pieces – a bold statement necklace.
These incredibly designed, different styles of statement necklaces add elegance and funk to your everyday regular outfits.
What Are the Different Types of Statement Necklaces?
Although there are way too many types of statement necklaces that are bound to have you mesmerized, I have hand-picked the best ones trending right now and put them under categories. I simply love all these beauties and I am sure you will definitely fall in love with at least one of these!
This will make it easier for you to decide the best one for any special occasion as well as for everyday use. Let's get started!
FYI, this section contains affiliate links. We earn a commission if you make a purchase at no extra cost to you.
Multi Chain
Multi-chain necklaces are already trending nowadays. The multi-chain necklaces are a favorite among the maximalists as well as the minimalists, which is purely due to their modish look.
While browsing through Amazon I came across this beautiful Humble Chic Layered Statement Necklace. It is chic and adds a touch of elegance to casual outfits with plunging necklines.
It particularly attracted me because it doesn't look overdone yet makes heads turn! Finding beautiful yet discreet statement necklaces is always a good thing. This chic necklace has a sparkly look, enough to light up any outfit! It also feels very light on the neck.
This is the type of statement necklace which looks great both in daylight and at night. You got to try this one if you want to make a statement!
Sale
Humble Chic Rhinestone Necklace for Women - Silver-Tone Long Layered Necklaces for Women - Sparkly Fashion Simulated Diamond Chain for Women - Trendy Statement Jewelry, Long Layered - Silver
STYLISH DESIGN - You'll effortlessly transform any look with this statement silver tone cubic zirconia necklace. With sparkling layers of delicate simulated diamond chains, this elegant yet trendy rhinestone long layering necklace perfectly compliments wedding, formal, and party looks.
SUPERIOR QUALITY - Every detail has been fine-tuned for maximum quality, longevity, and comfort. Approximate Measurements: 33 inch with 3 inch extension. Cubic zirconia and high-shine silver tone plated metal.
READY FOR GIFTING - Elegantly packaged in a signature gift box for any holiday or special occasion. The ultimate present for yourself, mom, your wife or daughter, bridesmaids or bridal party, birthdays or an anniversary, Christmas and the holiday season, or to show your friendship to loved ones.
READ MORE: How Do You Style a Long Statement Necklace?
Floral Motif
Want to add a little fun to your look with a colorful necklace? If yes, the colorful statement necklace I am about to introduce will make you feel in awe! Floral motif necklaces date back to centuries when they were worn by people of special ranks or were gifted to express love and gratitude as well.
Fortunately, I came across these on Etsy and I have loved the concept behind them!
So, while looking for bold statement necklaces on Etsy, one week before a friend's wedding which I to attend, I came across these necklaces which instantly made me add them to the cart. I got my hands onto this Vintage Statement Bib Necklace.
Both the necklaces are flattering and look incredible with pastel-colored outfits. If simplicity and elegance are what you crave in a statement piece, then these two are truly admirable!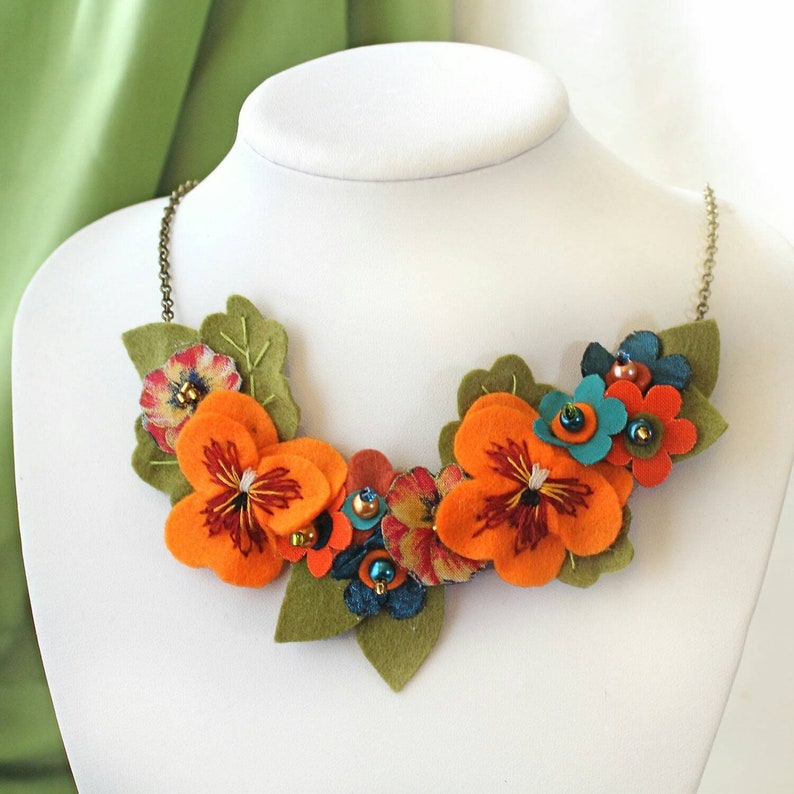 Beaded Tribal
This stylization is inspired by ancient tribes. Tribal beaded necklaces were and are still a fashion statement for the remaining tribes around the globe. Mostly, the best beaded tribal necklaces are worn by the chiefs of the tribes. That's a little insight into the history of these rare jewelry pieces.
No products found.
Talking about beaded tribal necklaces, check out this YAZILIND Tribal and Ethnic Inspired Chunky Aztec Sun Golden Beads Statement Necklace Chunky Bib Necklace. It gives you a whole vibe of traditional aesthetics! I think it looks gorgeous with a dress as well as any formal outfit. It also serves as a perfect gift for those friends who love to make a statement!
Wearing a beaded tribal necklace with a modern outfit is a beautiful fusion which makes it an excellent pick! Not only does it get you noticed but it will add a unique touch to your whole look. A Boho beaded necklace is a must-try!
Art Deco
This is a rather modern version of statement necklaces. These statement necklaces look stunning and are impressively designed.
No products found.
I stumbled upon Zales Oval Blue Sapphire Art Deco necklace and I tell you, this is a pure masterpiece! A sheer piece of elegance bound to make a fashion statement. As you will see, this one is fairly smaller in size as compared to a typically clustered statement necklace, but not very fragile like minimalist necklaces.
If you have to move around a lot, carrying a massive necklace might become cumbersome which is why this art deco necklace is a good pick! Plus, the necklace speaks volumes of elegance and aesthetics.
Bib Style
Probably not something you can casually wear to offices that have a very formal dress code. However, if you work at a fashion house, you can go for a bib-style statement necklace every day! Bib-style necklaces were famous among ancient Egyptians and were also known as tribal adornment.
Check out this JANE STONE Fashion Statement Collar Necklace Vintage Openwork Bib Costume Jewelry which is my recent favorite pick for the upcoming year. Look at the hues of blue, making it look mesmerizing! I simply love it! Not overly done and yet looks like it is made to perfection. A unique large statement necklace that is not going to go unnoticed, I can vouch for that!
Jane Stone Fashion Statement Collar Necklace Vintage Openwork Bib Costume Jewelry (Ombre niagara)
🎁【Size】 The length of necklace is 22.44" with 2.36" extender chain. Total weight of necklace is about 2.55 oz.
🎁【Safe Material】 The fashion necklace is made of Environmentally -friendly zinc alloy Lead-Free & Nickle-Free. This necklace will never fade or allergic to your skin, harmless to health.
🎁【Original Design】 Classical fan-shaped connected with gradient, suits for personalized wearing.
Layered Necklace
Is it just me or is layering actually fun? The layered necklace style is definitely a step in a direction, where you trying to make a statement but you are not trying to overdo it either.
Who doesn't love a beautiful gold necklace? I found the perfect layered necklace which could be your everyday go-to! The Yellow Gold Triple Layered Beaded Necklace available at Reeds can be worn to the office as well as at an evening party. It is light in weight too which means you could wear it to events that require you to do slight to moderate activities.
Whichever outfit you chose to pair it with, it will help enhance your whole look – exactly why this one is yet another favorite pick!
Geometrical
Inspired by geometry and architecture, geometrical necklaces have been around for hundreds of years. Geometric-styled necklaces have been found at prehistoric gravesites giving us a clue that they have been in fashion for the longest!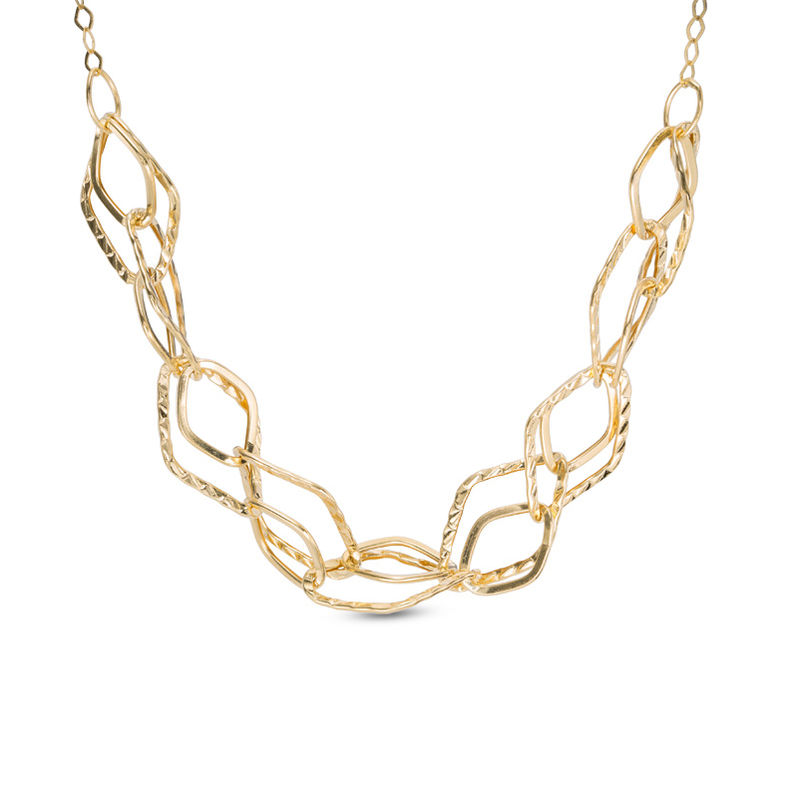 Geometric statement necklaces have been trending and now their popularity seems to have no end! These geometric necklaces add an edgy touch to your whole look. Keeping this in mind, I browsed through Zales where I found the fabulous-looking Geometric Double Row Necklace in 14K Gold. Gold statement necklaces are very popular and now you can see why!
Just look at this bold style statement that is bound to dazzle your entire outfit! This one is wearable both indoors and outdoors so no matter where and when you decide to wear it, it's going to make you look classic!
Chunky Design
Last but not least, the actual fashion statement necklaces are the chunky designed ones! The chunky design necklaces are the crux of the different varieties of different statement necklaces. In short, you can never go wrong with these ones!
I got two absolutely lovely ones to show you, I came across these on Amazon. The Brown Tan Camel Lavender Gray Clear Colored Resin Big Chunky Statement Necklace and Salircon Cuban Chunky Chain Choker Necklace are crafted with perfection!
These look lovely when paired with short black dresses, making them ideal for parties and elite events. I love both these pieces as they are easy to wear and never fail to make a statement!
FAQS
Are Statement necklaces out of style?
Something which gives you identity can never go out of style and so statement necklaces are here to stay forever! While minimalism might be very popular nowadays, maximalist jewelry, specifically necklaces are also very much trending.
Are chunky necklaces Still in Style 2021?
Chunky necklaces are bound to make a statement; it always adds an extra glamorous touch to your whole look. No matter what year it is, chunky necklaces are always in style and certainly, they will be trending in 2021 as well.
What is the most flattering necklace?
It totally depends on you. The most flattering necklace for you will be the one that makes you stand out in the crowd and enhances your overall look. Thus the most flattering necklace varies for each person.
Conclusion
I hope this article has given you a clear idea about what exactly are statement necklaces and how many types are available today. Statement necklaces look beautiful on everyone. They are aesthetically crafted to make you the center of attention.
The best part about these necklaces is that they are not just confined to lavish events. You can wear them to your workplace or on a very special occasion too. Most of the statement necklaces I have mentioned here are easy to carry around your neck and don't hinder your daily activities. You can mix and match these fashionable statement necklaces with almost all of your outfits.
You can check out the best pieces of statement necklaces which I have personally picked and look great on almost every face cut and body stature. All you need to do is pair them with your favorite outfits and you are so going to rock the floor at every party you step in!
Have about you, do you use statement necklaces? What is your favorite? Let us know in the comments below!
I'm a freelance journalist/writer/content marketer with BA Hons in Journalism.
Last update on 2023-12-06 / Affiliate links / Images from Amazon Product Advertising API