In a world where most wedding events happen online lately, it's important to find the perfect virtual bridal shower invitations that really capture the spirit of your special occasion. Check out some of our favorite ideas below! Since you add your own details to all of these invitations, they're perfect for everyone, including gay and lesbian couples..
Virtual Bridal Shower Invitations
Just mere months ago, finding virtual bridal shower invitations would have been challenging, to say the least. You know what they say, though! Necessity is the mother of invention!
With more and more couples opting to move their entire wedding- and all the pre-parties that go along with it- completely online, Etsy sellers have really stepped up their "virtual invite" game! Just because a party is hosted online doesn't mean that it shouldn't be as fancy as possible. Take a look at our favorites below!
FYI, this post contains affiliate links. If you make a purchase through these links, we earn a small commission at no extra charge to you.
1. Bohemian Invitations
If you are a carefree bride who likes to enjoy the little things in life, then you should probably choose on of these bohemian bridal shower invitations. They are beautiful, classy and simple, so your can let your personality run free. These can be found on Etsy, and you're sure to fall in love with them.
2. Drive-By Invitation
Even though your closest friends can't be with you, you can still let them know they're important and you want to spend time with them, by using these Drive-By bridal shower invitations you can find on Etsy. They are fully customizable, meaning that you can easily edit them to satisfy all your needs.
3. Nautical Invitations
If you and your soon-to-be bride are fans of the sea, then you should really choose one of these Nautical-themed bridal shower invitations. Print them and send them directly to your friend's houses, or simply send them an email letting them know when you plan on celebrating. These invitations are available on Etsy and you can choose to receive the template, or the physical invitations!
4. Social Distancing Invitations
Since the healthiest thing we can do right now is keep the distance even from our dearest ones, you can send one of these Social Distancing bridal shower invitations to announce your virtual bridal shower. Your guests will be more than happy to attend, and will know you're thinking of them during these times. You can buy the template, personalize it and send it to your dearest ones!
5. Rustic Invitations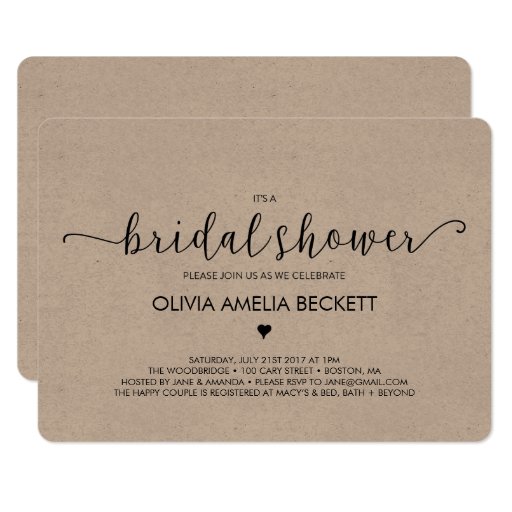 Zazzle's Rustic bridal shower invitations are sure to please every need. Their simplicity is what makes them truly special. You can personalize them so your message really gets to your friends, and they will be at your house in no time, ready to be shipped!
6. Greenery Invitations
If your friends know you're fascinated about all kinds of plants and flowers, then they will be very happy to receive one of these Greenery bridal shower invitations. They're available on Etsy, and the template is editable, meaning that you can really customize them the way you want to. Just edit and send it to your closest friends and family members!
7. Classic Invitations
If all else fails, you can always choose these classic virtual bridal shower wedding invitations, that are sure to please everyone. They are simple, beautiful, and will really make an impact! These too are available on Etsy and fully editable!
Everything is about you! Your bridal shower, your wedding, and you need to make sure that everything is just the way you want it to be! Be it pink or purple, with or without flowers, if it's what makes you happy, then you don't need anything else!
Do you have any other favorite virtual bridal shower invitations? Share below!@
I'm a freelance journalist/writer/content marketer with BA Hons in Journalism.