Every bride should feel like the prettiest girl in the world on her big day. And that means getting a dress that gives you confidence. And why not red? A bold bride deserves a bold dress color. It's your wedding, you determine the wedding dress code. However, I would be lying if I said getting red wedding dresses plus size is as easy as getting wedding dresses under size 14.
To plus-size women, finding the right wedding dress at affordable prices can cause so much anxiety instead of excitement — especially if you need a custom size! But I got you, and I want the wedding dress shopping to be fun for you too. Let's start with a quick look at our top picks, then keep reading for all the glorious details.
Check: Gender Neutral Wedding Outfit
Red Wedding Dresses Plus Size Top Picks at a Glance
If you see the value in these products and choose to purchase via my referral links, I may earn a small commission at no extra cost to you.
Check the table below for a side-by-side comparison of our favorites!
This is a modal window.
Beginning of dialog window. Escape will cancel and close the window.
End of dialog window.
5 Incredible Wedding Dress Ideas That Will Make You Swoon
Table could not be displayed.
Top 7 Red Wedding Dresses Plus Size With Review
First of all, congratulations on deciding to go for a red wedding dress instead of the usual white wedding gowns??.
Don't get me wrong, I love traditional white dresses, but I love unicorns more. Colorful wedding dresses make a statement.
Also, red is linked to love and passion, and that's what your big day is all about.
Before I let you on my top choices, I'll let you into a secret of how to choose the correct wedding dress. The trick is getting the dress that flatters your curves and, most importantly, gives you confidence.
Here are my top choices.
I don't know about you, but I'm a very sentimental person, and I love to dig in on deeper meanings.
That inner secret you have as to why you choose your "offbeat" venue, décor, or wedding dress is what makes things special.
This halter dress has an infinity sign on the neck (and isn't that what you want your love to be?)
The dress is floor-length and has a bareback. It also has a simple, stylish belt to define your waistline.
If you don't like dresses with sleeves, the seller can also replace it with short sleeves or sleeveless design.
| Benefits | Drawbacks |
| --- | --- |
| It comes in different designs | Max length is 46″, so may not be ideal if you're very tall. |
| It's floor-length | |
| It's made with quality fabric | |
[lasso ref="tidd-580″ id="26670″ link_id="174997″]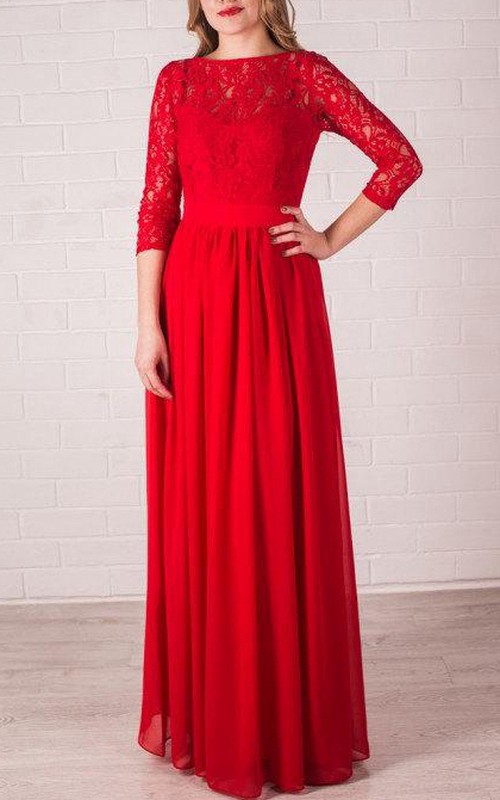 Are you a conservative bride who prefers to have everything hidden, but you want to look classy at the same time?
If you answered yes, this plus-size wedding dress is for you.
This is both a conservative and elagant dress. It's a dress with sleeves and a long tail, which makes it very sensual.
The dress is then decorated with lace at the chest area and the hands, which compliments the design.
| Benefits | Drawbacks |
| --- | --- |
| It's both classy and conservative | There's no way to alter this dress to suit you like the previous recommendation. |
| The lace decorations are amazing | |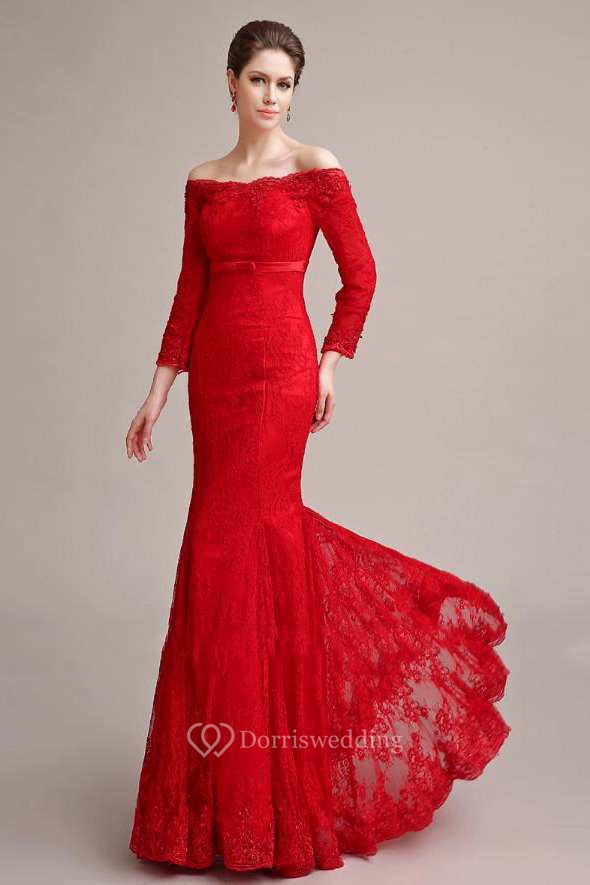 Mermaid dresses are flattering to all brides. It helps show your curves and make you feel like the only girl in the world. It's your wedding — dress magical.
This beautiful fire wedding dress just shows your neck area, so if you want to show just a little skin, it's perfect for you.
Expert tip: with off-shoulder dresses, you really don't need to go to the trouble of accessorizing them. Simple long earrings will do the trick.
| Benefits | Drawbacks |
| --- | --- |
| It has an amazing design | It will only work for you if you love lace since that's the only fabric used |
| It shows off your curves | |
| It has a beautiful ribbon on the waist that gives the dress a nice touch | |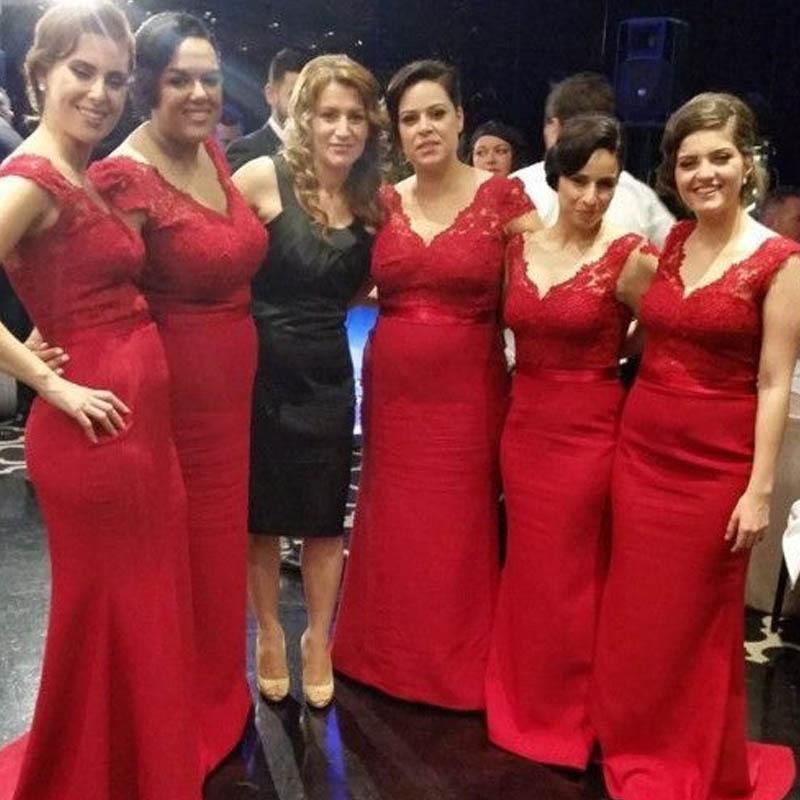 If you loved my previous suggestion but you don't like the idea of having a dress that's made of lace only, this is for you. The top of the dress is made of lace, and the skirt is made of satin.
As the name suggests, the dress has a V-neck, and it also has a low back. It is floor-length, and it's decorated with lace, ribbon, and appliques.
Another great feature worth mentioning is the nice short sleeves.
| Benefits | Drawbacks |
| --- | --- |
| It has beautiful lace short sleeves | Some conservative brides may feel uncomfortable with the V-neck |
| It's made using quality fabric | |
| It's well decorated | |
Check: Stella York Mermaid Wedding Dresses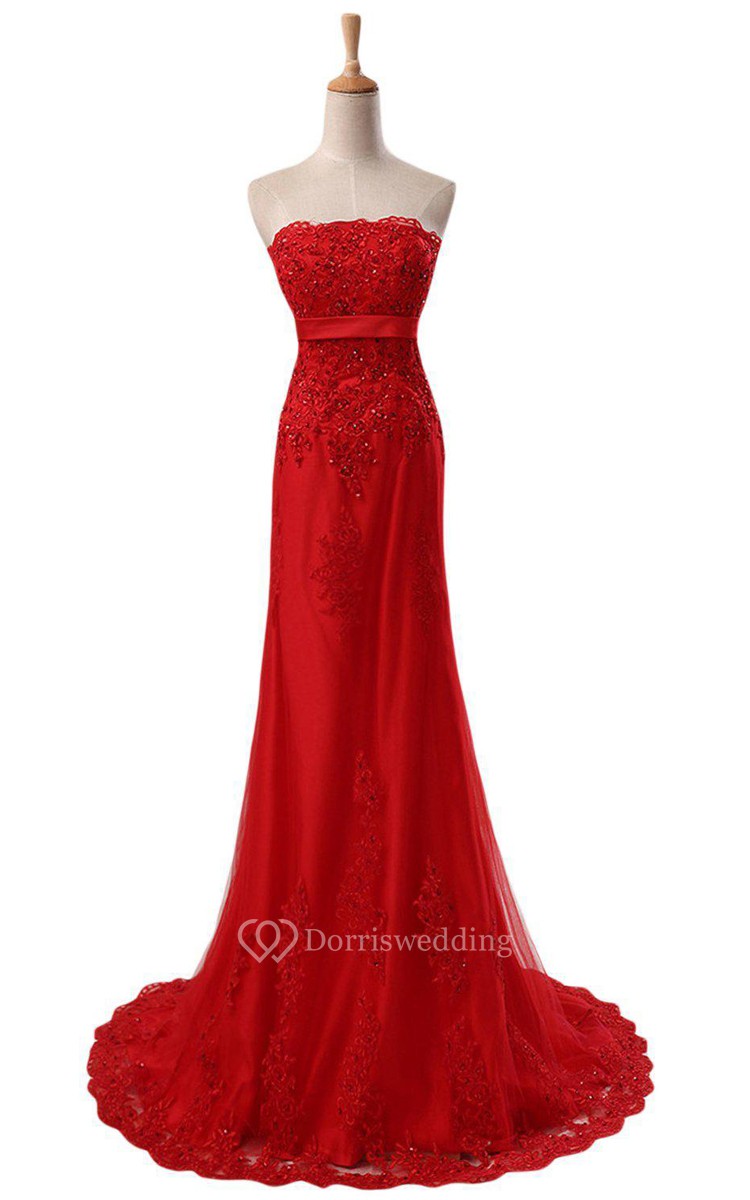 This is another fantastic wedding dress choice for plus-size women. The dress has an A-line silhouette, which fits perfectly with all body shapes.
It's floor-length, and the back is laced up. The dress is decorated with appliques and beads, which makes it very elegant.
It also comes with an inbuilt bra to give you the support you need?, but you'll have to buy a petticoat if you need one.
| Benefits | Drawbacks |
| --- | --- |
| It comes with an in-built bra | It doesn't come with a petticoat |
| It's decorated with beads which makes it very unique | |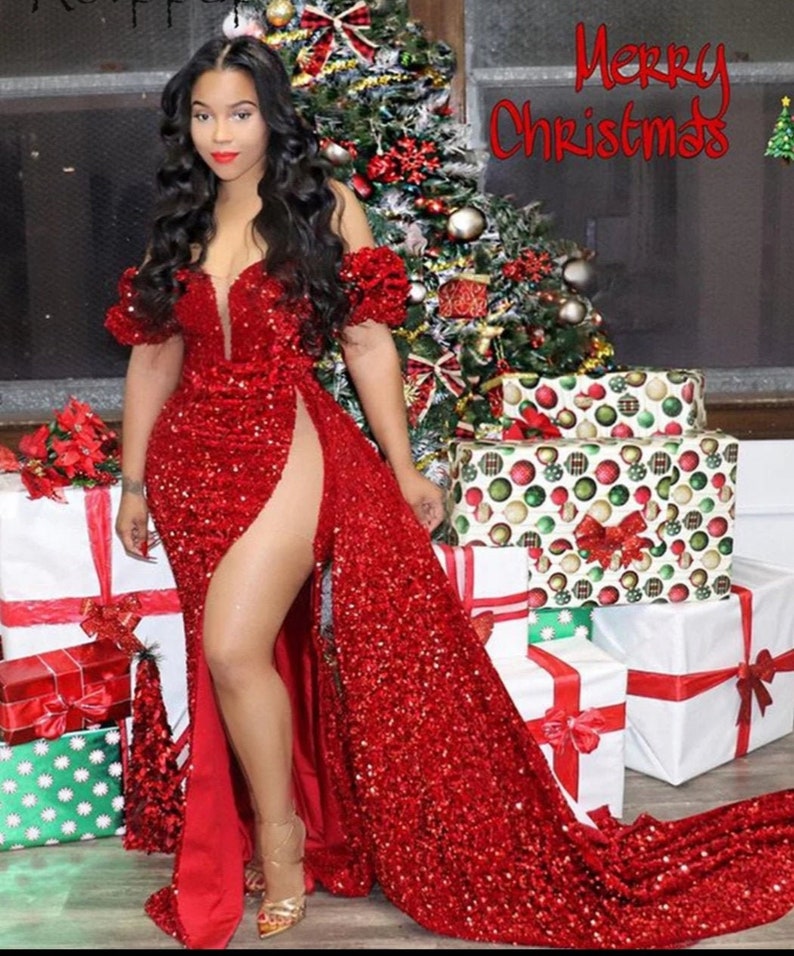 It's annoying when people assume that you're conservative just because you're a plus-size woman. Isn't it?
So, I present you with this fierce wedding dress for bride that want to sparkle and spread the light to everyone at the wedding.
This bridal gown is handmade, and it's absolutely gorgeous. The sequin dress has a deep V-neck and off-shoulders.
It also has a big slit that allows you to show off your beautiful legs. A long heel and a pretty classy bracelet are all you need to accessorize this dress.
| Benefits | Drawbacks |
| --- | --- |
| The design is unique and elegant | This only works for brides who don't mind showing too much skin |
| It has a long tail | |
| The hands are very well done | |
[lasso ref="tidd-581″ id="26680″ link_id="99767″]
This is another fabulous wedding dress, and the name says it all. The top is decorated with beautiful rose flowers. It also has a beautiful waistline that's decorated with 3 rose flowers.
But that's not the only thing that makes this dress unique. It has a short front and a long back gown skirt. This complements the strapless design and gives you a chance to show off your exquisite heel.
| Benefits | Drawbacks |
| --- | --- |
| It's decorated with beautiful red rose flowers | It's handmade, so the dress is maybe a little different from what's in the picture |
| The high-low design is unique and fabulous | |
| It's made of high-quality fabric | |
[lasso ref="tidd-582″ id="26687″ link_id="99768″]
Final Thoughts
If you're lucky, you get married once to the love of your life. And so, your wedding day shouldn't be taken for granted.
Give it the attention it deserves, and don't listen to anyone who tells you otherwise.
Get the dress of your dream, be different, be crazy, be you. The wedding dress code is in your hands. You'll have to be satisfied with that dress photo forever. And if this means a red dress, you're the boss.
Also, remember that regardless of your body shape or size, there is a perfect size wedding dress for you.
Don't settle.
Check another flower lace wedding dress!
Our Final Recommendation
[lasso ref="tidd-580″ id="26670″ link_id="99766″]
What's your favorite red wedding dress for plus-size women on my list? Please share your pick below!
Last update on 2023-01-18 / Affiliate links / Images from Amazon Product Advertising API