Looking for some beautiful gender-neutral engagement rings?
We've got you covered!
Any one of these 10 gorgeous options will get you a "YES!" when you pop the question.
Take a look!
Related: 7 Gorgeous gender neutral wedding attire
10 Beautiful Gender Neutral Engagement Rings
Finding true love is no easy feat, and no matter with who you find your eternal happiness, this feeling if meant to be celebrated and nurtured.
When you ask your significant other or S.O. to marry you, you want to present them with the best choice.
An ideal engagement ring would be something they love, but also signify your relationship and represent something unique about each other.
Let's take a look at some gender neutral engagement rings that will help jump-start your life to forever.
FYI, this post contains affiliate links. If you make a purchase through these links, we earn a small commission at no extra charge to you.
Also Check: Gay Wedding Rings Reviews
Gender Neutral Engagement Rings Overview
Use the table below for a quick peek at the rings! Then, keep reading for more details. One note, the prices are subject to change.
Preview
Name
Buy
Top
Feature
14K White Rose Gold Round Diamond
BUY
Two-tone
Ellaura Glow Three Stone Ring
BUY
Modest
1/8 ct Petite Diamond Bridal Set
BUY
Budget
Enchanted Disney Princess Tiara
BUY
Disney
Inspired
White Gold Halo Sapphire Diamond
BUY
Unique
Ellaura Embrace Curved Ring
BUY
Affordable
Floral Halo Diamond Engagement Ring
BUY
Flower
style
Black and White Diamond Split Shank
BUY
Unique
Some Things You Need to Know About Gender-Neutral Engagement Rings
You may need to work hard to visualize a specific style or design while thinking of gender-neutral engagement rings. Though it would be very simple to envision a gender-specific engagement ring. This is due to the fact that gender-neutral engagement rings are a more recent idea.
Gender-neutral or non-binary engagement rings were created with the intention of promoting acceptance, inclusivity, and equality, for all genders. It is also created to appeal to all tastes and fashion senses regardless of gender identity.
Below are a few things to know about gender-neutral engagement rings before you purchase it especially if you are new to the concept.
The Components are the Same as They Would Be for Any Rings That are Gender-Specific
People frequently assume that gender-neutral rings are different from their gender-specific counterparts because of something more significant, such as the material used to create them.
But every material that is used to create gender-specific engagement rings may also be utilized to create stunning gender-neutral engagement rings.
For example, various materials, including platinum, rose gold, yellow gold, and white gold, as well as gems like rubies, emeralds, sapphires, and diamonds, are used in making the rings. You can choose the material of your choice and have a stunning and beautiful ring produced from it.
Gender-Neutral Engagement Rings Come in Different Styles 
Gender shouldn't stand in the way of you selecting the wedding band of your desires because, as the saying goes, love is love.
There are countless shapes and materials to choose from, so you can wear a massive diamond engagement ring or go minimalistic with a sleek metallic wedding band.
Diamond-studded or sleek engagement rings with a large round diamond, stackable rings, and wedding rings with square-shaped diamonds are a few of the most well-liked gender-neutral engagement ring designs.
Also, when creating a wedding band that is gender-neutral, sapphire and platinum are excellent choices.
What Is the Gender Neutral Symbol?
The intersexual or unisex sign is the most effective way to represent gender neutrality. In entomology, it is referred to as the hermaphrodite and represents transsexual sexuality. Visually, the symbol combines Venus and Mars from the male and female Unicode.
Available at Gabriel NY for $4085
In our humble opinion, a good sign of a gender-neutral engagement ring is one that might not seem like an e-ring.
While this may have a lot of bling, it doesn't follow the traditional diamond on a single band sort of design.
It will draw a lot of attention due to the brilliance and scintillation with that many diamonds, but it could easily be disguised as a regular accessory and be worn with all types of jewelry and outfits.
Also Check: The LGBT Diamond Wedding Ring
2. 1/4 ct. tw. Prima Diamond Solitaire Engagement Ring
Available at Helzberg for $599.99
This affordable option will look great on anyone! The small and subtle diamond will not scream "look at me" for the minimalistic among us.
Paired with a slightly thicker band, it makes the whole ring just seem suited for anyone.
Also, we went with a princess cut as we feel the square shape with distinct lines is a bit more neutral than a sleek round diamond.
Not to mention, solitaires never go out of style!
Available at Reeds for $2999.99
Gold or silver, we feel any metal can be gender neutral. If you aren't a fan of a big center diamond, a three-stone ring could be a great option too! They are more affordable (depending on the size of the diamond of course), and can add more bling with the support of the side diamonds. Cushion cut diamonds are more rounded, have less surface area, and are quite a unique shape. They resemble a round diamond with traits from the other pointed shapes. They are a modest diamond shape and do well with side stones.
Available at Superjeweler for $436.72
This has to one of the most unique designs we have seen so far. It comes in a set so you get more bang for your buck, and the center stone, or should we say stones, are very special.
The centerpiece is comprised of seven tiny diamonds that make up the space where a larger one should be.
Now it is a bit different than multi-stone centers because it's not overcrowded, it adds just enough shine to the beautiful silver 10K white gold band.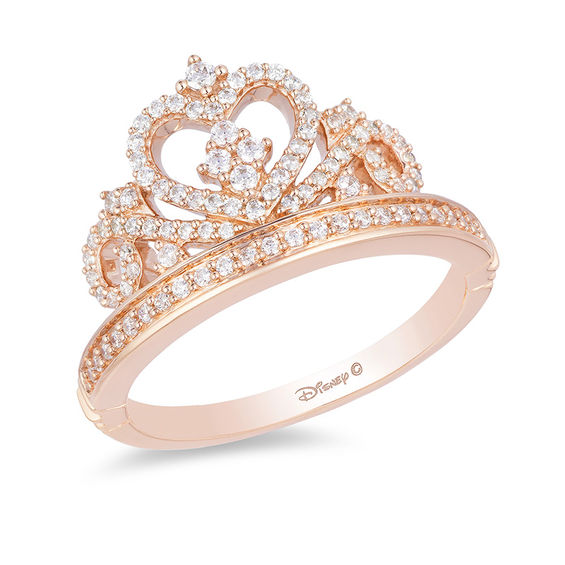 Available at Zales for $999
We have dialed down the flash for the first few options (minus the first one), and we have decided to go in a whole other direction for the 5th option on our list.
This is a full-on complex diamond frame tiara engagement ring that comes in a set.
For those that are a little extra and like the attention, it's hard to miss this amazing piece when you're walking down the street!
READ MORE: The Best Lesbian Engagement Rings
Available at Gabriel NY for $2570
There is no written rule that men's engagement rings need to be centered around a diamond.
Colored gemstones are very unique and just as beautiful.
This sapphire blue engagement ring is great for someone who likes to be different, a person who likes to stand out from the crowd
It can also play to the opposite and dial down the fact that you just got engaged since most people look for a flashy diamond.
A deep blue hue looks amazing on any skin tone and any gender.
Also Check: Gay Men Engagement Rings
7. 1.5 C.T. T.W. Diamond Engagement Ring in 10 K Gold
Available at Helzberg for $699.99
You can never go wrong with a vintage style. No matter what age, gender, preference or style, a vintage engagement ring could have a story behind the design.
You can even choose a style that has the perfect amount of smaller surrounding diamonds.
This could be a very sentimental touch, each diamond signifying and important occurrence in your relationship.
This particular design adds an air of elegance to your finger.
Available at Reeds for $649.99
Let's get rebellious and forgo a large diamond centerpiece altogether. There are no rules, the world is your oyster!
All giggling and jokes aside, why not adorn the king, queen, prince or princess of your life with a curved crown band that fits their status in your life?
The subtle design features round diamonds with three emerald baguettes at the curved tip to further enhance the shape of the band.
It also makes a great stacking piece for other rings and eventually the wedding band!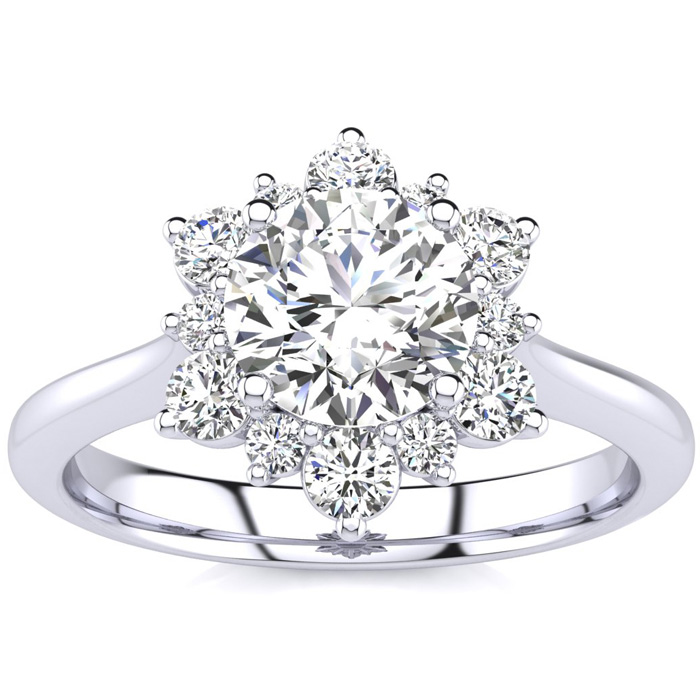 Available at Superjeweler for $2620.57
If you like feminine styles like us, this one could really appeal to you. It's a round diamond in the shape of a flower.
Thanks to the surrounding halo, it looks as though your center diamond is in the center of a gemstone flower.
It will add a LOT of sparkle and fire to your finger. We'll let you in on a secret.
A lot of these multi-diamond centered rings cost a lot less than a single large diamond center and look just as sparkly and big!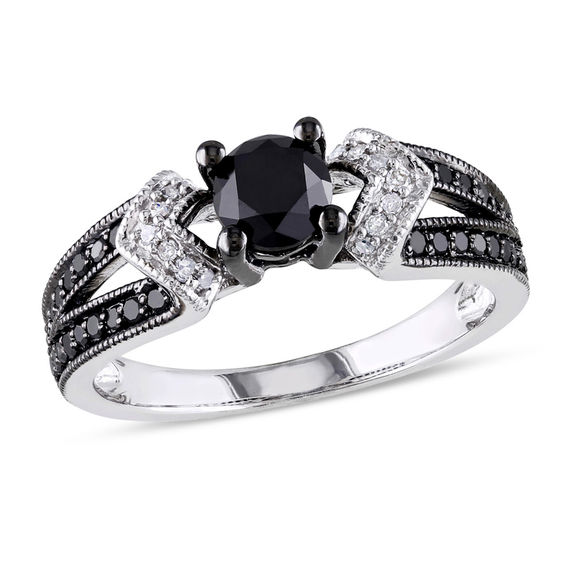 Available at Zales for $309.99
If you are as unique and possess as much style as Carrie Bradshaw, then you need a ring like no other.
This black diamond emphasizes your other half's individuality and as we all know, black goes with everything!
Not to make it seem too dark and black-hearted (since black isn't necessarily regarded as a festive color), it's decorated with white diamonds for contrast.
No matter what, finding the perfect ring is not as important as finding the diamond in the rough (your S.O.).
Final Thoughts
It will be a relief to you to learn that creating a non-binary engagement ring is just as simple as creating a binary one if you're intending to have a gender-neutral engagement ring made for your significant other.
Also, it is very essential that you choose the ideal stone and metal for your partner's dream engagement ring based on their likes, interests, and tastes.
So with the various gender-neutral engagement rings discussed above, it is easier for you to get the ideal gender-neutral engagement rings that your spouse loves.
Think about what they like, then pair it with some unique characteristics to find the perfect ring. Which one was your favorite?
I'm a freelance journalist/writer/content marketer with BA Hons in Journalism.