Are you wondering where to buy bridal shower games? I will show perfect places to get the best games for your wedding shower.
When I was holding my shower party, the trickiest part was how to break the ice among guests. After deep thinking, I realized that bridal games would do the magic.
After thorough research, I found the perfect places to buy affordable bridal shower games. Here are perfect game ideas and where to buy the fun games.  
This post contains affiliate links. We earn a commission if you make a purchase at no extra cost to you.
Top 3 Places Where to Buy Bridal Shower Games
Diane Gottsman, an etiquette expert, says, "Depending on the taste of the bride, the host can have some entertaining games for the guests to play or skip the games altogether." [1]
Fun shower games keep your guests entertained throughout your wedding shower party. Since most of them don't know each other, bachelorette parties games help break the ice.
You should get fun shower games to make the day memorable for all your guests.
Check the best modern and traditional bridal shower games from the following places.
1. Amazon
Amazon has a vast collection of shower fun games to choose from.
You get bridal shower party supplies, including bridal shower [2] game cards, interactive games, bride shower gifts, pieces of paper, and special prizes.
Like this pink-themed one.
The shower gifts are categorized according to types and prizes, so you can choose those that suit your specific shower needs.
2. Etsy
Etsy is another great place to get your favorite fun games for your wedding shower. You will find creative and unique bridal party games selling at different but affordable prices.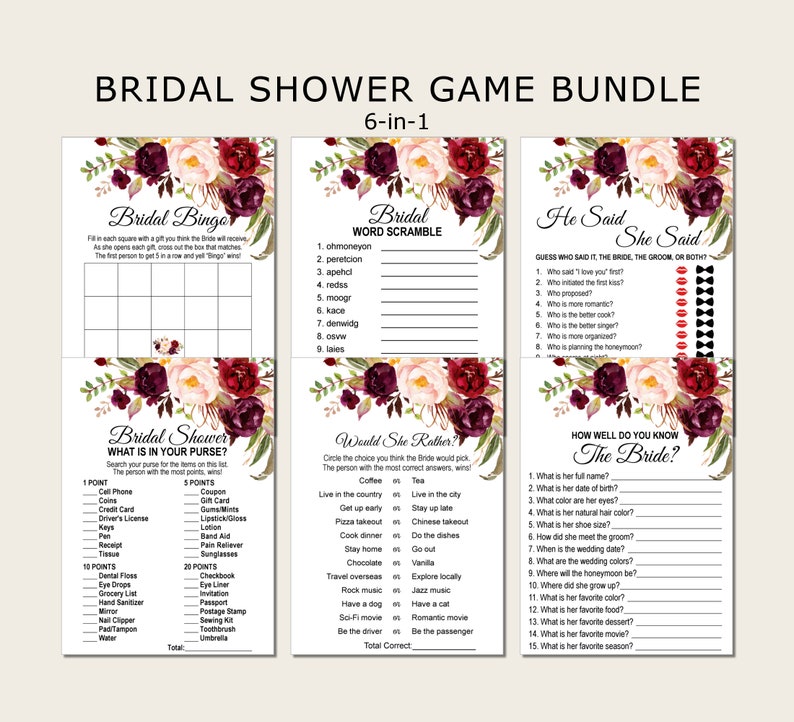 Some of the shower games you can shop from Etsy include Boho bridal shower game, bridal shower bingo, and classic bridal shower games to keep your shower guests engaged.
3. LoveYouWedding
LoveYouWedding offers printables with questions about the bride. [2]  These questions from printables listed on Amazon require guests to give a correct answer about the bride's life.
The printable contains other engaging and funny questions that keep all your guests busy throughout the night.
You also get Printables with bridal shower emoji game for guests who like guessing wedding phrases presented in emojis.
There are also many Printables with Bridal Bingo cards that take less than three minutes to play.
These are fun for guests who know how to play bridal bingo games because the gift cards are given after winning.
For more wedding shower ideas, watch this video.
FAQs
Conclusion
Now you know where to buy bridal shower games. Make sure you choose a classic game all guests enjoy playing.
With guests with distinct playing needs, choose several games to suit the different preferences.  
Resources
1. Mood Changers Game – Great Expectations. www.nbp.org. Accessed March 17, 2022. https://www.nbp.org/ic/nbp/programs/gep/grumpy/grumpy-moodchangers.html
2. Davis JL. Bachelorette Party: Sexual Expression? WebMD. Accessed March 17, 2022. https://www.webmd.com/women/news/20030829/bachelorette-party-sexual-expression