FYI, this post contains affiliate links. We earn a commission if you make a purchase at no extra cost to you.
8 Tea-Inspired Bridal Shower Themes to Consider
Once you've made up your mind to host a tea party, start planning the details. Do you imagine a classy tea party? Or perhaps a bright and cheery look?
Here are some amazing Tea-inspired Bridal Shower themes to consider:
A Regency Inspired Tea Party
A Colorful Mad Hatter's Tea Party
A Jane-Austen Literary Style Tea Party
 British-Style High Tea
 Vintage Tea Party
 A Bridgerton Inspired Tea Party
A Floral Garden Theme Tea Party
Downton Abbey Tea Party
Of course, you don't have to go with one of these themes, but having a theme in mind will make it much easier to choose the appropriate décor, invites, color scheme, and activities for your tea party.
This is a modal window.
Beginning of dialog window. Escape will cancel and close the window.
End of dialog window.
What To Put On A Bridal Shower Cake
Regardless of which theme you go for, the ideas below will fit in perfectly!
Before you do anything else, take the time to plan some delicious food for your tea party menu! I like to stick with appetizers and "light" foods for my event menu. Here are some of my favorites!
Tea Party Sandwiches
When it comes to dainty little tea sandwiches, the options are endless [1]. Some of my favorites include:
Cheese and Veggie Sandwich
Finger sandwiches
Cold Cucumber Sandwiches
Egg Sandwiches
Smoked Chicken Sandwiches
Smoked Salmon sandwiches
Miniature Tuna Sandwiches
Turkey salad sandwiches
Check out the video below for more ideas:
Tea Party Scones
You can't have a true tea party without scones, right? Again, the options are almost limitless. Check out the recipe below for how to make British scones.
Fill them with anything from fruity jams to nutty spreads to cheese!
Appetizers
When planning tea party appetizers, I either stick to mess-free "dippables" (like pita and hummus) or cute little appetizers that fit on a toothpick. Here are a few ideas:
A fresh fruit platter
Pita chips and hummus
Little meatballs on a toothpick
Canapes in all different flavors [2]
Little crostini appetizers
Check out the video below for crostini ideas:
Sweet Treats
Cupcakes
Cake
Cookies
Macaroons
Madeleines
Check out this recipe for madeleines:
I love creating tiered towers for my tea parties (say that five times fast!). Sandwiches are on the bottom tier, scones on the second, and desserts on the top.
If you don't have the 3 tier stand, you can create a buffet style and serve in platters on the table.
4 Best Invitation Ideas for the Bridal Shower Tea Party
Now that you've planned your menu and theme, it's time to choose the right invitation idea. Make your card as unique as you want it to be.
Everyone is anxiously awaiting the arrival of the much-anticipated invitations. Here are a few that I love: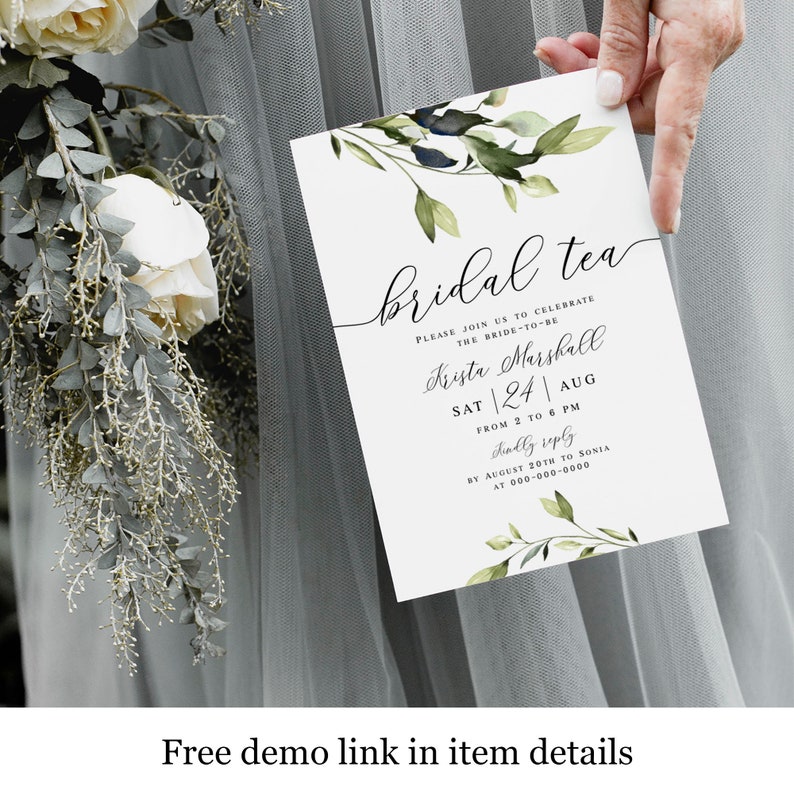 This is an elegant invitation design with beautiful font and green leaves spirits. You can mention the time, date, and theme on it.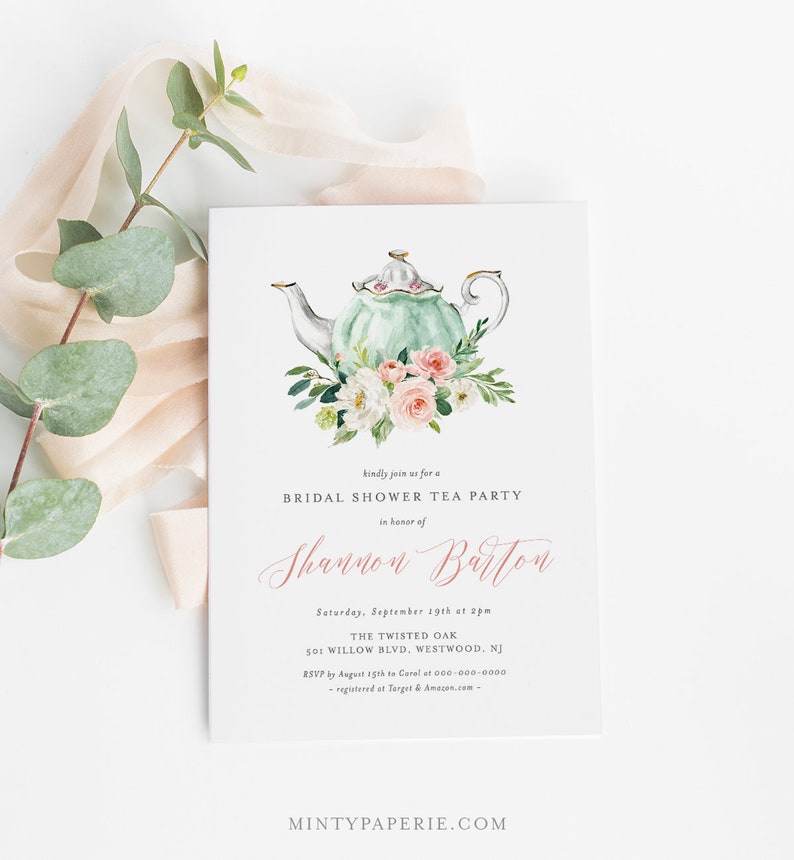 This is a beautiful and creative design with its cute teapot with a flowers bouquet in pretty watercolors!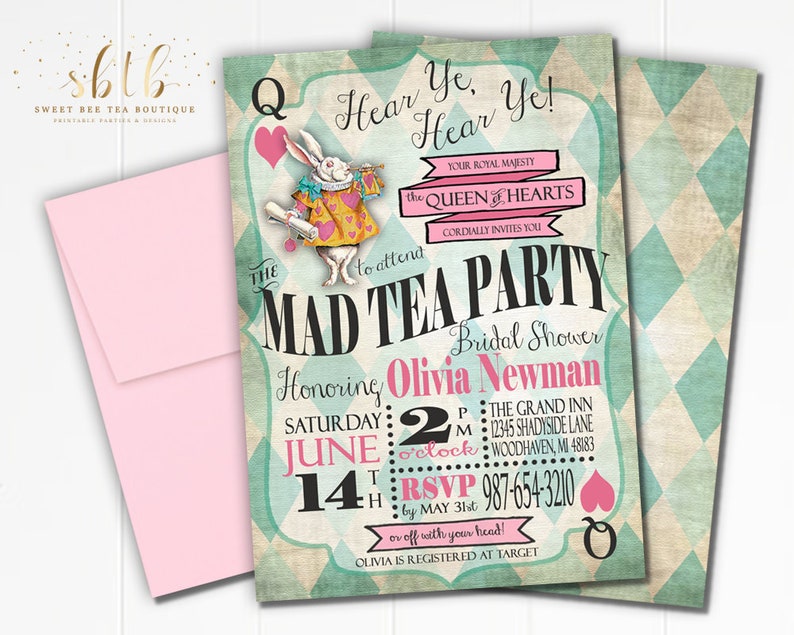 I'm a HUGE Alice in Wonderland fan, so this one is definitely my favorite. Isn't it the cutest bridal shower invitation ever?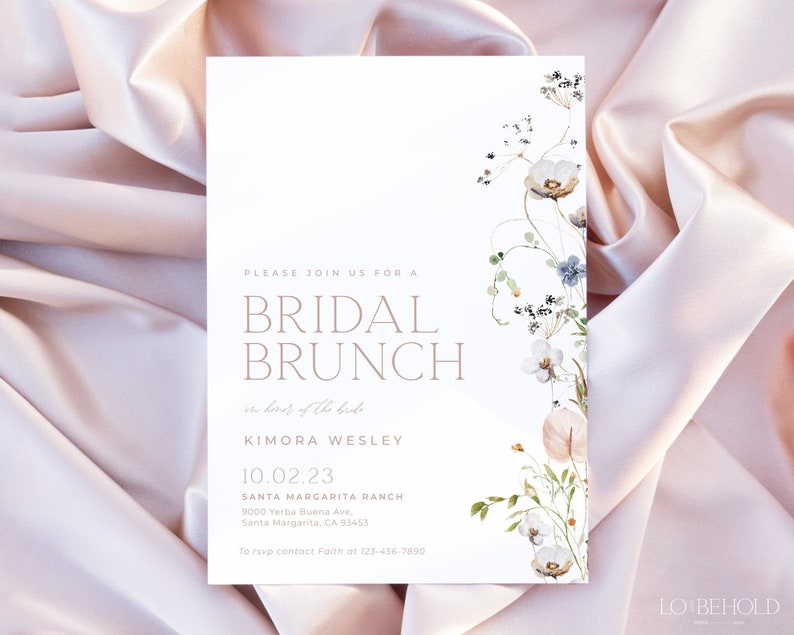 A lovely design with a floral brunch on one side. This design is the best choice for garden tea parties.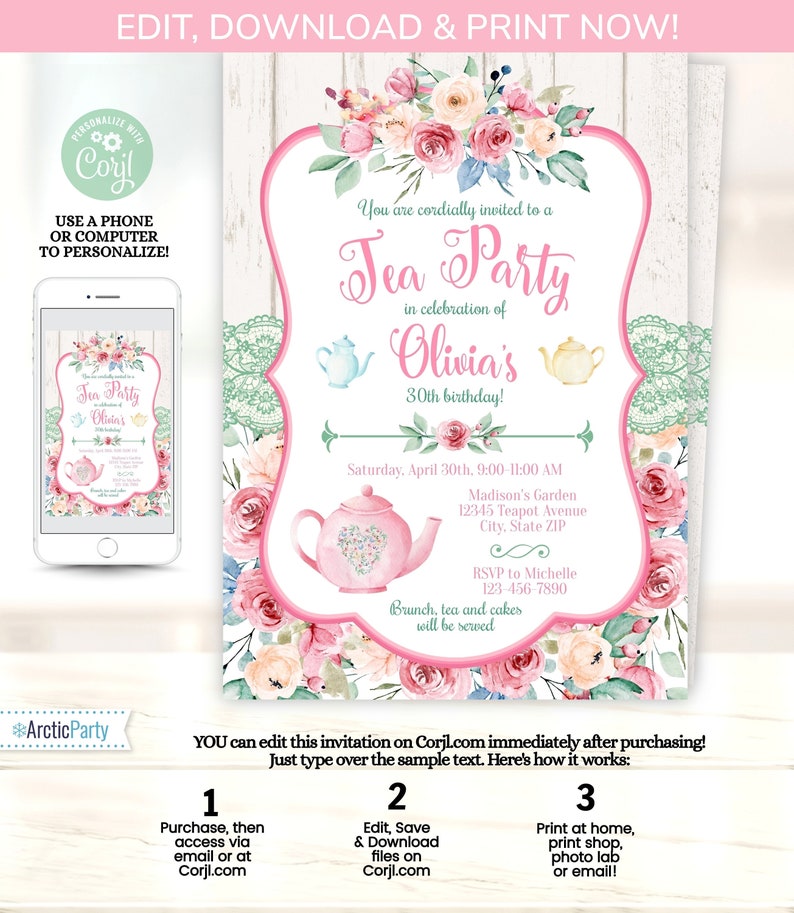 This one is perfect if you need to send out invites right away since you get instant access right after you pay for it. Just follow the directions to use Corjl.com to edit it.
I like that you can even edit a demo before you buy to see what it will look like.
What Games Should You Play at Tea Party Bridal Shower?
You can't have a party without games, right? Well, you could, but it would probably get boring really fast. For tea parties, I like to keep the games pretty simple. Here are a few tea party themed bridal shower games that I love.
A traditional game that allows you to find out how creative you can be and make people laugh at your skits.
3. Mad Hatter Hat Game
If you're throwing a Mad Hatter-themed tea party, this game is a lot of fun, and it lasts throughout the entire party. Before the party, grab a ton of different hats.
Anything goes- party hats, ballcaps, top hats, literally anything at all. You can even ask each guest to bring one if you want.
Then, choose a specific word that people say a lot at a bridal shower. For example, "wedding." The first time someone says it, the bride-to-be has to put on a hat.
Then, each time it's uttered, she adds another, and another, and so on until she has a crazy Mad Hatter stack on her head.Don't forget to check the candy bridal shower game!
5. Tea Scavenger Hunt Game
Before the party, hide a bunch of different types of tea around the venue (I'd stick to those that come in individual wrappers to keep things from getting crazy-messy).
Give everyone a list of the teas that you hid and challenge them to find all of them. Or, skip the list and just see who finds the most overall.
Lemon and tea go together like, well, lemon and tea! This fun modern lemon themed bridal shower game is perfect if you don't have a lot of time for activities.
Also Check:
Favor Ideas for Tea Party Bridal Shower Theme

What makes a great tea party favor? It should be something inexpensive but cute and stylish. Need some ideas? Here are a few of my favorites bridal shower party favors!
A sampling of different teas is a great inexpensive favor, and this Stash sampler set makes it easy. You get 52 individually wrapped bags in a bunch of different flavors.
Grab a few sets (or even just one, depending on how many guests you have), divide them evenly, and pop them into a cute tea mug for a simple favor.
Everyone needs hand sanitizer, and these cute burgundy blush minis perfectly fit a garden tea party theme.
These cups and saucers are made of fine white porcelain and feature the "Swish" design. Fill them with candies or little tea bags (they don't come with the contents that you see in the picture).
How cute are these little jars of honey? They go perfect with your tea favors and they're made in the USA. Have them personalized with the wedding details.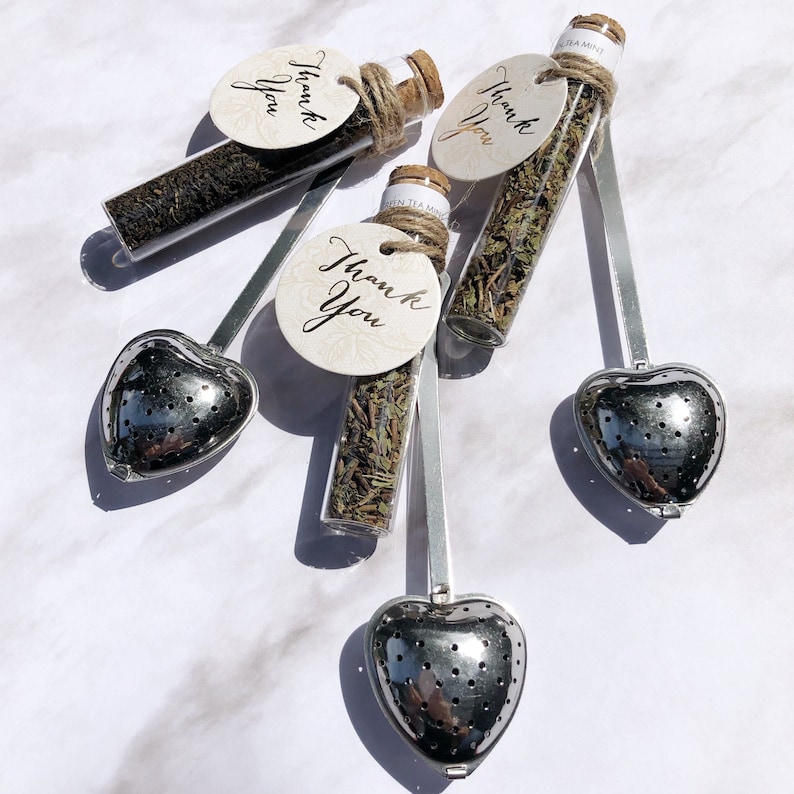 These cute handmade favors come with a tea diffuser and a small sample of one of 9 flavors (you choose) of loose tea.
They're a bit pricier than other favors but totally worth it. They're perfect if you just want to give one favor.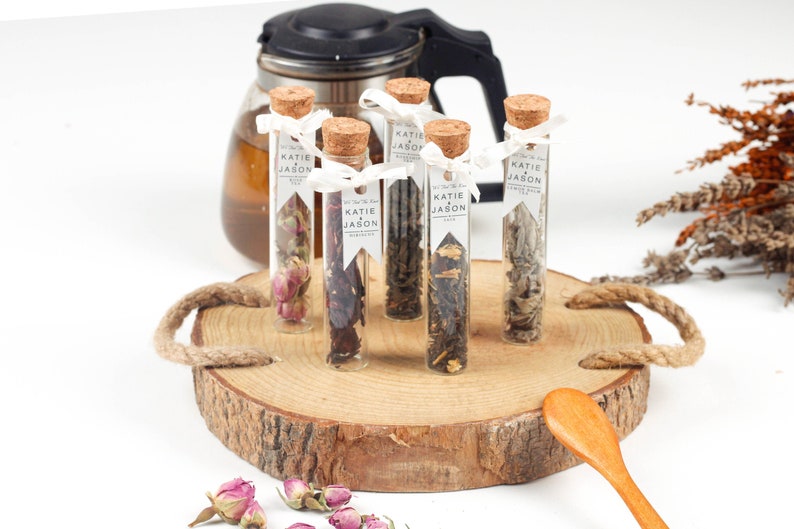 If you love the idea above but don't really have the budget for it, these are an awesome alternative. They're just about a buck each and you can choose from 11 flavors.
Last, but not least, package everything up in these adorable teapot favor boxes.
How to Choose the Best Decoration for a Tea Party Bridal Shower?
For tea party bridal shower decoration, you need to make sure that the venue looks beautiful.
You can choose a bright color or pastel color for the party's theme so that the room will look bright and cheerful. Here are some that I love!
If you don't want to spend a lot of time and money decorating, this beautiful little kit has pretty much everything you need to create a pretty atmosphere.
2. Talking Tables Vintage Tea Party Supplies
Okay, so these are a bit more expensive than what I'd usually spend on paper plates, but aren't they just adorable?
You only get enough for 12 people, so if you're throwing a bigger shower, you could get inexpensive plates in matching colors to stretch them out more.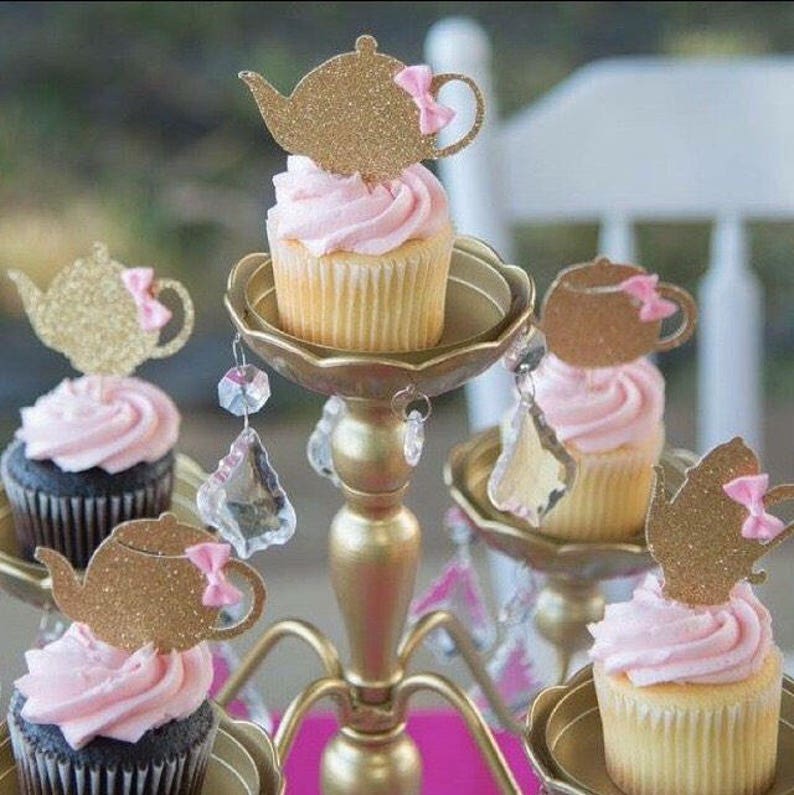 A simple and inexpensive idea like this goes a long way to pulling together your tea party theme. They come in four styles and about a dozen colors.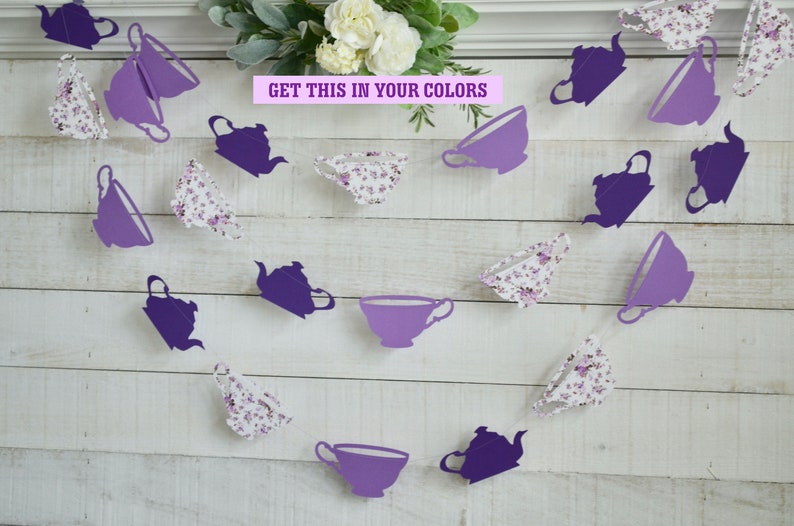 Grab this cute banner in your wedding colors for a simple decoration. Just get in touch with the seller to let them know what colors you want.
I know this doesn't really scream "tea party decoration," but it will once you put it all together with your finger foods, cupcakes, and other treats!
FAQs
Conclusion
 A tea-themed bridal shower is an affordable, low-key celebration that's just loaded with class. After all, as they say, Happiness is a Cup of Tea! I hope you enjoyed these ideas!
References
1. Southern Living. Easy & Elegant Tea Sandwiches [Internet]. Southern Living. Southern Living; 2014 [cited 2021 Dec 10]. Available from: https://www.southernliving.com/food/entertaining/tea-sandwiches
2. Good Food team. Canapé recipes [Internet]. Bbcgoodfood.com. BBC Good Food; 2013 [cited 2021 Dec 10]. Available from: https://www.bbcgoodfood.com/recipes/collection/canape-recipes
3. High Tea, Afternoon Tea, Elevenses: English Tea Times For Dummies [Internet]. NPR.org. 2015 [cited 2021 Dec 10]. Available from: https://www.npr.org/sections/thesalt/2015/06/30/418660351/high-tea-afternoon-tea-elevenses-english-tea-times-for-dummies
What do you think of a tea party theme bridal shower? Isn't it beautiful? Let us know in the comments below!