Are you looking for the most beautiful sustainable wedding rings? The ones we listed are so gorgeous you won't be able to stop looking. Plus, they're all eco-friendly and promote environmental sustainability. Read now and find out how to make your best day even better.
Let's start with a quick look at our top picks, then keep reading for all the glorious details.
READ MORE: 5 Best Sustainable Wedding Gifts
Sustainable Wedding Rings Top Picks at a Glance
If you see the value in these products and choose to purchase via my referral links, I may earn a small commission at no extra cost to you.
Check the table below for a side-by-side comparison of our favorites!
Top Benefit
Made with certified conflict-free diamonds
Best Sustainable Wedding Rings [Buying Guide]
If you're all about living a sustainable life, you're probably getting ready to have a sustainable wedding too. Doing zero-waste wedding favors, making an eco-registry, minimizing food waste is just a part of the plan.
Don't forget that you should also find the most beautiful ethical wedding bands to choose from. If you have an eco-friendly engagement ring, the two will be a perfect match.
The first thing that comes to mind when you think of wedding rings is diamonds. But are they environmentally friendly, and can a diamond ring be sustainable? If you find the right brand, yes.
Canadian diamonds are some of the most popular in the world. Canada, together with Russia, the Democratic Republic of Congo, Botswana, are the biggest producers of these sparkly goodies. In 2019 around 142 million carats of diamonds were produced by mining globally. To prevent more negative environmental impact, we listed the best sustainable wedding rings.
READ MORE: Engagement Ring vs Wedding Ring
Noemie is a brand that uses conflict-free diamonds and offers you to get the best for your money. They are focused on conscious materials and offer a lifetime warranty. Your diamond Noemie rings will arrive with an IGI certification so that you know the quality you're getting.
Features 
This stunner from Noemie is made with 18 K gold and lab-created 2 karat diamonds. The diamonds are all over the band and feature a round shape. The thickness is 2.9 mm, and the width is 3.3 mm.
| Benefits | Drawbacks |
| --- | --- |
| Made with lab-created diamonds | It's expensive |
| It's stunning to look at | Costs extra if you want a natural diamond |
| The thick wedding band makes it great for all hands | |
How it Compares to Others and Why
This is the only yellow gold ring we included, and it's the most expensive and exclusive design.
Expert Tips
If you're ever willing to pay a small fortune for ethical rings, you should turn to Noemie and find this wedding band. It's one of the most beautiful rings that will look stunning on all hands. The 2 karat diamonds shine brighter than the sun and will make you feel very special.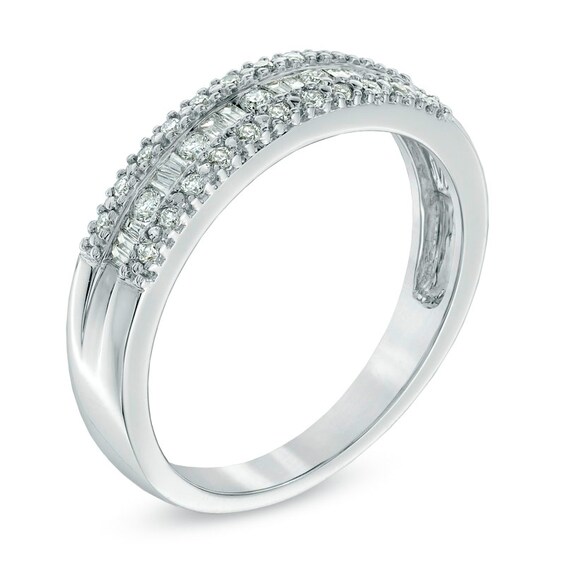 Zales is an amazing company that specializes in environmentally friendly engagement rings. They strictly use conflict-free diamonds and incorporate them in the most beautiful engagement and wedding bands.
Features 
The one we chose is made with 10K white gold and 1/4 ct. diamonds. There are three rows of diamonds; in the center, you'll notice the more prominent, baguette-cut diamonds with a few round ones in between. The other two rows only include round diamonds.
| Benefits | Drawbacks |
| --- | --- |
| Made with certified conflict-free diamonds | It can look bulky on thin fingers |
| Stunning appearance thanks to the white gold | Not lab-grown diamonds |
| Unique three-row diamond band | |
How it compares to others and why
The Zales wedding band is thick and more eye-catching than the others we reviewed. That makes it great for everyone who wants to stand out.
Expert tips
This stunning ring by Zales is a great sustainable option for ladies looking for a thicker band. It's not a traditional simple ring, but it will be a perfect fit for women with longer and thicker fingers.
Etsy is always a great place to find unique eco-friendly and ethical wedding rings. If you're not interested in lab-created diamonds for a sustainable alternative, this is the ring we recommend.
Features 
This minimalist but fabulous ring has a unique surface that is polished to a high shine. The brand makes them according to your size, and each ring is 2 mm wide and 2 mm thick. It's also available in a matte finish. The material used is solid eco-friendly, 100% recycled 950 platinum.
| Benefits | Drawbacks |
| --- | --- |
| Made of ethically sourced platinum | It can be too minimalist for some |
| It won't go out of style | It's on the more expensive side |
| The ring is handmade, and no two are the same | |
How it Compares to Others and Why
It's the simplest band on the list. It's also the only one made of platinum.
Expert Tips
This is one of the most minimalist eco-friendly wedding rings on our list, but that doesn't make it less beautiful. We recommend it to everyone who wants a long-term investment and a piece of jewelry they'll wear forever. Since the material is recycled, the seller doesn't support mining practices.
Reeds is another brand in the diamond industry that cares about its impact on the environment. Although their diamonds are mined in Canada, the brand takes care of their workers and sites very well and does everything they can also to protect nearby communities.
Features 
The stunning ring features larger round treated black diamonds that are separated with smaller round white diamonds. The width of the band is 2.75 mm, while the diamonds are I3 or better in clarity and ½ ctw or better in color. This band is made of 10 K white gold and is highly polished.  
| Benefits | Drawbacks |
| --- | --- |
| The design is quite unique and will help you stand out | It won't look good with a large engagement ring |
| You can track your parcel right after you order it and find out where your diamond originated | The black diamonds aren't for everyone |
| Will look fabulous stacked with simple rings | |
How it compares to others and why
The Reeds wedding band is the one that features black diamonds, and that's what makes it different.
Expert tips
Black diamonds are so beautiful. This is one of the ethical diamond rings we fell in love with instantly, so we had to share it. If you have a simple engagement ring, this band will be the coolest upgrade. But, if you have a bulky engagement ring, you should opt for a simpler wedding band.
Check other wedding ring sets!
Gabriel & Co uses only ethically earth-mined diamonds when creating their rings. In addition, the brand sources only from conflict-free areas and invests in high-quality materials. They also recycle all the materials from their packaging.
Features 
The Eternity Band is an excellent balance between minimalism and extravagance. The band is made of 14 K gold, while the round cut diamonds are 0.24 carats. This ring's width is 3.10 mm, and its thickness is 2.28 mm.
| Benefits | Drawbacks |
| --- | --- |
| One year covered damages | It's on the costlier side |
| A unique design that works for everyone | May be too minimalist for some tastes |
| It uses ethically sourced conflict-free diamonds | |
How it compares to others and why
If you're tired of looking at the same rings everywhere, this one will be a breath of fresh air. It's fun, fairly minimalist, but it's not boring at all. It's a little more expensive compared to most of the products we included in the review.
Expert tips
If you don't want a traditional wedding band, we recommend getting this one. It looks good on everyone, and it's a true eye-catcher.
FAQs 
What makes a wedding ring sustainable?
When you're looking for eco-friendly engagement rings, you should find a reputable brand with certifications that uses sustainable materials. Their materials should be sustainably sourced, and the products made by people who are paid properly and work in excellent conditions.
Is it possible to buy a sustainable engagement ring?
Yes, it is. All the options that we listed are sustainable and look stunning. There is no need to invest in a brand that increases the carbon footprint, doesn't care about the environmental impact of their work, and uses blood diamonds.
Where can I buy ethically sourced engagement rings?
The sellers that we listed are great places to start. Noemie, Zales, Gabriel, and Reeds are all trustworthy companies. If you want a more unique selection, second-hand pieces, or a custom piece, you should turn to Etsy.
What can I use instead of a wedding ring?
Although having an ethical engagement ring and wedding ring sounds great, some women don't want to wear a ring at all. Other ideas include getting a tattoo, other types of jewelry, plant trees, get matching jewelry, buy each other a star, etc.
Conclusion
Finding fabulous sustainable wedding rings and ethically sourced engagement rings can be challenging. Thankfully, we put together this list of some of the most beautiful choices you can find on the market. We made sure to include affordable options, a luxury option, and everything in between.
Are you interested in simple designs, or are you more over the top? Whatever you're looking for, we already added it to our reviews. You'll find stunning lab-grown diamonds, black diamonds, thick wedding bands, and simple minimalist styles.
Now it's your turn to go over the reviews again and start shopping. While you're at it, don't forget to also read tips for low-waste weddings and make everything as sustainable as possible.
Final Recommendation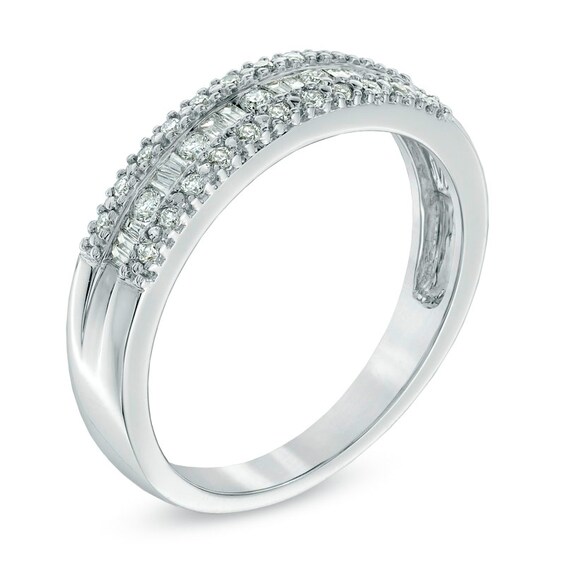 References
11 Ethical & Conflict-Free Engagement Rings For The Socially Conscious Couple. 2021a. "The Good Trade." The Good Trade. February 19, 2021. https://www.thegoodtrade.com/features/ethical-and-conflict-free-engagement-rings.
———. 2021b. "The Good Trade." The Good Trade. February 19, 2021. https://www.thegoodtrade.com/features/ethical-and-conflict-free-engagement-rings.
"Topic: Diamond Industry." 2021. Statista. Statista. 2021. https://www.statista.com/topics/1704/diamond-industry/.
What are your favorite eco-friendly engagement rings? Please share your pick below!