Choosing a great sister of the bride gift is no joke. After all, whether she's also your maid of honor or not, she's been your pillar of strength throughout these hectic days of planning.
If you're struggling to find just the right present to show her how much you appreciate her, keep reading. I found 15 touching, memorable, and just plain fun gifts she'll adore.
Let's start with a quick look at our top picks, then keep reading for all the glorious details.
READ MORE: Traditional Bridal Shower Gifts
Our 5 Favorite Sister of the Bride Gifts at a Glance 
If you see the value in these products and choose to purchase via my referral links, I may earn a small commission at no extra cost to you.
5 Incredible Wedding Gifts For a Bride From Maid Of Honor
Don't have time? Here is a quick comparison of our favorites!
10 Touching Sister of the Bride Gifts to Buy 
If you have exhausted yourself looking up gift ideas for the sister of the bride on the internet, you can relax now! Grab a cup of soothing tea and check out these brilliant options!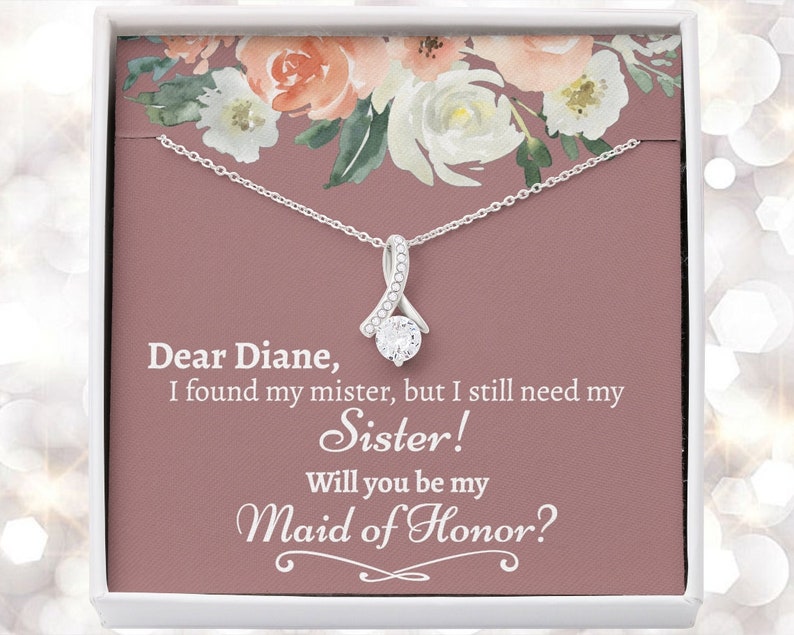 With this simple gift box, you can ask your sister to step up as your maid of honor. Customize the gift set to make sure your sister gets even more excited for the wedding. Add perfumes, jewelry, and meaningful messages to let her know her help is very much valued for the wedding.
Melt her heart with this ALLURING BEAUTY necklace gift! The petite ribbon shaped pendant is finished with 14K white gold over stainless steel, and is embellished with dainty clear crystals surrounded by a sparkling 7mm round cut Cubic Zirconia.
This is a classic gift to show your love and appreciation for your sister. Just like she has protected you throughout your life, help her protect her favorite pieces of jewelry.
Since the carved details on the hardwood make it seem like an heirloom, maybe your sister can pass it down to future family as well!
erddcbb Jewelry Box Redwood Mini Suitcase Double Layer with Lock and Mirror Antique Hand Jewellery Box Storage Trinket Box
Vintage old copper lock, engraving, delicate pattern
The four-sided wrap-around copper piece is also meticulously carved to reveal the stunning truth and elegance.
With handles on both sides for convenient and safe placement
The bottom four sides are equipped with foot pads, anti-scratch and scratch-proof, beautifully decorated
After purchase: After purchase, if the goods are damaged, delivered damaged, or have any other quality problems - just tell us that we will exchange or refund your money!
Related: Sentimental Father of the Bride Gift Ideas
As you get hitched, your sister may feel like she has lost her partner-in-crime. Let her know that you cherish all the time you spent together with a keepsake box filled with trinkets.
Personalize it with photos from past summer camps, sleepovers, and slumber parties. Be sure to leave enough space to fill in as you spend more quality time as sisters. 
Maybe you have exhausted yourself looking for the perfect sister wedding gift. Worry not, this sterling silver bracelet is the perfect way to start a beautiful relationship with your sister-in-law.
Gift them with this iconic snake chain and a promise to add charms to it together. You will find this sister-in-law of the bride gift idea works better than any conventional one.
Sale
PANDORA Jewelry Smooth Moments Snake Chain Charm Sterling Silver Bracelet, 7.5"
This romantic snake chain bracelet is perfect for your Pandora Moments charms
Hand-finished & stylish, stack it with charms to tell your story or wear it solo
Exquisitely crafted in sustainable & durable materials
Measure your wrist, add 0.8" and use the size chart in our images for sizing
Give a voice to your personality and experiences through unique, hand-crafted jewelry
This is a fitting wedding gift idea if you have a lot of siblings to please. With comfy themed robes that can be used for the bridal shower or the bachelorette party, your entire team is going to have something to remember the event by. 
Wedding robes set of 5 monogrammed robes silver grey | Etsy
Experience the smooth, luxurious comfort of stretchy satin which creates the soft drape, silky hand and natural sheen of our robe. No detail was overlooked on our premium quality classic above the knee robe, with romantic collar, feminine flattering sweep that lend this robe a glamorous appearance. The inside modesty tie, generous overlap in the center and self-fabric detached outer belt keep the robe closed. Hidden pockets for girls to carry their favorite and personal items. Relax in style and get ready for your special day!!
Check Price & Reviews
Experience the smooth, luxurious comfort of stretchy satin which creates the soft, silky drape and natural sheen of our robe. No detail was overlooked on our premium quality classic above-the-knee robe: a romantic collar, and feminine, flattering sweep lend this robe a glamorous appearance. The inside modesty tie, generous overlap in the center, and self-fabric detached outer belt keep the robe closed. It features hidden pockets for girls to carry their favorite and personal items. Relax in style and get ready for your special day!
Even though personalized décor may sound boring, it can mean so much for your sister if done right. With this exquisite My Sister My Friend figurine, your sister will have a souvenir of the relationship you share.  
Willow Tree My Sister, My Friend, Sculpted Hand-Painted Figure
Sentiment: "Walk with me. And along the way, we'll share… everything" written on Enclosure Card
8.5"h hand-painted resin figure of two women, one in cream dress, one in blue/gray dress, standing next to each other, with arms and hands connected.
A gift to celebrate supportive friendships among women—best friends, sisters, co-workers, neighbors. Packaged in fitted box ready for gift-giving.
Artist Susan Lordi hand carves the original of each Willow Tree piece from her studio in Kansas City, MO. This piece is cast from Susan's original carving and painted by hand.
Ready to display on a shelf, table or mantel. To clean, dust with soft brush or cloth.
Planning a wedding is big business. As your sister helps you figure things out, gift her with a monogrammed or canvas bag to carry around all the essentials. This can come in handy, especially if you are having a destination wedding.
Check: Gifts for Readers at Weddings
Think about what you really want to tell your sister before the wedding day and write it in gold. That's right, you can even make it into a glossy gold foil signature exclusively for the sister of the bride gift necklace. This is the perfect gift for your sister!
With customization possible on the gold-tone options and chain length, you can find the perfect piece of jewelry in even 14k gold or 24k gold.  
To help your sister cope with having to share you with a whole new family, a care package is a perfect gift you can give. Filled with quality handmade products that are completely organic, you can take care of your sister even when you are not present.
If there is a tradition where sisters of the groom gift the bride, this is wedding gift idea is spot on. 
This would be the perfect gift of indulgence for yourself, your mom, grandmother, boss, sister, or best friend, and just right for a relaxing weekend. All Hummingbird Herb & Soap Co. products are made with non-toxic, organic herbs & flowers. There are no artificial ingredients, no synthetic fragrances, no preservatives, and no petroleum.
Everything becomes chaotic while planning a wedding and securing beautiful gifts for everyone on the family tree might even become impossible. Here is a solution, make your sister/maid of honor gift a makeup hamper.
Not only will the bridal party look stunning, but they will also love you for the makeup. Win-win.   
Check: Amazing Parents Gifts for Wedding
Handmade Sister of the Bride Gift Ideas
If purchasing a gift is not truly your style, and you need something more to translate your feelings for your sister, it's time to get your hands dirty. Roll up your sleeves and craft the perfect gift you failed to find in stores.
Word of advice: DIY wedding gifts often take longer to prepare and you may not find time for it amidst the wedding planning. Start early to get the best results and prevent last-minute confusion. Your sister will appreciate your gesture and understand the affection you hold for her.
P.S. Handmade gifts mean you can make the most lovely gifts ever. Bring out the childhood photos and set out to truly embarrass your sister.
#1 Digital Scrapbook of Favorite Photos 
When it comes to personalized gifts, scrapbooks come in the top-tier. Helping you avoid the mess of craft glue and paper cuts, create a digital scrapbook that contains all the moments you want to look back and smile at. This is pretty simple to execute and can turn on the waterworks quickly.   
#2 Merino Wool Heart Pillows  
Even though this is not a conventional sister of the bride gift, you can pull this off if you know the basics of crocheting. Your sister will miss cuddling with you, and this pillow will be one of her favorite gifts ever. This way, she can have a piece of you to display in her space.
#3 Handmade Ornaments 
Remember the Christmases past where you made salt dough ornaments together? Walk down memory lane again and create some ornaments, thoughtful gifts, or jewelry. This is a perfect way to blend both your styles and spend some time together!
#4 Quality Handmade Journal 
There are few people who won't get excited by journals. If your sister has a hobby of journaling, crafting a journal for her is a gorgeous gift.
Pro tip: The process of making a journal by hand can be calming during the stressful times before the wedding day.
#5 The Ultimate Sisters Mixtape  
When in doubt about cool gifts, go old school. Mixtapes are a love language and can be an amazing sister of the bride's gift. After curating the perfect playlist for your sister, throw in a premium snack hamper, and you will have a happy sister and maid of honor on hand.
Conclusion 
Things can get hectic for the bride's sister when she is the maid of honor, as well. As she helps you plan your big day, you need to show your love and support in the best way possible. From throwing you a bridal shower to fixing your veil on the wedding day, the maid of honor takes no breaks.Thank her for all that effort with the best sister of the bride gift ideas you can find. Even if you don't find something grand or traditional, she will love it all the more because it is from you.
Final Recommendation
Gold Handwritten Pendant is our top recommendation for the maid of honor gift. Not only is it classy, but it can also be a symbol of your relationship cast in gold. With proper customization, it might even become your sister's go-to accessory. Besides, who wouldn't like some fashionable jewelry right before a wedding? 
What is your favorite sister of the bride gift? Please share your pick with us below!