Finding wedding gifts that travel well is a challenge, especially if you're flying with nothing more than a carry-on bag.
The simplest solution is, of course, to shop from the registry and send your gift directly to the couple.
Simple is boring, though, and sometimes even though you sent the main present ahead, you still want to bring something special for the gift table.
If that's the case, read on for 20 beautiful LGBT gifts that won't get destroyed in transit!
How to choose LGBT Wedding Gifts That Travel Well
Before we jump into our gift guide, let me just quickly go over a few tips for choosing gifts that travel well and choosing LGBT wedding gifts in general.
What types of gifts travel well?
Since you're here to find out the answer to that question, let's begin here.
First, it really depends on what you mean by "travel." You have a lot more leeway when traveling by car than you do by plane and can bring along some larger items.
Of course, you still don't want anything that's prone to breaking! Who wants to spend a 10-hour road trip worrying about shifting luggage squishing fine china?
When flying, though, you'll want to keep it light, small and virtually indestructible. Baggage handlers aren't really known for their soft touch with your stuff, after all.
That's not a slam against them or anything, they handle thousands of pieces a day and nothing would get where it needs to go if they used kid gloves with each piece.
While we'll get into specifics below, a few ideas for things that travel well in a carry-on include:
Money & gift cards -they take up almost no space and you can keep them in your purse or bag with you on the plane)
Linens- think towels and pillow cases for carry-ons. Larger items like comforters also travel well but take up a lot more space.
Books- just mind the weight. If you're trying to keep your bag under 25 lbs, you don't want a 10-pound coffee table book.
Small travel gifts for their honeymoon, like passport covers, guide books, travel journals, and such.
Small yet sturdy ornaments- think pewter, not glass.
If you're checking a bag and have a little more room/weight limit, some ideas include:
Sturdy kitchen wares, like stainless steel or pewter items
A small framed print (wrap it well and sandwich it between your clothing)
Robes, t-shirts, aprons and other clothing-related items
Very small kitchen appliances- think handheld immersion blender, not KitchenAid blender!
How to choose the right gift for an LGBT wedding
As I've said many times before, there's no rule that says LGBT wedding gifts have to say "his and his" or "hers and hers," or be covered in rainbows.
So, you'll notice that while we've included some special items that celebrate same-sex marriages, most of the ideas are gender- and orientation-neutral.
Choose gifts based on the couple's unique style & personality, not on their gender preference.
Looking for some more specific ideas? I've got you covered! This is my favorite part- picking out gifts for others!
Last note: this post contains affiliate links. If you make a purchase through these links, we earn a small commission at no extra charge to you.
Thoughtful Wedding Gifts That Travel Well
1. Fuji Instant Camera Gift Set
Give them a gift that helps them preserve their honeymoon memories the old-fashioned way- with actual printed photos!
This gift set has everything they'll need, including the camera, to create a sweet travel journal showcases the best moments of their trip.
The whole kit will travel very well in your car or luggage, too.
Fujifilm Instax Mini 90 Neo Classic Instant Film Camera (Brown) with 40 Instant Film + MiniMate Accessory Bundle. PU Leather Case, Frames, Retro Photo Album, Selfie Lens, Colored Filters and More
Fujifilm Instax Mini 90 Neo Classic Instant Film Camera (Brown) with 40 Instant Film.The Fujifilm instax mini 90 offers advanced features, such as bulb and double exposures, that are attractions of traditional analog cameras and offer an enhanced capability to capture light creatively
The instax mini 90 is also equipped with new functions and features like macro mode and high performance flash, making this an instant camera for every photographer developed under the concep
Make the most of your instax Mini 90 camera and enjoy the fun MiniMate accessories we've provided in this kit: 4 pcs color close up filter lens (Blue, Green, Red, Orange) for the fuji mini 90 instant camera. Bring images closer with a new hue. + an attachment selfie mirror designed for capturing Selfie photos
A unique Fujifilm fitted case with a removable strap for extra comfort was designed to both hold and protect your camera. Fashionable and practical. Be smart, be safe.
Keep your photos out for viewing, or store them neatly. We're giving you both options. 60 Page Retro Album, Lucite Frame + 5 colored plastic frames
2. Non-stick Bakeware Set
While this one won't fit in your carry-on bag, it will hold up just fine in checked luggage.
It also travels well on a road trip or by train!
Bakeware is one of those things that you can almost never have too much of, something I realize every time I bake Christmas cookies!
Circulon 46847 Total Nonstick Bakeware Set with Nonstick Bread Pan, Cookie Sheet, Baking Pan, Baking Sheet, Cake Pan and Muffin/Cupcake Pan - 10 Piece, Gray
Bakeware set features heavy-gauge steel construction with warp-resistant, rolled-rim design for beautiful, long-lasting baking performance
Circular) bakeware features a premium-nonstick-coated surface of raised circles for exceptional nonstick performance
The long-lasting nonstick promotes superior food release with easy cleanup; dishwasher safe, with hand washing recommended
Bakeware is oven safe to 450 degrees F, with wide handles to provide generous, confident grip
Dishwasher-safe plastic cover for the rectangular cake pan means baked treats can travel, and the set features a hassle-free lifetime guarantee
3. LGBT Pride Welcome Door Mat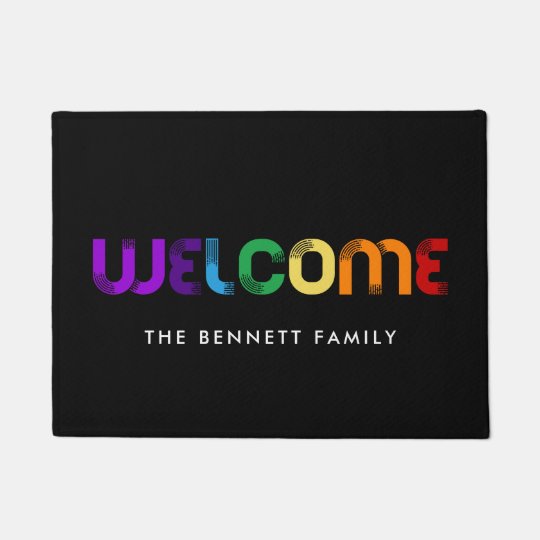 I'm loving the retro-style font on the rainbow "welcome," aren't you?
Door mats are great because you can line the bottom of your luggage with it and it'll be just fine.
Plus, it's a unique gift idea in the sense that most people won't think to buy one!
4. Hers and Hers LGBT Rainbow Shirts
If you're looking for a fun lesbian wedding gift that travels well, this sweet set is perfect for their honeymoon!
I've seen similar shirts on Amazon, but these are the cutest by a long shot.
They are sold separately, so you'll have to grab two, but the price is super reasonable.
5. The Invisibles: Vintage Portraits of Love and Pride
Books celebrating same-sex couples throughout history make inexpensive yet thoughtful LGBT wedding gifts that travel well.
This one is filled with vintage photos throughout 1900 to 1960, a time when LGBTQ couples faced dangerous discrimination and even legal action for loving each other.
6. Hand Engraved Coasters
These beautiful hand engraved coasters only look dainty. They're actually made of thick crystal and come in a gift box perfect for traveling.
Still, you'll want to wrap them up carefully and seat them in the middle of your suitcase.
7. Emergency Kit Clutch
While we certainly hope no mishaps come up on the big day, things happen! Help your favorite couple be prepared with this stylish clutch loaded with emergency supplies.
It includes: safety pins, double sided tape, hair elastics, earring backs, emery board, band-aids, bobby pins.
Heads up, though, since the kit includes safety pins, you may want to put it in your checked bag instead of your carry-on.
While safety pins aren't totally prohibited, TSA has the final say on whether they're allowed on a particular flight.
8. Love is Love Framed Print
You'll want to check this one into your bag and carefully wrap it between some clothing, but it should travel just fine.
The wooden frame is made of super durable wood, and the print is absolutely beautiful without being over-the-top on the rainbows.
You can also buy it unframed if you prefer, then pick up a frame at your destination.
9. Personalized Wine Box
Traveling with wine isn't really practical (you can't bring it in your carry-on and putting it in your checked bag is risky).
However, this beautiful personalized box is totally travel-friendly! Just add a great bottle of vino when you arrive.
10. Personalized Turkish Throw Blanket
These beautiful Turkish throw blankets come in two different base colors and a myriad of thread color options.
Add a single initial for a minimalist look or their entire last name for an extra special touch.
When unfolded, they're 60×50″, just big enough for snuggling under together.
They roll up fairly compact, though, so you could even squeeze them into a carry-on.
11. Personalized Hand Stamped Matching Keychains
A simple yet thoughtful and beautiful gift idea, these personalized matching keychains are hand-stamped with their wedding date.
They're small enough to tuck right into your purse or backpack, too.
12. Custom City Coffee Table Books
Another unique gift that travels well, these custom skyline books are great for couples who grew up in different cities.
13. Personalized Happy Place Throw Pillow
Virtually indestructible? Check! Thoughtful? Check! Totally adorable? Double check!
Personalize this sweet Happy Place pillow with their names and wedding date, then pack it away in your suitcase or carry-on.
14. Custom Comic Book
Okay, so this is probably the most expensive wedding gift on this list, but it absolutely travels well!
It's also insanely unique and fun, especially for a nerdy couple (as a nerd myself, I'm allowed to say that).
15. Personalized Couple Dolls
Another unique gift in the truest sense of the word, these sweet dolls are handmade to look just like your favorite couple.
Just keep in mind that they take about a month to make, so you'll want to order them well ahead of time.
Each set it made in Lisbon, Portugal in the artist's studio. Since they're made to survive worldwide shipping, they should have no problem holding up in your luggage.
16. Personalized LGBT Couple Portrait
If you love the idea of the dolls above but want something a little simpler, this is a super sweet option.
Like the dolls, the print is designed to look like your favorite couple, and you can add their names and a date for extra personalization.
17. Personalized Engraved Gold Bottle Opener
This darling bottle opener takes up virtually no space in your luggage yet still makes a super thoughtful personalized gift.
FYI, some sites say that you can't bring a bottle opener into your carry-on. I checked with the TSA website and they say yes.
As with all things, though, local TSA has final say. Theoretically, they could decide that cotton balls pose a threat, so nothing is 100% approved or disapproved.
Of course, for the most part, TSA sticks to the "allowed" list, so I wouldn't fret about it too much.
18. Handmade Wedding Photo Album
This rustic photo album is made of real wood and leather, so not only will it survive the trip, it'll last a lifetime!
Choose from different options for the cover, the personalization and number of pages.
19. Custom Cutting Board
Cutting boards are literally designed to take a real beating, so it'll definitely survive a trip in your luggage!
Personalize it with the couple's names and wedding date, pack it snuggly in the middle of your suitcase, and you're good to go!
20. Personalized Leather Passport Holders
A gift designed for travels is definitely one that travels well, wouldn't you say?
If you're not crazy about this one like I am, check out other options from Two Starlings.
Remember, you can always just order a present and have it sent ahead if you're worried about finding wedding gifts that travel well.
If you do want to bring something along, though, any of these would work out beautifully.
What are your favorite wedding gifts that travel well? Share below!
Last update on 2020-05-28 / Affiliate links / Images from Amazon Product Advertising API