If you're looking for some super cute ideas for Harry Potter bridal shower games, I'm your girl! I happen to be totally obsessed with all things Wizarding World! It's my favorite book series of all time. With a little creativity, you can absolutely pull off a fun witchy/wizard-themed shower. Let's see how!
CHECK: 100+ Bridal Shower Questions About the Couple
Let's start with a quick look at our top picks, then keep reading for all the glorious details.
In a hurry? Enter your email to receive your FREE EDITABLE PRINTABLES
Harry Potter Bridal Shower Games Top Picks at a Glance
If you see the value in these products and choose to purchase via my referral links, I may earn a small commission at no extra cost to you.
Check the table below for a side-by-side comparison of our favorites!
Best Feature
Includes all of the most popular printables
Super fun for grown-up parties
Comes with an incredible 30 games
9 Best Printable Harry Potter Bridal Shower Games (Guide)
Recently, for the first time, someone asked me about printable Harry Potter bridal shower games, since she knows I'm a HUGE fan (understatement of the year). Honestly, they're a bit tricky to find, since all things Potter are trademarked.
To comply with copyright laws, many Etsy sellers get really creative. Some use general Wizarding World themes, others use the famous font, and so on. Here are my picks that come closest to being actual Harry Potter printable games. They're sure to make any bridal shower magical!
If you want the most bang for your buck, go with a bundle. This one focuses on a wizarding theme and uses the traditional Harry Potter font against the parchment-colored paper. It includes all of the most popular printables, like Bingo, Emoji Pictionary, What's In Your Phone, and more.
After purchasing, you'll receive a digital download. Then you can print out as many copies as you need. For added authenticity, print them out on real parchment paper!
This one comes as close to an actual Harry Potter printable as possible, complete with a beautifully drawn replica of the Sorting Hat. You'll get four games, a card to let guests know where to leave gifts (that's where the Sorting Hat cleverly comes into play), a cute decoration, and instructions for how to play a ring hunting game.
Again, you'll need to print everything out yourself. If you're worried that you'll waste a ton of ink or parchment paper trying to get it right, consider taking them to an actual printer.
Related: 20 Amazing Rustic Wedding Games
While not specifically for a bridal shower, these games are still super fun for grown-up parties. The Sorting Quiz is a great ice-breaker to play with guests, and the Scattegories-style game is perfect for before cake. There are two other games that would make cute additions to the favor bag or activities for guests to do on their own during a lull in the fun.
I strongly recommend taking them to a printer. The "Test Your Knowledge" game is pretty ink-heavy, so you'll actually save money by printing them at Staples or something.
Check More: Fiesta Bridal Shower Games
Going for a whole Harry Potter theme for both the shower and the bachelorette party? You can't go wrong with this bundle, then! It comes with an incredible 30 games, including a few naughtier printables for bachelorette night.
The Harry Potter theme comes from the colors rather than the games themselves. Aside from a "Find the Golden Snitch" game, for the most part, this bundle contains all of the classics.
This bundle is the only one that you can actually edit. After purchasing, you'll get a link to it on Corjl.com, where you can make changes before printing it out. Like the others, the Harry Potter theme comes more from the font and artwork than from the games themselves. It's great for mixed groups where not everyone really likes magical themes.
While there are other printable Harry Potter bridal shower games on Etsy, these are really the best overall in my opinion. However, printables aren't the only way to incorporate your love of all things Wizarding World into your shower.
More Harry Potter Games to Play at Your Shower
If you want to play actual (rather than inspired by) Potter-themed games at your shower, I've got a few ideas in mind for you!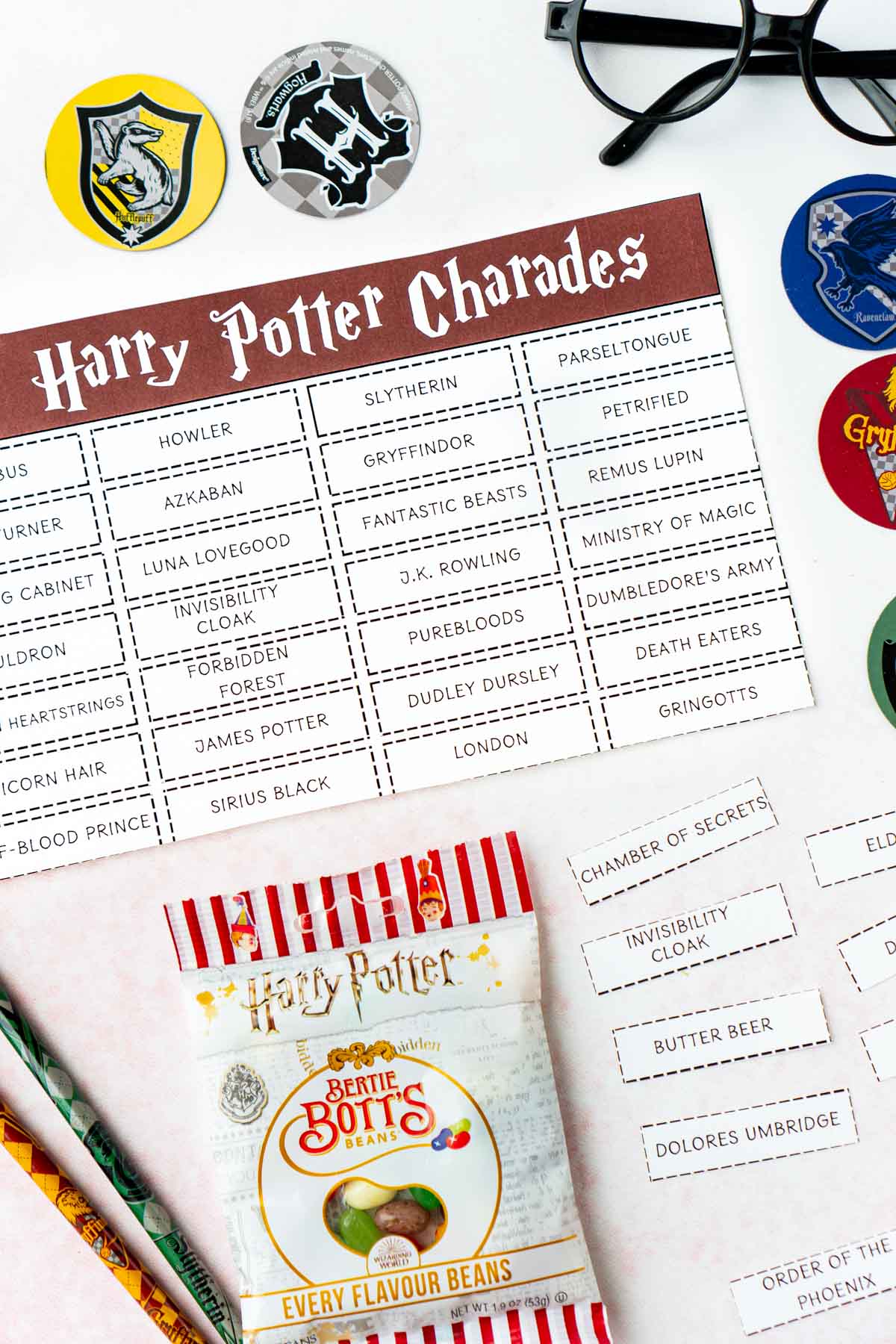 Give everyone's favorite party game a magical spin and make all of the clues come from the Potterverse! It's pretty easy to come up with your own ideas, but if you need a little help I love this free printable from Play Party Plan. It's designed for kids' parties but there's absolutely no reason why you can't use it for your bridal shower.
7. Predict the Couple's Future
This is a fun little idea that requires nothing more than some pen and paper (although you can get creative and use tea leaves, a crystal ball, or other clever divination props). Ask every guest to come up with a prediction for the couple's future and write it down.
Then, seal them up in an envelope or paste them into a cute book. Then, tell the bride to open them on her first, fifth, or even 50th anniversary. Please, though, don't take a page from Trewlaney's book and give "dire" warnings or depressing predictions. Keep it fun and be kind. FYI, also makes a great idea for a guest book, too. 
8. Guess My Patronus
You know that "Who Am I" game where you write names on slips of paper and stick them to your guests' backs as they arrive? Well, this one follows the same concept. Except, instead of names, you'll print out (or draw, depending on your skill) different animals to represent Patronuses (or is that Patroni?)
Guests have to try to figure out their Patronus by asking yes or no questions. If you want to go the extra mile and make this even more Harry Potter-themed, stick with animals that represent the characters. Here, I'll get you started:
Harry: Stag
Hermione: Otter
Ron: Jack Russell Terrier
Ginny: Horse
Arthur Weasley: Weasle
Snape: Doe
Dumbledore: Phoenix
Lupin: Wolf (also Tonks')
McGonagall: Cat
Luna: Hare
Kingsley Shacklebolt: Lynx
Aberfoth Dumbledore: Goat
Cho Chang: Swan
9. Harry Potter Trivia
Last, but not least, like charades, you can never go wrong with a good old-fashioned trivia game. It's easy to put together, too. You just need some note cards and questions with their answers. If you need help pulling it off, grab a book from Amazon, like this one (it's free on Kindle Unlimited).
Coming up with Harry Potter bridal shower games isn't as hard as you'd think if you're willing to step outside the Sorting Hat a bit and get creative.
Throw in a wizard-themed photo booth, a Golden Snitch cake topper, and maybe some Chocolate Frogs, and you've got yourself the perfect Harry Potter-themed bridal shower!
I hope these gave you some great ideas to start with! If you have to pick just one to buy, go with the first bundle. It's #1 on the list for a reason.
What are your favorite Harry Potter bridal shower games? Share below!