Looking for gay-friendly cruises for your honeymoon or anniversary? We've got you! Below, we'll find out how LGBTQ-friendly the major cruise lines are. Then, we'll check out some of our favorite options for gay and lesbian couples. Start with a quick peek at our favorites, then read on for all of the details.
Best Gay-Friendly Cruises To Picks at a Glance
FYI, this post contains affiliate links. We earn a commission if you make a purchase at no extra cost to you.
VACAYA LGBT+ Caribbean Cruise on Celebrity Millennium
Aquafest Cruises for Gay and Lesbian Couples
Check this comparison table for a quick guide. Read the review for further details.
Best Feature
The staff is well-trained and very friendly
Offers a fully customized experience for the LGBT community
Best Feature
The staff is well-trained and very friendly
Best Feature
Offers a fully customized experience for the LGBT community
Best LGBT Friendly Cruise Companies
The LBGTQ community travel industry is currently a booming business, and many cruise companies have been forced to adjust.
As a result, many cruise companies are actively protecting the rights of the gay community.
So, what are the best LBGT friendly cruise companies? Read on to find out.
Is Royal Caribbean LGBT Friendly?
The Royal Caribbean is one of the best cruising companies in the world, so it's natural to want to know whether it's gay-friendly.
And yes, according to Steve, the CEO of Gay Travel, the Royal Caribbean not only has impressive services, but they're very accommodating to gay travelers.
This is a big deal because this is the first cruise that's gay-friendly approved by GayTravel.com. The latter is a trusted source for travel information for the gay community.
Grant Van Ulbrich, Director, Diversity & Inclusion, Royal Caribbean, also mentioned that they've put a lot of effort into ensuring the LGBT community feels safe in their cruises.
One thing they've done is running an education program for their international staff members. The program teaches on diversity and inclusion of the gay community and how to ensure they feel at home in their cruises.
Gay travelers who have used the cruising company say they felt a sense of belonging the moment they step on the cruise.
Is Cunard LGBT Friendly?
Most people use Cunard company when other lesbian cruises aren't available, and they're shocked by how much it's underestimated.
Cunard has always been a human rights advocate, and that includes the rights of the LGBT Community.
Every once in a while, the cruise company organizes LBGT meetups and advertises them through its daily onboard newspaper.
JR Pratts and his husband says that they were impressed by the experience they had with Cunard. He explained that they saw the LBGT social hour advertisement, and decided to attend. They thought it was a one-time thing, but the meetings kept happening every 5 pm.
The couple got to hang out with other members of the LGBT community, which made their vacation more colorful. JR Pratts also mentions that even when they were not in the meetings, they didn't face any discrimination. You can check out their story; he shares his story in detail, including the food they ate.
Is Carnival Cruise LGBT Friendly?
This is another cruise company that comes to mind when people are looking to have amazing at-sea experiences.
Holidays in the carnival cruises are so good that you almost forget where you are. And to answer your question of whether it's LGBT-friendly, it is, without a doubt.
Here, you'll find happy gay couples getting married in official ceremonies and holding other symbolic LGBT events.
There are also gay and lesbians meet-ups in the cruise, popularly known as Friends of Dorothy meetups.
Carnival cruise has been recognized by the Corporate Equality Index (CEI) for five years. This is because of their LGBTQ equality policies as observed on their staff diversity and their strict discrimination policies against the LGBT community.
The cruise company has also been recognized by the Human Rights Campaign (HRC), the biggest LGBT civil rights organization in the US.
Jerry Montgomery, chief human resources officer for Carnival Corporation, mentioned that they value diversity and inclusion of all cultures in their company. He explained that it's through diversity that they've been able to differentiate themselves from other cruises.
Is Princess Cruises LGBT Friendly?
Princess cruises is another popular cruise line, and it's famous almost like the Royal Caribbean cruise. Princess has friendly staff, and their signature Italian restaurant makes them even more impressive. This explains how Princess has managed to win the Best Cruise Line awards four years in a row.
Princess cruise may not have as many LGBT travelers as the first two suggestions, but they have many repeat gay customers. This means they're doing something right.
Like other gay-friendly cruise lines, Princess also organizes and promotes LGBTQ meetups in their daily newspapers. They also hold other LBGT events, which has put them ahead of other cruises.
One of the best things about the Princess cruise is the ability to choose. You can either go for a new and bigger cruise with more people and entertainment. Or go for a small intimate vessel. Some LGBT travelers choose the latter and cruise with their tribe only, which gives them a sense of belonging.
4 Best LGBT Cruises (Review)
Here are the cruises that should be on top of your list for your next vacation.
If you're contemplating about getting out of the closet, or you're just not ready yet, but you'd love to be around your tribe, this is the cruise for you.
The community here is very friendly, and they believe, 'love is love.' Vacay is the first cruise to expand and address the whole LGBT spectrum. They are open and accepting of ALL couples, including asexual, pansexual, polyamorous couples and kinky couples. This is one place you can be yourself in the world with no judgment.
And when it comes to entertainment, Vacaya outdoes itself. People who have been on the cruise say that entertainment is the hidden VACAYA secret because it can't be described. It can only be experienced.
VACAYA also supports all kinds of parties, including same-sex marriages, honeymoon, and anniversary parties.
The hosts are very friendly and responsive, and you get help whenever you need it.
I'm not exaggerating, but VACAYA is like a little heaven for the LGBTQ community from the reviews I've read.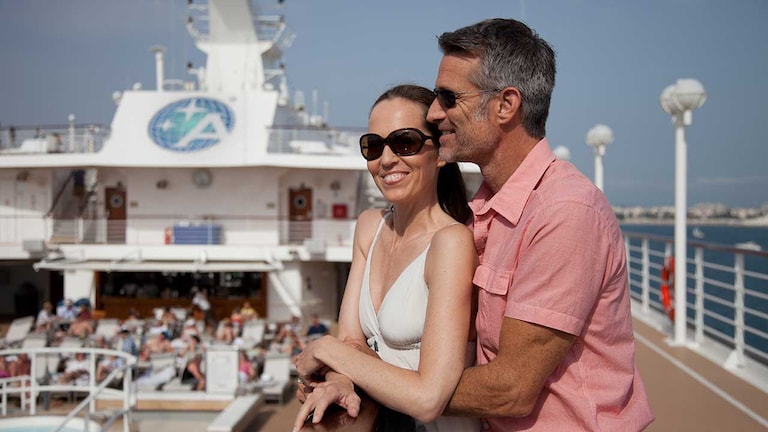 This is another cruise that offers an inclusive experience for LGBT couples and singles.
Azamara cruises won Best Onboard LGBTQ Gatherings and Best Small-Ship Cruise Line for LGBTQ Passengers.
The staff is well-trained, and they're genuinely comfortable around gay couples. When they tell you, 'welcome on board,' you can feel they mean it.
Dake & Mark used the cruise, and Dale wrote an extensive review of their experience. He mentions that the staff was so friendly, they even made an effort to know the names and taste of their guests. The bar attender nicknamed his boyfriend Mr. Phoenix and poured him his favorite cocktail every time he hit the bar (even without asking).
Azamara also holds several gay parties and meetups, but the community is generally friendly. The best part is that they schedule these meetings in good hours, so they don't conflict with other activities. The food is also fresh, tasty, and of high quality; they use fresh ingredients, and you can see them preparing it.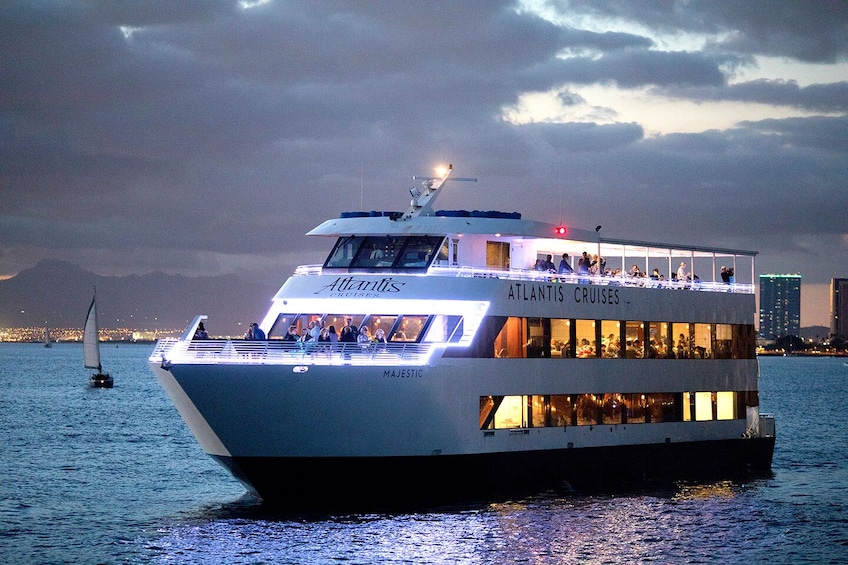 This is the most popular gay cruise company, and it has been since it was founded in 1991.
The Atlantis offers a fully customized experience for the LGBT community, and it's among the best gay cruises in the world. They go all out in throwing parties; they ensure they have musicians, comedians, and drag queen performers. The cruise ensures they get the best of the LGBT community entertainers.
When it comes to hosting gay events, they throw unapologetic parties that allow you to bond and make friends.
Besides being one of the best gay-friendly cruises, their other services are top-notch. Their rooms are modern, with beautiful balconies to unwind. They have a 24-7 room service, which is very convenient.
Atlantis cruises also offer a chance for you to exercise your hobbies and learn new things. They organize art classes, wine tasting events, and many sports to learn for gym bunnies.
I really can't sum up Atlantis's experience on one blog post, but you can read more on Queer in the world.
Aquafest has been offering travel services for almost 20 years now. Therefore, you can be sure that they know their stuff in terms of food, accommodation, and entertainment.
Aquafest is an excellent choice for gay couples who are cruising for the first time or those on a tight budget. The cruise offers big discounts to lesbian and gay couples.
Like other cruises we've reviewed, they host amazing gay events and parties. They also have great drag queens, comedians, and all sorts of entertainers who connect well with the audience.
If you love partying all night, you can enjoy the night parties that go all up to 5 am. And for those who love their sleep, there is nothing to worry about – the night parties are held in one room to ensure they don't inconvenience you.
The staff is respectful, friendly, and very responsive. The cruise has done a great job to ensure the LGBT community feels comfortable in their cruises.
Also check: How to Choose an LGBT Cruise for Your Honeymoon
Final Thoughts
After days of waking up, going to work, dealing with traffic, and repeating the same the next day, you run out of energy. Once you start feeling this way, it's time to take a break and go for a vacation.
One of the most popular and cheap vacations for gay couples is cruising. But you don't want to go on just any other cruise. You want to ensure you use LGBTQ-friendly cruise lines. This will allow you to relax and take a break from all the daily negativity.
I hope my gay-friendly cruises suggestions were helpful, and you got an idea of what gay cruise lines you'd love to use.
Which one is your favorite best gay-friendly cruise company? Share with us!