Are you looking for fun and unique couple wedding shower games? Well, you've come to the perfect place. While games aren't a mandatory part of your event, they can really help bring your bridal shower to life and they are a ton of fun. Check out these easy and affordable ideas below that are bound to keep your guests entertained!
Couple Wedding Shower Games Top Pick at a Glance
If you see the value in these products and choose to purchase via my referral links, I may earn a small commission at no extra cost to you.
Check the table below for a side-by-side comparison of our favorites!
Top Benefit
Keeps your guests entertained!
1. Wedding Shoe Game
We're starting our list with a classic, evergreen co-ed wedding shower game that is simple and enjoyable. To set up the game, clear an area on the stage and have the couple sit on chairs facing each other. Then, have them swap one of their shoes.
So the bride will have one of her shoes and one of the shoes of the groom. Similarly, the groom will have one of his shoes and one of the shoes of the bride. You then need to pick a host to moderate the game. Once that's done, the host asks the couple a series of questions.
The bride and groom have to answer by raising their shoe or their partner's shoe depending on who they think the question best describes. Here's a list of couples' shoe game questions you can use.
Who is the loudest?
Which one likes to eat junk food?
Who made the first move?
Which is the better dancer?
Who takes longer to get ready?
Which is better at driving?
Who said I love you first?
FYI, you can also play this at same-sex couple's showers with our LGBTQ show shower game questions.
This is one of the best couple wedding shower games that let the guests break the ice and mingle with each other. It involves a series of questions about the groom that the bride must answer.
Have each of your guests guess how many the bride will be able to answer correctly. Whoever guesses the most correctly is the winner! Here are some interesting questions to get you started
What is his favorite movie?
What's his favorite food?
What is his dream car?
Where was his first job?
What is his pet peeve?
What is his favorite hobby?
Like all of these games, it's easy to find LGBTQ versions as well.
[lasso ref="tidd-701″ id="29129″ link_id="131890″]
Find the guest is one of the best couples shower games for keeping your guests entertained. It's great for breaking the ice and help the guests know each other better.
In this game, the guests are handed cards with characteristics regarding the guests at the bridal shower. The players have to talk to the guests and fill the blanks correctly in order to win.
In order to win, guests will have to interact with each other to find answers.
Here's a list of some questions you can have to find the guest game.
Who is wearing blue shoes?
Which guest lives in XYZ state?
Who has more than 3 kids
Find a guest who has the same car as you
Who has been married for more than 10 years?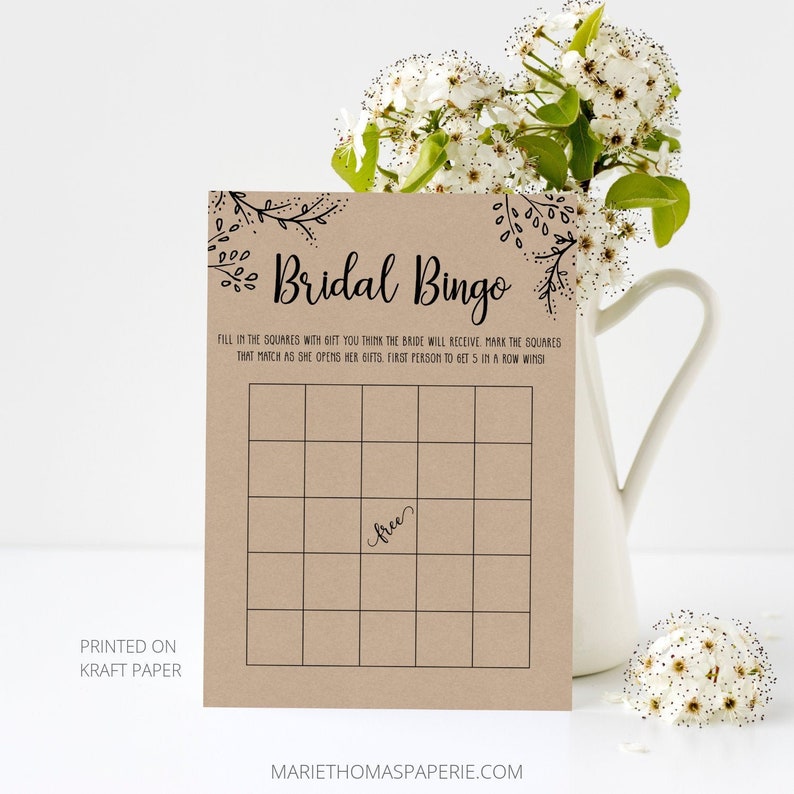 Bridal shower bingo is among the most fun and entertaining couple wedding shower games that everyone can play. The game consists of cards you hand out to guests before the bride opens her gifts. You'll have to instruct each guest to list the gifts they think the bride will receive.
Then once the bride starts opening the gifts, the guests will cut out the gifts they get right on their cards with a pen or pencil. The first guest to get 5 correct vertical or horizontal guesses will shout "BINGO!" and will be declared the winner.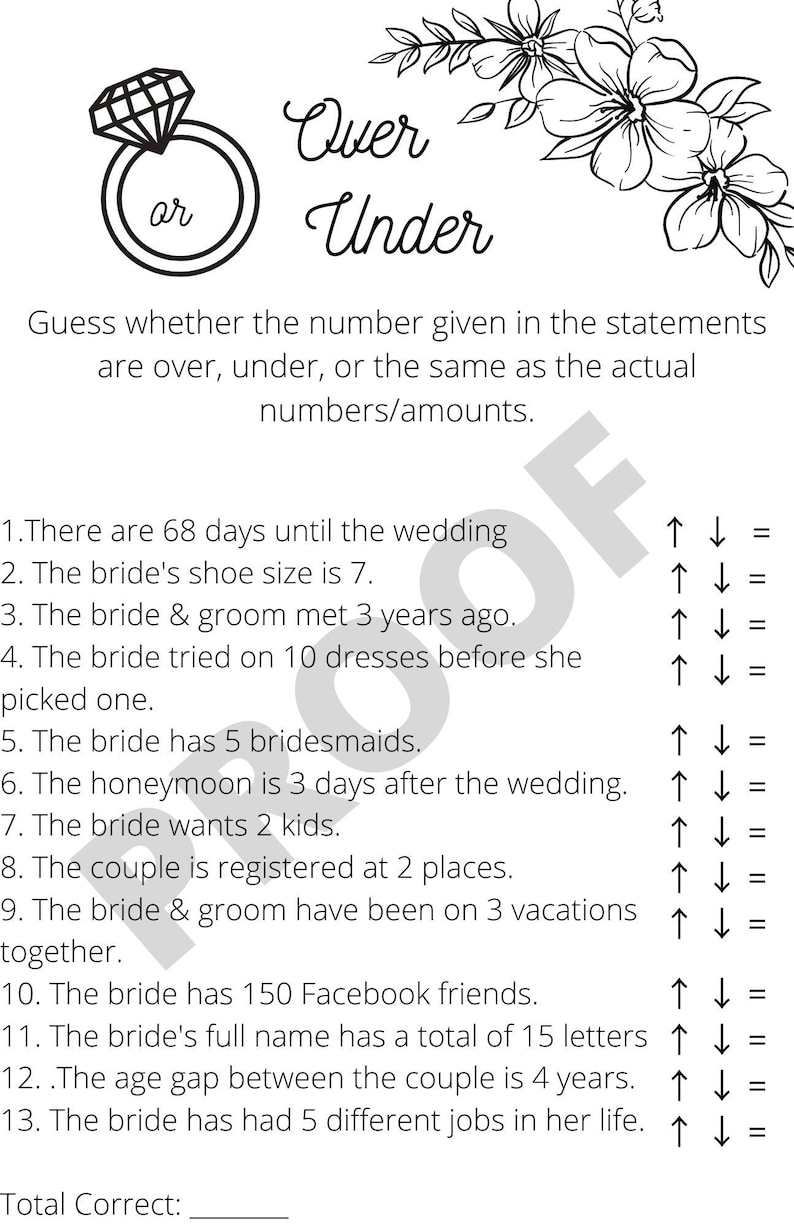 If you're hosting a wedding shower, you have got to add over and under to your list of coed wedding shower games! Over and under is a game that every guest can play and have a lot of fun while doing it. The rules are pretty simple; guests are given cards with a list of statements related to the wedding.
Guests are instructed to guess whether the numbers given in the statements are over or under the actual values. To get an idea about game questions you can include on the cards for over and under, take a look at some of the best ones we have compiled like:
The bride's shoes size is 10
The wedding is in 53 days
The bride and groom met 1 year ago
The honeymoon is 6 days after the wedding
The couple has gone on 2 vacations together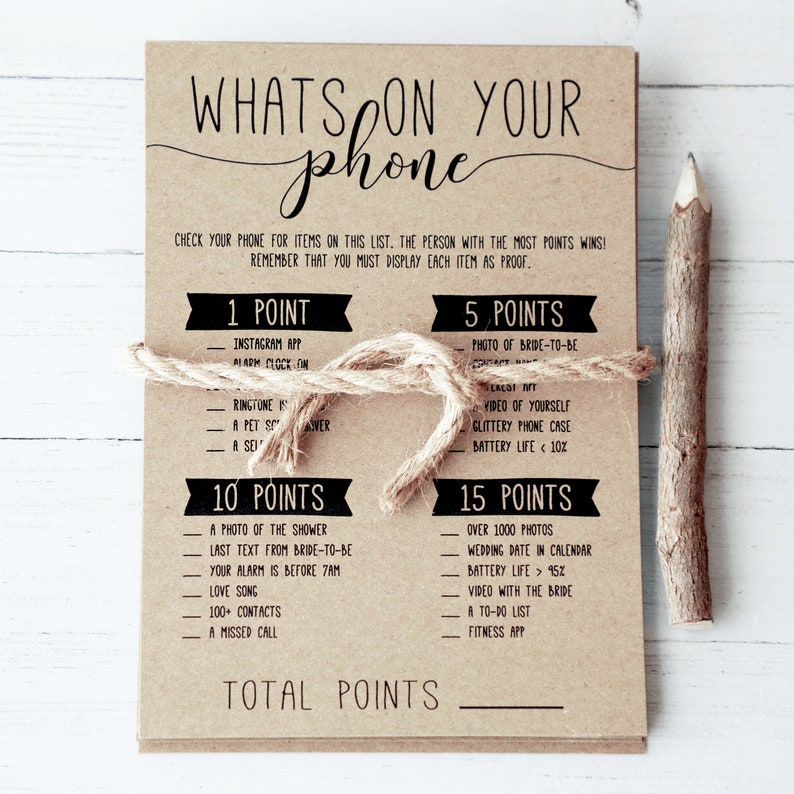 If you're looking for couple's shower game ideas, then "what's on your phone" is a great game to try out. This game can be played by almost all of the guests, given that they have a phone. The objective of the game is to look at the list of items in the card that you are given.
If the corresponding items are on your phone, you are awarded points. The points are then added up and the guest with the most points is declared the winner. At the end of the game, the guests will also have to give proof of the fact that the items they have checked are actually present on their phones.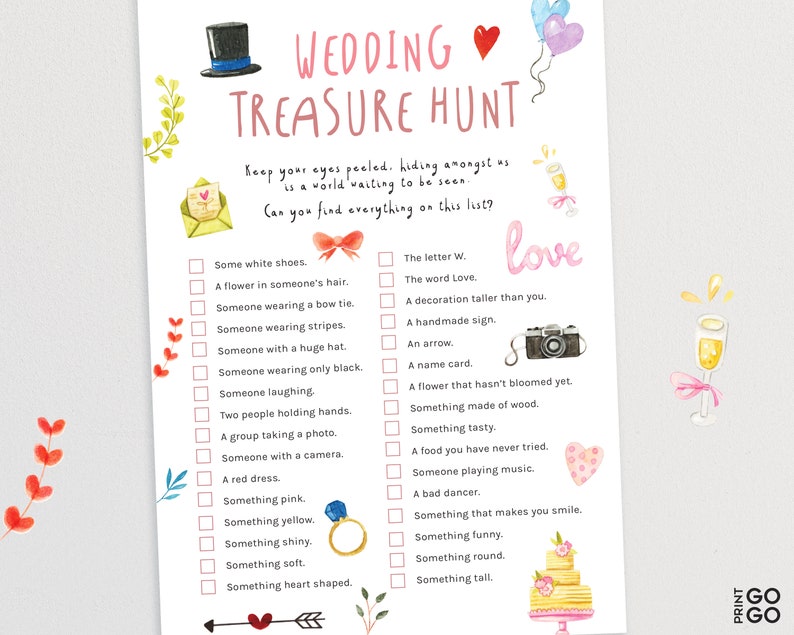 A wedding treasure or scavenger hunt can be a really fun game to have at your bridal shower. This is also one of the most enjoyable couple wedding shower games for kids. Cards entailing a list of hidden objects are distributed among the players. The players do their best to search the wedding area for the hidden treasure.
The player who finds the most hidden items wins the game. For this game, you are free to be creative in picking the items you wish to hide. Here are some of the ones we suggest will be ideal for your scavenger hunt.
Shoes
Cards
Letters
Photos
Toys
Candies
Tips for Picking Out a Couples' Shower Game
If you decide on including a couples' shower game at your party, it's important that you carefully pick out the games that you will be playing. To help you with this, here are some considerations that should be remembered:
The game should be fun for both men and women
Don't force people to participate if they are uncomfortable
Choose a tasteful game instead of one that is embarrassing
Do not embarrass the bride and groom
FAQs
Should you have games at a bridal shower?
Absolutely. Coed wedding shower games will make your bridal shower more entertaining and memorable.
How many games should be played at a bridal shower?
There's no set number, but three is usually plenty. Bridal showers tend to be 3 hours long so you can play a different game every hour to prevent your guests from being bored.
Who can play games at a bridal shower?
Many games can be played by all of the guests. However, a few bride and groom shower games are exclusive to the betrothed couple.
Is it necessary for everyone to participate in couple wedding shower games?
No. It is not necessary for everyone to participate. It is up to the guests to decide if they wish to play or not.
How many prizes do you need for a wedding shower?
As soon as you have decided on the number of games you'll be playing at the party, you can pick out the prize you'll want to give away too. 
A good rule of thumb to follow is to provide one prize per game winner, each game will have no more than three winners.
What do you put in a prize bag for a couples shower?
When coming up with ideas on what you should include in your prize bag, be mindful of the item. Go for something that both men and women will enjoy. This way, you won't be embarrassed giving a male winner a prize that includes a lipcare kit. 
Some ideas include coffee, tea, honey jars, mints, and many others.
Do you give favors at a wedding shower?
You are not obliged to give out wedding shower favors after your couple's shower ends. But it is always a nice gesture to do. 
Not only is it a generous way to thank your guests for coming, the gift also doubles as a keepsake. 
Conclusion
Although couple wedding shower games are not a necessity for your bridal shower, they can be a great way to have the guests interact with each other. Funny and hilarious incidents can also occur, which can make for some really interesting stories to tell at family reunions.
You can get some really cool couple showers ideas from the above list and make your bridal shower more fun and enjoyable for everyone!
What are your favorite couple wedding shower games on the above list? Please share with us below!
I'm a freelance journalist/writer/content marketer with BA Hons in Journalism.
Last update on 2023-09-28 / Affiliate links / Images from Amazon Product Advertising API