If you're looking for the best places to elope in Texas, you're in the right spot! I believe if you're eloping, you've already decided to do your wedding differently, so why not go all out?
And instead of going to a location like Hawaii that's always super crowded, why not go to a lone star state like Texas?
Best Places to Elope and Stay in Texas Top Picks at a Glance
FYI, this post contains affiliate links. We earn a commission if you make a purchase at no extra cost to you.
Check this comparison table for a quick guide. Read the review for further details.
Best Places Elope in Texas: 15 Choices Review
I don't want you to get bored or waste the good warm weather, so I choose the most popular tourist and historical destinations in Texas.
So, give me a chance to make my case, and tell me at the end if I nailed it.
Let's dive in.
1. Hill Country (The Texas Wedding Capital)
Hill Country is located in the west of Austin, and it has been named the Texas Wedding Capital for a reason.
Texas Hill Country has amiable folks who serve good vibes only, and they seem to be constantly on the move. It's astonishing how many people you can find in the streets!
I think because of the good weather; people participate in multiple outdoor activities.
Where to stay in Hill country
Your honeymoon suite is something you don't want to skimp on; you want something cozy and cute.
I recommend Courtyard by Marriot because they offer world-class treatment. Their rooms are furnished with modern furniture. You can also binge-watch on Hulu or Netflix after your big day. In the morning, they conveniently serve you breakfast (Starbucks coffee included) depending on your preference.
Top Attractions
There are so many fun activities that you can enjoy in Hill Country. You can go for something that shakes your adrenaline levels, like zip-lining, or go hiking, camping, or horseback rides.
2. Glen Rose
Glen Rose is just 75 miles from Dallas, and it's known for wildlife safaris and prehistoric wonders.
It's my top pick for the most beautiful Texas elopement locations for those who really love nature. 
They're so many cute wedding venues in Glen Rose that will tickle your fantasy regardless of your preference. One of my favorite venues is La Bella Luna, which has an exquisite look thanks to its fountains, open fields, discover gardens, and a pond.
Where to stay in Glen Rose
I suggest an Inn on Lake Granbury for your honeymoon suite because you can also use it for your elopement wedding. They have a package that includes a night in the Inn, a minister, sparkling beverage, bouquet, and even a small cake.
Their rooms are very classy with modern furniture, a fireplace, and clear, big windows that allow you to enjoy the beautiful scenery from your room.
Top Attractions
You can enjoy outdoor activities such as Granbury Segway tours, visit the fossil rim wildlife center, wine tasting, golfing, or attending the Fusion table cooking school. You can even rent bikes and just enjoy the beautiful backdrop together.
3. San Antonio
It's not a surprise San Antonio is on this list because it's one of the famous and highly populated cities in the United States. But that's beside the point. Does San Antonio make a great place to exchange your vows? It depends on the venue you choose, read on to see my suggestion.
Where to stay in San Antonio
I had several venues in mind, but I'm more inclined to Hotel Emma because they have fantastic wedding venues and packages. They allow you to choose from their pleasant outdoor venue or their luxurious indoor historical spaces, both of which would be perfect for a small wedding with just you, your honey, and your witnesses. 
They also have great rooms – you can choose to stay in their rooms or suites depending on your budget. I love their Emma Koehler suite because it's spacious and decorated with beautiful greenery.
Tourist Attractions
There are so many fun activities you can engage in San Antonio. However, my favorite is the Riverwalk. Here you can shop at the Rivercenter mall, go for a boat tour, visit the museum, among other attractions. This is also another great place to see by bike!
 4. Houston
Being the fourth largest city in the United States, you can expect a lot in Houston. And besides the great attractions in the city, people from Houston know how to throw a party. So, if you're looking for some kind of elevation in your life, this is a perfect location to say, 'I do.'
Where to stay in Houston
Whether you're looking for a cabin or camping-inspired accommodation, you'll get one in Houston.
But for your wedding night, I suggest The Woodlands Resort. Besides their mouth-watering cuisine, pools, fantastic staff, and spa, they also have great wedding packages. And you don't have to worry about the pandemic; they've incorporated all the necessary precautions, including social distancing, in their planning.
Tourist Attractions
Some of the tourist attractions in Houston include the Museum District, Buffalo Bayou Park, the Houston Zoo, the vintage stores on the 19th streets in the heights (here, you can shop old-school clothing, décor, or some jewelry as a souvenir). You can't exhaust all tourist attractions in Houston!
 5. Austin
I love Austin's nightlife; it's honestly one of the drunkest cities in the US. So, I only recommend this destination for couples looking for a hyped state.
Where to stay in Austin
I'll go to Hotel Granduca Austin, which is like a little haven for love birds. They set the mood for your special day by serving cocktails, setting up small candle votives, and they'll even provide a dance floor if you need one. You can choose from their many wedding packages, starting from $80 per person.
Tourist Attractions
Some of the things you shouldn't miss out on in Austin include the eclectic music scene, the Barton springs where you can relax, especially during summer, Alamo Drafthouse for a movie, touring the breweries and sampling the beer and hiking at the 360 Bridge.
 6. Brenham
Brenham is a small city in east-central Texas. And although it's not as busy or populated as other cities on this list, there is still a lot to be explored.
That said, I included this destination for those who want a chill location to tie the knot in an intimate ceremony, away from the city rush and noise.
Where to stay in Brenham
If I'm honest, getting a great hotel in Brenham took longer compared to other places. However, eventually, I came across Fairfield Inn & Suites by Marriot Waller. The hotel does have wedding elopement packages, and their suite is exquisite too.
Tourist Attractions
Some fun places to visit in Brenham include Brenham Heritage Museum, Hohlt Park, Toubin Park, Burton Farmers Cotton Gin, and make sure you make a stop at Antique Rose Emporium and pick some roses for your partner.
7. Fort Worth
Fort Worth is in North Central Texas, and it's famous for cattle ranching, and that's precisely why I choose it.
Since I've already suggested great destinations for couples who love city life, I thought I'd include a great location for country people like myself.
This would be a perfect location for those who love the vintage theme.
Where to stay in Fort Worth
I highly recommend the Omni Fort Worth Hotel; they ensure you taste and experience Texas's authenticity and hospitality.
Two of my favorite experiences in this hotel were the Mokara Spa that does professional manicures, body wraps, pedicures, and facials.
If you don't want the hustle of getting another wedding venue, you can use their wedding packages. Whether you have a guest list of 1000 people or 10 people, they got you covered.
Tourist Attractions
Some places you don't want to miss out on in Fort Worth include Fort Worth Stockyards, Fort Worth Water Gardens, Fort Worth Zoo, Fort Worth Botanic Garden, Modern Art Museum of Fort Worth, and the Vintage Flying Museum, just to mention a few.
8. Boerne
Boerne is popularly known as the German-Texan city, and it's very conservative compared to San Antonio. Bourne is in Kendall County, Texas.
This state has a lot to offer; you'll find many lakes, caverns, country parks, and many other exciting features.
Where to stay in Boerne
The Kendall Hill Country Inn is a very pleasant hotel to stay in for your wedding night. They have plenty of choices; you can stay in a modern suite, a garden court, a cottage, or grand suites depending on preference.
Although they have great elopement wedding packages, I recommend a wedding in the Paniolo Ranch. The latter is committed to complementing the color of the wedding theme on their green landscape.
Tourist Attractions
Some places you can visit in Boerne include the Hill Country Mile, the Cave without a name, Cascade caverns, City lake, and Guadalupe river state park.
9. Rockport Beach
If you're looking to cut wedding costs without compromising on your wedding glam, then this is the perfect destination.
Rockport Beach is a public beach, so you don't need to pay to hold a ceremony. That said, you'll need to pay a parking fee unless you rent a pavilion. To avoid the hustle of clearing the beach after the wedding, consider hiring a wedding planner in the area.
Where to stay at Rockport Beach
I highly recommend the Coastal Bay Breeze; just browsing through the photos gave me goosebumps (seriously, check them out).
The condo is newly remodeled, and it has a fantastic view through its large clear windows and doors.
If you want to chill out, you can go to the hot tub or pool and sip a glass of wine with your partner.
Tourist Attractions
Besides the sandy beaches, there are other great attractions at Rockport. Some of them include the Goose island state park, the maritime museum, Connie Hagar wildlife refuge, and little bay, just to mention a few.
10. Monahans Sandhills State Park
If you're a laid-back, fun-loving couple, and all you want is to run around the sand dunes. And snuggle on the sand as you watch the sunset after the wedding; here is the perfect venue for you.
Monahans Sandhills State Park is a great elopement wedding venue, and it's open up to 10 pm. That said, brace yourself because you'll need a permit to elope here and an additional entrance fee for your guests. However, the experience is worth the effort because you get a perfect intimate elopement.
Where to stay in Monahans Sandhills State Park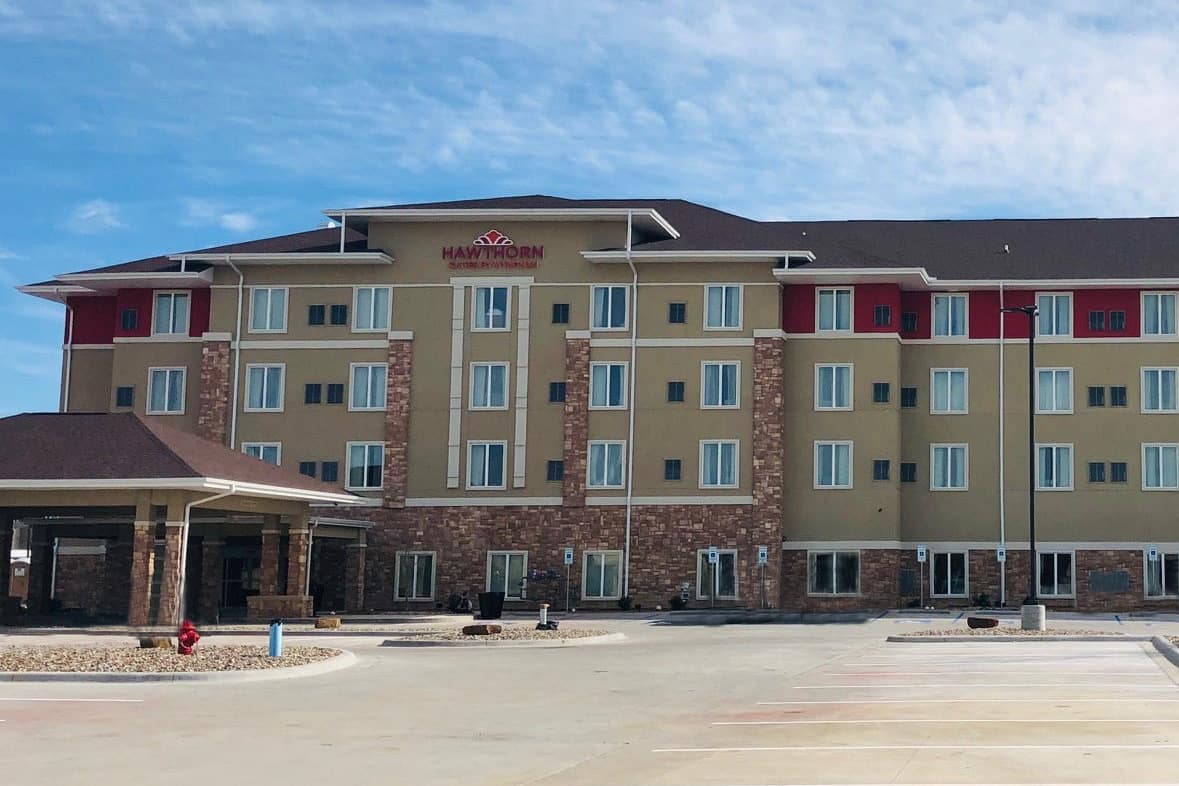 One of the chill places to stay near the park is the Hawthorn suites. Besides their modern furnished rooms, you also get access to all the amenities. If you'd like to bring your pet to celebrate your union with them, you'll be happy to know Hawthorn suites is pet-friendly.
Tourist Attractions
While you're at the park, you can surf the dunes, learn about the park and its animals, see wildflowers & plants, and enjoy horse riding.
11. Big Bend National Park
This is one of the greatest Texas wonders, even a drive across the park is very exciting. And if you want to experience the real wonders of the park, there is so much you can see (to be discussed later).
But the main question is, is it a great eloping destination? Yes, it's awesome. However, you'll need a special permit for a wedding in the park or any other activity like hiking for over 40 people.
Where to stay at Big Bend National Park?
That depends on your spirit of adventure. Some people even sleep in their cars, but you gotta be very free-spirited for this.
But since it's your wedding day, you can sleep at the Christmas Mountains Ranch that's only 17 miles away from the park. The ranch is in an isolated place, and you get to enjoy the solitude and connect with your partner.
Tourist Attractions
Some of the must-do activities in the park include soaking in the hot springs, hiking at the Santa Elena Canyon, visiting the fossil discovery exhibit, canoeing along the Rio Grande, and exploring the ghost town of Terlingua.
12. The Guadalupe Mountains National Park
Guadalupe park is located east of El Paso, and couples love to elope here because of its wilderness vibe. The wilderness look creates an excellent background for photos, especially if you're wearing a white gown.
Like other parks, you'll need to get a permit to elope here or even hike. Ensure you sort this earlier because there are usually very long queues at the gate.
Where to stay at Guadalupe Mountains National Park
I highly recommend the La Quinta Inn & Suites by Wyndham Pecos. It's safe, and they have high standards. They also have ample parking space, great rooms, and a free breakfast. You can also soak in their indoor pool and relax after your big day.
Tourist Attractions
You can enjoy viewing the different flora and fauna, hiking, exploring caves and alcoves, or you can just relax and watch the sunset.
13. Palo Duro Canyon State Park
The Palo park is located in the Texas Panhandle near Canyon and Amarillo, and it's a trendy ceremony location. It's home to the second-largest canyon in the US after the Grand Canyon.
You can elope here, but you'll need to talk to the park superintendent for approval. If you only want a simple wedding and you won't block the trails, you'll only be required to pay an entrance fee. But if you're planning a bigger elopement wedding, you'll have to pay for one of their wedding venues(the costs range from $100 – $1000 per day).
Where to stay at Palo Duro Canyon State Park
Courtyard by Marriott Amarillo Downtown has a fantastic interior design. Everything is modern, clean, and bright, which makes it very homey-like.
Tourist Attractions
Some of the exciting things to do while you're at Palo park include hiking to the lighthouse, enjoying a drive through the Palo Duro Canyon, horse riding, go for zip-lining, and go to the big Cave, just to mention a few.
14. The Alamo
I love what Alamo stands for, and that's why I included it in the list. It's a symbol of fighting for what you believe in despite what you're up against. And I think after fighting so hard just to have basic rights as an LGBTQ person, you're a hero too.
That said, since the Alamo is a sacred place, it has very strict rules on how to wear and conduct yourself when you're on the ground. Be sure to check the rules before booking it as your wedding location.
Although the Alamo cannot plan large events in front of the Alamo channels, you can still have your wedding south of the chapel. Make sure you talk to the authorities to get a permit.
Where to stay at the Alamo
If you choose to wed at the Alamo, you can stay at the Hacienda de Los Santos that's just 0.12 miles from the Immaculate Conception.
The Hacienda has modern furniture, and it's stunning at night. You can enjoy a glass of wine with your partner at the pool or stay indoors and binge-watch Netflix.
You can also spoil yourselves and pay for the VIP packages.
Tourist Attractions
The Alamo is one of the tourist attractions in Texas, so before you move to other attractions, be sure to learn all the fun facts of the shrine. Across the street from the Alamo is Ripley's Believe It or Not museum. And if you love daring adventures, you can go for a San Antonio Ghosts Tour.
15. Gold Coast
There are endless elopement wedding locations on the sunny Gold Coast. You do need a permit, but it's not hard to obtain one. The city approves simple beach elopement weddings at zero cost. However, weddings are limited to 50 guests to avoid any negative impact on the environment.   
I highly recommend you make at least one of those guests a photographer because you don't want to miss the beautiful photo ops!
Where to stay at the Gold Coast
One of the glamorous places to stay in GC is the Elite Gold Coast. As the name suggests, they offer world-class services, starting from their fitness center, accommodation to spa services. The hotel is also strategically located near Gold Coast's shopper's paradise, theme park, and the world's best beaches.
Tourist Attractions
Besides the beautiful beaches, other tourist attractions in GC include the Currumbin wildlife sanctuary, sea world, dreamworld, lamington national park, and Springbrook national park, just to mention a few.
Also check: 10 Affordable Places to Elope in Florida for an Epic Wedding 
Frequently Asked Questions
Here are the common questions that people ask about eloping in Texas.
Final Words
If you want to elope and you're considering Texas as your elopement wedding destination, you're onto something.
Getting a great wedding location in Texas isn't hard, but not many know the potential the state holds.
I hope my blog post gave you an idea of a great destination to elope to and a nice hotel to stay in after your wedding.
Final Recommendation
What do you think is the best place to elope in Texas?